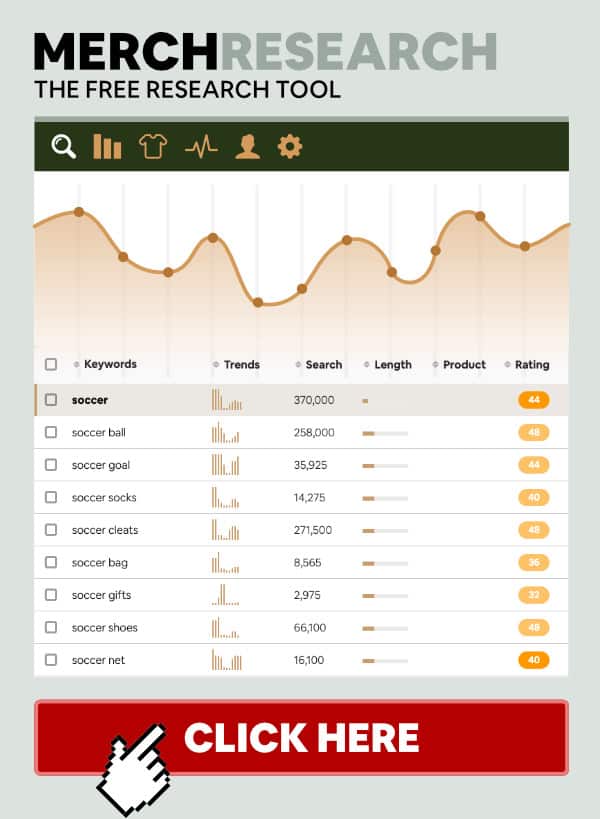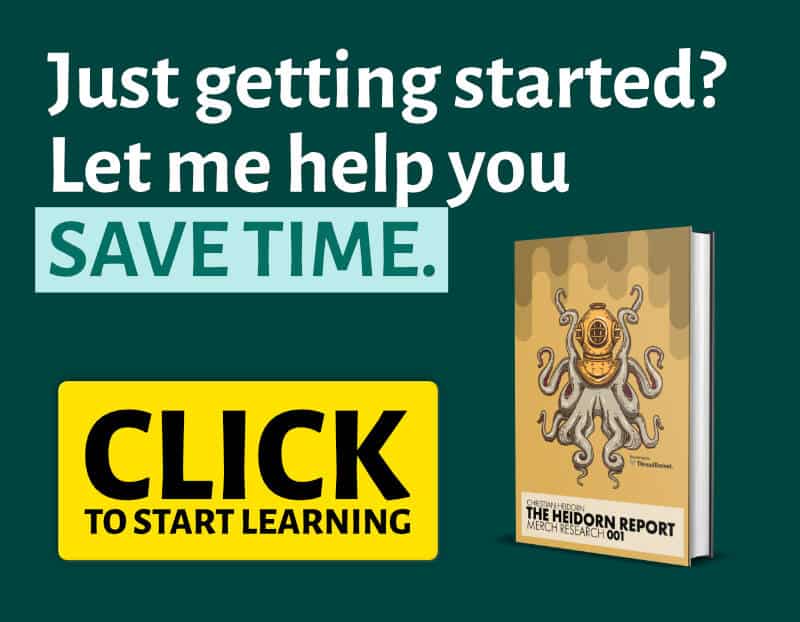 Research is perhaps the most important step for anyone serious about selling their merch whether on Amazon or any other platforms.
Creating designs that no one is interested in can be extremely frustrating.
Knowing which keywords are selling, and which keywords are not will greatly improve your sales. 
Merch Informer is a research software created by two Merch by Amazon sellers.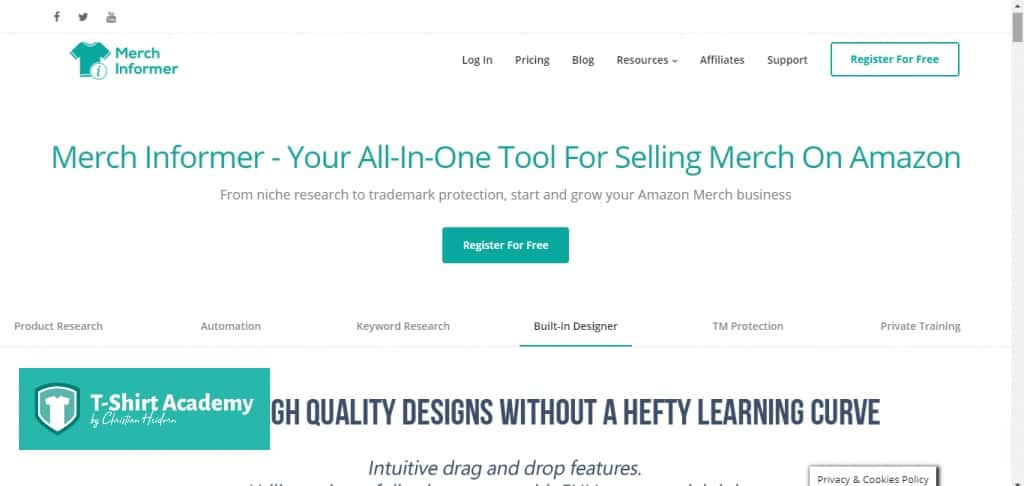 The founders created the software based on their own experience and success on the platform.
They cracked the code and decided to share a bit of their knowledge with other sellers. 
They incorporated useful features that they themselves could use.
This gives the software an extra edge over the rest.
Its main task is to help sellers find niches that sell but are not over-saturated at the same time.
It gives you niche information that helps guide your design choices and ultimately help you sell. 
You have access to what customers want and what designs are appealing to them.
You can conduct keyword research to find the bestselling T-shirt designs and source for inspiration as well.
This tool is a one-stop-shop and you no longer have to conduct all your research on Amazon. 
How Merch Informer Works.
Merch informer pulls information from Amazon's API.
The software only pulls selective information from Amazon.
It gains specific information from the API namely; Product Name, Product Photo, ASIN, Product Description, Merchant, and Sales Rank. 
This saves you time having to manually look through different products, merchants, and descriptions to find which ones are popular and which ones sell better. 
Once a search is made, Merch Informer displays the top 100 search results once you key in your intended keyword.
It then ranks the top 100 on how well they sell. 
As you can imagine, this will save you the time of looking at page after page to find a design that will sell while still being low in competition. 
Merch informer is divided into three; the web app, the browser extension, and the designer. 
The features found on the web application make it easy for you to have success on Merch by Amazon with less effort and with more informed decisions.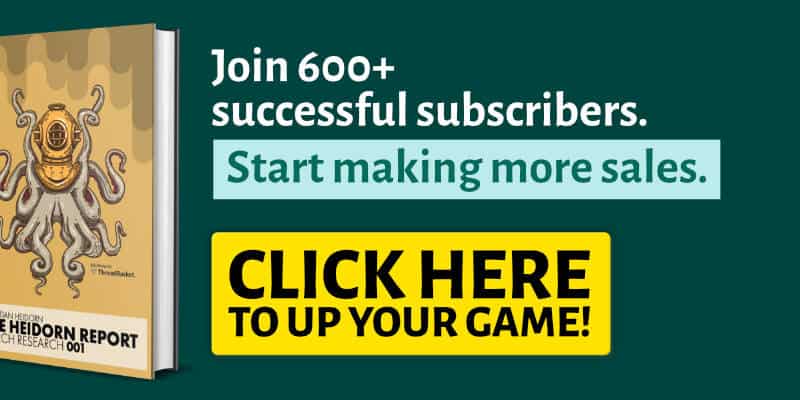 Features of the Merch Informer Web App
Product Search
As earlier described, Merch Informer is a great keyword search tool.
After searching for a keyword, for example, puppy, it ranks your search according to the best performing.
You can search from the Amazon.com homepage or the Novelty and More "Merch" section on Amazon.
You can filter to analyze all products on Amazon or specifically on Merch by Amazon. 
The bestseller rank (BSR) will help you calculate how many products are being sold daily. 
A good rule to keep in mind is that designs with a rank of approximately 100,000 result in at least one sale.
Merchant Search
This feature allows you to search by a merchant or by brand.
You can search through an individual merchant or brand's catalog on Amazon.
As with the product search, it helps sellers come up with ideas that sell.
You will be able to see the top 100 designs of a brand and lists them from the highest BSR to the lowest BSR. 
Favorites
Once you find designs that appeal to you and you would love to recreate, you can save them so you can look at them later.
You can then sort your favorites by category.
If you cross niches, you can sort them according to the niches that are available in your store. 
Advanced Competition Checker
You can conduct a quick search to find out how the keyword you want to use will rank.
The software allows you to check up to five keywords at any given time.
It then gives a score from A to F on how well they will rank on Amazon's first page.
A will be very easy to rank, while F will have difficulty ranking.
Keyword Finder
The system's keyword finder will help you find relevant keywords based on your search.
Using the autocomplete tool, Merch Informer will help you find keywords that you had previously not thought of using.
You can then search through the keywords to find which ones are profitable and at the same time relevant to what you are selling/creating. 
The keyword phrases that come up using the autocomplete tool are usually the most searched for and ultimately the most purchased.
The autosuggestions that come up are usually what is trending within your niche and you should look into using some of them. 
Copyright Check
Merch Informer links to the Trademarkia.com database.
You can quickly and easily check if your designs, text or phrases are in use and have been copyrighted. 
Security
Merch Informer uses a secure SSL certificate that ensures your personal information is stored safely. 
The Browser Extensions
Merch by Amazon is a very strict platform.
It is important that designers and sellers adhere to the rules and parameters put in place by Amazon for example, copyright.
The extensions available make it easy for you to check if your designs are meeting these requirements.
They also make your work easy since you can check on these areas as you are working.
The extensions are;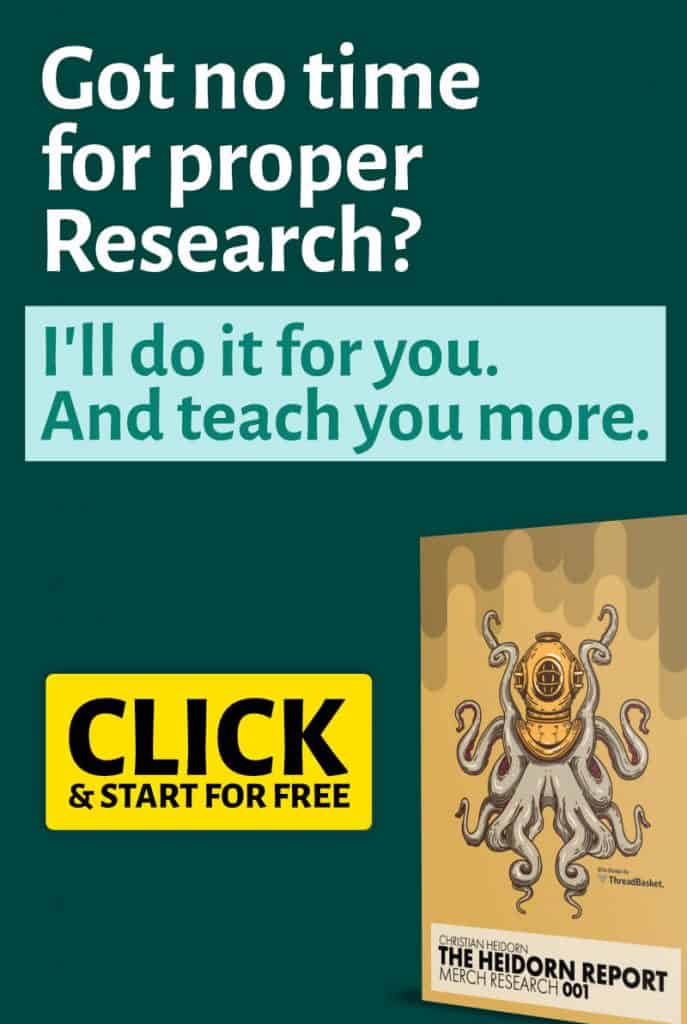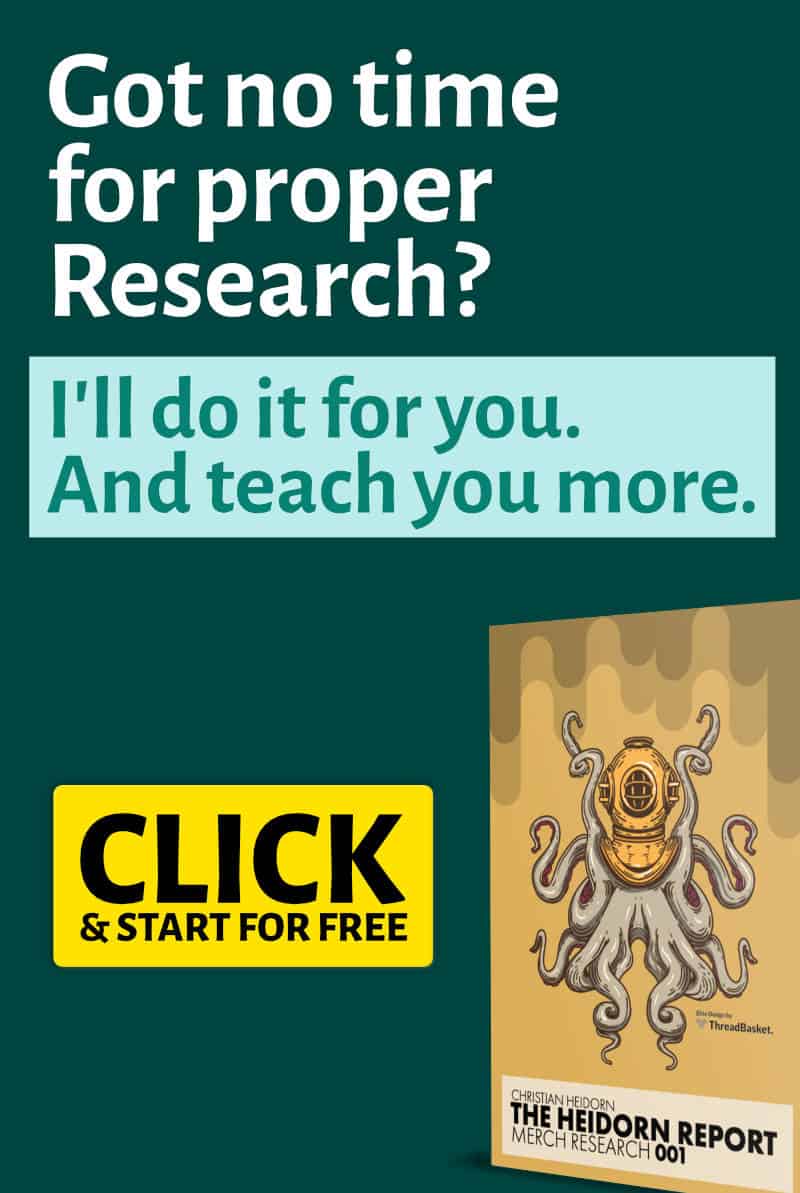 MI TM Protection
This is a browser extension that specifically checks if the words and phrases you intend on using have already been trademarked.
The extension searches through the USPTO database making sure that your trademark search is as accurate as possible. 
MI Lister
Merch Informer lister uses hotkeys that allow designers to set color profiles quickly and efficiently.
This makes the editing process much faster.
It also makes it easy to fill in the details of your product including; brand name, title, and descriptions of the product using a single hotkey. 
This saves you time listing and you can focus on the research required to be successful on Merch by Amazon.  
MI Book Hunter
This extension allows you to search outside the Amazon site.
You will be able to search through 14 different marketplaces for popular posts from related influences, popular ads, and others. 
You'll be able to find the images, texts, likes, shares, and comments.
The number of likes, comments, and shares will also be accessible to you.
This will narrow down your search, and you will only be looking where your potential customers are. 
Merch Designer
Apart from helping you in your keyword search and your research into finding unique designs that sell, Merch Informer gives you the necessary tools you need to design your t-shirt.
The tool is easy to use, even for sellers with little to no design experience. 
It allows you to add graphics and texts onto your t-shirts and design them to your liking.
It was created to help sellers quickly and easily create new designs. 
This saves you the cost you would have spent on a professional or freelance designer or investing in an expensive graphic design software. 
This tool will help you roll out designs as quickly as possible. 
Workflow Inside Merch Informer
While using Merch Informer may be straightforward to many people, it is still important to understand how best to use it to achieve optimum results. 
You first need to identify the niche that you are targeting or that you are interested in.
You can then conduct a quick product search or use the extension Merch Hunter to find which keywords are popular and in use within that niche and also view which designs are selling highly.
On Merch Hunter, do your research specifically looking for products with a 100k to 300k BSR.
Make sure that these designs have achieved this rating within the last few months.
This will ensure that the designs you are seeking inspiration from are not outdated. 
After going through this, you can save designs that appeal to you in the favorites section and you can categorize them on niche or whatever smaller categories that you can think of.
Merch designer will help you create these designs, especially if you don't have previous design experience. 
MI lister may not directly have a hand in the design process, but using this extension will save you time and energy.
No longer will you need to set a specific color and price for each shirt that you design. 
Once you have created your design/s, run them through the trademark checker that is available on Merch Informer.
Check if your design or if your phrases and taglines have been trademarked.
Keep checking for trademark alerts just incase a phrase becomes trademarked to keep your account safe and avoid being flagged. 
After this is done, you can begin listing your designs on Merch by Amazon.
Utilize the software to find keywords that are on-trend and keywords that people with high sales are already using.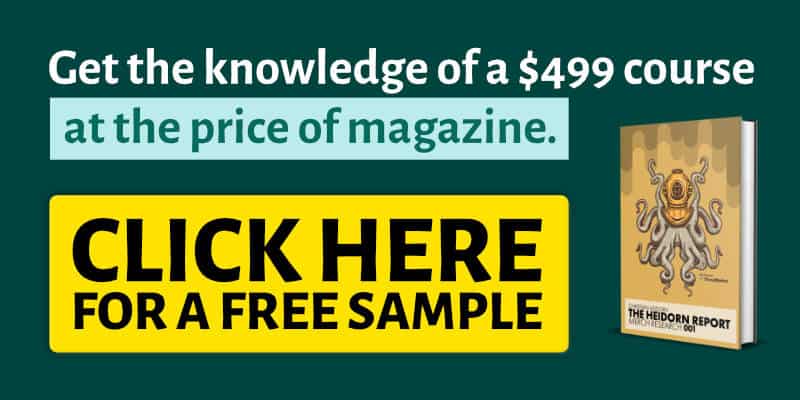 Pricing
Currently, Merch Informer has two pricing tiers.
Each tier allows you access to a set number of keywords.
If you need to monitor a large number of keywords, you might need to think about investing in the higher plans.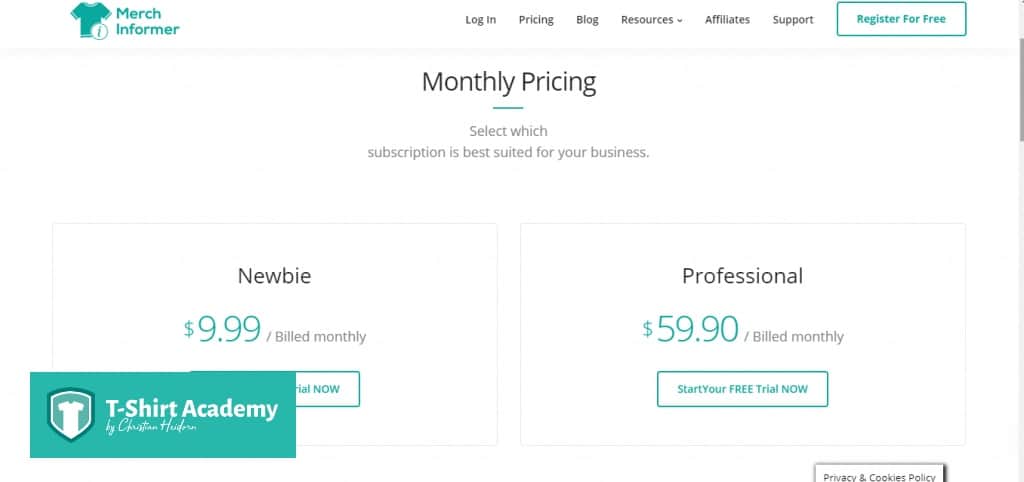 The entry plan or what's referred to as the newbie plan costs $9.99 per month and the professional plan costs $59.90.
With each plan, a free trial is available to help you assess its benefits, and if the investment is worth it. 
The Verdict
Merch by Amazon is an extremely competitive platform.
Gaining an extra edge over the competition will improve your sales and generally make your experience selling on the platform all the easier.
The software is available as a web page, and also as a mobile application.
The mobile application is extremely useful since you have access to these resources even on the go. 
The software is incredibly easy to set up.
There are several videos and resources available from the site that will help you understand just how everything is done. 
It makes your research easy.
You are able to make informed decisions since they use data directly from Amazon.
You are also able to access competitor information within the same tool. 
Merch Informer will also help you come up with new t-shirt design ideas. 
Merch informer has an active Reddit page.
If you have questions on how best to use the software, it has probably been asked and answered on the page.
If the answer to your question is not available, you can ask your question on the page and someone will be sure to answer it.
It is a bit of a learning curve once you get the software.
It is to your advantage to make use of all the resources available to you and seek advice from the large community that already exists. 
This software is a must-have for anyone serious about selling their merch on Amazon.
This tool is beneficial to both beginners and advanced professionals. 
For all the features offered on the software, its pricing is fair.
We do advise that you get a plan higher than the newbie since this plan does not offer product and keyword tracking. 
It should be noted that it is cheaper to pay for this software annually as compared to the monthly plan. 
The free trial requires credit card information and some users may not be comfortable with this. 
A lesser mentioned feature available on the software is the Merch Marketing techniques offered.
This feature gives informed tips on how you can market your products to boost sales. 
Our verdict: Merch Informer is worth investing in!
In Conclusion
Sound research is EVERYTHING when selling merch.
Creating several designs hoping that they will sell is time and financially draining and you might not get any results. 
Knowing that your designs are popular, your niche is in demand, and that the keywords you are using are being searched for takes a lot of the stress off your hands. 
For those interested in selling merch on Amazon (or Redbubble, Teespring, and Spreadshirt) a full-time business, you need to invest in software that makes this process easier. 
If you have used Merch Informer before, tell us about your experience and what you liked and didn't like about it.
If you have recently discovered the software and wanted to learn more, let us know if this information was beneficial to you.
We have more information on how you can succeed on Merch by Amazon in our blog. 
Merch Informer
Merch Informer
Merch Informer has been around for ages and it's obviously got the benefit of being the first to market. It still does the job but there are new kids on the block who are doing cool things. Merch Informer's approach of trying to be a one-size-fits-all solution ironically makes it less attractive where it actually counts.
Merch Informer has been around for ages and it's obviously got the benefit of being the first to market. It still does the job but there are new kids on the block who are doing cool things. Merch Informer's approach of trying to be a one-size-fits-all solution ironically makes it less attractive where it actually counts.
Total Score
i

Holistic assessment