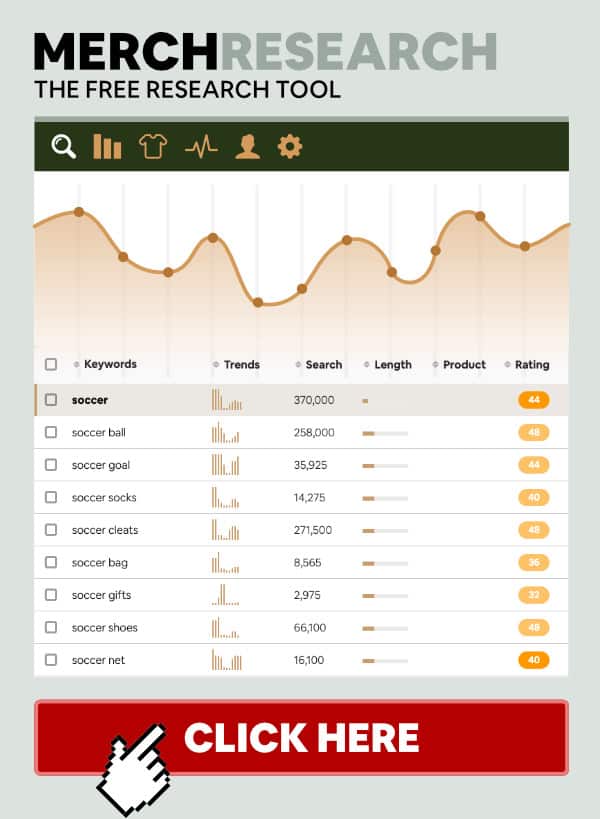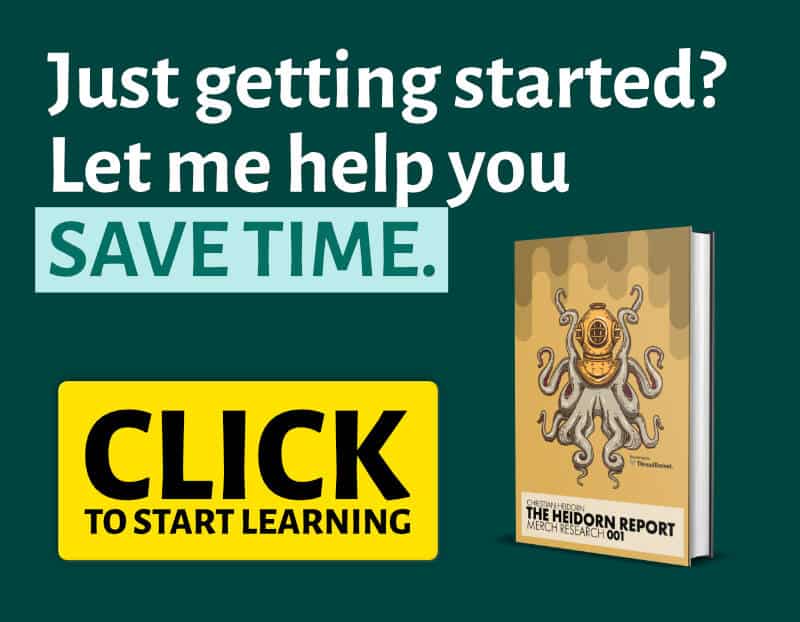 Merch by Amazon is an extremely competitive print-on-demand platform; therefore, it comes as no surprise that several tools have come up helping sellers make as much profit as possible. 
Several tools have been made to help sellers with different aspects of selling. 
One of the most fundamental aspects of making a profit by selling merch is by conducting thorough research. 
Tools such as Merch Informer and Merch Titans have been created specifically to help sellers with this function. 
In this article, we give you a detailed review of Merch Titans and its functionality.
What Is Merch Titans?
Merch Titans is a marketing research tool that was created specifically for Merch by Amazon. 
The software comes with several features that consolidate all your research tools within one platform. 
This saves your time and allows you to work on creating designs and ultimately make more profit. 
The features include Product and Brand Search, SEO Analyzer, Product Tracker, Trademark Alert, and the Titan Vault. 
Features & Tools
Account Overview
This is what you will first see when you create your account with Merch Titans.
Once you log in, you can create your account, you will head on over to the Account Dashboard.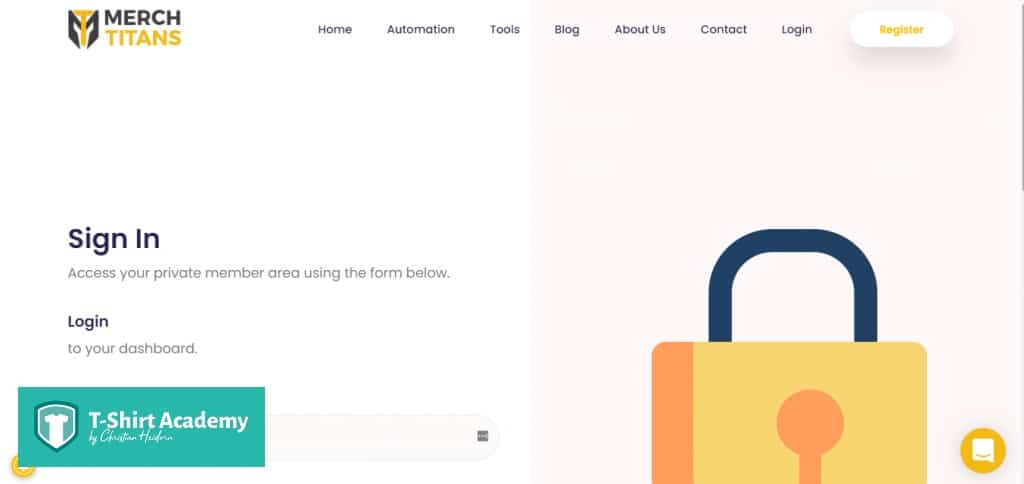 Here you will be able to create your avatar, change your login details if necessary – including your password – and also view all your invoices.
This is pretty common with similar tools.
The site itself is beautiful and quite easy to use. 
Product & Brand Search
The product and brand search feature is similar to that found in many Merch research tools. 
However, it has an easy-to-use layout feature that is rarely found in these research tools. 
It offers users functionalities that they need and these include; Total search results, Average BSR, and estimated monthly sales. 
The tool additionally gives a keyword cloud function that lets you see which keywords other sellers are using. 
The keyword search feature also makes it easy for you to decide if you want to target a larger audience or go niche. 
You'll also be able to copy all your top keywords at the click of a button and add the tags to your product/s.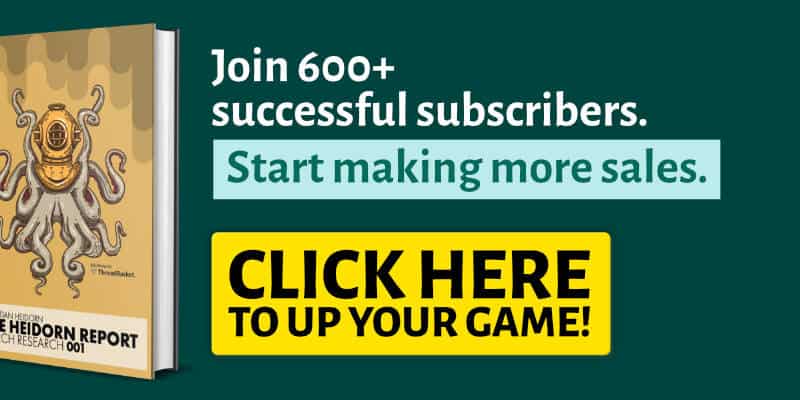 Keyword Research
Keyword research is what will make or break any merch seller and on any print on demand platform – more so Merch by Amazon. 
Without research tools, many sellers use the autocomplete tool on Amazon to find keywords that are trending and that they feel would get attention to their products.
Though this may work, it is not comprehensive and you will fail to see several keywords that could help boost your sales. 
The keyword research function on Merch Titans gives sellers access to information that they would not have.
They will be able to see how many times different keywords have been searched for on Google and how many products already use those keywords on Amazon.
You will be able to gauge which keywords are selling and how heavily they are being used. 
When using the keyword research tool, we'd recommend that you also target long-tail keywords. 
This will narrow down your research and you will be able to find popular keywords with less competition and also very niche specific. 
Keyword Analytics
This tool is like a dictionary of some sort.
It lets you find synonyms and similar phrases to keywords that you are targeting. 
Some sellers try to be unique and avoid using several generic keywords that may be highly competitive.
Finding keywords that are unique and still relevant will help your product rank higher since not many sellers will be using them. 
People use different search terms when looking for items. 
Including keywords that are similar will help other people find you.
It is also a good rule of thumb to include a few of these keywords in your product description if you are not already using them.
The keywords analytics tool helps you come up with a variation of keywords that you can include and ultimately help your products appear on more search terms. 
The Titans Vault
This is Merch Titan's foremost selling feature.
This is also perhaps their most used feature on the platform.
Titans vault keeps an updated list of top-selling products on Amazon.
These include t-shirts, hoodies, pop sockets, and more.
Unlike other research tools, the Titans Vault has more filter categories.
Similar to other research tools, you will have a list of the top 100 products based on the Best Sellers Rank (BSR). 
You can further break down this search to find top products within a specific BSR, for example, between 400.000 and 600.000 BSR.
This allows you to look at other selling designs that may not be at the top of the list. 
Everyone is trying to find the winning trends, and this makes it even more competitive.
If you are just starting out, finding designs that may not be trending but still sell will reduce your competition.
You are also guaranteed to have designs that sell perhaps one to two times a month, but regularly.
You are also able to filter these products further down by price and by keywords so you can find t-shirts that are relevant to your niche. 
In the Actions pane within the Titans Vault, you will be able to check for BSR, look at top designs, and conduct a quick check on copyright and trademarks.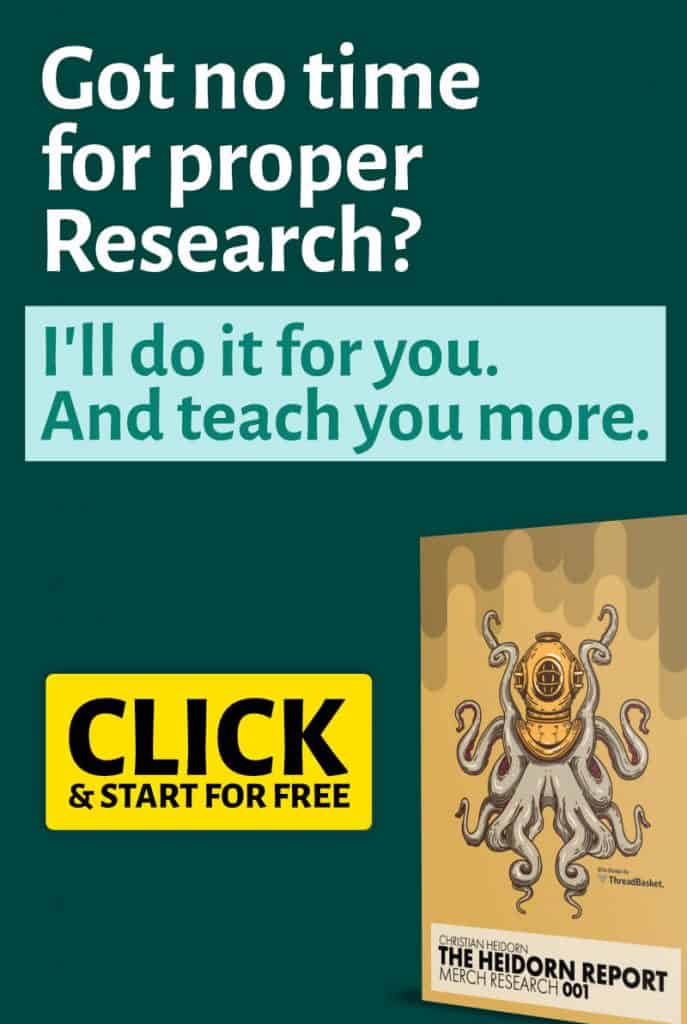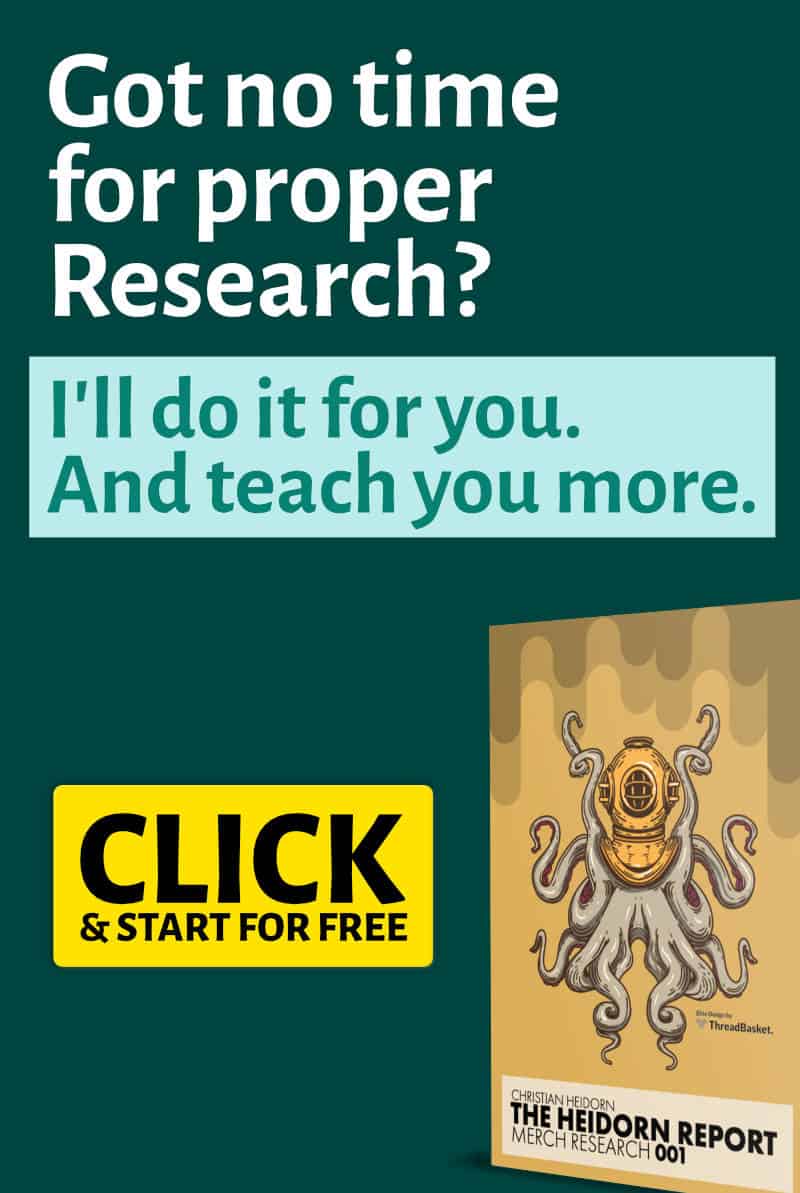 Product SEO 
This feature helps you understand which keyword is making a product rank highly on Amazon.
It will also show you how often the keyword is being used.
Is it being used in the title, or the description, or the image, or the bullet points – or is it a combination of uses?
To be able to find this out, all you need to do is key in the Amazon ASIN followed by the keyword within a specific niche. 
Once you find a trending design with Titans Vault, input the ASIN in the search bar followed by the keyword you are looking into.
You will then be able to see where this keyword has been used. 
On the Brand, Title, Image, Description, Bullet points, Image, or in all these sections.
This will help you when creating your own designs.
You will know how and where to place this keyword so that your design can also rank highly on Amazon.
Trademark Alerts
Another key part of selling on Amazon and other print on demand platforms is ensuring that your designs and taglines are free from copyright and have not been trademarked.
Having designs that have been copyrighted and using phrases that have been trademarked will get you removed from several of these sites including Merch by Amazon.
This function automatically checks if your designs have been trademarked. 
By entering a phrase of a word into the checker, you will be able to find if it has been trademarked.
Additionally, Merch Titans will send a notification if it does get trademarked in the future. 
Product Tracker
When tracking a specific product on Amazon, Merch Titans gives you access to data on the product as far back as one year.
This means that you can be able to track various products without having to add them to your list because the system is already tracking them.
They also have charts that give you a clear picture of how the product has evolved over time. 
Apart from a product tracker, Merch Titans comes with a keyword tracker that lets you understand keyword authority in a specific niche.
You can add keywords to your tracker and view how they rank at any given time.
This helps you play around with the keywords you use so that you are always up to date with what is trending with buyers.
Additionally, you don't need to manually track how products and keywords are performing.
Merch Titans can send you email notifications letting you know when there are changes to the listings that you are tracking.
Notes
This may seem like an inconsequential feature; however, it adds on to the appeal of Merch Titans.
This feature has been added to the platform, and it helps you take down key notes as you are working within the platform.
Though you can take notes manually, or through other text editors on your device, having a place to take down notes as you work makes you so much more efficient and saves you a lot of time.
It also lets you add images and links to the notes making it more efficient than other text editors.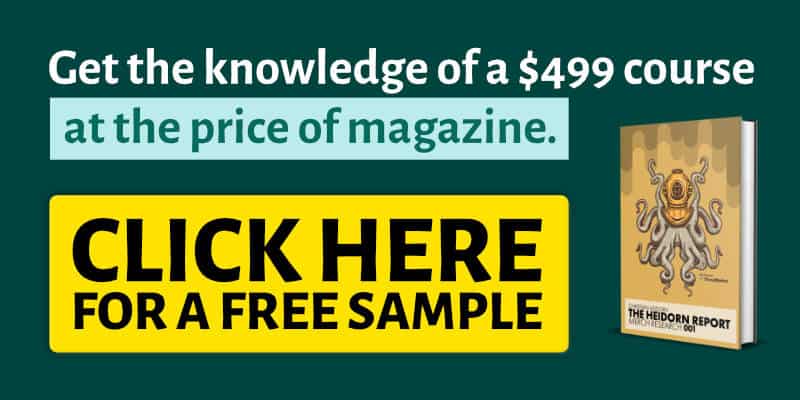 Image Research
The image research function lets you source for inspiration for new designs.
You can also find vector graphics that you can either use for free or purchase for use for your Merch by Amazon products.
Once you make a search within a keyword, it will generate thousands of related images and you can choose from these.
You can also use these images to get ideas for your unique designs. 
Pricing
So how much does it cost?
Merch Titans, unfortunately, does not come with a free trial.
However, they give users a period of 14 days to try out the product, and if you are displeased, you are guaranteed to get your money back – no questions asked.
At the time of writing this article, the tool came with two price plans.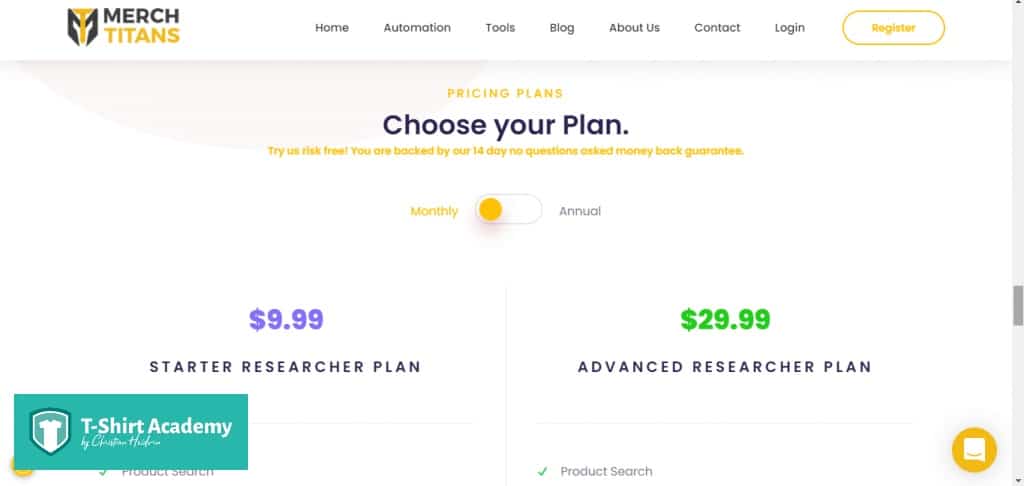 $9.99 for the starter researcher package. 
This plan comes with all the necessary functionalities; however, you have access to only 250 trademark alerts and are only allowed to favorite up to 500 products.
The advanced researcher package goes for $29.99.
Similarly, to the starter package, you will be able to get all the features.
Additionally, you will be able to favorite up to 5000 products and you will have access to 8500 trademark alerts. 
Our Verdict
Curtis Blackmore who had his own Merch by Amazon blog created Merch Titans.
He regularly updated his blog with extremely useful tips on how sellers can break out on the platform.
He created this tool with this in mind and sort to have functions and features that were previously not available on other tools but made life easier (for example the notes feature). 
Merch Titans is an inexpensive tool that is worth investing in.
It holds its own against more popular research tools such as Merch Informer.
The owners are continuously seeking to improve their platform and they are always updating their features to help ease how it is used.
Its additional features such as the event finder feature set it apart from the rest.
The Events finder helps you find national events in the United States and worldwide.
Features such as these will help you with your marketing.
The platform is great for anyone new to Merch by Amazon.
It is easy to use and comes with functions that are necessary for anyone who is a new or even advanced seller on the Merch by Amazon platform.
They also have a large community on Facebook that will help you with any queries you may have while using Merch Titans.
Their customer support is available most of the time and if you are not able to get an answer to your question immediately, someone will always reach out to you later.
They also allow you to search within your country's marketplace if you are either in Germany or the United Kingdom. 
This will help you find product and keyword ideas that are specific to your location and that are trending in your specific location.
You will still have access to all the same features that are synonymous with Merch Titans. 
Unfortunately, the tool is not available on either Android or iOS.
Unlike Merch Informer is does not come with an in-built designer. 
In Conclusion
A good research tool is a must-have for any seller. 
I would advise that you test out Merch Titans and see if its functionalities are what you need.
Their annual plan is cheaper than other popular research tools and this is a big attraction for many.
If you have used Merch Titans, let us know what did or did not appeal to you!
Merch Titans
Merch Titans
Merch Titans is a strong competitor to Merch Informer. Curtis has built in some really good features and MT can therefore differentiate itself. Overall, however, the tool is comparable to others on the market.
Merch Titans is a strong competitor to Merch Informer. Curtis has built in some really good features and MT can therefore differentiate itself. Overall, however, the tool is comparable to others on the market.
Total Score
i

Holistic Assessment