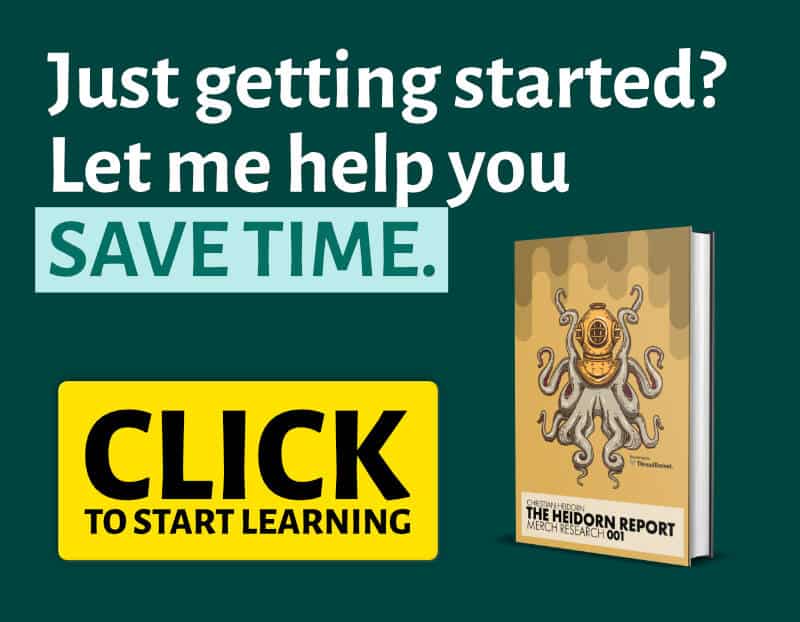 Merch by Amazon has increasingly gained popularity as a means of making passive income.
This has led several designers and entrepreneurs venturing into the platform and the print on demand space in general. 
Finding tools that make this process easier is a blessing for many sellers and designers.
Merch Titans is a software tool that was designed to help Merch by Amazon sellers with various aspects of their print on demand business.
In a previous article, we went into depth on how their research tool is beneficial in helping sellers identify the right keywords and help them identify the right niches for success in their businesses.
In this article, we take a look at another Merch Titans tool – their automation tool!
The Merch Titans automation tool provided changed the print on demand business drastically.
This tool makes the uploading process easier by automating it giving you time to work on other aspects of your business. For example, creating designs, marketing, and research.
One of its added advantages is that it lets you upload your designs to various print on demand platforms. 
How To Use Merch Titans Automation
The first step in using Merch Titans automation tool is to sign up on the platform. 
After signing up, you will be able to download and install the software depending on the device you are using: Android or MAC.
You will then get a spreadsheet that you will be able to download and this is where you will fill in the details of your designs.
These designs include the Title, Image Path, Description, Tags, Price, of your design.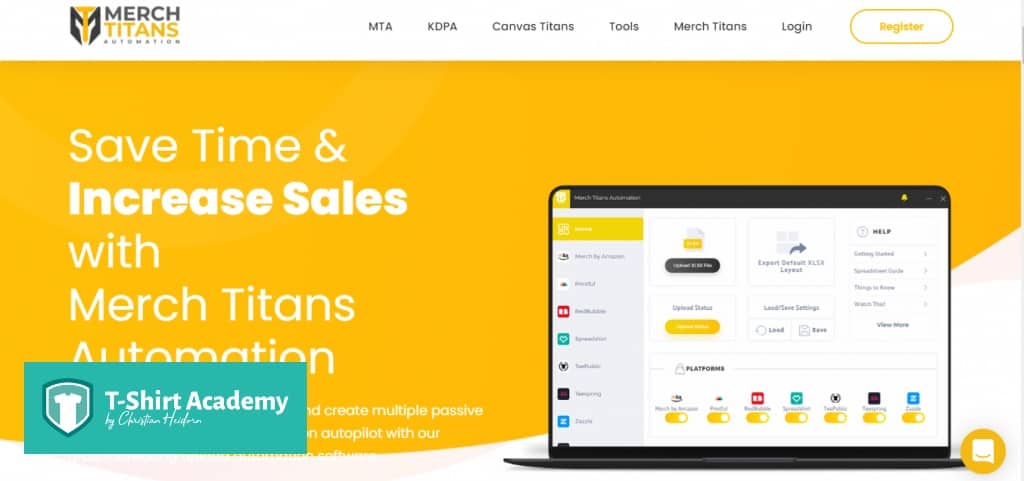 Back in the app/or on the website, you will be able to tailor the details of your merch depending on the print on demand platform.
This could be different shirt colors for each platform.
You can then decide if you want to upload the design as a draft or if you want it to sell immediately.
Click START and after this, the uploader will handle the rest.
Rinse and repeat for all your future designs.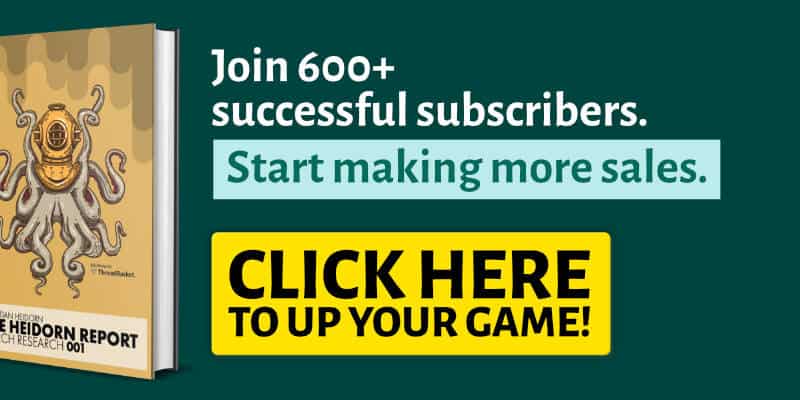 Print on Demand Platforms Supported by Merch Titans
Merch by Amazon
On Merch by Amazon, the software allows for automatic uploads to all Merch by Amazon marketplaces.
It also allows for image resizing and language translation.
RedBubble
Automatic uploads to RedBubble.
You can use RedBubble's template copy system to control the positioning of your design as well as where it is placed.
Printful
In addition to automatic uploads, you will also be able to upload to any other integration supported by Printful.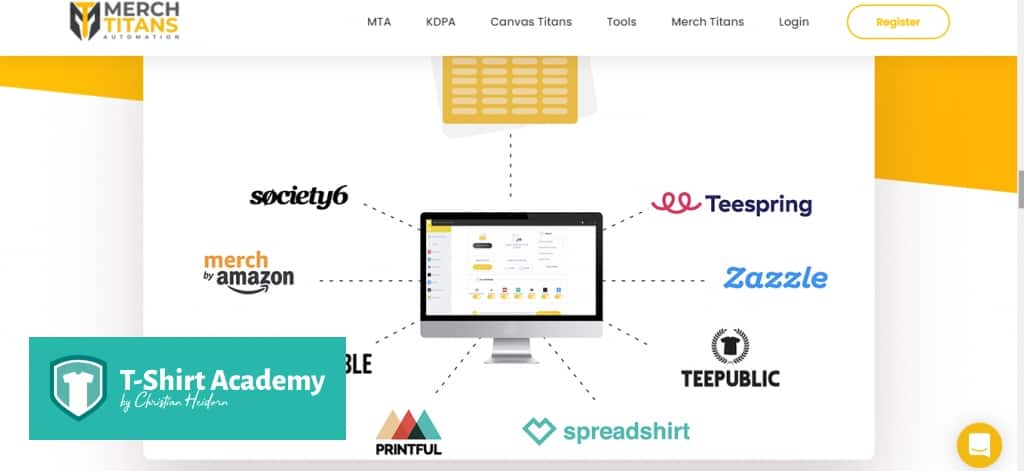 This includes Etsy, Shopify, Wish, eBay, and others.
Once you are able to upload to Printful, you will be able to upload many other platforms.
Spreadshirt
Automatic uploads to the platform to three of their most popular marketplaces: The United States, The United Kingdom, and Germany. 
TeePublic
Automated upload and publishing and resizing of all your designs. 
TeeSpring, Zazzle, Society6
Automated upload and publishing of all your designs on TeeSpring and its supported products.
The company has plans to include more platforms and updates to its software are regular. 
Pricing 
Merch Titans automation has two pricing options.
The single platform access and the all access pass.
The single platform access costs $24.99 a month.
It comes with similar perks available in the all access pass however, you will only be able to upload to one platform of your choice.
The All Access Pass costs $69.99 a month.
You will have unlimited access to all platforms.
Once you pay for one of these subscription plans the perks will include:
Instant download access to either a Windows or a Mac Operating System.
Unlimited uploads.
Regular updates.
Access to their Facebook community.
They will avail training videos to help you through the process.
Dedicated and available customer support when needed.
Of course, the Merch Titans software.
Unfortunately, Merch Titans automation tool do not give their users a free trial.
However, if you are unsatisfied by their services you will be able to get your money back if you place your claim within the first 14 days. 
It should be noted that paying a yearly subscription is cheaper than a monthly subscription. 
Especially if your print on demand business is a full-time business and you plan on regularly using the Merch Titans automation tool.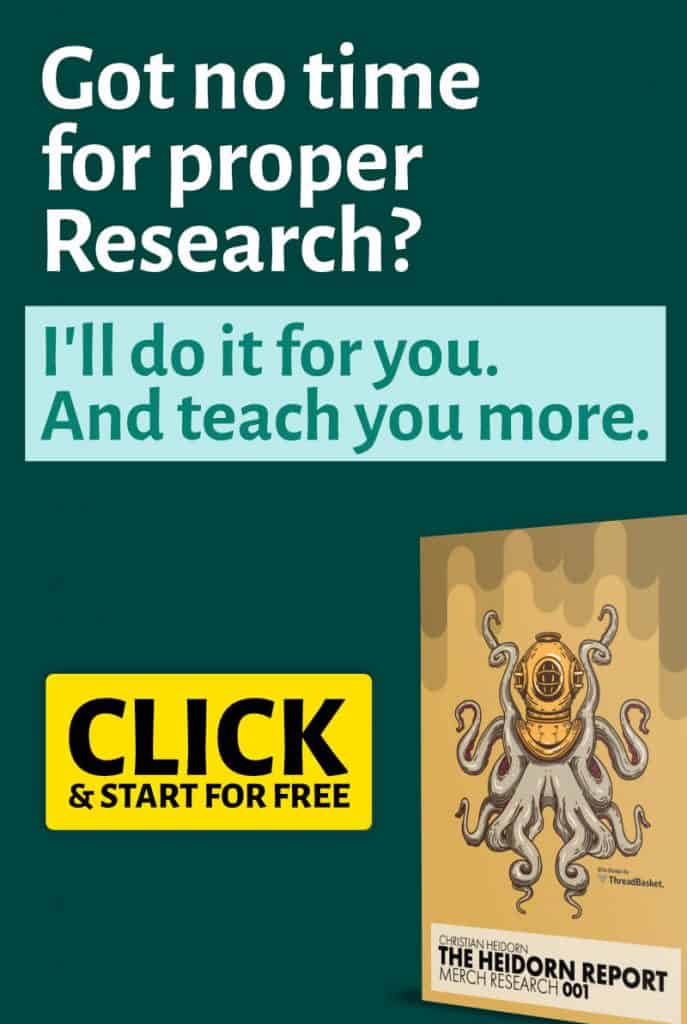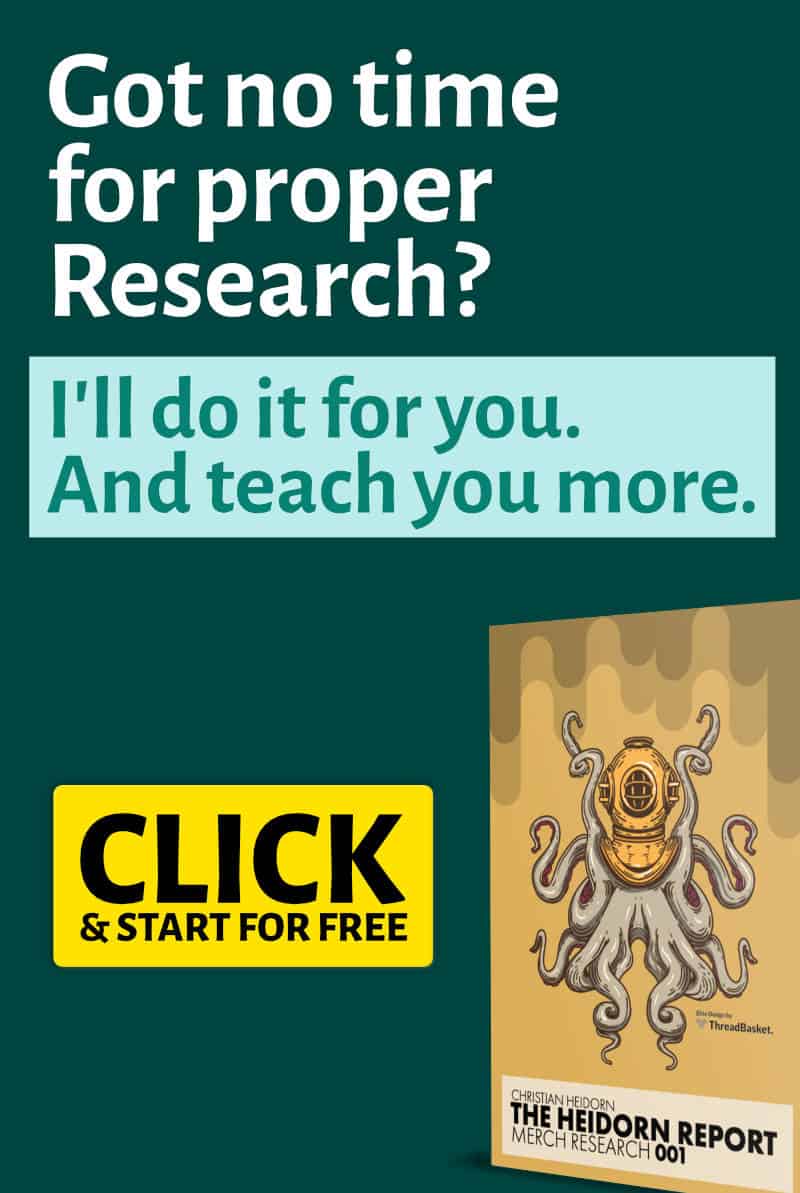 Merch Titans KDP Uploader
What is KDP?
KDP stands for Kindle Direct Publishing and has been growing in popularity within the print on demand space.
It is Amazon's self-publishing platform that allows authors, designers, and other creators to upload their paperback copies in KDP format.
By being on Amazon, their work will be available in over 6 international marketplaces in not more than 48 hours. 
This is exciting even for people who would not consider themselves to be authors.
You could have no content or a low content book with a very creative design cover and little to no content inside.
You could create themed books with quotes on a few pages.
Or you could create books with only blank lined pages. 
Uploading to KDP is a process that requires diligence, attention to detail, and a lot of your time. 
That is why the Merch Titans team created a tool that would make this process easier for designers and creators.  
Merch Titans KDP uploader allows authors to quickly and efficiently publish their e-books and paperback books by changing them into KDP form.
You can do this in a similar process to how you design and upload your products on to different print on demand platforms. 
You will begin by downloading the Merch Titans Kindle KDP Automation application.
You will have access to a blank spreadsheet that you will export and fill in all the details necessary for you to publish your book.
These details include; the interior file path, cover file path, title, subtitle, prefix, first name, middle name, last name, suffix, description, the necessary keywords for your book, and the price you want to charge. 
It comes with the option to choose the style and font you have to have in your book.
You are able to upload more than one file at the same time.
This parallel publishing feature will allow you to publish more than one book if you have them available. 
Click start and watch as Merch Titans performs its magic. 
The benefits offered by Merch Titans when publishing your book include;
You can quickly and easily set up your book in this format – this means that you can start selling your Kindle book in less time. 
You earn 60% royalty from all your Kindle books.
By putting your book as a print on demand option, your book will never run out of stock. 
Merch Titans KDP costs $34.99 monthly and allows users to have unlimited downloads. 
An additional benefit offered by this automation tool is that it allows users to generate an HTML description. 
 Canvas Titans
Canvas Titans is a Chrome extension that is available through Merch Titans' automation tool.
It gives designers the ability to create high-quality designs easily on Canva by using data that they already have in their CSV files and swapping it as they need to.
You can then create these designs and automate the download process. 
This extension works well for print on demand designers who use various platforms including Merch by Amazon, RedBubble, Spreadshirt, TeeSpring, and others.
Book publishers using Kindle can also use this tool.
Marketers and influencers who require various designs for their social media pages and their websites would also find this tool useful.
To use the extension, you need to add the chrome extension to your browser.
You will then create a design that is scalable on Canva.com.
On the Canva Titans web page, you can download their available spreadsheet and you will fill this in with the scalable data.
You can then choose whether you want to cycle your variables or if you want to download your design.
After this, you will choose which file format you want to download your design in. 
This could be PDF, PNG, or JPG.
Click submit and the automatic process of downloading and scaling will begin. 
It costs $9.99 a month and allows for unlimited uploads and unlimited cycling and downloads.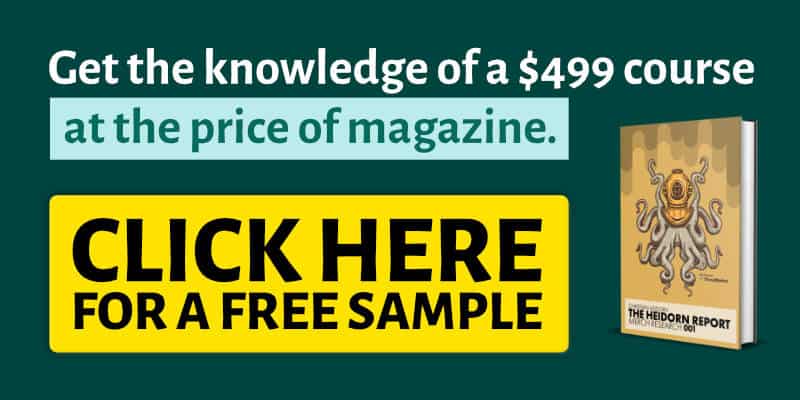 Tag Generators
Merch Titans Automation has several tag generators. 
RedBubble tag generator, Spreadshirt tag generator, Etsy tag generator, and TeePublic tag generator.
These tag generators allow users to find the top tags used for best selling products on these different platforms.
It allows you to copy and paste these tags onto your own products ensuring that your products have the visibility that they need to create profit.
Benefits of Merch Titans Automation
Merch Titans is one of the first automation tools created for print on demand businesses.
It allows you to upload your designs to various platforms making this process quicker and less tedious for you.
You are able to upload more and ultimately this means that your earnings also increase. 
It should be noted that you can upload more than one product at a time.
You can upload 100 t-shirts to each platform of your preference.
Basically, it can upload several t-shirts to all platforms that you are a member of in parallel.
This saves you a lot of time and ultimately a lot of money since it gives you time to focus on important aspects of your business, for example, research.
Amazon Merch Create is also a viable automation tool for sellers.
The tool allows you to change a standard t-shirt design to fit into the dimensions of a hoodie.
This means that you are able to have a wider variety of products to work with.
Their language conversion tool also comes in handy for designers and sellers in Germany.
It automatically converts English to German.
However, having to configure each of your products for every design that you create is a tedious process, and this is where automation tools like Merch Titans comes in. 
It is important to note that with any of these platforms, uploading designs that have been trademarked or copyrighted will put your account at risk of being closed.
Our Verdict
Merch Titans automation is a tool that sellers and designers should highly consider investing in.
It gives you a high return on your investment since you are able to upload a lot of designs within a shorter period of time. 
Merch Titans does not only work with merch sellers but is also an asset for self-published authors. 
It is an absolute game changer and has saved sellers several hours.
You are also guaranteed the safety of your designs since they are stored on your PC and not within the software. 
This gives you full control over your designs and your information. 
Merch Titans automation comes with a large Facebook community where you will be able to get assistance and best practice tips when you are stuck.
One of the downsides of using Merch Titans automation is in the beginning stages.
Using the spreadsheet may seem complicated and even time-consuming in itself.
However, once you completely understand what information is needed, you will realize how quick and efficient having this system is to your business. 
We would also advise anyone feeling stuck to make use of the resources provided for by Merch Titans.
They have an excellent support team which will be able to clarify any issues that you may have. 
They also provide video tutorials that will help you immensely, especially as you are starting out. 
Merch Titans KDP Automation comes with an app that will let you view how things are going as you go about your business.
In Conclusion
This brings to an end our review of Merch Titans (Research and Automation tools). 
Follow our blog for similar reviews on tools created to make your print on demand experience easier and more efficient. 
If you have used Merch Titans for either of the two functions, let us know your thoughts in the comment section below.
What did you love or hate about it?
We would love to hear more from you!
Merch Titans Automation
Merch Titans Automation
Merch Titans has been around for a very long time. What started out as a research competitor to Merch Informer has expanded into areas such as uploading as well. And that's why you can expect the same level of quality and performance from Merch Titans Automation that you've grown accustomed to from their other tools.
Merch Titans has been around for a very long time. What started out as a research competitor to Merch Informer has expanded into areas such as uploading as well. And that's why you can expect the same level of quality and performance from Merch Titans Automation that you've grown accustomed to from their other tools.
Total Score
i

Based on overall performance in various relevant criteria.