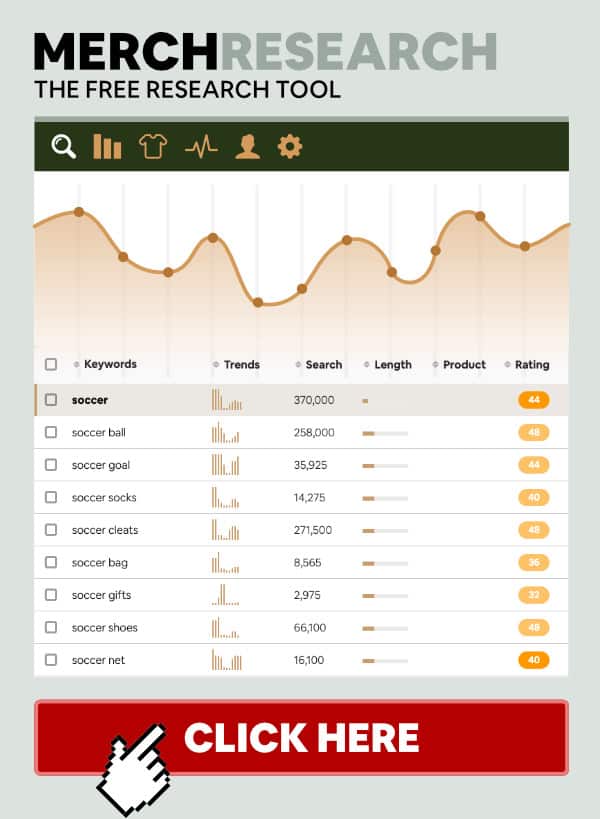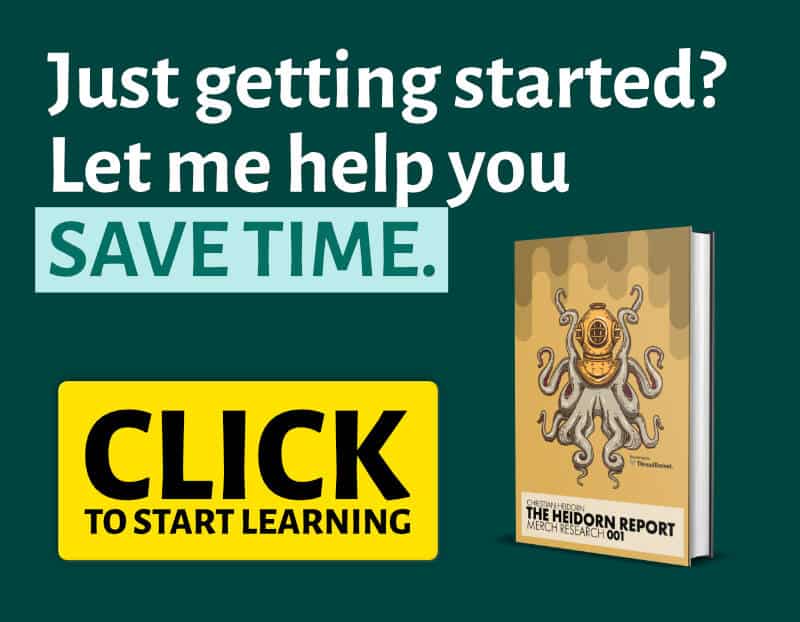 You've probably heard it a lot by now, merch research is an integral part of your success as an Amazon Merch seller. 
There are several tools that have been created to help sellers with this task and this includes the research tool: SpyAMZ. 
SpyAMZ prides itself as one of the top Merch by Amazon research tools.
Much like other research tools, SpyAMZ was created by fellow Amazon sellers who sought to create a research tool that would meet their needs.
SpyAMZ has in-built analytics that helps sellers catch trends, track designs, and find appropriate keywords.
It even comes with an image resizer.
In this article, we will give you an overview of this tool.
Key Features
Sign Up Process
The tool allows you to sign in to the platform through your existing Google account.
This will save you the hassle of having to create a new username and password.
You can also sign in with your Facebook account.
After this, you will land on your main dashboard.
Dashboard
SpyAMZ's main dashboard has a list of important data on Merch by Amazon.
You will find a list of the top 10 fastest-rising products on Amazon, a list of the best seller ranking products, and a list of random items that may be of interest to you.
Product Tab
The product tab has a wide range of filters to help you with your search.
You will be able to search for product ideas by either keying in the appropriate keyword or the ASIN.
You can sort through your results by price, best sellers rank, date that the product was first available, sudden increase, relevance, and date crawled.
The filters make it easy for sellers to make informed decisions on which designs they would want to source ideas on based on how they are performing, their price, and the dates that they were relevant.
If you are a seller, this will prevent you from sourcing ideas from outdated designs that may not be appealing to your target demographic at the moment.
Keyword Analytics
Perhaps the most important function of any research tool is keyword analytics.
SpyAMZ's keyword analytics collects the most popular keywords on Amazon.
It breaks it down further by word-count; three-word, two-word, and one-word count.
You can take a quick look to see which keywords are trending on Amazon.
The page is quite easy to understand and interpret and even those who are new to keyword research will benefit from this functionality.
The word count shows up to the top ten keywords, however, you will be able to search for more keywords from the search toolbar at the bottom.
The SpyAMZ database has a collection of 14,000,000 keywords – yes, you read that right.
With their inbuilt filters, you will be able to sieve them based on what you are looking for. 
You will be able to check the most repetitive keyword in a day and also get a detailed rank on how certain keywords are performing against other keywords.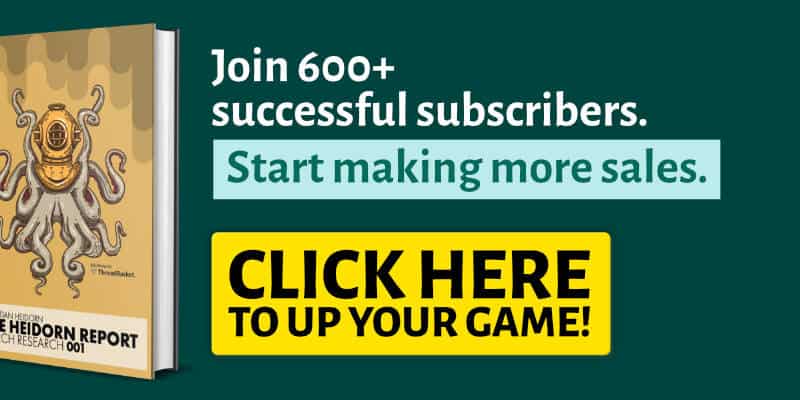 Trending Products
In the trending products tab, you will be able to gain ideas for your own designs.
This tab curates the top trending designs on Amazon and those that are high sellers.
This will help you come up with your own unique ideas for your merch. 
You will often find trending designs based on seasons or major events taking place primarily in the United States.
If there is an anticipated movie launch, you will find designs that are related to that launch.
During high peak seasons such as Christmas, you will find a range of designs within that theme and that are popular with buyers at that moment.
Once you identify designs that appeal to you, or that you think will appeal to your target market, you can favorite them and they will be collected in the favorite tab.
You can then go through this tab at a later date and create your unique design from these designs.
With one click, you will be able to get a detailed analysis of the fastest growing trends. 
The tab reports 100 of the fastest growing T-shirt designs.
It gives a detailed ranking of every design and updates this daily to give sellers a clearer picture. 
Bookmark
In the bookmark tab, you will find all your favorite designs.
On this page, you will be able to observe how these designs are performing by looking at their ranking and the change in pricing of these designs.
This will give you a clear picture of what you need to create to rank highly and you can make an informed decision when it comes to pricing. 
Trademark Checker
Similar to other research tools that are geared towards Amazon sellers, SpyAMZ comes with a trademark checker.
The trademark checker makes it easy for you to determine if a word or a phrase has been trademarked.
The trademark checker also updates regularly to keep information recent and prevent users from getting a strike and removed from Amazon.
Image Resizer
The image resizer is one of SpyAMZ's unique features.
This feature does what it says; it resizes your images to fit within the required hoodie or t-shirt dimensions needed by Amazon.
You simply drag and drop your images and choose the dimensions depending on what you are creating, whether it is a t-shirt or a hoodie.
This feature saves you time and you don't have to use other editing tools and software to accomplish this task.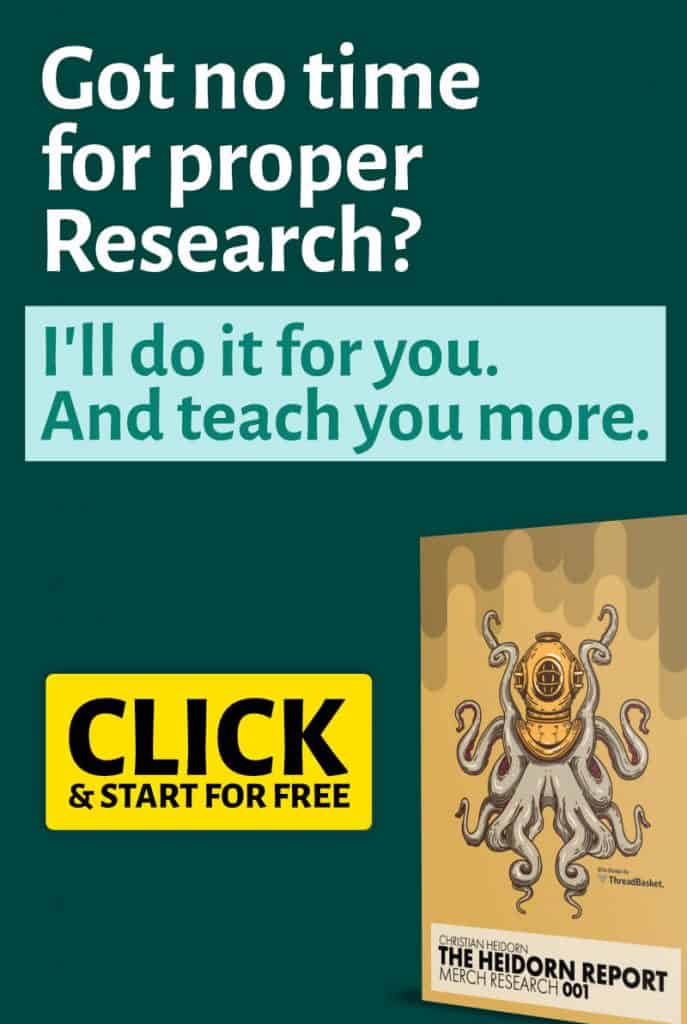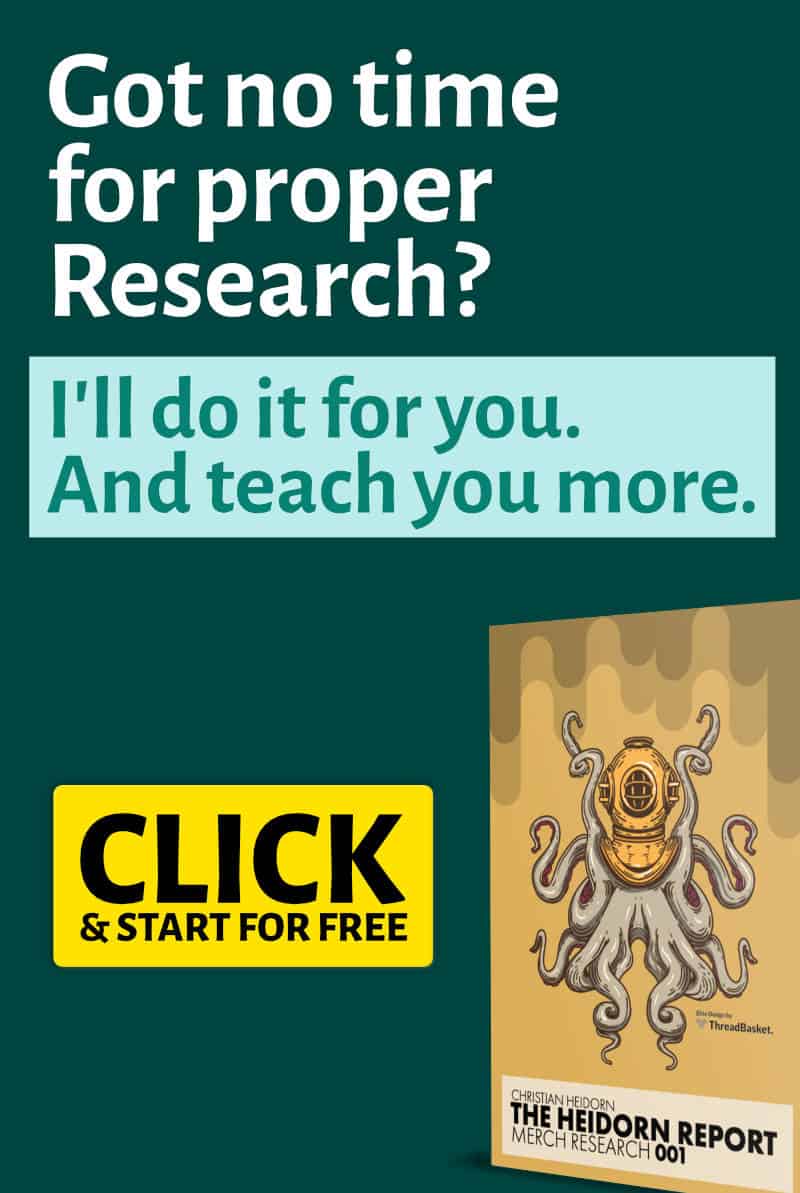 Pricing
SpyAMZ comes with a 3-day free trial.
The standard price is $99 per month.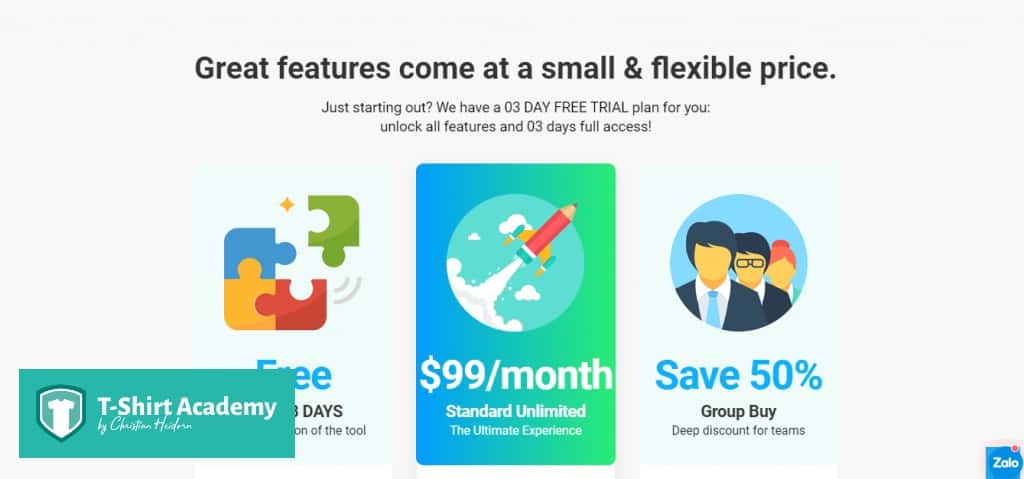 It comes with unlimited access to sales data, unlimited tracking, and full database access.
They also have a 50% group discount for teams with access to all features available. 
Benefits of SpyAMZ
SpyAMZ has a list of 9,999,999 items available on its database.
This is the largest database on Merch items that are currently available.
The creators were keen to ensure that they regularly update their product listing so that users have access to the most recent designs and product items.
It has a very easy to use interface. 

The UX is regularly updated to make users have a comfortable experience working within the website.
Their trademark checker is also a very reliable tool for any merch seller.
This prevents unnecessary account closures.
SpyAMZ makes it easy for you to compare designs and products on how they rank and their pricing.
Sellers are able to learn from other sellers and make informed decisions that will help them generate the most profit possible.
It comes with a powerful keyword analytics tool that helps sellers identify popular keywords in a certain period.
When making a search query under the products tab, you can save this search and check back the next day or in a week and you will still get relevant results based on the period you are searching for. 
SpyAMZ does not have a limit in search. 
All results will be displayed, and this gives you a clearer picture of how designs and products are performing.
With its ever-running tracker, the website will track the performance of different designs and products even while you sleep.
In its bookmark feature, you have access to charts and detailed data that shows how designs are ranking and how pricing has changed over time.
This makes observation easier and reduces the time spent having to manually pick through several designs to find a pattern or a trend.
You can also make decisions from a point of information.
Its image resizer will also save you a lot of time that you would have spent in another app.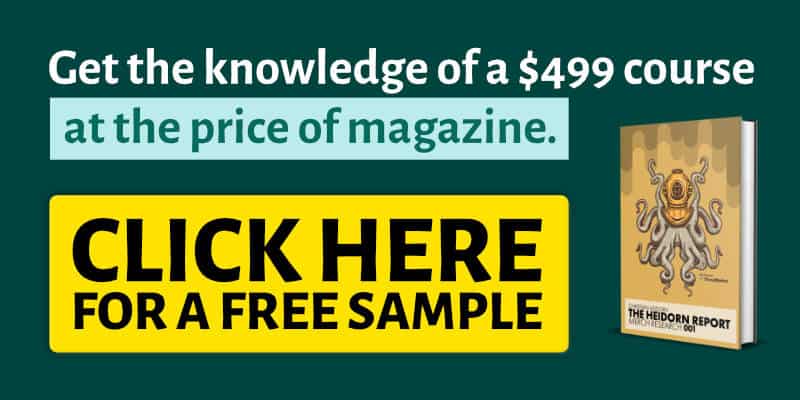 How to use SpyAMZ for Merch by Amazon
Log in to the platform using your Facebook or Gmail account as earlier mentioned.
Hunt for popular Merch trends by using their advanced filters. 
You can filter by Time of upload, Rank, Brand, BSR, Product, Trends, and Price. 
Go through their events feature and find out which events are coming up to help you create appropriate designs and get appropriate keywords and messaging.
Use their keyword analytics to find the best keywords for your designs based on how they are currently performing and on how they are trending. 
Group your designs and bookmark them so you can view them in the Bookmark tab.
Here you will be able to continuously monitor how designs are performing.
Create your designs and use the inbuilt image resizer to make sure that your designs are in line with dimensions required by Amazon, whether you are creating a t-shirt or a hoodie.
SpyAMZ vs Merch Informer
Merch Informer and SpyAMZ have similar functions.
They both offer market research tools to Amazon sellers to help them decide on which keywords, phrases, and designs to incorporate into their merch – and ultimately to make the most profit possible.
Merch Informer is an advanced tool that is still preferred by many sellers.
It comes with browser extensions that make work easier for sellers.
They are able to make trademark searches, edit, and make searches without visiting the actual website.
On the other hand, SpyAMZ incorporates a lot of its key functionalities in its product tab.
Depending on the seller, this could be a pro or a con. 
SpyAMZ does not come with a designer while Merch Informer does.
Merch designer is one of the few tools that sets Merch Informer apart from its competition. 
SpyAMZ comes with filters that will help you narrow down your search. 
You will be able to break down your search by price, date, and many more options.
SpyAMZ also comes with the rank feature that is not available on Merch Informer. 
You can monitor in real-time how different designs are performing and it also gives you a clearer picture of this information through time. 
You will also have access to random items that may have no relation to your keywords or your niche but will be useful when creating ideas for your product.
Merch Informer comes with a competition checker that is not available on SpyAMZ.
The competition checker will show you how specific keywords are ranking and will score them from A to F.
MI also comes with a listing optimizer that makes creating designs quicker by making it easy to fill in important decisions such as brand name, title, and description. 
Verdict
SpyAMZ is on the higher end of Merch Research tools.
However, it comes with important features that are necessary for any seller to breakthrough the Merch by Amazon space.
SpyAMZ will give you an extra advantage over other sellers on the platform.
Perhaps the most unique feature that can be associated with the tool is its rank feature.
The rank feature will tell you how certain designs are performing as compared to others.
It will also show you how each of these products has been priced.
This information is extremely useful to sellers since it will help you determine how to price yourself to avoid underpricing or overpricing your products.
Its interface is easy to use with many of its key features under one tab.
It does not come with a video tutorial to take you through the process which might be a disadvantage for many users.
The resources available are few, and this in itself can be frustrating for beginners.
They do have a live chat customer support team that will be of assistance.
Their free trial requires that users add their credit card or any other payment details and some users may not be comfortable providing this information.
I do believe that there are cheaper alternatives that will be able to provide the same functionalities.
However, you should take a look at the website and go through its features to determine if it is a worthy investment.
In Conclusion
With several research tools available and still being created to help sellers on the Merch by Amazon platform, it is important that users take their time to determine which of these tools work for them.
Sound research is one of the biggest factors of success for anyone who has made it big on Merch by Amazon.
A good research tool will set you apart from the rest and drastically improve your profits.
In our blog, we talk about the importance of research in your print on demand business and provide you with other key resources that will ease your day to day operations.
SpyAMZ is a top-notch tool that will elevate your research for Merch by Amazon to the next level. Especially it's design-based approach is relatively unique in the market. This is definitely a tool worth trying out, despite it's relatively high price.
SpyAMZ is a top-notch tool that will elevate your research for Merch by Amazon to the next level. Especially it's design-based approach is relatively unique in the market. This is definitely a tool worth trying out, despite it's relatively high price.
Total Score
i

Holistic assessment