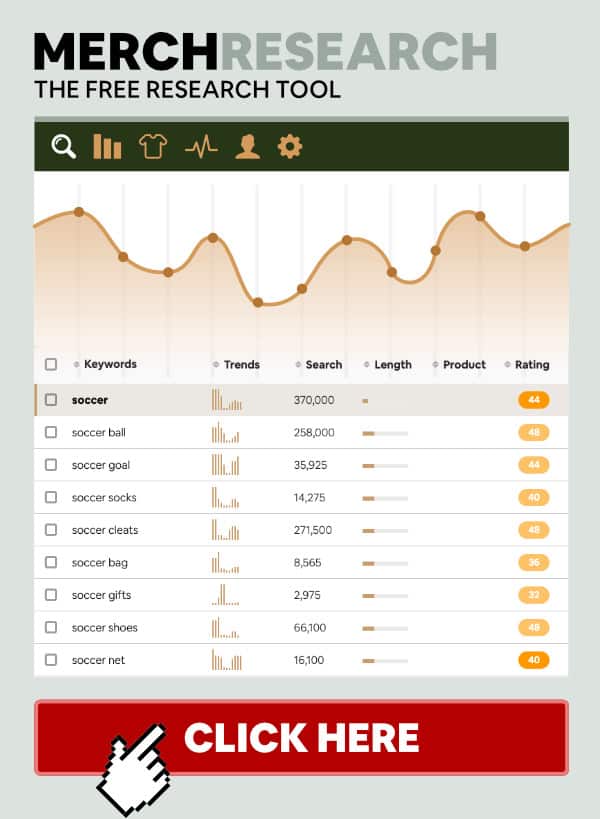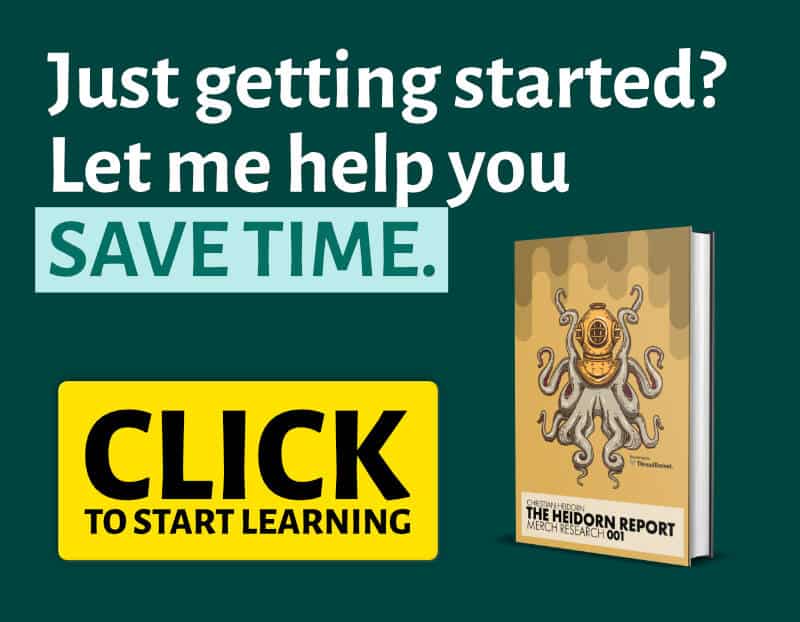 The key to success for anyone selling merch on any print-on-demand platform is good keyword research – especially merch sellers on Merch by Amazon.
Merch Ninja is one such tool that helps sellers find trending and popular niches that they can target to boost their sales.
Overview
Merch Ninja is a research tool created in Germany.
They regard themselves as the ultimate research for Merch by Amazon sellers.
The tool is comprehensive and offers several important features including an integrated keyword tool and the very important trademark tool.
Merch Ninja supports three marketplaces; Germany, the United Kingdom, and the United States.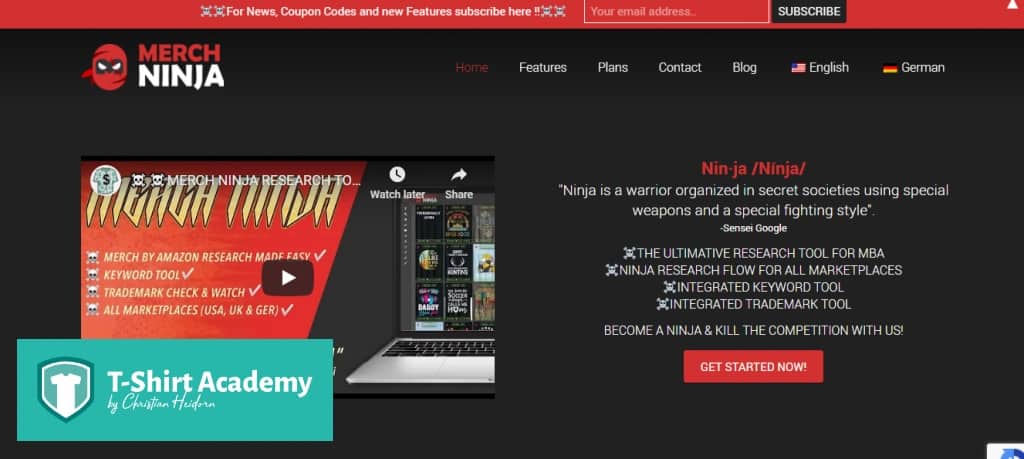 This makes it easy for sellers who want to expand their business into any of these markets.
An advantage of this research tool over other research tools is that this tool suggests high demand and low competition niches making it easy to break into these markets and make the most profit possible.
Below, we'll look at features offered by Merch Ninja.
Features
Account Setup 
Once you get into the website, you will be able to choose your language of choice.
Be it German, UK English, or US English.
You will be able to switch between different marketplaces as you chose.
Put in your log-in information and your password, and you are good to go.
Merch Research
Probably the most important function of Merch Ninja is its research tool.
Merch Ninja's research tool is an easy to use tool.
It comes with a Top Sales and Top BSR feature that allows users to find the top trending niches and brands that users are buying from.
The Top Sales feature sorts designs by those with the highest number of sales.
Top BSR on the other hand sorts designs by their current BSR.
The site states that their BSR and sales data are accurate and are updated regularly.
Their LIVE search feature provides users with the most accurate information at the time of their search.
They have a catalog of more than 2 million designs that they regularly update.
Their "Daily BSR Change View" feature allows users to check whether a design's BSR has improved negatively or positively when compared to the previous day's BSR.
BSR stands for the Best Sellers Rank, and it is how Amazon calculates how a product is performing as compared to other similar products.
With their New Designs feature, you will be able to see the newest designs within the last 7 days.
Their research feature makes it easy for sellers to look at what close competitors are doing.
It gives a detailed view of the brand, title, bullet points, BSR, reviews, keywords used, price, and BSR history of each design/product. 
You can gain a clear view of each product and what made it successful or what made it perform poorly.
This is extremely important information, especially for newbies to merch.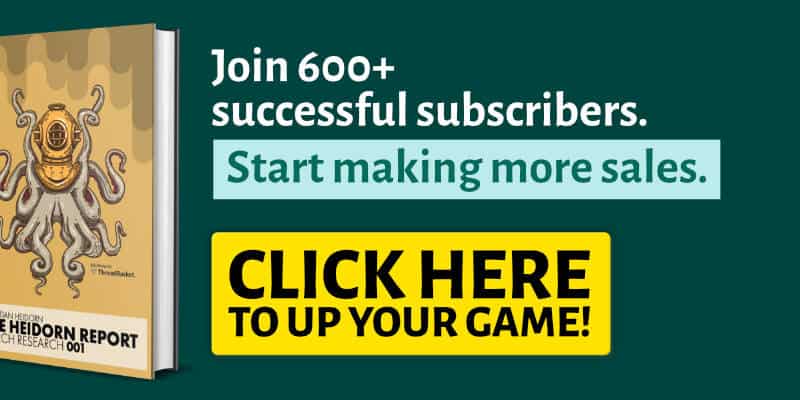 Filters 
Merch Ninja's filters make it easy for sellers to navigate the platform and gather relevant information.
You can filter your search by subcategories.
It has a list of 180+ subcategories.
You can breakdown your design search down into costume, fun shirts, and other subcategories.
You can also filter out products down to a certain BSR range blocking out results that fall outside your intended BSR range.
Pro Tip: It is advisable to keep your BSR within 200,000 to 600,000. 
This will ensure that you still have a view of the most popular trends that might not be heavily saturated.
One of their important features lets you filter out major brands such as Disney that may be dominating Amazon at that moment.
The filters feature of Merch Ninja also lets you filter out deleted designs so you can focus on only what is relevant.
Removed Designs
The "Removed Designs" feature acts as a cautionary tool that shows sellers designs that have been removed from the market due to copyright or trademark infringement.
You will be able to look at these designs so that you can assess what sorts of designs get pulled from Amazon and this will help you when creating your designs.
After all the work you have put in, the last thing you need is to get your account deleted due to copyright.
Trademark Checker
That brings us to the next tool, their trademark checker.
For any seasoned merch seller, you are aware of how important trademarks and copyrights are to keeping your Merch by Amazon account.
Several research tools such as Merch Informer come with Trademark checkers to help sellers with this process without having to access other tools.
Merch Ninja also comes with this feature.
Sellers can check if single words or whole listings have been trademarked using their Ninja Trademark Check.
You can easily copy and paste your listing into the TM Check and choose your intended keywords and check them for trademark.
It is able to note entire phrases, word combinations, and/or special characters that you may plan on using in your own designs.
The Ninja Trademark Check allows sellers to check with all relevant institutions. (EUIPO, WIPO, USPTO, IPO, and DPMA).
If you intend on selling in a certain marketplace, you can further breakdown your trademark search by country, Germany, the UK, or the USA.
Their Trademark Watch monitors relevant keywords and notifies sellers through email of keywords and phrases that have been trademarked.
It is advisable that all new merch sellers take advantage of trademark checkers.
Keyword Tool
Another very important feature that comes with Merch Ninja.
Finding the right keywords to use massively improves a seller's chances of making a sale.
Merch Ninja's keyword search tool for Amazon helps users find top keywords being used within their niche.
You have access to keywords being used by Amazon's top sellers.
It will also give you a view of the search volume and the relevance of each keyword that you search for. 
It has a LIVE feature that generates a list of the top keywords within your intended niche at the time of the search.
You can analyze your niche and also check what keywords your competition is using.
The feature utilizes Amazon's autocomplete feature making it easy to search. 
An added benefit of this tool is that it showcases a full list of designs with a specific keyword that you are analyzing.
These results can be displayed in a chart making it easy for sellers to analyze this data.
You will be able to check relevant keywords by the marketplace, Germany, the United Kingdom, and the United States.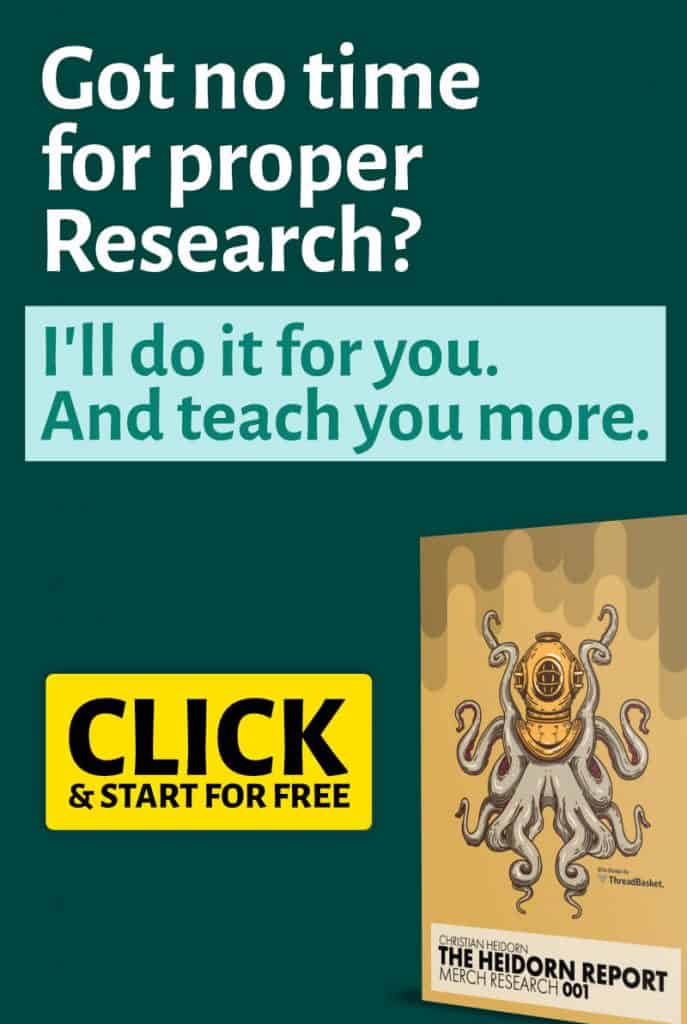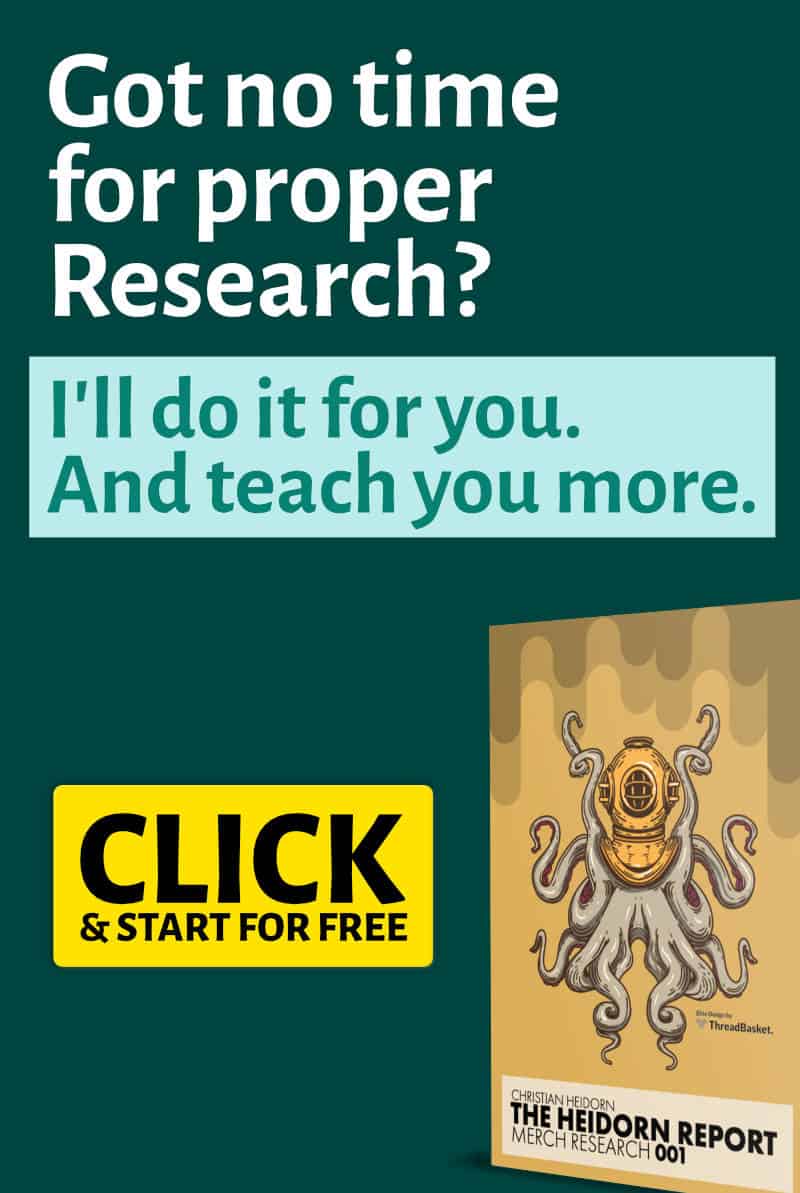 ASIN Tracking
Merch Ninja has a tracking tool that lets you observe a competitor's listing.
By copy and pasting the ASIN and click the tracking button, you will generate useful data on your competition's listings.
You can also check this data within a specific period and you will also have access to Pricing History and BSR History.
Their tracking feature also makes it easy to track the performance of new designs in your merch account.
You can also keep an eye on trends using this tracking feature.
Event Calendar
Another favorite tool of many merch research tools is the event calendar. 
Holidays are important events for merch sellers.
Many people purchase gifts during holidays and being one step ahead gives you time to plan and design for these special occasions and gain the maximum amount of profit possible.
Merch Ninja comes with an event calendar feature that is time and location-specific.
A feature that sets apart Merch Ninja's event calendar from the rest is that you are able to view top-ranked shirts/products during specific holidays.
This is great for sellers running out of ideas for the holiday season.
Favorites
Their favorites feature makes it easy for you to bookmark designs that are appealing to you.
It comes with a CSV export feature that makes it easy for you to export these designs and share them with your designer or another seller.
Safety
Merch Ninja prides itself on its safety features.
Sellers are guaranteed that all their data is being kept and processed in accordance with existing laws.
They also have relevant security measures to protect your information and your account from outside sources.
Advantages of Merch Ninja
Merch Ninja is mobile-ready making it easy for users to use the tool on their smartphone or tablet while they are on the go.
The page performance is fast and smooth. 
You can easily and scroll through all the designs that you are searching for.
Your results for your keyword search will also pop up within seconds.
Its LIVE data functionality makes sure that the designs and keywords you are searching for are current and are not outdated.
It is extremely useful when making decisions.
Its Keyword tool is comprehensive.
You can easily and quickly find keywords being used by Amazon top sellers within your niche.
Its analytics tool also makes it easy for you to compare supply and demand so that you can decide which keywords to use for your designs.
Their trademark tool is also world-class with access to trademarks from different institutions such as the EUIPO, WIPO, DPMA, IPO, USPTO. 
You can also check trademarks within the three markets accessible to Merch Ninja, Germany, the UK, and the US.
It has an advanced automation check that also checks for previously searched for trademarks.
Removed designs are a unique feature to Merch Ninja.
It showcases designs that were removed due to copyright or trademark infractions.
This makes it easy for new sellers to observe what not to do and ultimately prevent their Merch by Amazon accounts.
Their event calendar is also one of a kind.
Apart from alerting sellers when an event is coming up, it also shows top designs by specific holidays.
This makes it easy for designers and sellers during the ideation phase.
Similar to Merch Informer, Merch Ninja comes with a help section and video tutorials to help you along your journey.
They have an extensive FAQ section that answers all questions that you could possibly think of. 
They also have a large community through their Facebook group where you are sure to get assistance from a user on the platform.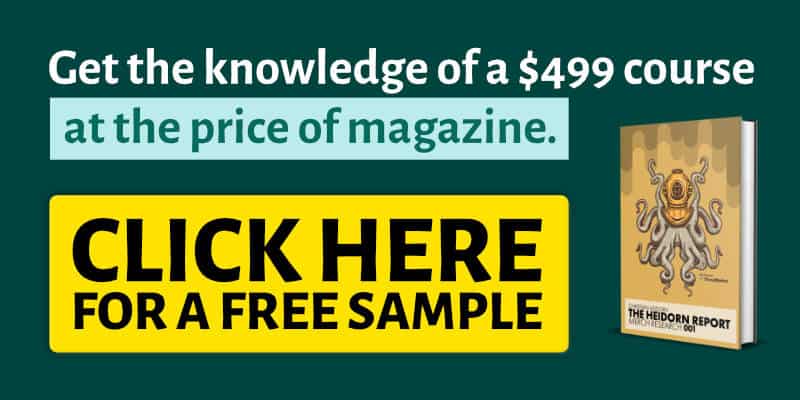 Pricing
Merch Ninja comes with three pricing plans; Basic, KW-Tool, TM-Tool.
The basic plan costs $39.99 per month.

It gives you access to all available marketplaces (GER, UK, COM)
Sellers get access to all keyword and filter functions.
You will have access to all product types from t-shirts, hoodies, and pop-sockets.
An event calendar with over 900 events. 
Access to over 5 million designs on the database.
Ninja Metrics and more.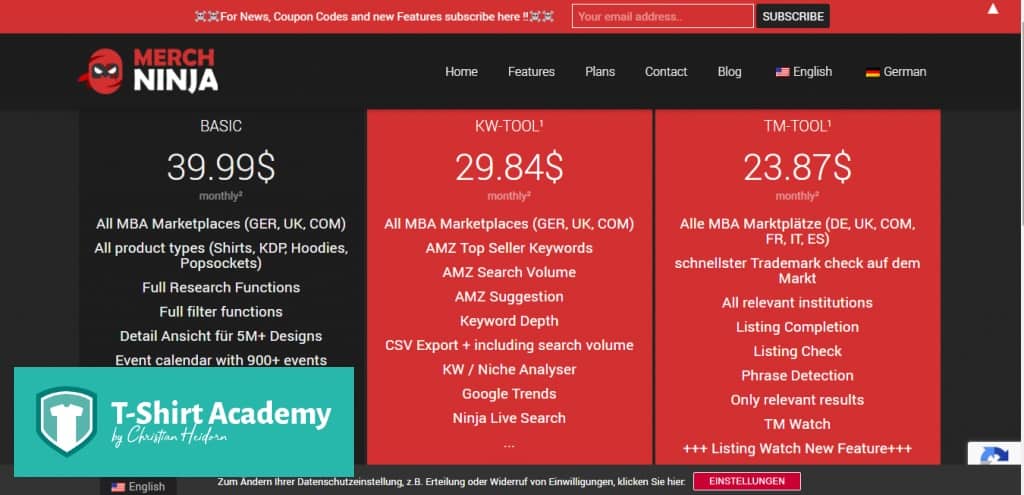 The KW-Tool plan costs $29.84 per month. 

For this price, you have access to Amazon's Top Seller keywords.
Amazon's search volume.
Keyword depth.
Keyword and Niche Analyzer.
Google Trends.
Their live search feature.
CSV export feature and access to Google Trends.
TM-Tool costs $23.87 monthly.

It gives sellers access to their trademark tools for all of their marketplaces.
Their trademark check is relevant to all major institutions.
It comes with a listing check.
It has a phrase detector.
It also has a trademark watch that monitors phrases and keywords that you are interested in.
You will also be able to get email notifications on changes to phrases and keywords being tracked.
All plans give users access to all three marketplaces. 
Users should be keen to note that these prices are exclusive of tax.
Final Verdict
A good keyword/niche research tool is of extreme importance to sellers.
Merch Ninja is a powerful tool that comes with advantages not seen in other tools.
They are also available in the three Merch by Amazon marketplaces making it easy for sellers who want to expand into new markets.
Apart from its amazing keyword tool, it comes with a niche list that helps sellers analyze and find trends that will sell.
They keep their over two million designs updated daily making sure that you have access to only the most relevant information.
This and other features mentioned above make Merch Ninja a formidable research tool that you should look into investing in.
It is on the higher side when it comes to pricing, however, with the features provided, it is definitely worth it. 
Merch Ninja Research Tool
Merch Ninja Research Tool
If you're a visual person but also like to conduct your research and make decisions based on hard data, then Merch Ninja is probably the only research tool for Merch by Amazon that you'll ever need. Yes, it's not the cheapest out there, but we've got you covered with our exclusive 25% OFF coupon.
If you're a visual person but also like to conduct your research and make decisions based on hard data, then Merch Ninja is probably the only research tool for Merch by Amazon that you'll ever need. Yes, it's not the cheapest out there, but we've got you covered with our exclusive 25% OFF coupon.
Total Score
i

Based on overall performance in various research-relevant criteria.