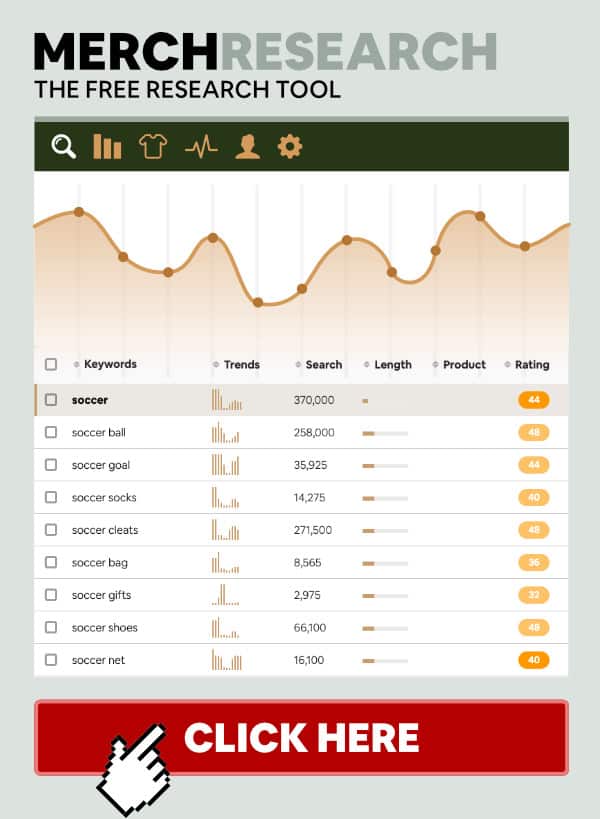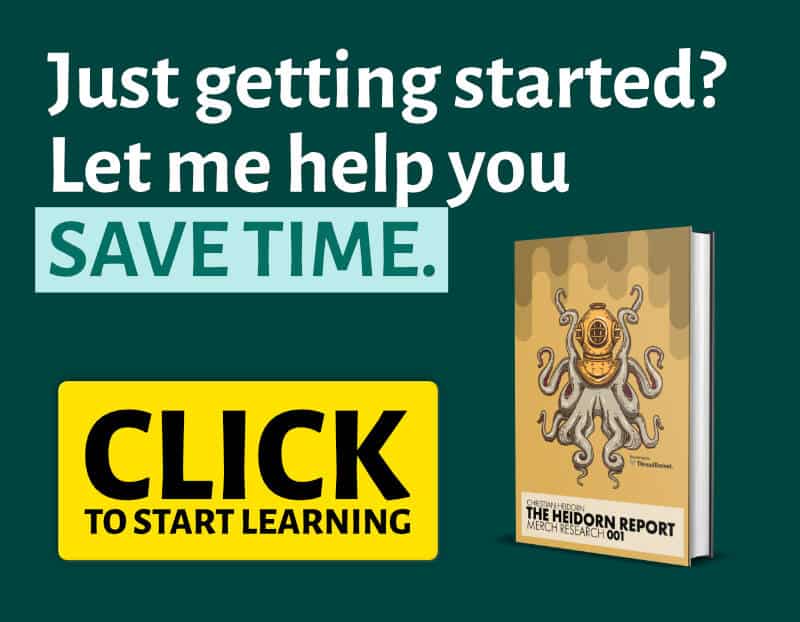 Merch by Amazon is a great platform for sellers to make money.
However, it is extremely competitive.
To stay ahead of the competition, sellers need to learn tips and tricks that place their designs and products in the eyes of potential buyers.
This is where Amazon Merch SEO and keyword search strategy becomes crucial.
With several designs already on Amazon, this can be very difficult.
One great way of beating the competition is through in-depth Amazon Merch SEO and keyword research.
This is not done once and forgotten about.
You have to continuously keep up to date on what's relevant to make sure that your designs get the visibility needed for your business to make a consistent profit.
Amazon Merch SEO
When we think of SEO, many people do not immediately think of Merch by Amazon.
Most people see SEO as a tool for search engines and other web pages, however, as with everything online visibility is extremely important.
After spending time creating your designs and creating listings, you want them to reach your target customers and that's where Amazon Merch SEO comes in.
If you fail to invest time in getting a proper SEO strategy, you not only risk getting less traffic, but also risk losing sales.
Amazon's search algorithm isn't the same as Google's algorithm, in fact, it is harder to understand. 
On Merch by Amazon two factors matter the most; the Performance of your design/product, and its relevance.
Optimizing your listings based on these two factors will result in more sales and more visibility on their search page.
Keyword Research
Before you can begin to optimize your Amazon Merch SEO, you need to spend time conducting keyword research.
There are several Merch by Amazon keyword tools that we have highlighted in previous articles.
Make use of one of these tools to help you find the right keywords for whichever niche you are selling your designs under.
If you have decided to make t-shirts for men with mustaches, a quick search of "mustache t-shirts" will show you which keywords are popular and are being used by other sellers.
Look at the search volume for each keyword.
You want to choose keywords that are being searched for but don't have too much competition.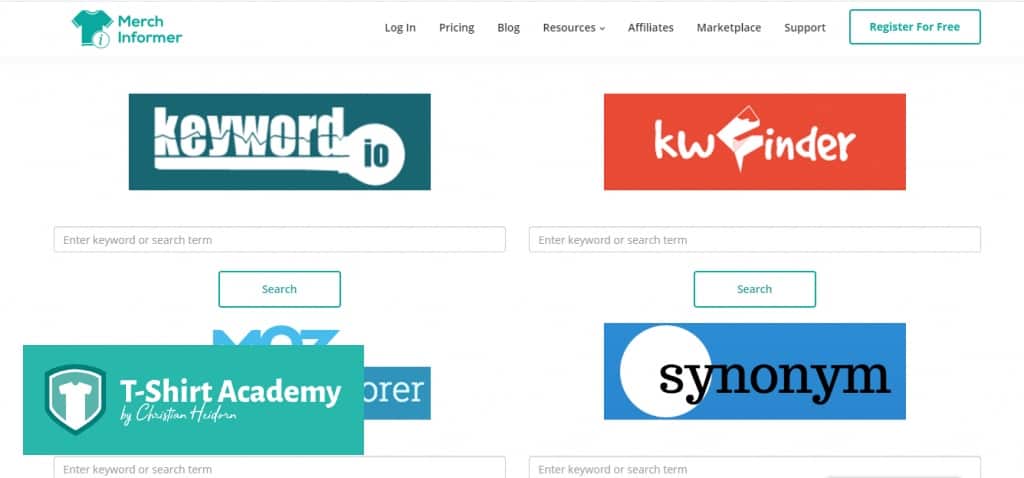 Apart from keyword tools, you can also source relevant keywords from niche groups on social media pages on Facebook.
You can also look through Google Trends or if you have access to Google AdWords, you can use their keyword tool to find which words and search terms are relevant and being searched for on Google itself.
With this information, you can then decide which keywords to use for each of your Amazon Merch SEO designs and products.
Remember, without strong keywords in your listings, then you are practically wasting your time because other sellers' designs will overshadow yours – no matter how good you think your designs are.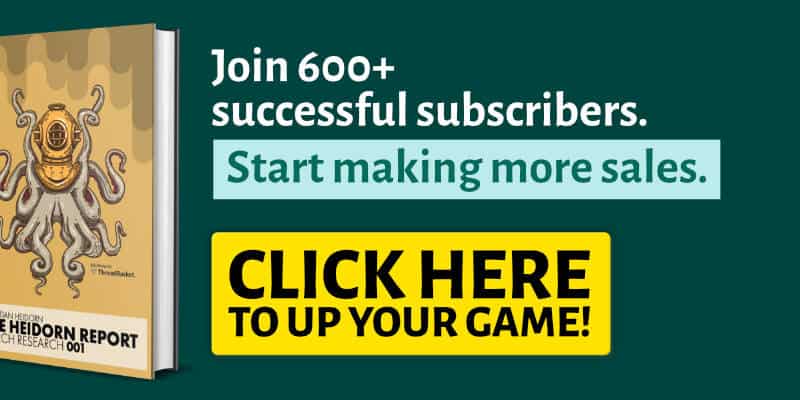 Product Title
Once you have determined which keywords you want to use, you need to know how to place them in your listing for the best results.
The product title is perhaps the most important area for Amazon Merch SEO.
A well-written title improves the relevance of your product.
You'll want to place the relevant keyword in your product's title.
In the example we have above, we chose mustache t-shirts as the keyword.
If you simply title your design "Moustache T-shirt", you'll be competing with several hundred or thousands of designs with a similar title.
As good practice, you should keep your title between 115 and 144 characters. 
You should also avoid keyword stuffing, especially in the title because it becomes unnatural to read.
Bullet Points
Merch by Amazon has two bullet points that give you an opportunity to optimize for Amazon Merch SEO.
After capturing attention with the title, you can further sell your design in the bullet points.
Here is also where your creativity will be tested.
Yes, you want to optimize for SEO but you also want to create sentences that capture attention and sentences that will pique their interest.
To do this in a way that flows, you'll come up with variations and synonyms of keywords that you are using.
This is not an opportunity to describe your t-shirt and your t-shirt design.
It is your opportunity to sell them on why they need to buy your design.
Talk about why they need the design.
Tap into their hobbies and their needs.
Your keywords are still important here, but the goal is to make the bullet points sound natural.
Write your sentences in a way that is readable and still convincing.
This might take some time to master, and if writing does not come naturally to you then you will need to outsource help.
In your bullet point talk about the benefits of buying the design and not what the design is or looks like – they can already see it.
Make sure to check out what your competition is doing because this will help your Amazon Merch SEO in the long run.
You don't want to be doing less than what they are doing.
Product Description
Many Merch by Amazon sellers state that this part of your listing does not matter much.
However, if someone is buying your design from a mobile device, they will see this section.
You should still optimize this section and include relevant keywords even as you describe what the design is about.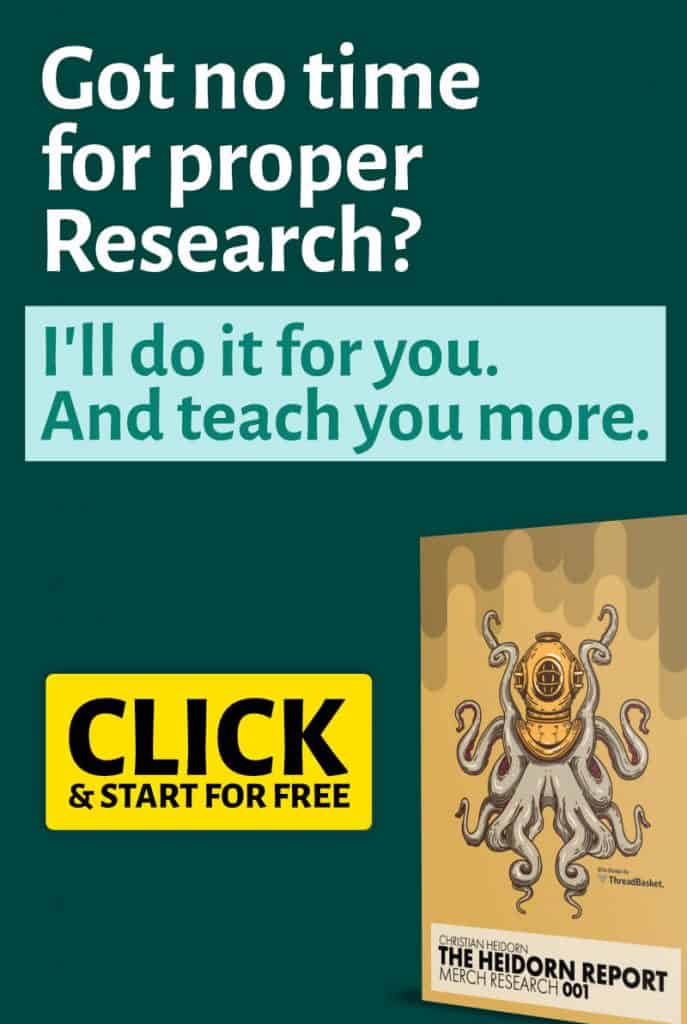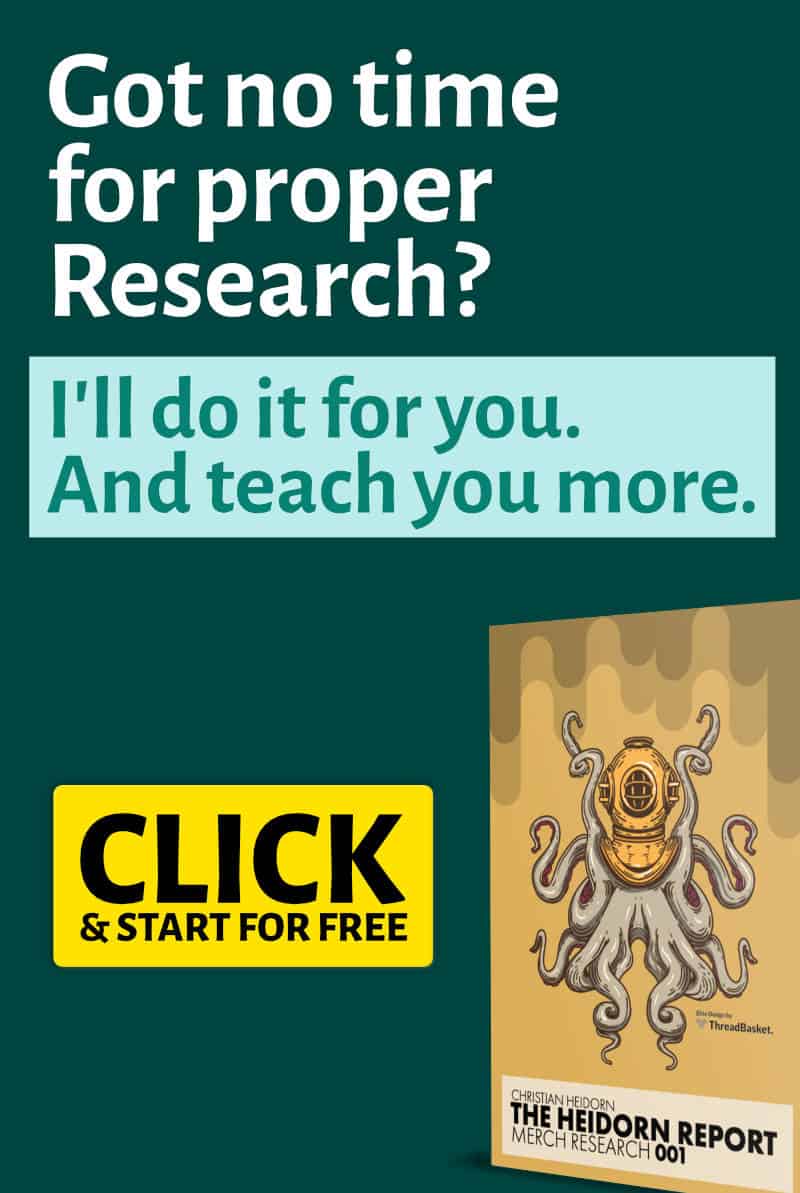 Advanced Merch by Amazon SEO
Apart from trying to get your designs to rank on Merch by Amazon's search pages, you'll also want it to rank highly on Google.
This will give you an edge over the other sellers on the platform.
Here is where Amazon Merch SEO really comes into play.
You want to drive organic search traffic to your designs from the Google search page.
Not many sellers talk about Google's SEO when talking about their Amazon Merch SEO strategy but it is equally as important.
People search through Google for a variety of products, including looking for t-shirt designs.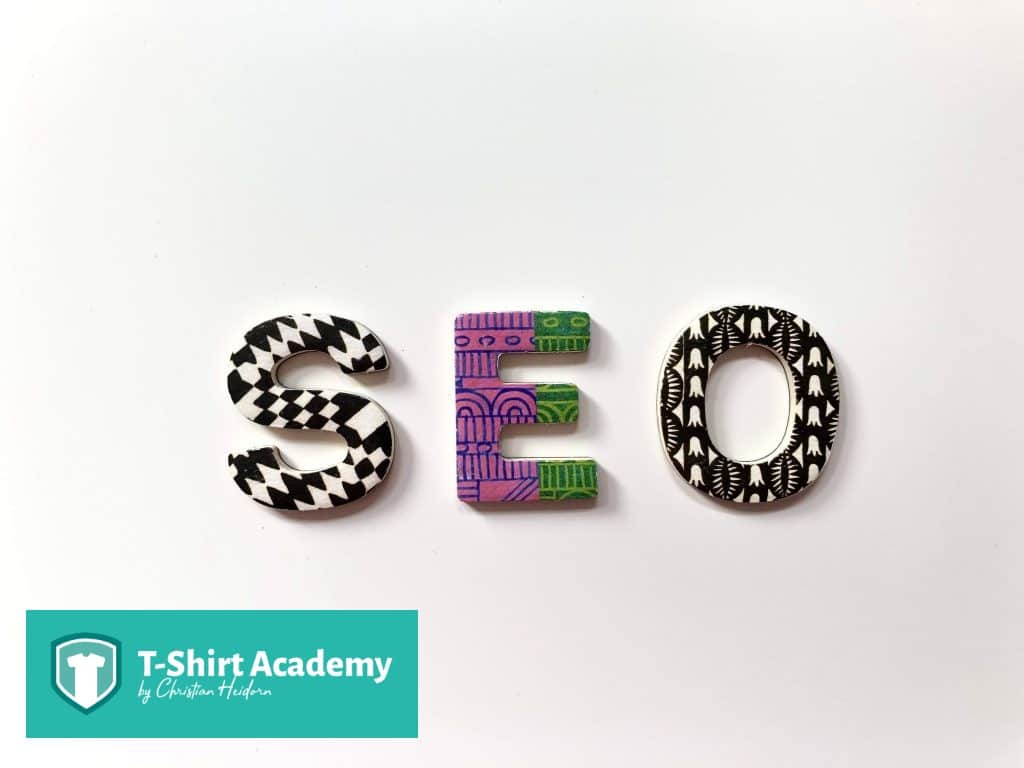 To optimize your listings to make them appear on Google's search results pages, it doesn't take much more than the steps talked about in the beginning.
You first need to make sure your title is something that someone would search for.
This needs extensive keyword research.
You can also take advantage of long-tail keywords to help you eliminate competition for example, instead of "Moustache T-shirts" you can go for longer keywords like "no shave November mustache t-shirt".
This keyword has a smaller search volume but the number of people interested is sizable.
By making the title of your design a keyword, it gives you more opportunity to show up at the top of Google search results.
Backlinks
Getting relevant backlinks is also relevant to your Amazon Merch SEO strategy.
Backlinks are essential to your Amazon Merch SEO strategy because they act as a vote of confidence for your designs.
A backlink is simply a link that is created when a website links back to another.
If you have enough of these links, it shows Google's search engines that your product/design is credible and your design ranks higher during searches.
Earning backlinks has a positive effect on your store's/design's performance.
So how do you get these backlinks?
Niche-Specific Forums
There are several Merch by Amazon forums on the internet.
Choose a social media network like Facebook and find groups where people are involved or are enthusiasts of whatever niche you are selling under.
Going with the example we have been going with, find groups where people are interested in beards/mustaches and how to care for them.
Once you find these groups observe them, find the groups that are active and join them.
Become part of the conversation. 
Contribute to discussions over some time to create trust.
Make yourself visible while avoiding stepping on anyone's toes.
Be friendly and personable.
You can offer relevant advice and encouragement.
Depending on the forum, find what works for them.
After creating some rapport over a period of time, you can creatively share your design.
You can do this by sharing an image of yourself wearing one of your designs and making an interesting post about it.
Add a link to the design or wait for someone to make a positive comment and share the link.
In forums, you don't want to come off as too salesy. 
You want to be a trusted friend, so avoid joining groups and forums and immediately pushing your designs onto the people already there – it will turn them off completely.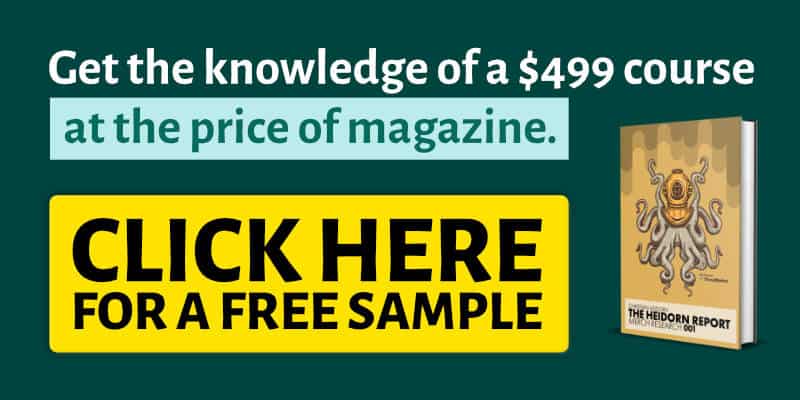 Approaching Content Creators and Website Owners
To create enough attention to your design, you might need to approach bloggers or website owners.
Once again, it is important to find bloggers and websites that are related to your niche.
Look for bloggers with enough following and enough traffic going to their websites.
After approaching these individuals, offer to give them one of your t-shirt designs for free.
You might not get many takers, especially if the website has a higher amount of traffic, but you will find people who will be interested in getting one of your products.
Especially if you mention that the t-shirt is free. 
You can try to reach out to smaller websites but make sure that they have a good amount of traffic.
You can do this by copying the websites' URL onto sites like Semrush that will tell you how many people visit the site. 
If they agree to receive your t-shirt and they like it, ask them if they can link back to your Merch by Amazon link on their website.
This brings in new attention and a fresh audience to your designs. 
However, it is important to note that not all backlinks are useful.
On Google, backlinks from trustworthy, popular, and high-authority websites are usually better to have.
Some links will always be more important than others.
When reaching out to websites, make sure you look for those that are trusted and have a good reputation. 
Other Factors
We should also mention that other factors will affect your Amazon Merch SEO including price and conversion which are intertwined.
How much you charge for your designs will affect your conversion, which basically means the number of people who buy your designs. 
You should always compare your prices to similar designs that are being sold on Merch by Amazon.
You don't want to price too high and you might now want to price too low.
Pricing too low might be an initial strategy but as you grow, you will want to increase your prices.
The more designs with a lower price point than yours the worse your conversion rate is. 
Reviews also play a critical role in how your designs rank.
Customers love buying designs that have a high rating – because it shows that the design is of quality.
Look into creating designs that look good and are also applicable as this is also crucial for your Amazon Merch SEO.
They don't always have to be creative but they always have to look good.
Always maintain your standards.
Designs that rank higher under broader categories/niches usually have better reviews.
In Conclusion
Amazon Merch SEO and keyword research can be tricky – especially in the beginning.
However, if you understand how it works, eventually you will get a hang of it and know what works and what doesn't work for you and your store.
Much like any other business, you can't achieve quick success with any of these steps.
It takes consistency, research, and consistent tracking and observation.
To make sure you're ahead of the competition make sure that you keep up to date with SEO tips and tricks on Merch by Amazon and on Google.
Although you are not selling on Google, searching for keywords and trends on Google AdWords or Google Trends will give you a general feel of what people are searching for.
Make use of Merch by Amazon keyword tools like Merch Informer that will give you useful information on important keywords and their search volume. 
What will set you apart from other sellers is the amount of organic traffic you gain from other avenues like Google.