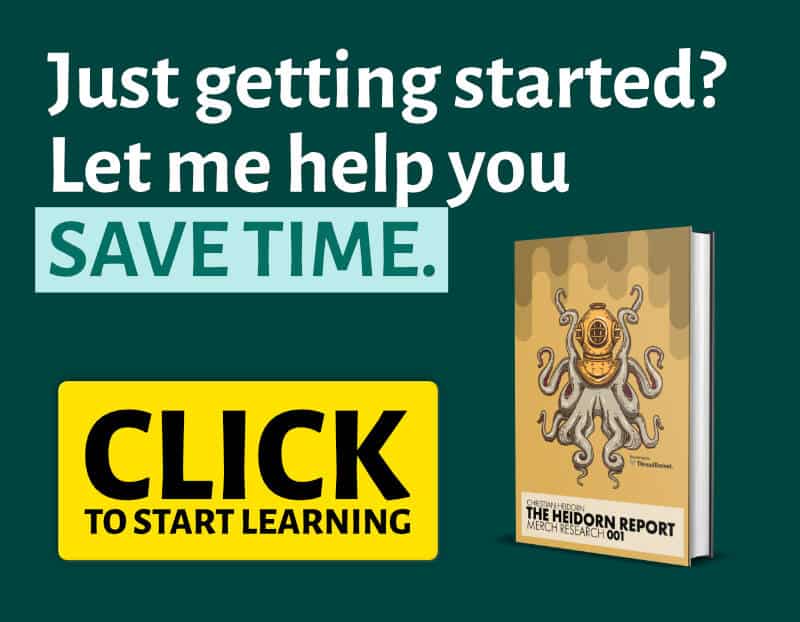 Starting a print on demand business is perhaps one of the easiest businesses to start.
With its minimal startup cost, it is the go-to solution for many, looking for ways to earn money.
Starting a print on demand may be easy to start but it can be challenging if you are trying to achieve long-term success.
With the increasing number of sellers on various platforms, it can be difficult to set yourself apart from the rest.
In this blog, we give you tried and tested tips on how you can rise above your competition.
What Is Print On Demand?
Print on demand is a business model that allows sellers to have their designs placed on various products like shirts, hoodies, mugs, pop sockets, hats, calendars, and more.
These products are sold on various print on demand platforms and sellers are able to earn a royalty with every purchase.
For creatives and designers, starting a print on demand business may be perfect for them since they'll be able to use their skills and earn money at the same time.
This print on demand business model is preferred by many due to the low initial cost.
Printing, shipping, and delivery are often left to the print on demand company and sellers only have to focus on creating and marketing their high-quality designs.
Advantages
As mentioned, starting a print on demand business is low cost. 
If you are a designer, then your initial cost will almost be zero since you won't have to hire a professional designer or source for designers from websites.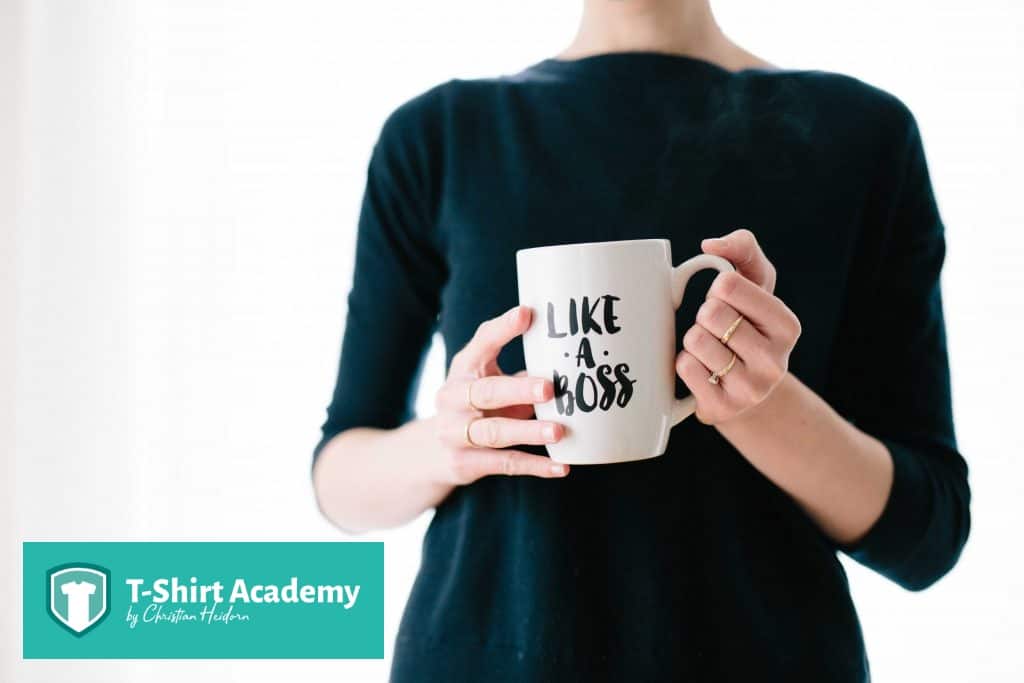 You'll be able to reach more people depending on the areas available to your preferred print on demand platform.
That means that your designs can be worn across the world and if you have an existing brand, this is great for marketing.
If you can learn what works and what doesn't work, you can earn high profits and also earn passive income once you have uploaded your designs.
Disadvantages
You have little say over the quality of the material being sent to customers although most print on demand business platforms try to maintain the best quality possible.
Since you don't fulfill these orders, you will not be able to add your own personal touch.
Depending on the platform, you may not have a lot of interaction with your customers and this means you won't be able to create a connection between yourself and the buyer.
How To Achieve Success
Although it is easy to start, print on demand can be extremely tricky.
There are several designers doing the exact same thing and therefore understanding what works and what doesn't is crucial.
Find the Right Niche
Finding the right niche is a balance between finding what you are interested in and what is selling.
As much as you may want to sell your favorite designs, you need to find out if there is an existing market especially if you're starting a print on demand business to make money.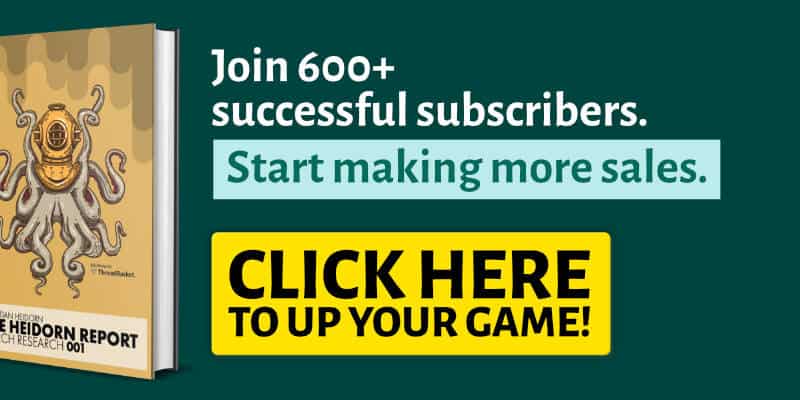 Choosing the right niche needs a lot of prior research.
You need to spend time finding out what designs have the highest sales volume.
Once you have shortlisted these niches, pick one that isn't too saturated.
When starting out, you don't want to get into the higher volume niches since it will be harder for you to get noticed, but that doesn't mean you should pick a niche that has low sales volume.
Choose the Right Products
T-shirts are some of the most favored products for designers.
This is because more people buy t-shirt designs than any other products.
Therefore, it would make sense for you to have your designs placed on t-shirts.
When choosing other products to place your designs, choose products that people will want to buy and products that will display your designs well.
You can check popular eCommerce sites like Amazon and eBay and see if those products are selling.
Get Your Designs Ready
If you're already a designer, then this part won't be as difficult. 
Once again, before choosing what designs to create, look at what your competition is doing and see if you can create better. 
If you're short on ideas then look at what designs are selling the most and see if you can create unique designs within the same theme.
When designing, it is important that you remain unique and avoid copying what is already being done.
Platforms like Merch by Amazon ban sellers who copy existing designs.
Apart from the probability of getting banned, achieving success with copied designs is unlikely since these sellers have already created their own unique community.
 If you can't create your own designs, you might want to hire a professional freelance designer to create them for you.
This is much cheaper than an in-house designer.
You could also source from trusted websites like Threadbasket where they provide print on demand designs for different platforms.
Create Your Website/Store
After creating your designs you need to have your website or print on demand business store ready.
One of the best platforms to create a store or website is Shopify.
Shopify is a great platform and is easy to use, you don't need to learn how to code as its features are user friendly.
It's important that you spend enough time making sure that your website looks good and is appealing to a customer.
You want them to stay longer in your store so they can see what you have to offer.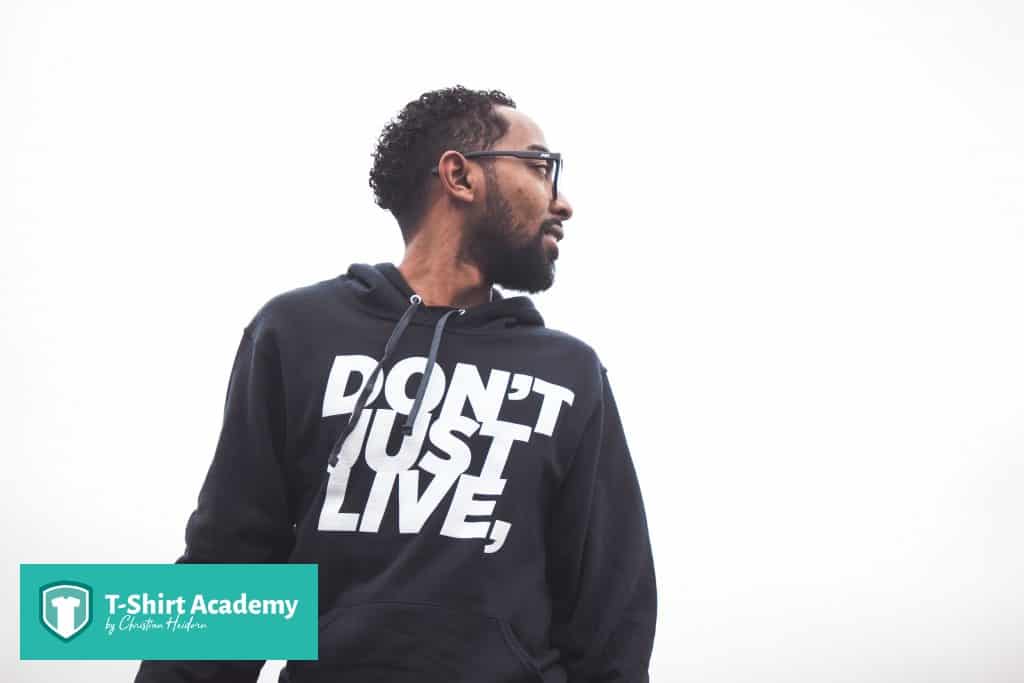 After creating your store, you'll need to pick a print on demand business supplier.
There is a wide range of platforms to choose from and they are only growing.
Merch by Amazon, Printful, Spreadshirt, RedBubble, Zazzle, Bonfire, and more are just a few of the options to choose from.
Make sure that you understand each platform before making a decision.
Understand how much royalty you'll earn, their different policies, their guidelines, their shipping and delivery details, and more.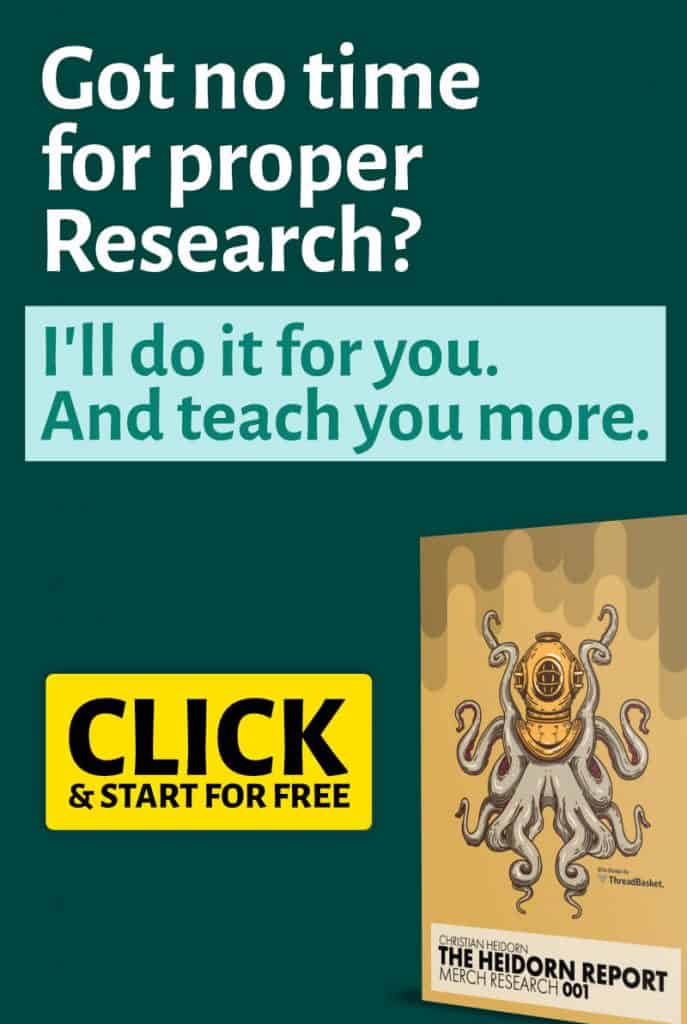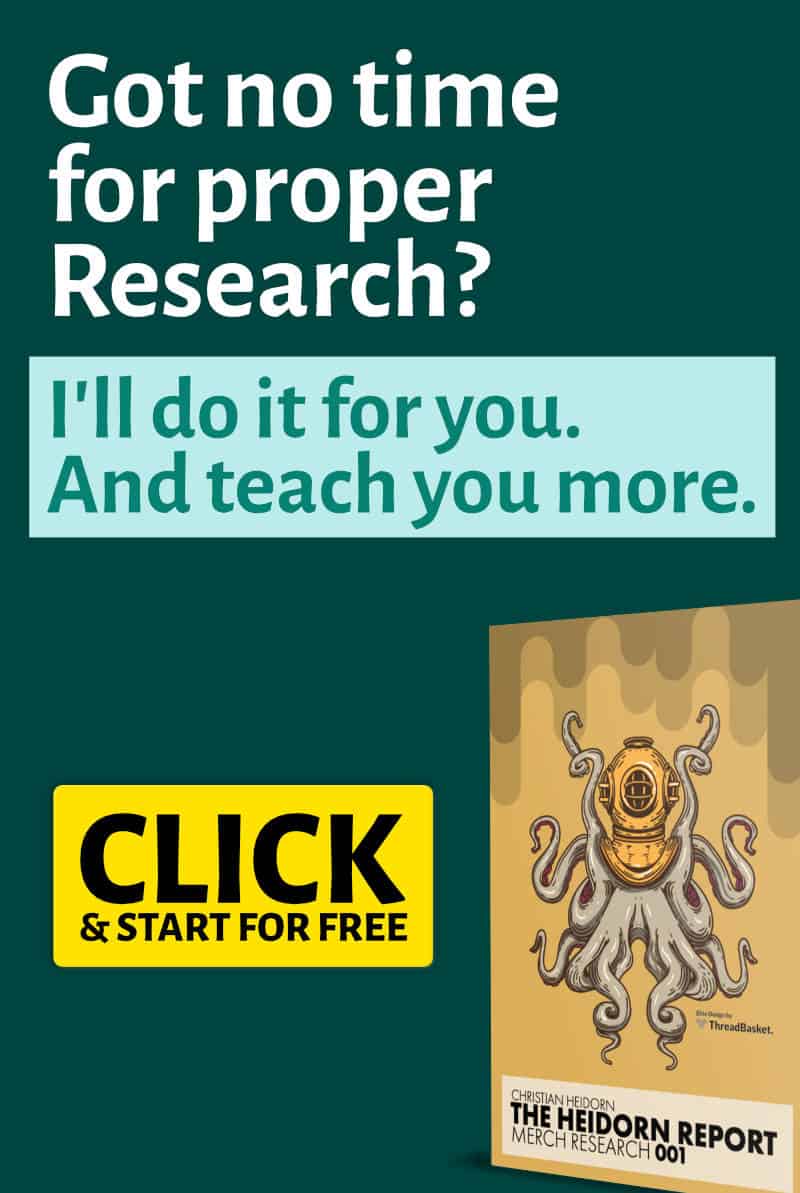 Platforms like Merch by Amazon are much harder to get into and most people get rejected when applying.
However, they are one of the most popular print on demand platforms due to their royalties and the amount of traffic Amazon has on its website.
Each platform has its own guidelines. 
Some require a certain quality of designs while some have rules on the types of designs you can and cannot create.
Take time to understand each platform before deciding on one for your print on demand business. 
Research
We have probably mentioned this several in this article but research is key to your success with your Print on demand business.
Keyword research will help you learn what people are searching for.
This will give you an idea of which niches are most profitable and which ones to stay away from.
You'll also be able to see what designs are doing well and gain inspiration for your own designs.
Research will also help you find keywords that you can add to your product descriptions so they can appear in relevant searches.
With the high number of sellers, it is important that your designs can be found with a single search. 
To find the right keywords, there are several tools like Merch Ninja that can help you identify what people are currently searching for.
It breaks down searches by volume, helping you gain a clear picture of what people want to see.
These tools are also great if you are starting out and have yet to settle on the right niche for you.
Marketing
Apart from research, marketing is perhaps the most important factor that will see your print on demand business break out from the rest.
The right marketing will get your designs in the eyes of the right audience and will help them make favorable buying decisions.
Marketing for your print on demand is similar to many other businesses.
The first thing you need to understand is who your audience is, what they want to see, and which networks they spend their time on.
Social media, in particular Facebook, is an amazing platform for you to market your designs.
Apart from creating a page for your designs, you can create targeted ads that will show up on people's home feeds.
You can also decide to join Facebook groups that are involved in the niche you're designing for.
For example, if you decide to sell designs targeting dog lovers, find Facebook groups for dog lovers.
Spend time finding out what they want to see, create rapport by commenting on these groups.
Show that you are also interested in the niche and slowly start promoting your design.
With this kind of promotional marketing, you don't want to come off as too salesy, so avoid promoting your products immediately when you join a group.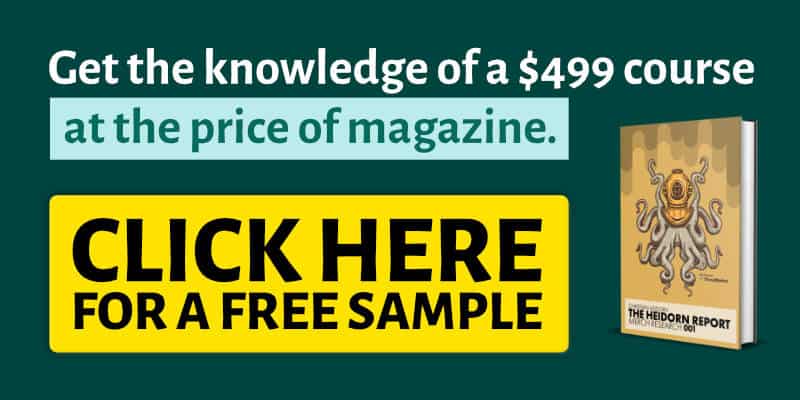 It's important that you are able to gain trust. 
Create other social media pages like Instagram, Twitter, and YouTube making sure that you occasionally promote your designs.
Stick to the 80/20, 80 percent of your content should be educational, informative, and entertaining and 20 percent of your content should be promotional. 
If you already have a YouTube page, then you already have a ready market for your designs and you can spend a few minutes each video advertising your print on demand page.
Influencer marketing is an amazing technique that sellers use to drive audiences to their stores and websites. 
Apart from social media marketing, you can optimize your website and your print on demand business store for SEO.
This means using the right keywords on your website, with your descriptions, in your titles so that people can find them when making a search on Google.
Monitor the Performance of Your Designs
Once you start making sales, take note of which designs are doing well and which ones are failing.
Starting a print on demand business isn't a get-rich-quick type of venture.
Initially, you won't see the number of sales that you desire but after a while, they will pick up, especially if you have good designs.
During your first few months, monitor the designs closely and create similar designs to the ones that are selling well.
Do the same when comparing products and see which products sell more than others. 
Set Your Pricing Accordingly
Deciding on the price of your designs can be tricky and it will take a bit of experimentation for you to figure out what works.
When starting out, you might want to start with low prices so that your designs are more favorable to buyers.
Once you get a couple of sales and you have gathered reviews, you can set higher prices.
You'll have gained credibility and you will probably have a higher rating on these platforms and that means you'll have more people willing to purchase from you.
As you progress, it would not be advisable to set your prices too low since this will affect your profit margin.
When setting your pricing, make sure to take into account how much your profit will be.
This is crucial to know your plans or next steps to take for your print on demand business.
In Conclusion
Starting a print on demand business is similar to starting any other business, it requires a lot of dedication and patience.
You shouldn't expect to make sales within the first month.
Take time to monitor how your business is performing and make adjustments as you see fit. 
Print on demand can be a profit-making business model and the best part about it is that once you have a certain number of sales, you can make passive income from existing designs.
With the lack of inventory, low initial cost, and easy setup, just about anyone can start a print on demand business.
As you progress in the business, keep testing and tracking to see what works and what doesn't work for your business to stay ahead.
Create good designs, research, and consistently market to achieve the profits you want to see. 
The information provided in this blog is only the tip of the iceberg when it comes to print on demand and everything you need to know to achieve success.
Keep up to date on our weekly blogs and read some of our previous pieces for more insightful and relevant print on demand content.