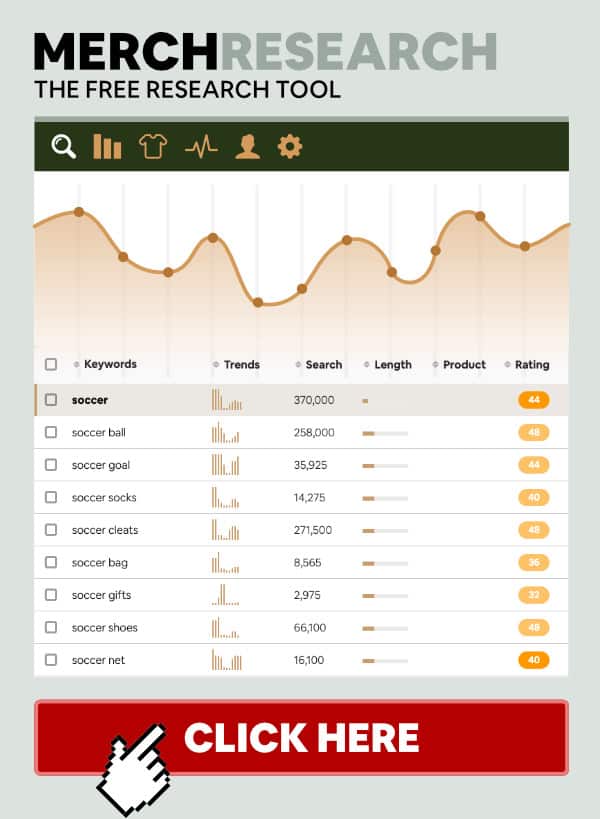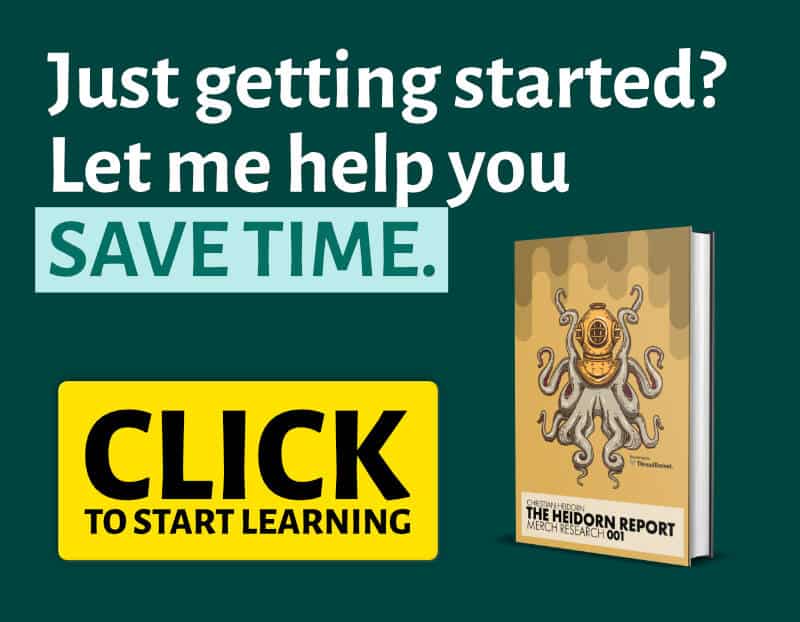 Creating good designs and writing good captivating product listings will only get you so far on RedBubble.
You need to know what words and search term your potential customers are using to find products similar to yours.
That's where a RedBubble tag generator comes in.
These tools help you find the right keyword/s that will help your products gain more visibility and make them accessible to potential buyers.
Making sales is the end goal for many RedBubble sellers, and you can only do that with the right tags.
Why Are RedBubble Tags Important?
Redbubble tags work much like how keywords work on other popular search engines like Google.
If you don't add tags to your designs/products, you're making your work undiscoverable to the public.
Usually added in the description section of your listing, tags make sure that your work is found by the right people.
This makes your listing more visible to your intended market.
You have to make sure that the tags you use are relevant to your design and product.
The wrong tags bring in the wrong people who ultimately don't make a purchase. 
Don't use too many tags and don't tag spam in your description.
Tag spamming means using tags that are irrelevant to your design to draw in more people. 
RedBubble tag generators are quite useful in helping you find the right tags to use for your design and product.
They show you Redbubble popular tags, they also show you similar tags that people are using to search for your products/designs. 
The best tags are the ones that describe your artwork as accurately as possible and are also tags that will bring in new traffic to your designs. 
Popular Redbubble Tag Generators
Merch Titans RedBubble Tag Generator
Merch Titans is a print on demand tool that mostly targets Merch by Amazon sellers.
However, they do have useful features that are also focused towards other print on demand sites.
Their RedBubble tag generator is one such example.  
This tool generates the top tags used by the best-selling products within your niche and/or category.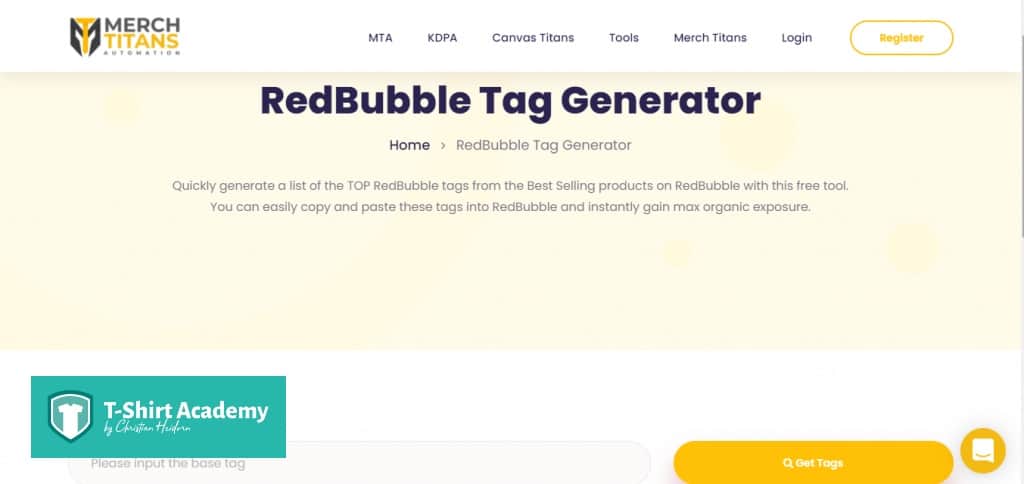 Quickly search the keyword or category you want to find tags for and the tool will bring up the top RedBubble popular tags.
Merch Titan's Redbubble tag generator is free to use and can be used directly from their website. 
This is useful for those who want to test the tool first before delving deeper to other advanced features.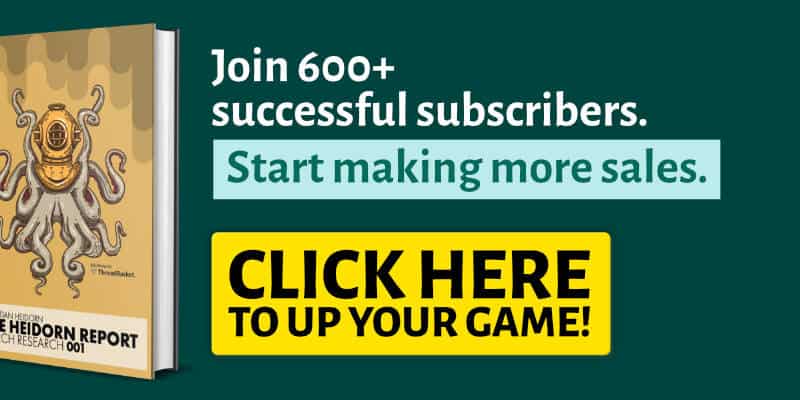 Bubblesear.ch RedBubble Tag Generator
Bubblesear.ch's RedBubble Tag Generator is a chrome extension that will help you find RedBubble popular tags.
Simply download the extension and run it while using RedBubble.
Search for the specific keyword you have in mind and the extension will generate a list of the top tags for your content.
You can edit your tags list by adding and deleting appropriate tags to create a list that you can use in your own descriptions.
Once you're done creating your list, you can import your list to the tag box on RedBubble.
Not only is this tool easy to use but it can also save you a lot of time. 
RedBubble Popular Tags
RedBubble Popular Tags is not a direct tags generator, however, it will still help you find the right tags for your designs.
It's a great source of inspiration and gives you an overview of some Redbubble popular tags.
This tool will show you which tags are currently popular on RedBubble and will also show you how they perform week to week.
It scores each tag and the lower the value, the more popular a specific tag is. 
It's a great way of understanding what customers want to buy and which tags are more popular.
They have features that show you how many artworks have been listed under a certain tag so you can evaluate the competition.
You'll also be able to see if the number of designs using a specific tag has increased or decreased.
Having this information is a great way of not only helping you find the right tags but also helping you evaluate certain niches.
There are not many RedBubble tools that will help you find this information. 
The owner of this tool eventually plans on having a separate Redbubble tag generator, so its useful for keeping tags with its upcoming updates.
Aeroxer
Aeroxer works much like the previous tool we talked about.
It helps you analyze how different tags are performing on the platform.
It also helps you find Redbubble popular tags based on the search you have performed.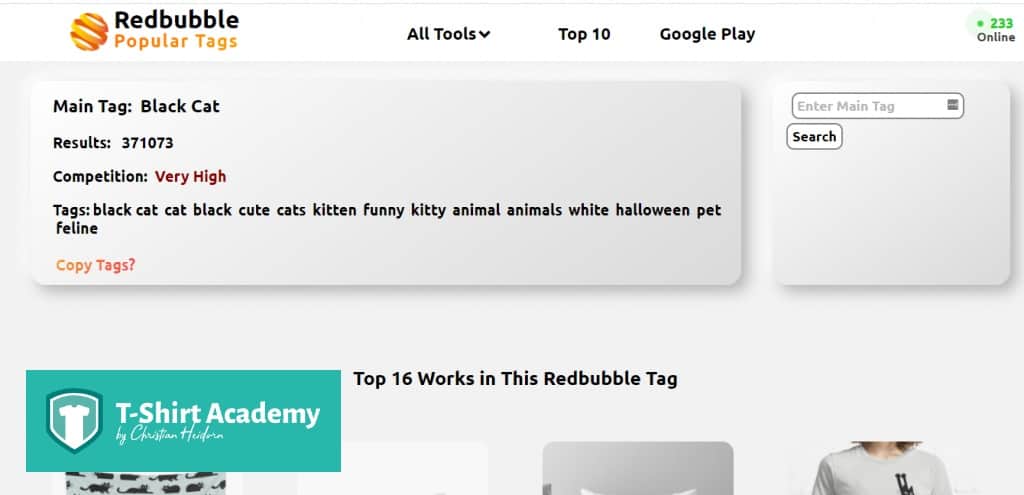 Once you make a keyword search, you'll be able to see how much competition that keyword has.
Aeroxer will also generate tags similar to the original keyword searched and you can copy these tags for use in your descriptions.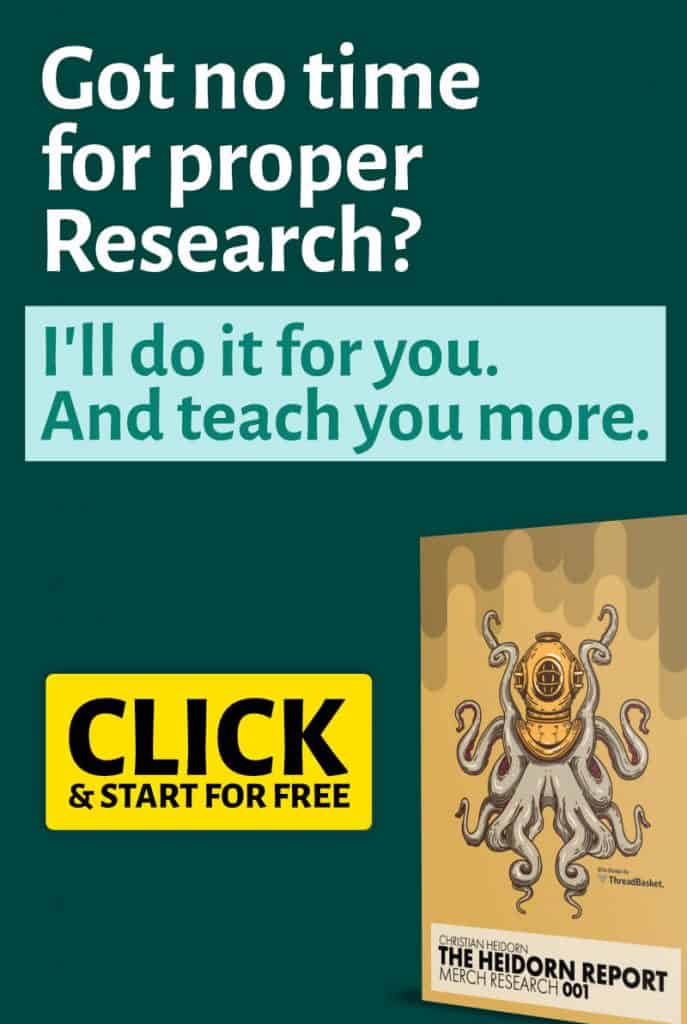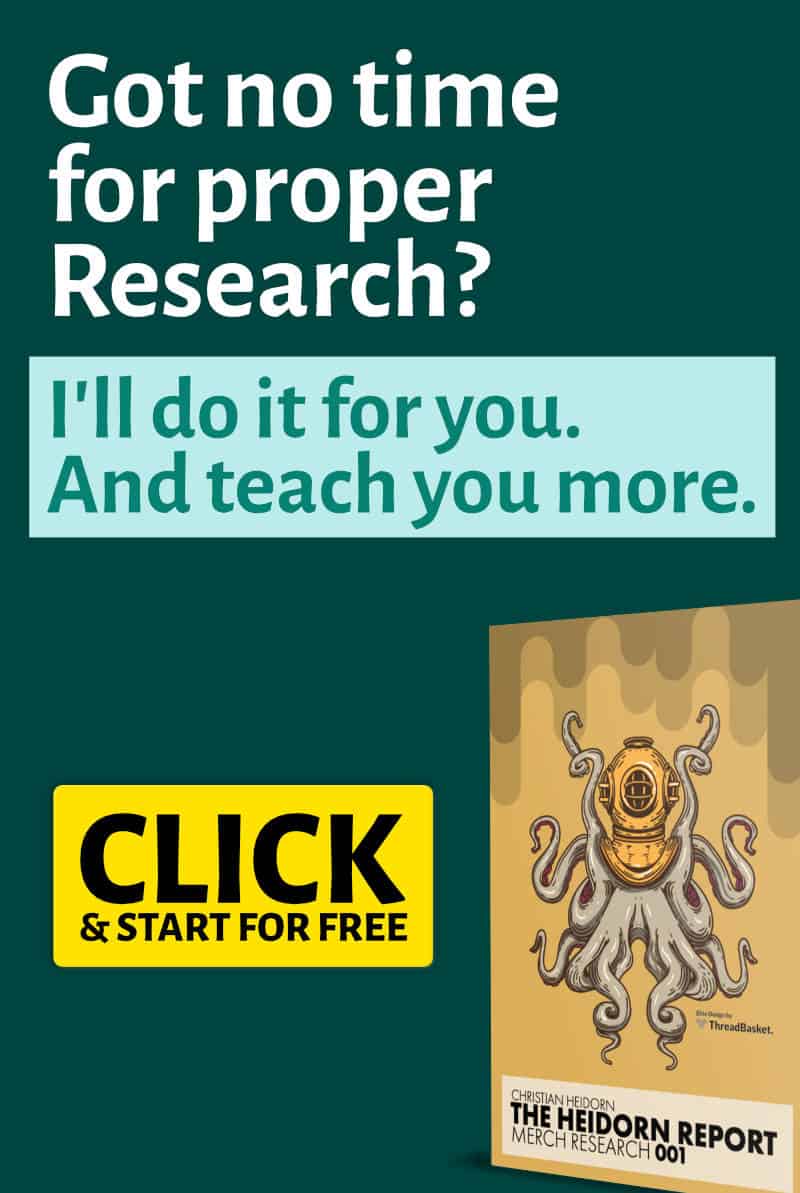 This Redbubble tag generator is great for research because apart from giving you tags, it also shows you which products are ranking highly for the tag you searched for.
Aeroxer also has other Redbubble tools that you can use to help you sell on the platform. 
My Designs
My Designs is a print on demand tag generator.
It supports different print on demand platforms including Redbubble.
It's great for helping you find Redbubble popular tags.
If you want to compare them to popular tags on other print on demand platforms, you can do that using this app.
Simply enter the search term and the tool will generate a list of the top Redbubble tags based on the best-selling products on the platform.
You can pick and choose which tags are relevant and add them to your listings.
If you want to have your data in a file, you can export it as a CSV or XLSX file. 
My Designs is free to use and can be accessed through the app and on your computer once you have an account. 
Top Bubble Index
Top Bubble Index offers users a free Redbubble tag generator.
Found directly on their website, this tag generator is quick and easy to use.
Simply key in a keyword or niche you want to find keywords for and the tool will generate the top keywords based on your search.
With the help of this tag generator, you can include SEO friendly tags to your Red bubble products and generate more traffic.
Products that are properly tagged can help expand your customer reach.
Apart from being free, you can make unlimited searches making it a great option for many users.
RedBubble Tagging Rules
Once you use a Redbubble tag generator to find the right tags, you need to know how to effectively use them.
If you are still struggling to find the right tags for your designs, try using synonyms of certain keywords as tags.
People make searches differently and someone might be searching for your design using another word.
If you want to manually search for keywords and don't want to use a Redbubble tag generator, you could perform a reverse search directly on RedBubble.
Make a search for your target keyword.
Once the top results are generated, look through them and note how they have created their descriptions and which keywords they have in common.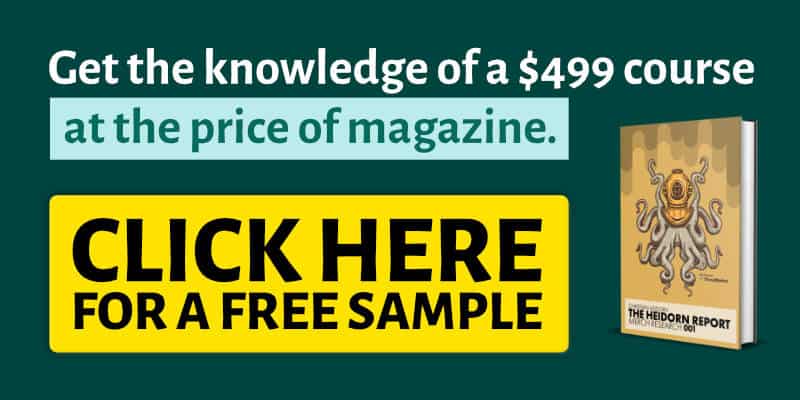 Of course, this technique takes a lot more time than using a Redbubble tag generator, however, you will still find popular tags that you can use.
Even as you use your tags, make sure you keep track of which tags help you rank and which ones don't.
If you plan on creating designs within the same niche, you might find yourself repeating tags often.
It's important to note which ones have the most potential and which ones to avoid.
You can only do this by continuously tracking your keywords. 
To avoid including unnecessary words in your tags, don't add the product type or the medium.
For example, if you have a cat sticker, you don't need to add the word sticker to your tag.
Redbubble has a selector tool on the upload page that will insert this tag for you. 
Here are a few do(s) and don't(s) to keep in mind.
Do
Use relevant tags for each design.
Use single word tags – gets right to the point.
Use at least 15 tags for each of your designs.
Don't
Use repetitive tags.
Use buzzwords in your tags.
Use full sentences or filler words in your tags
In Conclusion
Tags are extremely important both on RedBubble and on other search engines like Google.
The role of a Redbubble tag generator is to help find the right tags that effectively makes your designs discoverable.
The more people who see your work, the more people who can buy.
Many people fail to think about SEO on print on demand platforms but it is just as important on these platforms as it is on Google. 
Apart from making it easy for people to find you, when used well, they could help you appear at the top of searches. 
Finding the right keywords can be challenging, however, using a Redbubble tag generator makes the process quick and easy.
Although Redbubble tag generators are useful, it is always important that you vet the lists they generate before using them in your descriptions. 
Finding the right balance by using proper tags while keeping the rules in mind can help strike a difference with your listings.
Over time, such practices will likely benefit your listings.
Not all keywords might be related to your design.
The last thing you want is to have the wrong audience find your designs.
They are less likely to make a purchase because your design is not what they are looking for. 
Tools are only as good as how you use them.
If you have experience using any of these tools or have found a new tool we're yet to hear about, leave a comment below.