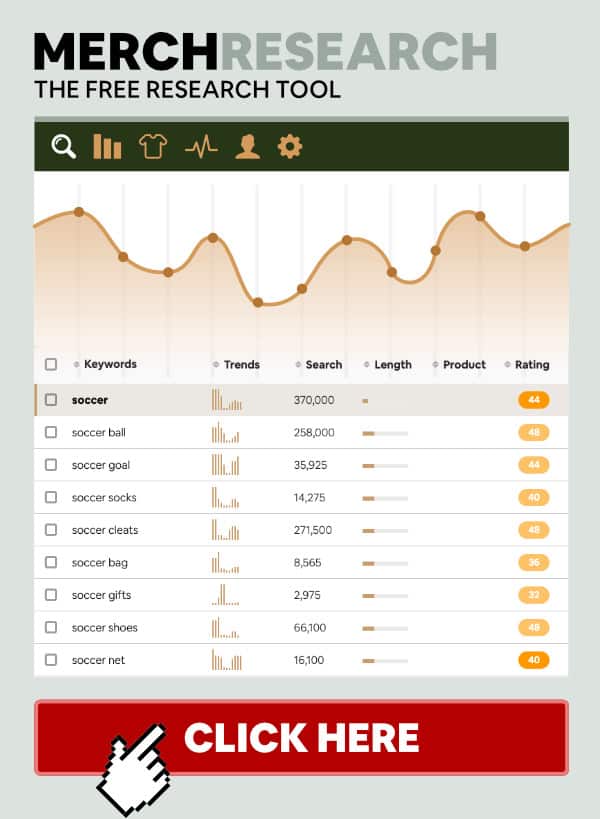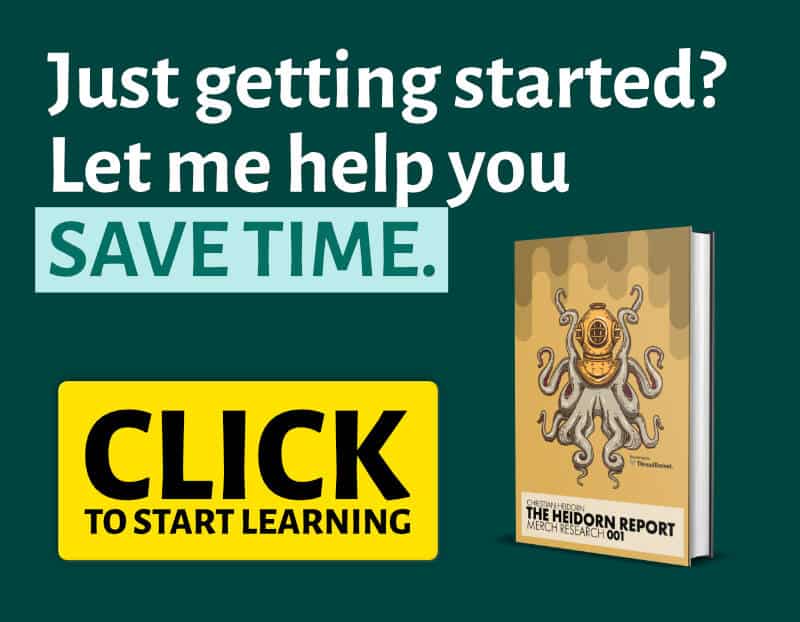 There are a lot of elements that go into creating a successful print on demand business.
Design, research, marketing are just a few important factors that you need to master to make sure you are achieving the sales you need to sustain your business.
All this can be overwhelming, and that's where automation tools come in.
They not only make your life easier but they make processes a lot more efficient, giving you room to focus on other parts of your business.
In this article, we look at RedBubble automation tools that can save you time.
What Is RedBubble?
RedBubble is a print on demand service that gives sellers and designers a platform where they can have their designs printed on different products for sale.
Originally, it was created to give independent artists a platform to show off their creativity.
Over the years, it has become one of the most popular print on demand platforms.
Various people, designers or otherwise, use the platform to make an additional income by uploading designs for sale.
Artists get paid for each product that they sell.
Being one of the more popular POD sites, it is incredibly competitive and you need to have great designs and great strategies to achieve success.
RedBubble Automation Tools
There are different RedBubble automation tools that serve a different purposes depending on your needs.
There are tools that will only help you upload your designs to the print on demand site.
There are tools that will help you generate tags.
There are also tools that will help you find popular tags.
All these are extremely useful and choosing one depends on what your business needs the most. 
Here are a few examples of popular RedBubble automation tools that will make your work easier.
Flying Upload
If you have been in the print on demand industry for any length of time, then you understand just how time-consuming the upload process can be.
It's particularly difficult if you plan on uploading multiple designs or you want to upload on more than one print on demand service.
Flying upload is a great tool that helps you upload your designs automatically to RedBubble and other print on demand tools.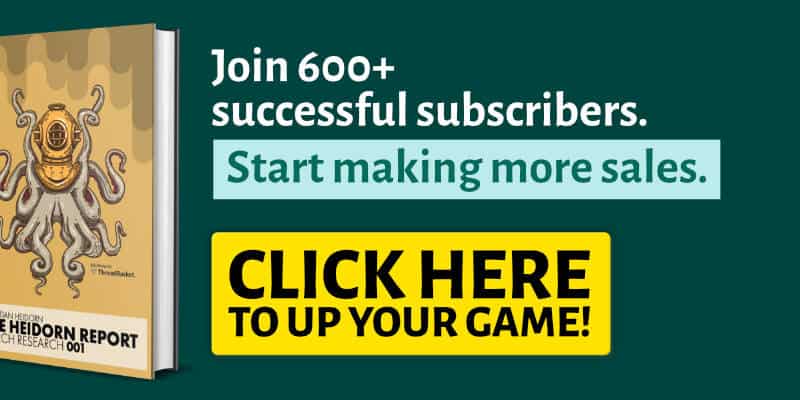 You can parallel upload all your designs to the different print on demand tools, and also set them up to be uploaded at the same time. 
Using their features, you can start, pause, continue, and stop your uploads if you need to make changes.
This is one of the best RedBubble automation tools because it runs in the background allowing users to continue working on their computers without interruptions.
Flying upload is also able to detect interruptions during the upload process and will adjust upload speeds accordingly. 
One of its greatest features is that there is no limit to the designs you upload.
Simply set the number of uploads you want to make and the Redbubble automation tool will stop once all those uploads have been made. 
With its easy-to-use interface, all you will have to do is drag and drop your designs and the automation process will begin. 
Flying upload is one of many ReBubble automation tools that offer users tutorials before they begin using it so you can understand how to maximize their features. 
Apart from helping you upload your designs, this Redbubble automation tool will also help you find the right keywords for your listings, translate your text into different languages and suggest suitable descriptions.
RedBubble Popular Tags
The RedBubble Popular Tags automation tool shows users which tags are currently popular on RedBubble.
This tool shows you how relevant different tags are week by week so you can see what is currently trending.
It is also a great source of inspiration for people struggling to create artwork that is popular. 
If you need to see how a specific niche is performing, simply search for the relevant keyword and you'll be able to analyze its popularity on RedBubble.
This is one of the best RedBubble automation tools for people who are trying to increase the visibility of their products.
RedBubble Popular Tags scores different tags on their popularity.
The lower the score, the higher its popularity. 
It will show you how different tags have changed in popularity over the weeks and it will also show you how many designs are categorized under your search tag.
It is particularly useful because trends tend to come and go in this business, knowing the current concepts is always beneficial.
It's a great way of finding what is popular, so you can capitalize on hot topics before they are irrelevant.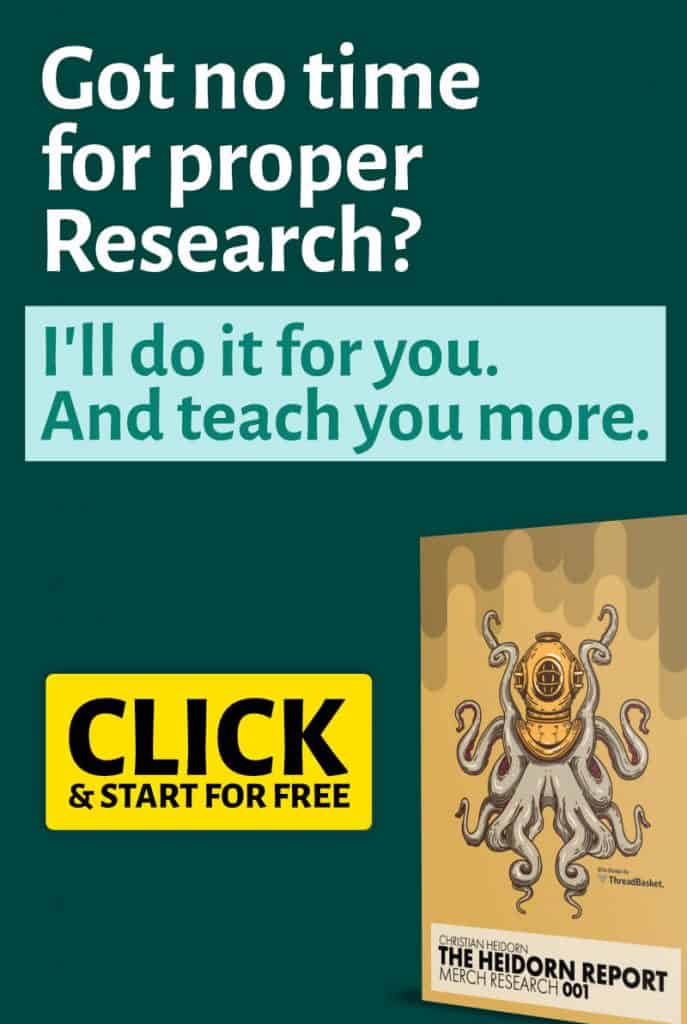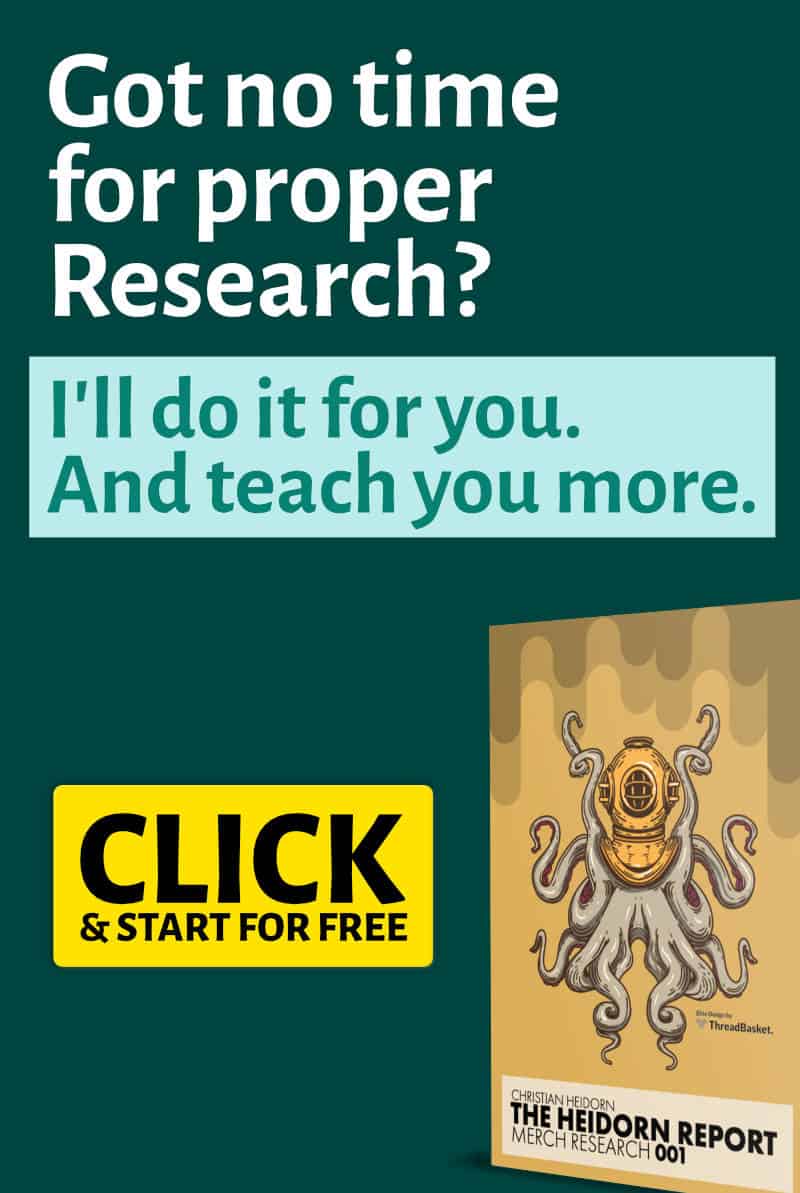 You can also spend some time monitoring this tool to find evergreen niches for your designs. 
Redhare
Redhare is a RedBubble automation tool that helps you upload your designs easily and faster.
This tool is great for people who like storing their designs in an excel spreadsheet before uploading.
Once you have all your designs in the Excel sheet, simply choose the file within the tool and the upload process is ready to begin.
For sellers who don't enjoy creating a file before upload, you have your designs organized within the app. 
Their premium feature is integrated with Canva, helping you automate your designs.
This is one of the few RedBubble automation tools that do this for sellers. 
If you create your designs on Canva, Redhare will fill in your data from your Excel file and input it into Canva.
This tool is apt for beginners who are creating their own designs and starting out on Redbubble.
Once the designs are created, it will automatically download the designs and will later upload them directly to RedBubble.
This is a comprehensive tool that automates various processes for sellers, saving them a lot of time. 
RedBubble Tag Generator by Merch Titans
Merch Titans' RedBubble Tag Generator automatically generates trending RedBubble tags for your designs. 
It sources this data from the best-selling products on RedBubble and this means that the tags generated are the most relevant and most popular.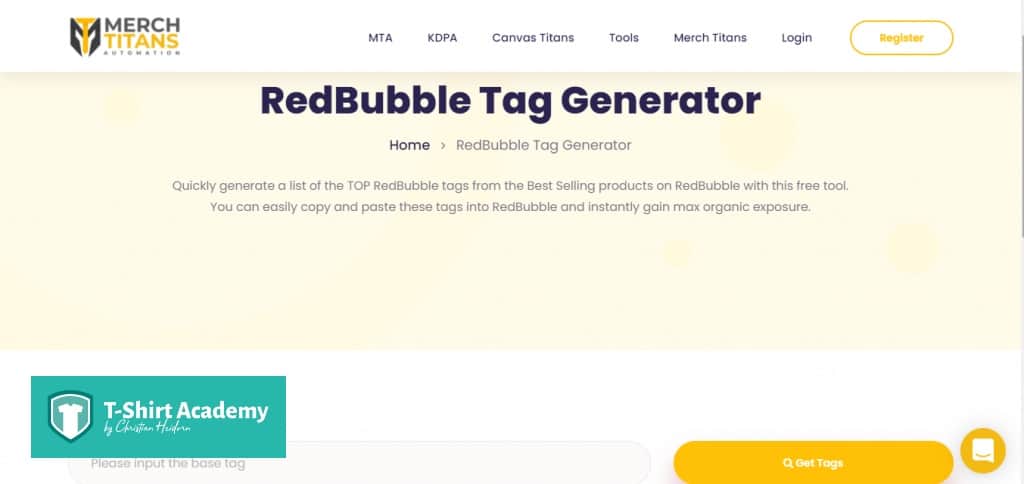 After finding the tags, you can quickly copy and paste them and use them in your own product descriptions.
This is one of many free RedBubble automation tools that are free to use.
You can use it directly from the Merch Titans website.
Ninja Automation
Ninja automation is an upload tool for print on demand tools.
It offers a variety of functions and features to sellers outside simply automating the upload process.
Ninja Automation has an integrated interface that makes it easy for users to make changes to their listings directly from the tool.
It has dropdown lists for you to make choices on colors, categories and more so your uploads are free of errors.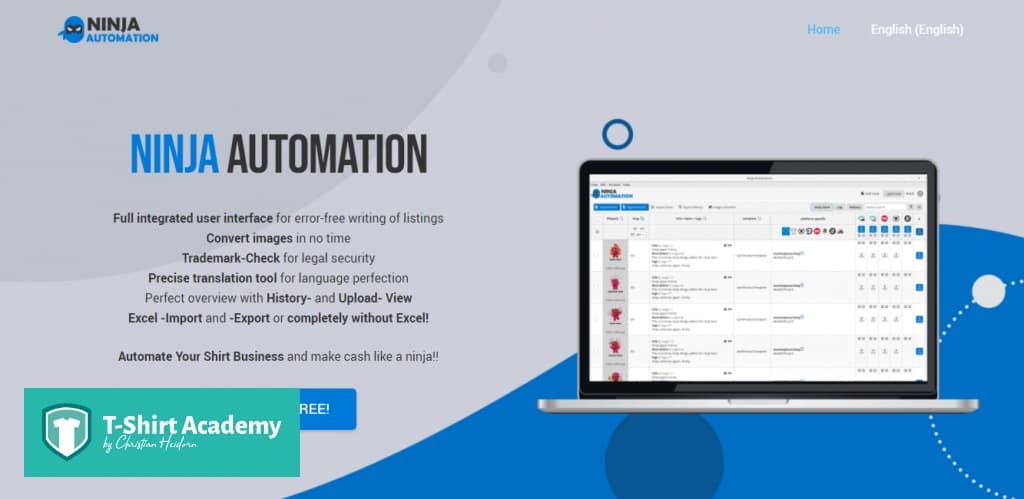 With its inbuilt translation tool, you can translate your descriptions from English to German or from German to English. 
Trademark checks are also performed on all your listings to help you avoid getting strikes.
Similar to RedHare, Ninja Automation works with Excel and if you prefer to have all your designs in one file, this is a great option for you.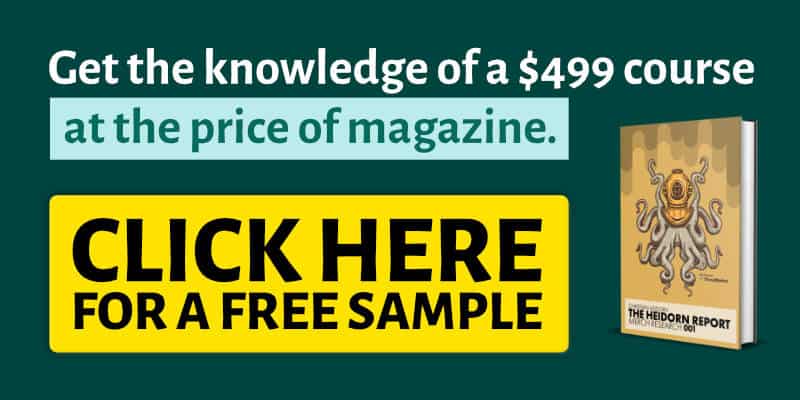 If you have your files in other formats, they could also be used in the upload process.
Their Upload Matrix feature lets you see the history of all your uploads so you can see which designs have already been uploaded.
You can save your upload history and also download different elements if you want to make changes to different designs. 
Quickly start, stop and pause your uploads from the Job Log feature.
Here is also where you can see if all your designs have been uploaded, and see if there were any problems during the process. 
Unfortunately, Ninja Automation is not free.
They do have a free trial for users who want to test out their features before making a final buying decision.
In Conclusion
The RedBubble automation tools mentioned above are a great way of handling different aspects of your print on demand business.
Automation tools simply make your work faster and more efficient.
However, apart from needing more efficient systems, you need to have the right strategies and methods of beating the competition.
That means understanding what your customers want and understanding what niches are popular.
The RedBubble Tag generator is one of the best RedBubble automation tools to help you do that.
Once you understand what your customers prefer to see, you need to create designs that appeal to them, and that requires a bit more research.
Pricing is also important, you need to set reasonable prices that don't scare away customers but at the same time give you good profit.
There's a lot to creating success on RedBubble or any other print on demand tool and you need more than good RedBubble automation tools to help you do that.
Our strategy guide, The Heidorn Report is a great way of not only finding relevant data but also knowing how to implement them effectively to create winning strategies.
It's been created by a seasoned print on demand and Merch by Amazon seller who has been able to achieve success in both areas.
If you have used one of these RedBubble automation tools, let us know which ones were your favorite.
Please leave suggestions on other tools that have made your life easier on different print on demand tools.