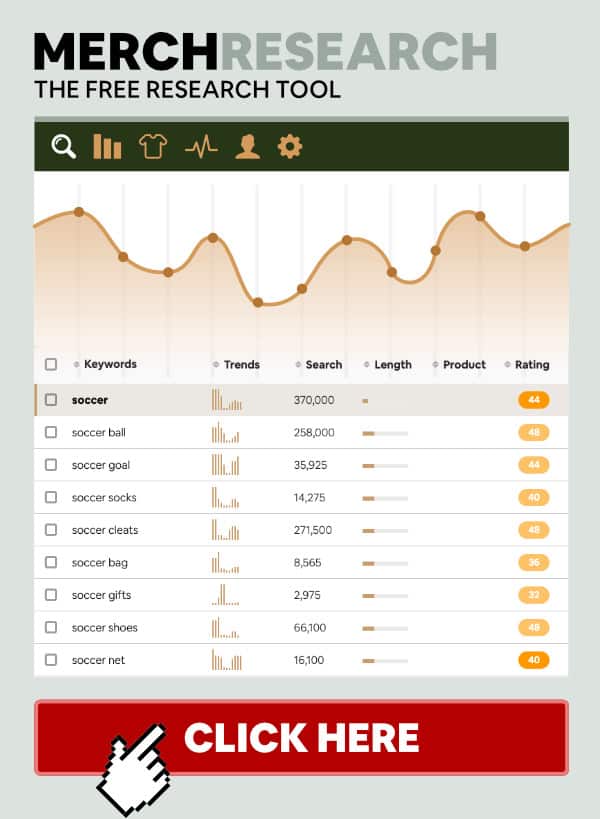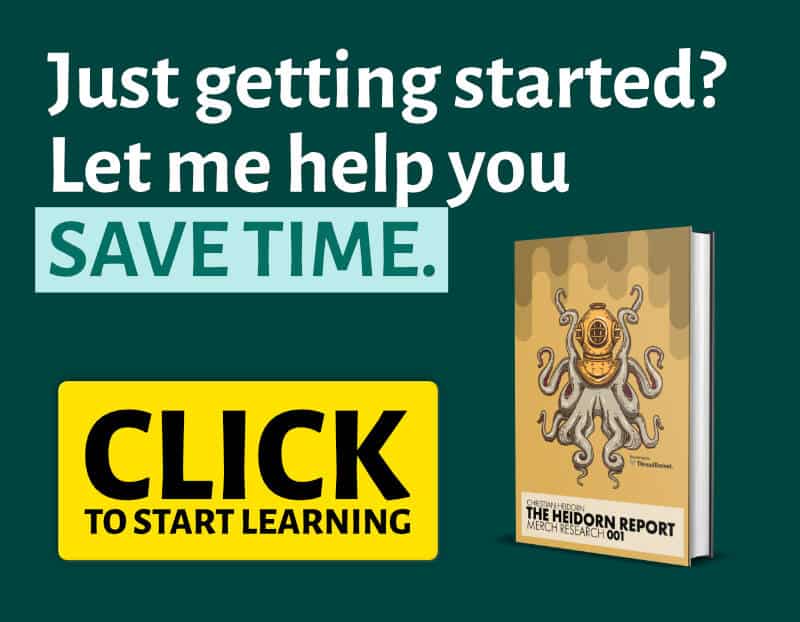 You've been looking for new ways to make additional income, or you want to quit your day job and focus on creating a long-term business.
Print on demand or Merch by Amazon is an increasingly popular eCommerce business for many people – and understandably so.
With its little startup costs, it's easy to start and easy to manage.
However, many people quickly realize how difficult it is to create sustainable success on print on demand platforms.
Because of this, some tend to become discouraged. 
Like with any other business model, patience and a lot of trial and error are required before you can start hitting it big with print on demand.
If you plan to start making income quickly, you might not have the time to learn and experiment with different strategies.
In this blog, we give you some tools that we would recommend to help you start on your journey with Merch research.
Not only will they save you a lot of time, but they will help you create the success you wish to achieve in a considerably shorter time.
Tools are meant to help and guide you, however, you still have to put in some work, after all the final decision making lies with you.
Why Is Merch Research Important?
Getting into any business or any other venture without understanding how it works is a recipe for failure.
You need to take time to understand all the elements that work and what needs to be done to avoid failure – this is where Merch research comes in.
Merch research is an important part of your print on demand or Merch by Amazon business that you cannot avoid.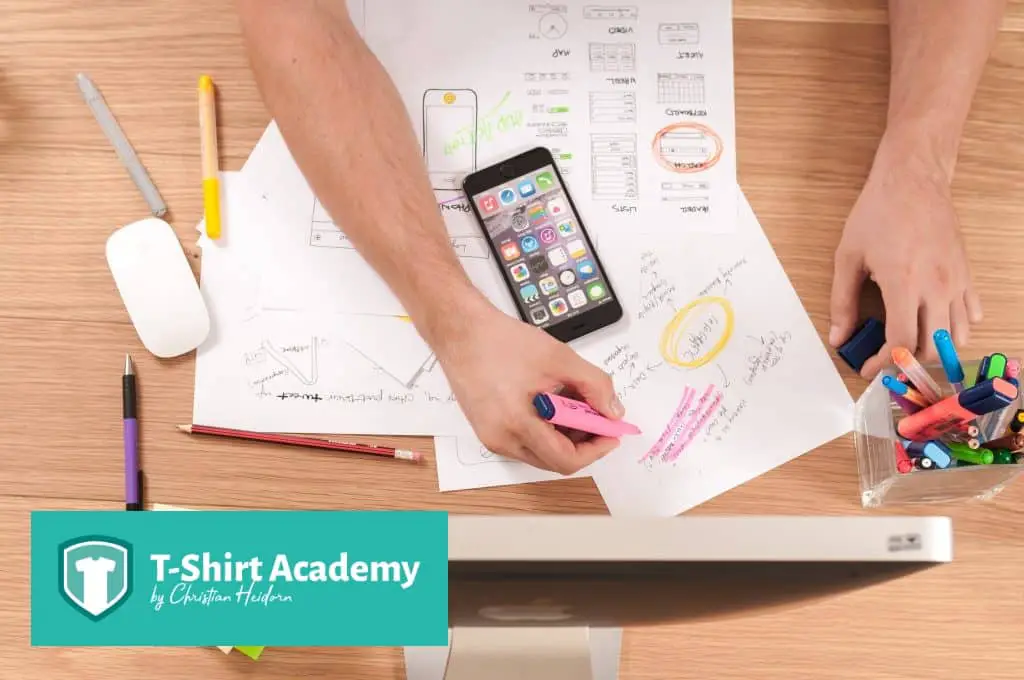 Merch research will help you understand what your customers want to see. 
If you don't know what niche you want to get into, merch research will guide you and help you know which niches are popular and have the best sales.
Merch research will also help you find the best keywords to use so that your designs and products can be found at the top of searches. –
Regardless of the print on demand platform you are using.
So, how do you go about conducting research?
Research Tools and Strategy Reports 
There are several tools and reports already available in the market specifically for this purpose.
If you want to achieve long-term success, it's important that you utilize as many tools and resources as you can.
Several merch tools have been created to specifically take the guesswork out of the research process.
These tools will give you the relevant information in half the time it would take you to do it on your own.
Research reports are perhaps the most important since they give you relevant information about your merch/print on demand business.
These reports also help you understand what you need to do, when it needs to be done and how to do it.
The strategies in these reports can be used across platforms and will help you understand how to use these tools effectively.
The Heidorn Report
Strategy reports are invaluable for your success on Merch by Amazon or any other print on demand platform.
Unlike tools, strategy reports give you evidence-based information on what to do to create and maintain long-term success.
The Heidorn Report is a strategy report that not only gives you winning strategies you can implement today but also helps you understand when and how to implement these strategies effectively.
Information in this report is backed by credited (and expensive) data sources like Statista.
This means that the information available is as accurate as possible, and this makes for better decision-making.
Within this strategy report, you won't get generic information that you can get from a simple Google search.
You'll find in-depth analyses on niches, understanding your buyer persona, and what pricing strategies will get you to the top.
It will also help you create listings that convert better.
Most people, if not all, start print on demand businesses for the profit potential.
Tools are effective in giving you direction, but once you have the information provided by these tools, what do you do with it?
And that is where The Heidorn Report comes in.
You need to understand how to communicate effectively with your target market.
You need to know what designs they want to buy, and how to help your products appear at the top of searches.
Using one tool will not give you the results you wish to achieve, at least not consistently.
Having the power to conduct your own research and do it thoroughly gives you control.
That means with or without a tool, you know how to source your own information and apply them with or without tools.
Whether you are new to print on demand or a seasoned seller, there are always new strategies that could considerably improve your sales.
This report has been created by Christian Heidorn, a seasoned Merch and Print on demand seller who made over $100,000 in sales within his first year of print on demand.
He decided to create a report filled with strategies that enabled him to achieve success with print on demand while running his business as a side hustle.
Trial and error can be expensive and time-consuming and when running a business, time and money are invaluable.
You don't need to take months before realizing a consistent profit,
Using the right report will save you time, money, and energy and will make selling on merch or any other print on demand platform more fulfilling.
Merch Ninja
Merch Ninja is one of the most popular Merch by Amazon research tools available.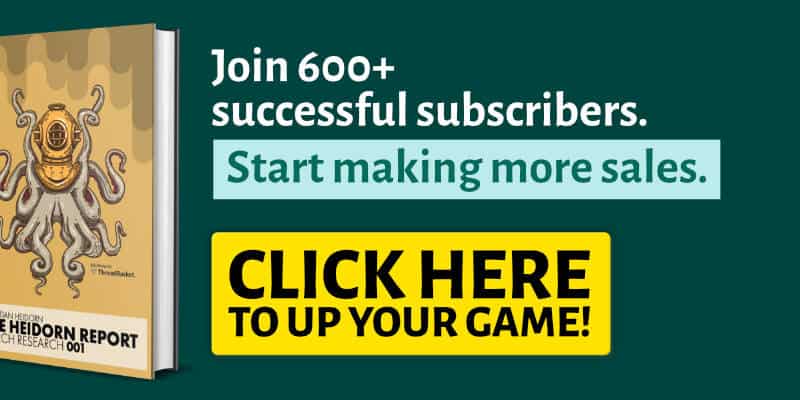 Their keyword tool is one of the best among other Merch by Amazon tools.
It gives users information on the search volume, relevance, how each keyword is performing among competitors within each niche.
All this information is displayed within a chart that is easy to understand.
Merch Ninja also updates information daily, meaning that the information they give is as relevant as possible.
This in turn helps you make the best decision when creating your listings.
This tool also comes with an advanced filter function that allows users to filter their searches by; top sales, brands, designs, top BSR, deleted designs, and more.
With over 400 niches covered by the tool, you're guaranteed to find information that is relevant to whichever niche that you're selling under.
Merch Ninja is a great platform that gives sellers the ability to conduct research while getting a clear view of what the competition is doing and this makes for better decisions.
Merch Titans
Similar to Merch Ninja, Merch Titans is a merch research tool that is great for keyword research.
Additionally, this tool allows users to make product and brand searches.
Making a brand search will quickly give you a view of their top-selling products so you can see how they have created their listings.
A product search on the other hand shows real-time information on any keyword searched for. 
Merch Titans also has a powerful autocomplete tool that will show what users are actually searching for.
Just like Merch Ninja, Merch Titans also provides data on search volume so you can get a clearer picture of how much people are searching for each keyword.
Merch Titans also has a Product SEO Analyzer that analyzes how different products perform when their SEO optimization is compared.
This aspect of merch research is important since it allows you to see how different products are performing when SEO is taken into consideration.
Optimizing your listings for SEO will determine how your products will perform when searches are performed on Merch by Amazon or on Google.
You always need to make sure that your products show up at the top of searches so more people can see them and ultimately buy.
Merch Informer
Merch informer has a keyword tool that sources information within Merch by Amazon and also on other popular websites like Etsy and Pinterest.
This gives users a comprehensive feel of how each of their keywords is performing on the internet as a whole.
Their search tool also provides users with the most popular niches across all these different platforms and the list is updated daily to ensure that only the most relevant information is made available.
Additionally, they also provide a listing optimizer that shows you how to place your keywords appropriately to improve results during searches.
If you want to go back in time and find out what niches and keywords were popular at a certain time then their data archives have that information.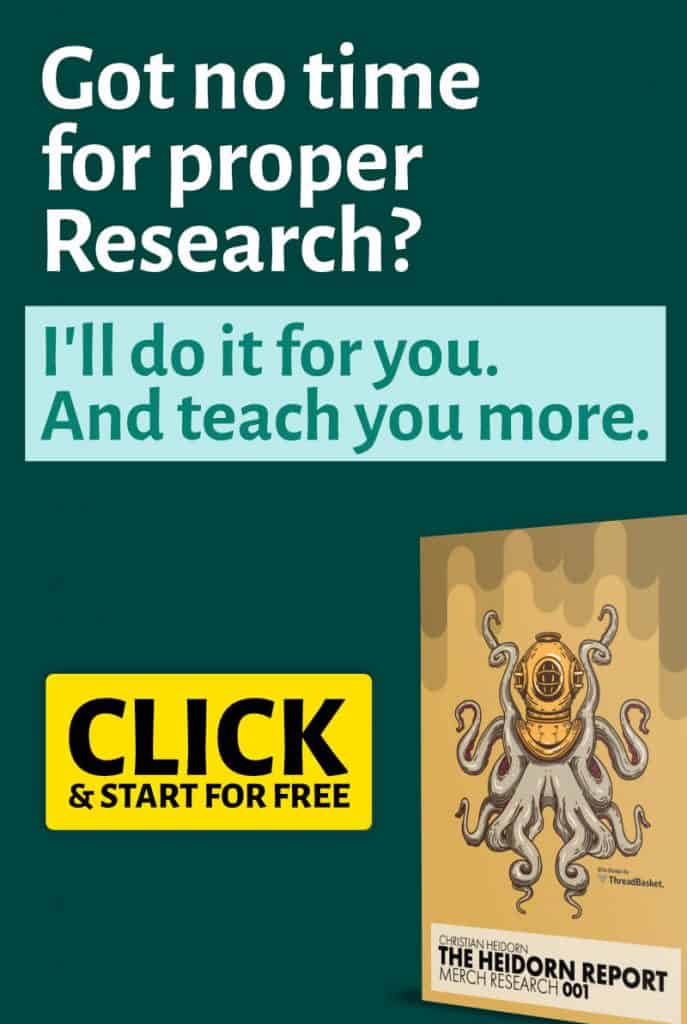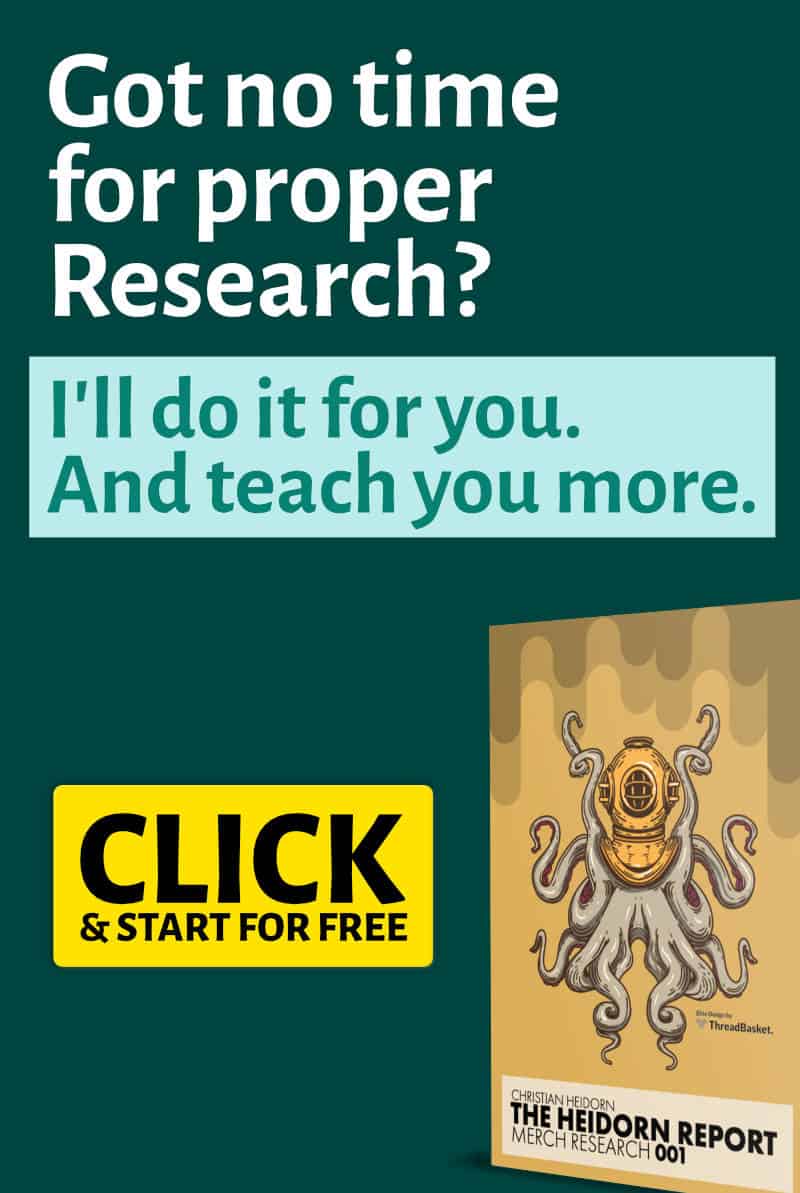 This information is useful to monitor how certain keywords perform during seasons such as holidays and other events so you can plan beforehand.
SpyAMZ
SpyAMZ offers similar services to Merch Ninja, Merch Informer, and Merch Titans.
This tool updates hourly giving you access to the most recent Merch by Amazon data.
With their hourly updates, your merch research will be as up-to-date as possible giving you the most relevant information of all the other tools mentioned.

It also comes with a trend analyzer that ranks the most recent and popular trends on Merch by Amazon.
Their niche hunter also analyzes the top trending t-shirt designs.
This information is important to help you create popular designs and also helps you find the most trending niches.
DS Amazon Quick View
Unlike the first three tools mentioned above, DS Amazon Quick View is a free tool that shows users how different products are performing at any given time.
Being able to see the top products gives you an idea of which niches are performing well.
A deeper look into them will also show you how the top products have placed keywords in their listings, and the types of designs they have created.
Understanding patterns is important for merch research since it can help you come up with your own strategy for creating success.
Research Base
Another free tool, Research Base is an autocomplete tool that helps you identify what keywords/keyword combinations are popular.
Autocomplete is helpful for merch research and is perhaps the easiest and quickest way of finding out what keywords people are searching for so you can use them.
Keepa – Amazon Time Tracker
Different from the other tools mentioned, Keepa analyzes how different sellers have priced their products.
It also shows you how prices have changed across different periods.
Although pricing is rarely considered by merch tools, it is still an important aspect of your merch research.
You need to know when to price low and when to price high.
Making a pricing decision at the wrong time could drastically affect your sales.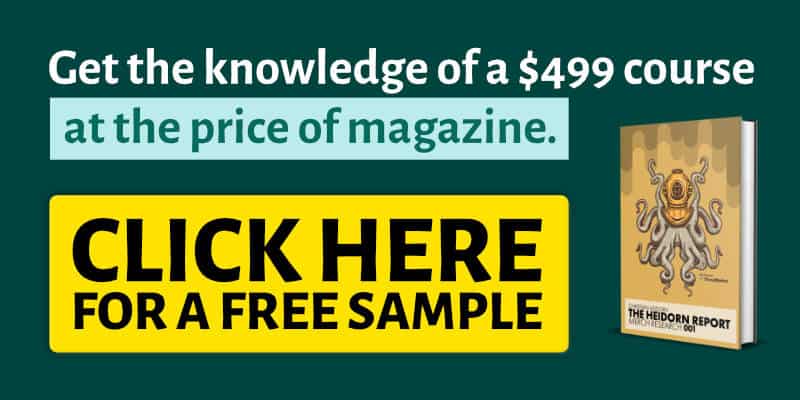 In Conclusion
Merch research is an aspect of your print on demand/Merch by Amazon business that you simply cannot escape. 
With the number of print on demand sellers increasing every day, the industry is getting even more competitive.
This is what makes it difficult to break into the market and for sellers to make a profit.
However, having the right resources and tools will incredibly make the process easier. 
Tools are a great way of getting the information you need considerably faster and easier.
Whether paid for or free, tools help you sort through tonnes of data to help you find relevant information that applies to your merch research.
Apart from giving you important merch information, many of these tools have other functions.
Functions such as automation is very useful for making your processes more efficient.
Although tools make your work easier and give you the necessary information, they are not enough to help you achieve success.
You'll need to effectively apply all the information available to you and that is where research reports come in.
They help you understand data, give you knowledge of how to find this data, and apply them effectively in your strategies.
The Heidorn Report is an example of a report that helps you do just that.
Even without tools, you need to be able to create strategies that work for your merch business.
A lot of online courses are great for helping you navigate merch research, however, many of them are overpriced and information can be outdated if not updated regularly.
Using just one report will reduce your costs while still providing you with all the information you need to create a successful print on demand or merch business. 
Creating success on Merch by Amazon or on any other print on demand can be difficult, especially without good quality research.
You don't have to get into merch research blindly, with the right reports and tools, the process just got so much easier.