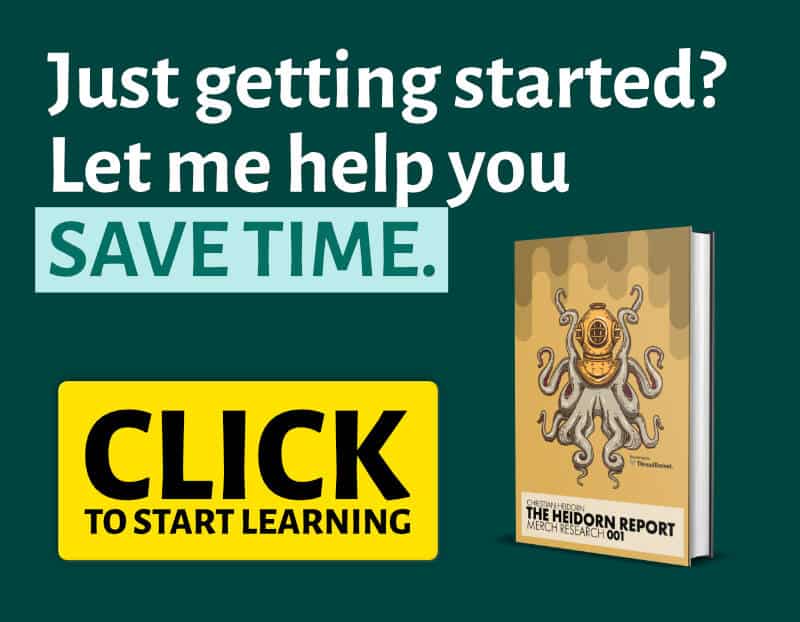 Success on Merch by Amazon is virtually impossible without good research. 
Luckily, there are several tools available today that will help you conduct stellar research.
Unfortunately, many of these tools require a monthly or yearly subscription.
For new sellers who are not ready to commit, that might not be an option just yet.
Free Merch by Amazon tools are the answer.
Merch Research extension is a great tool for Merch by Amazon tool that makes the research process faster and easier. 
Merch Research Extension Key Features
The following are the core features and functionalities of merch research extension. 
Competitor Research
Merch research extension makes competitor research quick and easy.

Simply highlight any word, keyword, or text and right-click on it.
You'll then get the option to see all Merch by Amazon listings that are using that keyword.
Copyright and Trademark Search 
Once you highlight a text, you'll also be able to perform a copyright and trademark search on it.
Merch research extension uses the USPTO.gov database for all its trademark searches. 
Once you make a search, you'll be able to download your search and export the search results into a CSV file.
Profit and Royalty Calculator
Merch Research extension as a "Merch by Amazon Keyword Search Profit Royalty" feature.
This feature calculates royalty and profit that you would ideally make per shirt.
It will also show you the estimated number of sales based on their sales rank algorithm.
Keyword Search
Using this tool, users will have the ability to download the titles and keywords being used by the top 100 selling merch shirts. 
This list will give you insight into which keywords are being used to rank highly so you can optimize your own listings.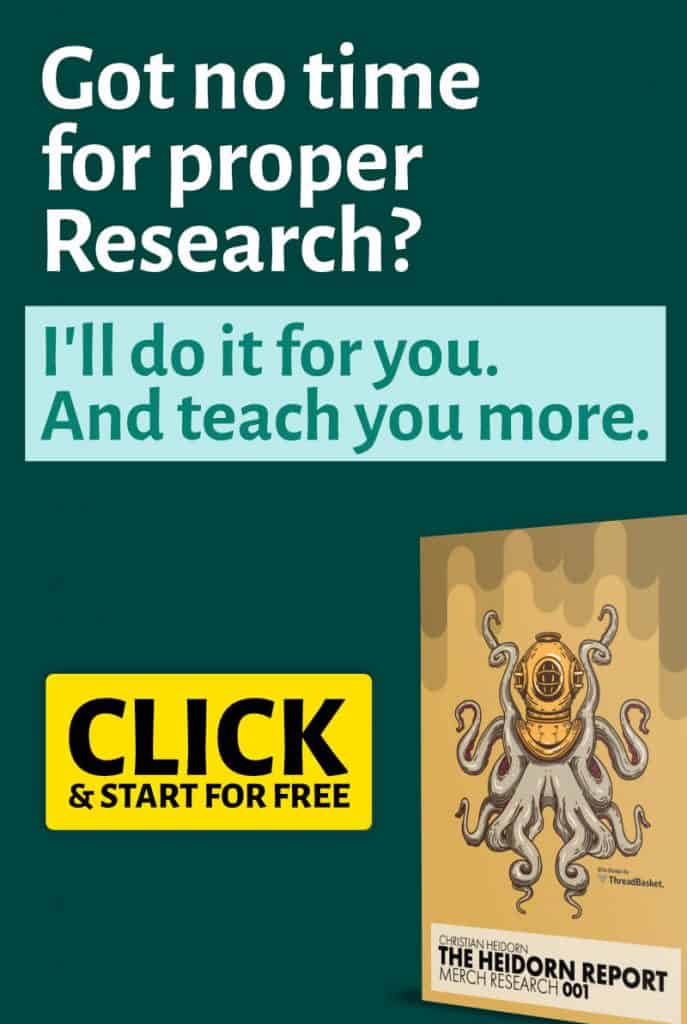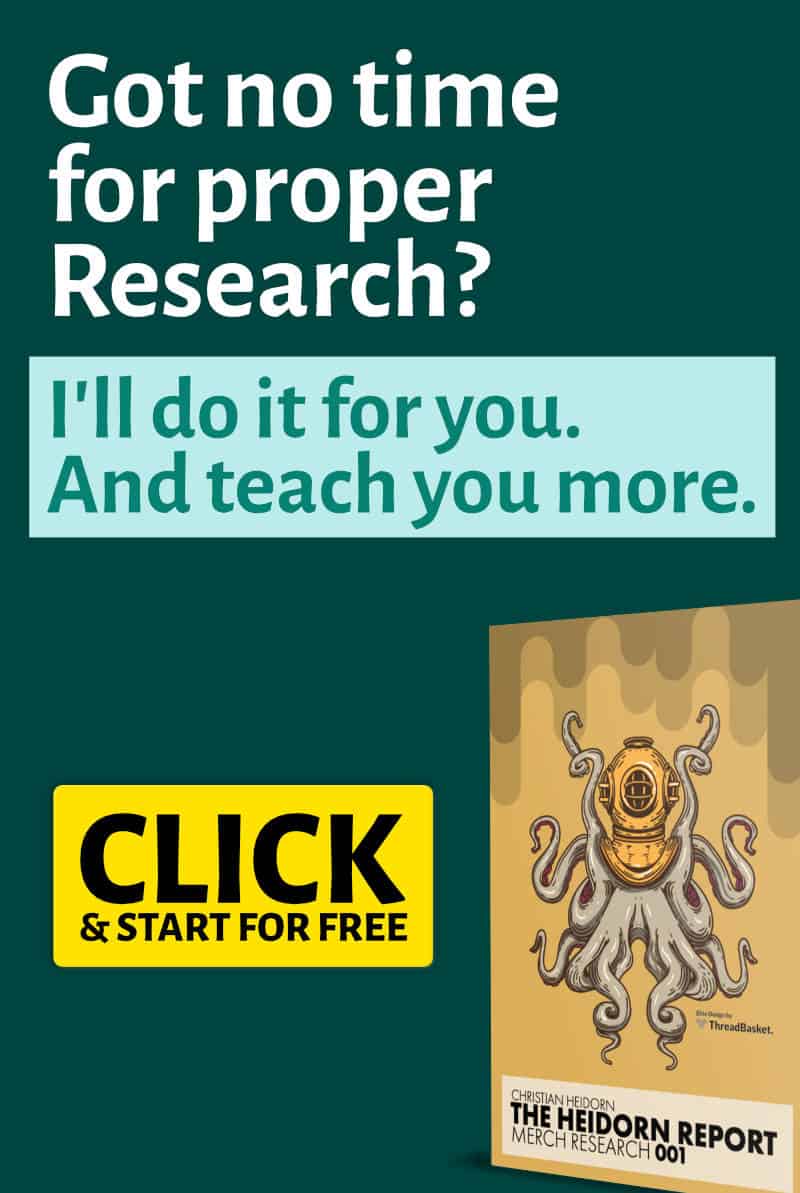 Users can use merch research extension to download the top 500 search results from a keyword search into a CSV file. 
Apart from these features, users will also be able to perform other merch research functionalities and these include:
Show sales rank of different products
Ability to search for copycat titles.
Search and keyword and view all Merch by Amazon listings
Social media search
Search on other print on demand sites
Access to Merch by Amazon groups and forums
Search images on Merch by Amazon and on the web
Search through other keyword research sites
Highly customizable with the option of adding your own links
Benefits of A Merch Research Tool
Merch by Amazon is a great way to make passive income.
Because of this, there are several sellers on the platform and many others will soon join.
Whether you are getting started or you are a seasoned vet, merch research is what will continuously keep you ahead.
Merch research tools like Merch Research extension are a great way to perform this research.
It will show you which keywords are popular and are being used by the top sellers within the platform.
Using the right keywords places you at the top of searches, and it goes without saying that the higher you rank on the search pages, the more sales you make.
These tools will also help you avoid infringing on Merch by Amazon's rules by helping you perform trademark searches on different words.
If you create designs with trademarked words, you run the risk of losing your account altogether. 
Merch research tools are great for showing you what your competitors are doing.
Apart from just showing you what keyword top sellers are using, you'll be able to see what designs they are creating, what titles they use, and how they craft their descriptions.
Top-sellers are where they are for a reason, and learning from them is always an advantage.
The goal, however, is to seek inspiration and not directly copy from these top-sellers. 
Conducting merch research can be a tedious and time-consuming process. 
That's why it is important to find the right tool to help you along the way.
In Conclusion
There are several free and paid Merch by Amazon tools that are available in the market, and Merch Research Extension is a viable option if you are looking into it.
It comes as a chrome extension allowing you to perform your research activities from the Amazon page.
Merch Research extension is compatible with all devices including; laptops, tablets, mobile phones, pcs.
This extension was created by Merch Informer, a top Merch by Amazon tool that has some amazing features that will help you succeed in your business.
If you have used this extension tool before, feel free to leave a comment on your experience and what features were your favorite.