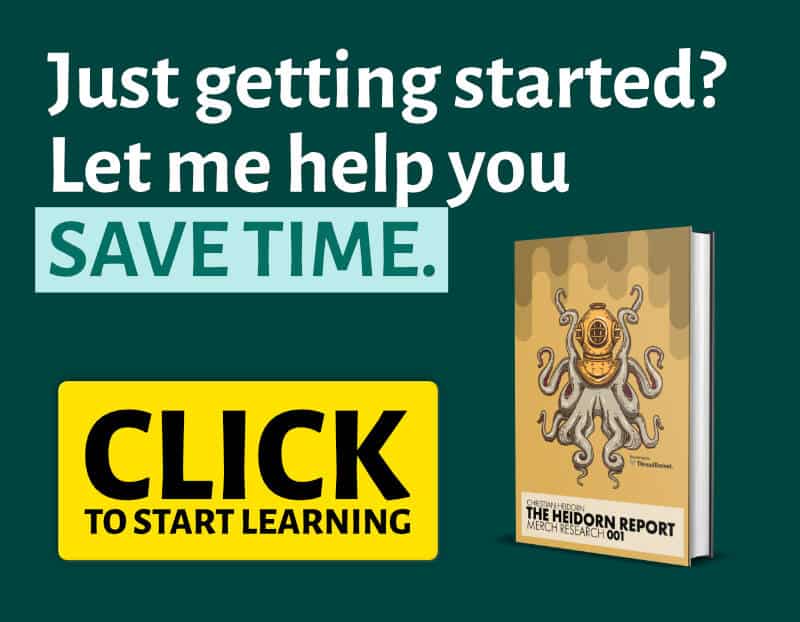 Merch by Amazon is arguably the hardest print on demand platform to get into – and rightfully so.
Merch by Amazon is favored by many sellers because a lot of marketing is taking off your hands since the platform drives traffic to your store.
Amazon is also the world's largest retailer, and this means that you have a larger audience for your designs and you can essentially make more money on the platform than any other print on demand platform.
These are just a few factors that make Merch a desirable platform for many sellers.
However, the rules on this platform are stricter – especially rules on copyright and trademark infringement.
This is why Merch by Amazon trademark protection matters the most especially when building your listings.
Merch by Amazon Trademark Protection
A growing number of sellers on Amazon are becoming disgruntled.
Sellers are accusing competitors of frivolously registering trademarks to remove their designs from the platform.
This issue is largely with the U.S.P.T.O (United States Patent and Trademark Office), the body that has been created to protect business' intellectual property rights.
Merch by Amazon vigorously cracks down on sellers because large brands have accused the platform of allowing smaller businesses to sell counterfeit products at their expense.
The company sides with the owners of trademarks, however, Merch by Amazon sellers have complained that even phrases that should not be trademarked are being trademarked and this has negatively affected their sales.
Common day-to-day phrases are now being trademarked.
Merch by Amazon trademark protection is important because some of your designs can be flagged at any time if another seller can gain the trademark to a popular phrase.
Frivolous trademarks are often registered and given when other sellers are not aware of the application from the beginning or they do not have the financial muscle to contest it. 
What Is a Copyright?
To know more about Merch by Amazon trademark protection let us delve into copyright first.
A copyright is an exclusive and legal right given to a creator to print, publish, reproduce in any other form, and profit from any works that they have created.
Copyrights are given for a period.
Usually, this is 70 years after a person has died, and 95 years for institutional authors.
Copyrights are given to creative works of expression. 
Therefore, images, graphics, original text, and artworks are subject to copyright.
You cannot create a design with the image of Mickey Mouse for example, because the copyright for this image belongs to Disney.
In the same way, you cannot create designs that resemble celebrities and sell them on Merch by Amazon.
You can create t-shirts with these images and designs only if you have permission from the owner of the copyright, or if you have a license. 
You might be able to get away with it if your store isn't too popular, however, if found out, you may be sent a cease-and-desist letter. 
What Is a Trademark?
You can keep your account safe by means of learning about Merch by Amazon trademark protection.
A trademark on the other hand is a word, phrase, and slogan that identifies and represents a brand or an individual.
They are given to words, pictures, or a combination of words and images.
When someone mentions the slogan, "just do it", it is immediately identified with Nike.
Having a trademark on a certain term prevents someone else from using the same term.
It protects the origin of a good or service.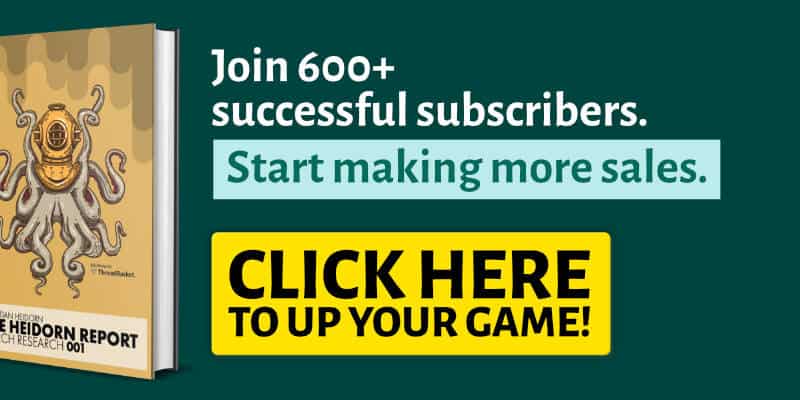 How To Survive Merch by Amazon's Trademark Registrations
There are several steps you can do for your Merch by Amazon trademark protection.
Doing a trademark search before creating a design should be the first step of your creative process.
This will save you a lot of time and effort in case your design is later rejected.
There are a few ways that you can prevent trademark strikes on your account.
This is a basic guide that will give you valuable information, however, it is not professional advice from a lawyer.
Avoid Using Obvious Trademarks
These usually include catchphrases used in popular movies or titles of movies or books.
In Merch by Amazon trademark protection, logos and slogans used by sports teams are also off-limits.
Even creating designs with predominant colors of a popular team might get your design flagged.
Creating parody phrases said by popular figures is also risky and you'd want to avoid it altogether.
Youth Shirts
Designs with profanity, drugs, alcohol, sexual and violent content can only be placed on adult sizes. 
It is important that as a seller you are careful to avoid this mistake since it can get your design given a strike. 
Use Tools To Protect Yourself
There are several Merch by Amazon research and organization tools that come with a copyright or trademark checker.
These are some of the tools you can use for Merch by Amazon trademark protection.
Merch Informer
Merch informer is an example of a tool that does just that.
It comes with an automatic trademark checker.
This comes in handy when someone registers a trademark after you have created your design and might have even been able to make some sales. 
Remember that once someone files a trademark, and you had already been using the phrase or design, you will still get a strike.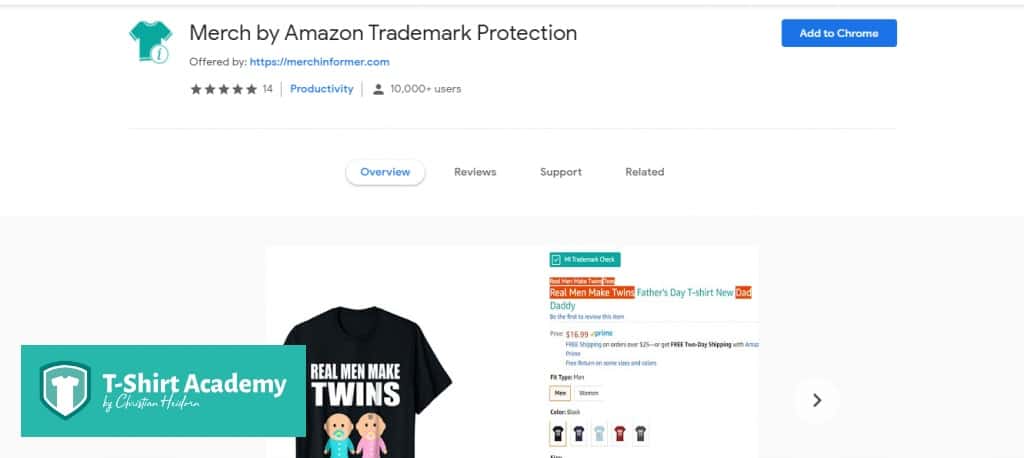 This tool will alert you and you will have the opportunity to take them down yourself before Amazon notifies you. 
Merch Informer also has a Chrome plugin called Merch by Amazon Trademark Protection.
This plugin checks phrase by phrase, sentence by sentence, and word by word for any combinations that could go against any existing trademarks on USPTO.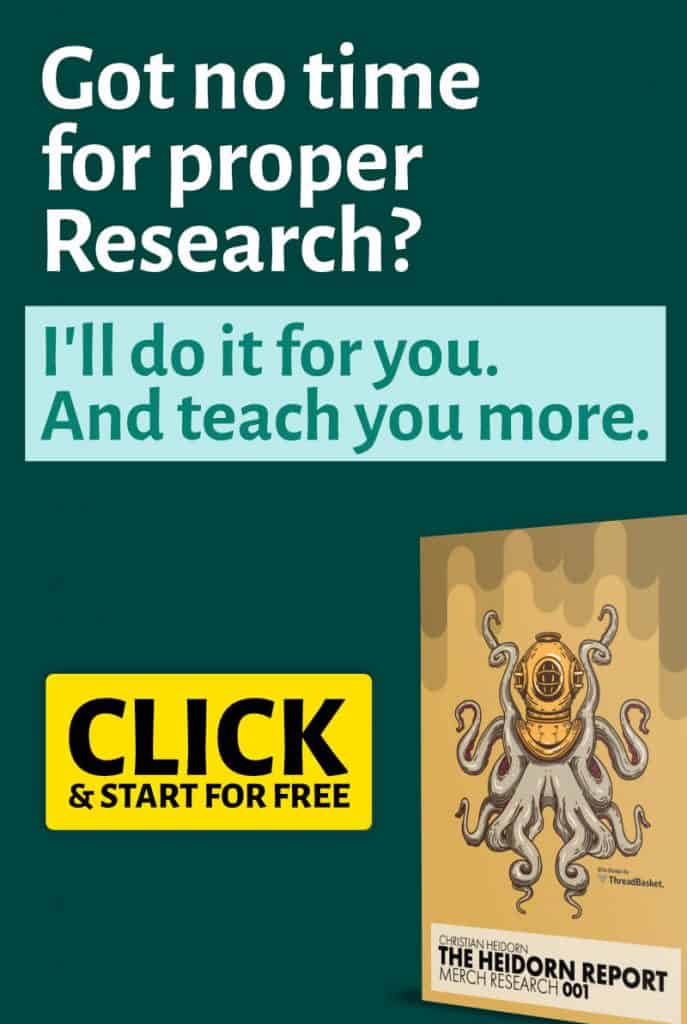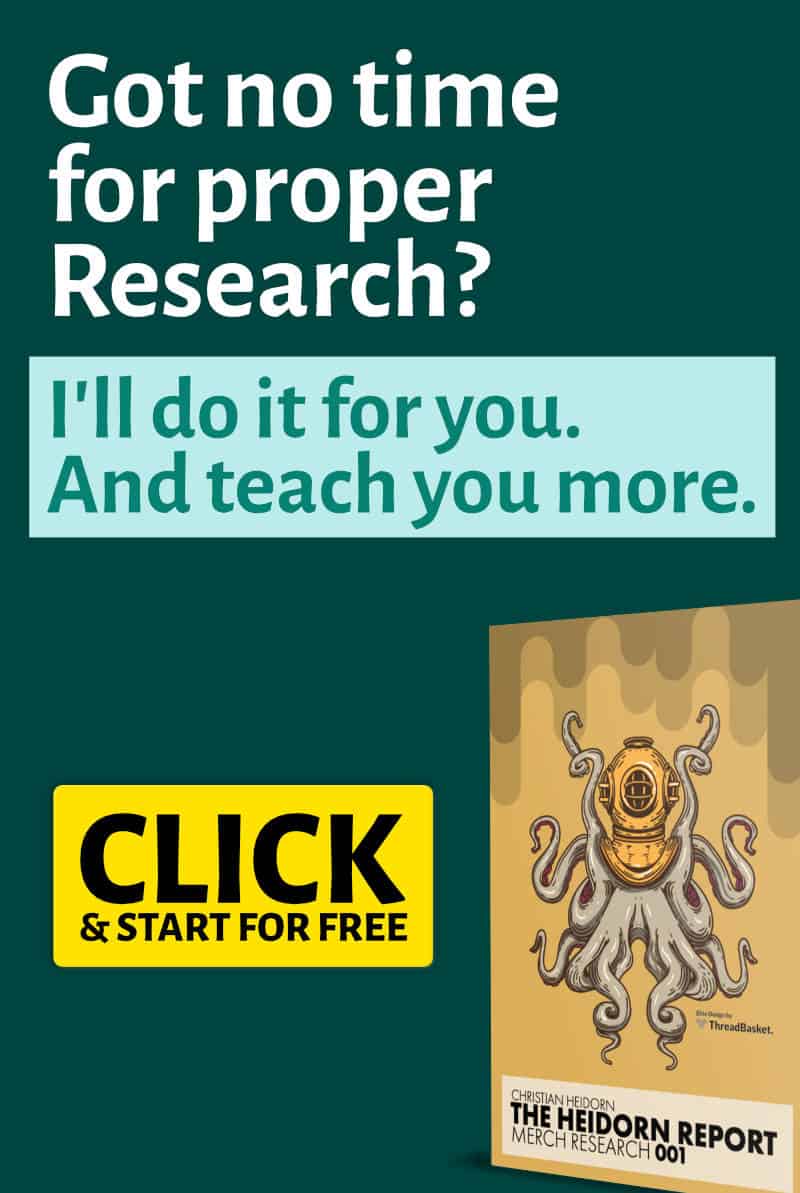 Uspto.gov
This is another important site for Merch by Amazon trademark protection.
Before uploading any design, it is important that you run phrases through the website. 
To do this, you will need to go to http://tmsearch.uspto.gov/
Choose the option "Basic Word Mark Search (new user)".
Click on the following fields:
Plural and Singular
Live and Dead
Enter your targeted keywords in the "Search Terms" box and click on "Submit Query".
If your keywords have not been trademarked, the search will notify you.
However, if you do find a list, you will want to dig into this further.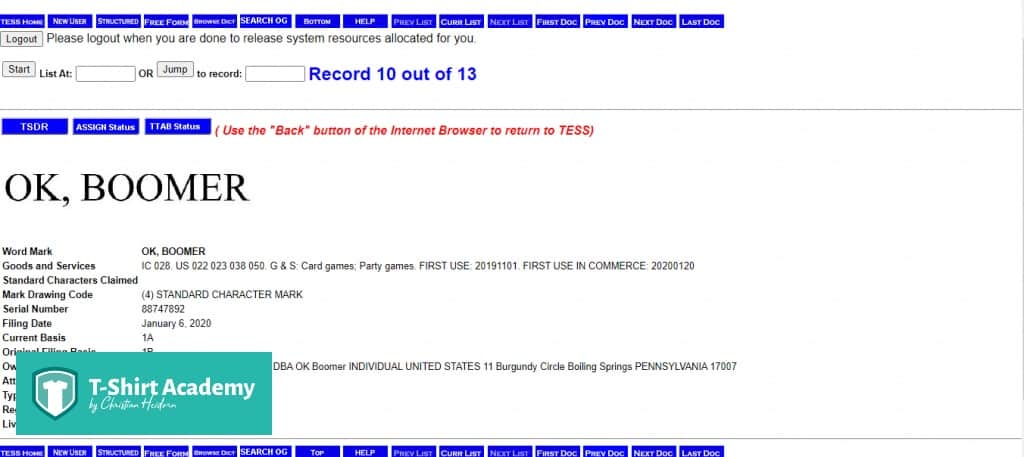 Go back to your options and only click on "live" to show you currently trademarked terms.
Also, look through the goods tab and filter out the products to search for "t-shirts, hoodies, sweatshirts and other products that you are selling on your merch store.
Some phrases are usually only protected when used on certain products.
For example, one phrase may be trademarked and banned for use by food companies but it is available to use on t-shirts.
At the time of writing this, the phrase "OK BOOMER" had live trademarks for entertainment shows and board games but had no live trademarks for t-shirts.
So a seller could be able to use the phrase on a t-shirt. 
It all depends.
It should be noted that if you do a search, and a list comes up but none of those trademarks are "LIVE", the phrase is free to use.
To avoid rejections, it would be wise to check a combination of words and phrases.
Most people do a basic search on a particular phrase, but words can be rearranged, and this could still lead to a strike.
This might mean checking every word and all possible combinations of phrases and sentences before uploading to Merch by Amazon.
This process can be time-consuming but it is worth it.
You can also use tools to implement your strategy for Merch by Amazon trademark protection.
What if Someone Is Using My Design?
If you find that someone is using your design/s in their merch store, you can easily report the infringement on Amazon.
Amazon wants to maintain fairness and encourages a fair competitive environment.
If you can prove that you created your design first, then their designs will be removed.
On the other hand, if their design is similar to yours, it may be harder to get it taken down unless it contains a lot of similarities.
For example, if someone copies a phrase and simply changes the font, then their design is liable for trademark infringement.
Recap of Basic Do(s) and Don't(s)
Do(s)
Images that are free to use/royalty-free.
Any image, design, or graphic that is 100% from your own creativity.
Images that are considered to be part of the public domain.
Don't(s)
Images, names, and logos that are associated with celebrities.
Images, names, and logos associated with music bands, musicians, and their lyrics.
Images, names, and logos of sports teams.
Characters and likeness of cartoon characters, video game characters, and comic books.
Trademarks of companies. 
Like mentioned above using "just do it" will get you a strike. 
Similarly, using the word "Nike" on any of your designs is not allowed.
Images that are not free to use. 
Phrases and quotes from books and tv shows.
Internet memes that went viral.
Internet memes are usually a result of someone else's creativity. 
Therefore, they can ask for your design to be taken down if you commercialize it.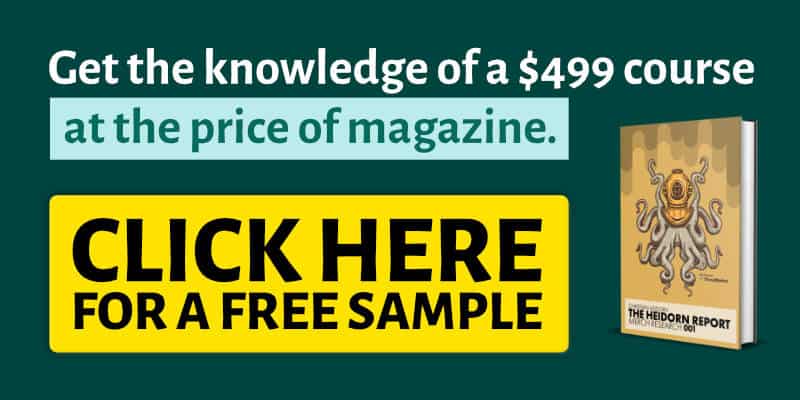 What To Remember
Even if you create your design before a trademark is registered, once it is registered, it can be flagged and removed from merch.
That is why it is important to stay vigilant and use tools that will help you know if your design has been trademarked.
The last thing any merch seller needs is getting a strike and potentially losing their account.
Getting onto Merch by Amazon is hard enough. 
An example of this is if a YouTube video goes viral a year after it was created and sellers decided to create merch related to it, the creator of the YouTube video can file for a trademark and these designs will be removed from stores.
Advertising also plays a big role in whether your design will be infringing on trademark or copyright.
If you add a celebrity's, a famous personality's name, or a popular internet phrase and personality's name in the description, it will show a connection between the design and that individual/phrase.
There are also many services that sell licensed designs to sellers.
Before buying from any of these services, make sure that the licensing allows you to sell on Merch by Amazon or any other print on demand platform.
If you are thinking of using any of these services, it would be wise to use popular and reputable platforms like ThreadBasket.
Their designs can be used on print on demand platforms, including Merch by Amazon and their designs are also of the highest quality.
In Conclusion
Trademark and copyright infringement on Merch by Amazon should not be taken lightly.
Investing time for Merch by Amazon trademark protection will always do your account good.
If you keep getting strikes, your account will get banned.
To avoid this situation, it is important that you run phrases through the USPTO database.
If this process is tedious and time-consuming, there are several tools that help sellers do that, including Merch Informer. 
Try to be as creative as possible when creating your own design.
If you are not a good designer, you can hire a designer or you can use services like ThreadBasket where you can buy ready-made designs for your store.
These services will give you the license to each design and this means that you are allowed to use it.
Parodies and mashups are also not advised on Merch by Amazon. 
Copycat designs are also not allowed on the platform.
This means that you cannot resize, recolor, or visually adjust a previous original artwork.
Your design should also not have a distinct element of someone else's design.
With this knowledge in mind, you can still create a design that is free of trademark only for someone else to register trademark months or years later and have your previous designs removed from the platform.
This is extremely frustrating to sellers and is one of the few disadvantages of selling on the platform.
Merch by Amazon takes trademark registrations seriously and will always side with the owner of the trademark – even if you came up with the design or phrase first.
If you do not want to register a trademark on a design, then you have to be vigilant of any copycat designs on the platform.
You can file a copyright/trademark claim and if they do not have the appropriate license and you created your design before theirs, then their design will be taken down.
To monitor your designs and the trademarks associated with them, use tools that will regularly check for new and existing trademarks.
This was a basic introduction to trademark and copyright rules that are associated with Merch by Amazon.
For comprehensive knowledge, read the resources page on Merch by Amazon or consult with a professional lawyer.