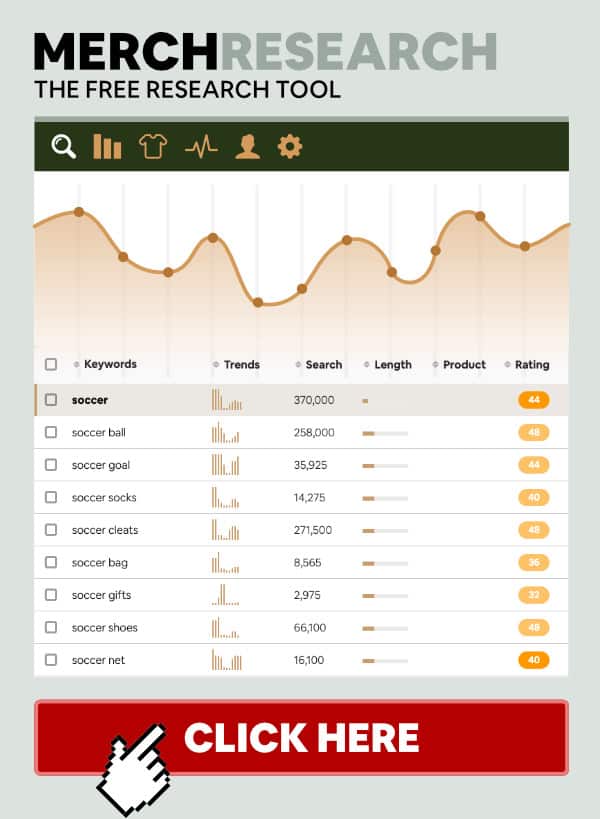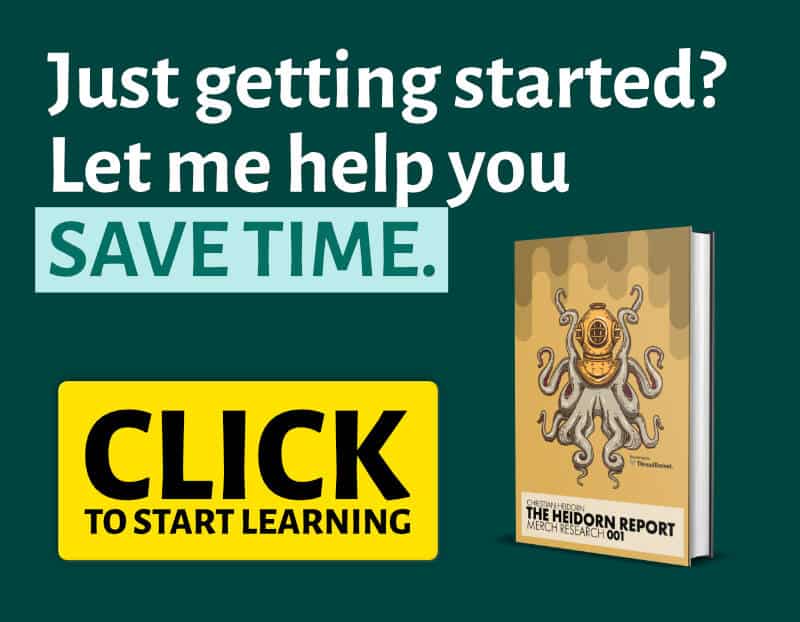 Finding the right niche is the key to your success on any print on demand platform – and more so, RedBubble.
There are several Redbubble niches to choose from and the key to success on any print on demand platform is finding the right one.
This can be a difficult process, especially if you don't know how to go about it.
Why Do You Need a Niche?
There are very few sellers who can successfully sell under all niches.
Having a niche makes it easier for you to gain success with your store.
If you are successful within your niche, you'll be the go-to person for your intended target audience.
It also means that your store will be one of the first to pop up during searches and that increases the likelihood of you making sales.
Once you achieve success within one niche, you can add more later. 
In this article, we will detail a few ways you should go about your RedBubble niches research to find the right niche that will get your customers interested. 
Tools for RedBubble Niches
Ubersuggest
Ubersuggest is primarily used as a keyword tool for websites.
It helps website owners find keywords that are of low competition but high in demand to help them rank highly in Google searches.
It also shows users how many times people have visited a particular page.
This is extremely useful to anyone looking to find RedBubble niches.
To get started, you'll need to key in the keyword or domain that you are interested in.
In this case, it would be redbubble.com.
This will then bring you a list of the top pages on redbubble.com.
The list will go from top to bottom in popularity.
You can then source for ideas and inspiration on what niches to go into with this information at hand.
Pages on this tool are ranked by estimated visits each month.
Within this list, you will see certain pages with the + sign on them.
This means that people are specifically searching for those terms.
redbubble.dabu.ro
This is a free RedBubble tool that shows you the most popular tags that are being used by other sellers.
This tool has two services available.
It has a tag generator, and it also has a tool that shows 10,000 of the most popular tags.
The 10k most popular tags tab is what we will use to find relevant niche ideas.
This page is updated once a week, every Monday.
They scan through all available listings and look at all the tags being used by sellers.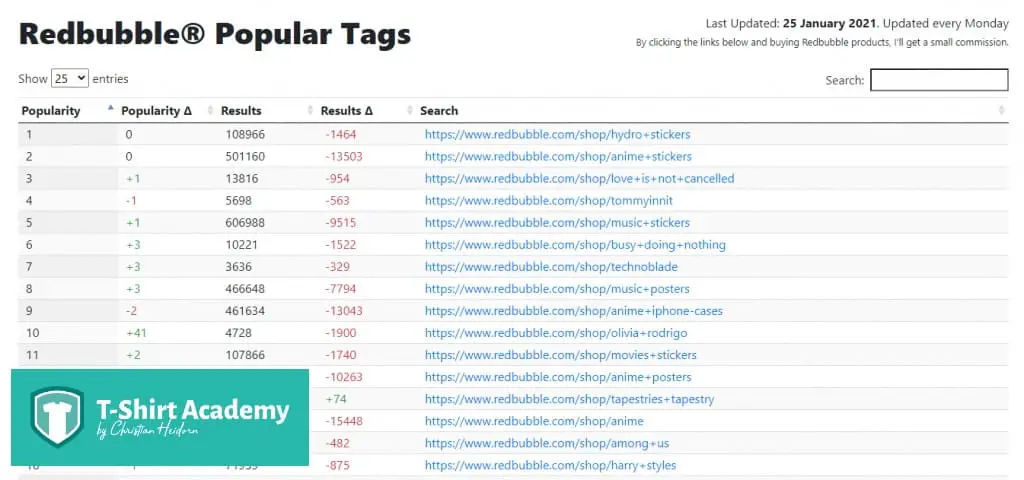 This tab will show you how popular each tag and what tags people are adding to their items.
It's an important tool that will show you what your competition is currently doing.
On the page, you will be able to see 25 to 100 of the most popular tag in that week.
They also provide a link to each search and you will be able to see what items are selling.
Additionally, it will show you how items/artworks contain a specific tag.
You can also search for tags that you have in mind and see how popular they are and how they are performing.
It clearly shows you how tags fair in popularity week by week.
It should be noted that this data is not real time.
It makes it easy to conduct research and find RedBubble niches without being on the platform.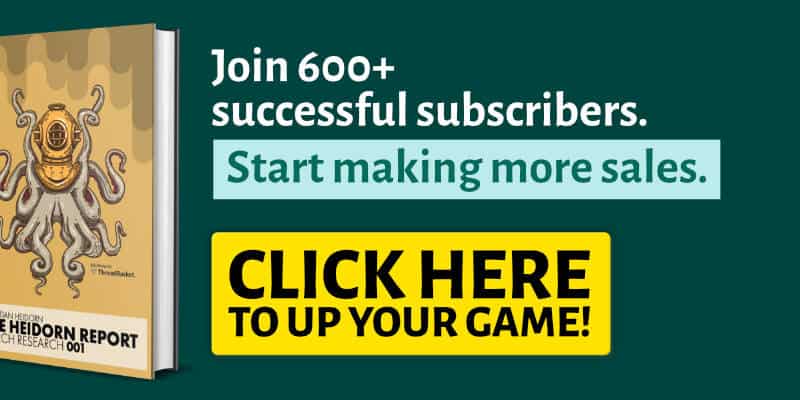 Bubble Trends
This tool analyzes changes in keyword trends daily.
It analyzes the most searched for keywords on RedBubble and the trends within the platform.
It gives you a clear view of the keyword and the number of times it has been searched on the platform.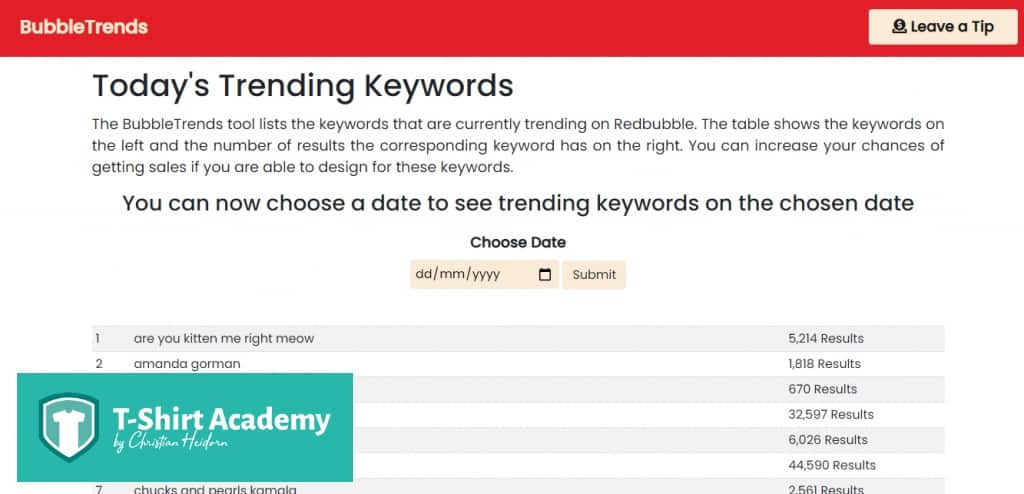 Unlike redbubble.dabu.ro, it can show you what keywords are popular on a particular day.
They update their database daily.
By finding the right keywords, you can decide which Redbubble niches to design for based on this information.
RedBubble Trends Tool
This tool uses Google Trends, print on demand trending searches, and more to find the top trends on RedBubble.
To curate their list, they check for a few factors including; popularity of the trends, the relevance of the data source, and existing RedBubble designs.
The list goes from top to bottom with the top showing the highest-ranking trend. 
You can click on the link next to the trend and have a view of the designs being created by the competition.
You can also compare this list to data available on Google Trends.
Research Current Trends
Selling on RedBubble is similar to any other business.
To find a profitable niche to go into, you should find how out how popular it is on the internet – and the best place to find this out in on Google.
That means that finding your RedBubble niches should include looking through Google Trends.
Once you have identified a few niches that you want to go into.
Search for their popularity on Google trends to find out how it has been performing through the months.
Google Adwords has a useful keyword planner tool that will show you the popularity of certain keywords.
All you have to do is key in your niche item or any related keywords and it will show you how popular it is.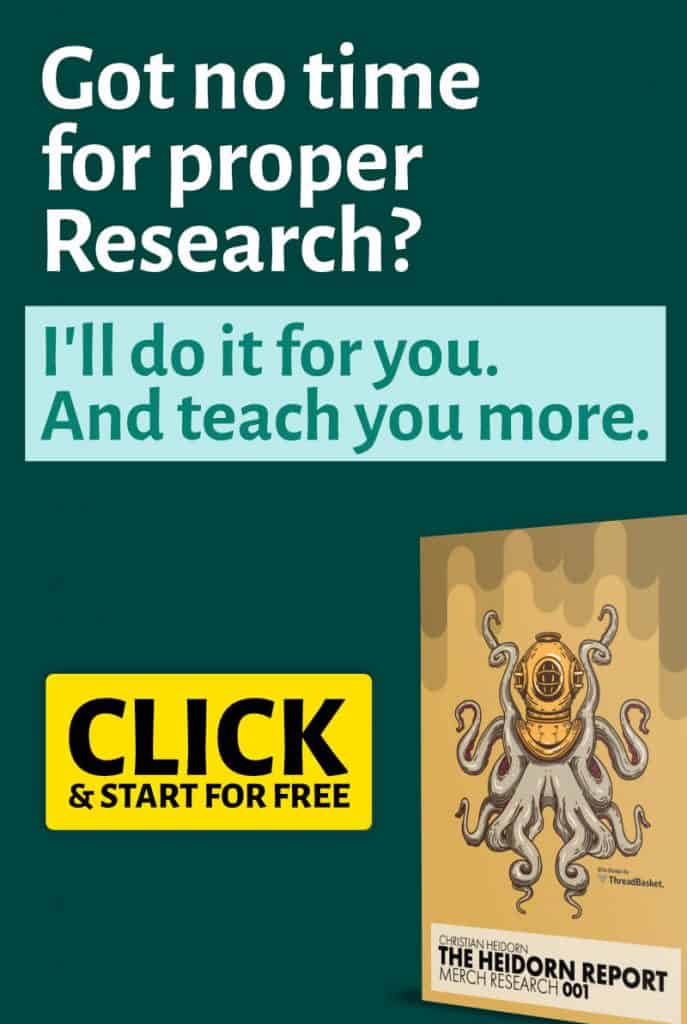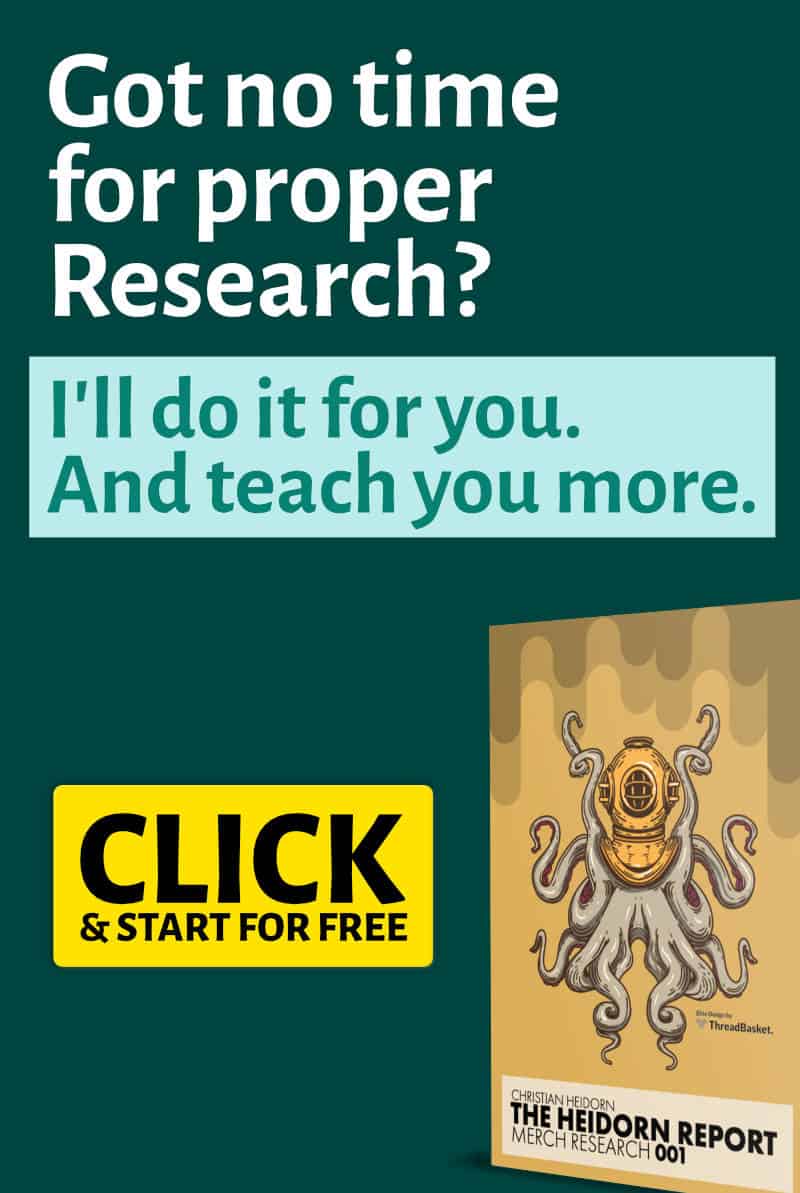 Source for Niches
You can source for ideas by looking at other popular print on demand platforms like Merch by Amazon.
Amazon has a huge customer base.
By finding out what people are searching for on Amazon, you can find out what people want to see.
It will give you an idea of what niches are popular at the moment, and using Merch by Amazon research and keyword tools, you'll also be able to tell how certain keywords have performed over time.
Source for Niches From Facebook Groups
Facebook is a great source of information.
There are several groups on the platform with thousands of members.
To find a suitable niche, you need to look through popular groups and find out what people are talking about.
You could also cross niches.
For example, you could search for bikers who love dogs.
This is a very specific niche and its target demographic would be excited to buy these products.
Niches that target a specific profession and pets usually have very passionate customers.
Balance Passion With Profit
If you have a passion that has a considerable interest within your targeted consumers, then you should definitely start with that.
The advantage of choosing a niche that you have passion and interest in is that you already know what is popular and what would appeal to someone like you.
This gives you the upper hand you don't have to spend hours researching designs and topics within that niche.
Having interest and passion in a certain niche also means that you are more motivated while working.
To find out which one of your passions to get into, list them down on a piece of paper.
Narrow down your list to five.
Once you have a list of five of your greatest passions or interests, you'll want to do a RedBubble search on each of them.
You will search each of your interests as a keyword. 
As a tip, it would be wise to break down your interests further.
For example, if you love dogs, you could further break this down into service dogs or rescue dogs.
You will then search for the keyword, "rescue dog" and see how many search results come up.
Ideally, you'll want to look for keywords that have below 1000 search results.
This will make it easier for you to break into this niche since competition won't be as high.
If you feel confident that you can bring something unique into a highly competitive niche, then you can also opt for that.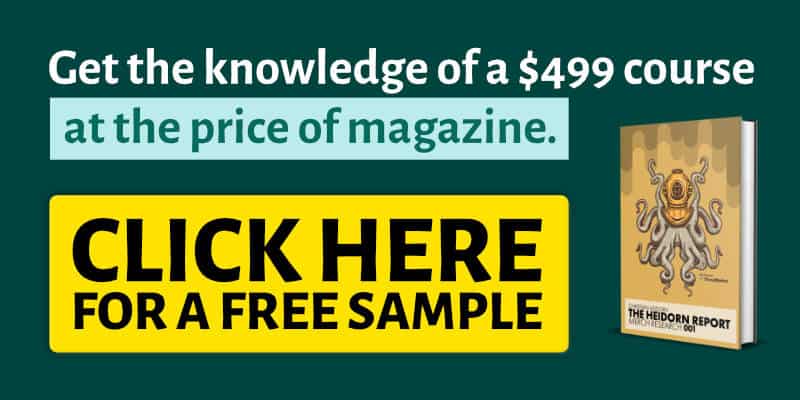 Plan for the Long Term
During your research, you'll undoubtedly find trending Redbubble niches.
You should note that trending niches might only be profitable for a short period and that is not the goal of any successful business.
There is a lot of risk and skill needed to capitalize on a trending niche.
This is because there are already so many other people looking into this niche and the competition is frankly too high.
What you want to find is an evergreen niche to have sustainable profits for as long as you are a seller on RedBubble.
Create Your Persona
To help you find your RedBubble niches research process, it would be important to first create a persona of the person you want to sell to.
Get an idea of who you want to sell to.
This will help make it clear which areas you are interested in.
It also means that you won't blindly go into your RedBubble niche research process.
You'll have an idea of who your target market is.
Once you know who they are, you can then find out what appeals to them.
After finding out who you want to sell to, you need to determine the following factors to further help you narrow down your target customer;
Age range
Geographical location
Gender
Race/Ethnicity
Household income
Education level
Occupation
Hobbies/Interests
Lifestyle
Personality
Choose Your Products
Once you have decided on a niche, you'll need to find the right products to sell on.
You can determine which products you want to stock in your store by finding out what people are searching for.
Using the tools mentioned above, you might be able to see that people are searching for hydro stickers more than hoodies for example.
Finding the right product or products for your RedBubble store will take a bit of trial and error.
However, eventually you'll be able to find out what works out for you, and you 
To find the right product for your store, you'll need to determine if there is a demand for the product.
You can do this by searching through Amazon.
A search on Amazon will show you how many competitors you have, and the popularity of each item.
Amazon is one of the biggest retailers globally, and it's the go-to online retailer for many people in North America and abroad.
Test, Test, Test
You can research for as long as possible but the only way to know if your niche is the "one" is to test it out.
After you create designs and start selling, monitor its success within a certain period and see if it works.
You could also start by testing out two to three niches and see which one is favored by your target customers.
RedBubble Niche Research Wrap up
Finding the right niche is difficult, especially for new sellers.
However, once you find a niche that works, the reward is far greater.
Capitalize on the tag and keyword research tools that we have highlighted above.
They will take away a lot of the stress involved.
Monitor how trends are performing to ensure that your niche is still relevant to your audience.
Gauge the existing competition, and look at their designs for inspiration.
Remember, even after finding the right niche, you need to provide quality to your customers to keep them coming back to your store.
In finding your RedBubble niches, take note of any copyrighted designs and stay away from them.
This might need you to be more diligent, but you don't need to put in the work only for your store to be banned on the platform.
Success on RedBubble and any other print on demand platform can be difficult, and there is a lot that goes into it.
In the article linked here, we show you how you can get ahead, whether you are a new or seasoned seller. 
In Conclusion
RedBubble niches research is an important part of your success on the platform.
However, it is not the only factor.
You need to have good design, make sure you adhere to the platform's rules, use the appropriate tags and so much more.
When creating your store, be mindful of all the necessary factors to increase your chances of success. 
If you have used any of the RedBubble niche research tools or methods detailed above please leave a comment and tell us your experience.