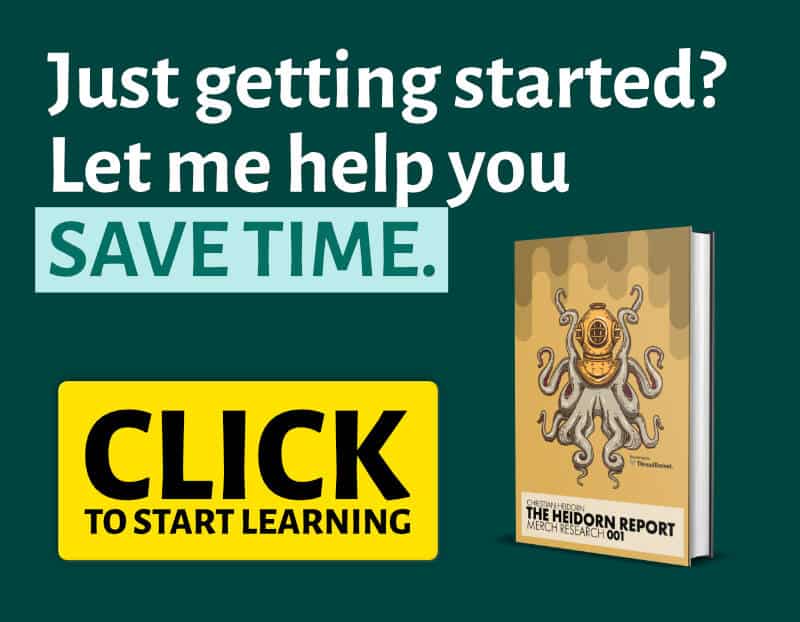 Print on demand has gained in popularity over the years and if you're reading this, then you're curious about the topic or you're interested in starting your own print on demand business.
The increased popularity has increased the number of print on demand companies to choose from.
For newcomers, it can get daunting trying to choose from the several companies available.
While most print on demand companies provide similar services, there are slight differences that could affect your final choice.
In today's article, we look through some of the most popular print on demand companies available currently.
The Top Print on Demand Companies
Printify
Printify is another print on demand company that has been in existence for years.
Unlike Printful, Printify does not offer sellers their own storefront on their platform.
However, it does allow users to integrate their websites to its platform.
They have a wide variety of products that sellers can choose from – over 500 products to be specific. 
They also have a variety of printing options depending on your needs.
Options include direct-to-garment, cut and sew, sublimation, and embroidery.
Printify has design tools that make it easy and quick to add your own designs to their products.
If you sign-up for their premium option, you will have access to all of their premium design features.
However, if you are a designer, or have your own in-house designer, this option might not be for you.
Similar to other big print on demand companies like Printful, Printify has a mockup generator that makes it easy for sellers to see how their designs will look on 
Pricing
Printify is free-to-use.
Users only pay for the fulfillment cost once a product has been purchased. 
They do have a set price for their products, however, you can mark it up to control how much you can earn. 
Pros
Printify has global vendors, and that makes it a great option for print on demand sellers with a global market.
Being one of the best print on demand companies, they have a wide range of printing options and a wide range of products to choose from.
Printify is also great for sellers who are looking for wholesale selling options.
Gelato
Gelato has been one of the fastest-rising players in the POD game.
The enterprise is certainly making all the right noise, and this is what caught our attention.
You can unlock your business's true potential by expanding it globally, but it's easier said than done, isn't it?
This is where Gelato shines the most.
With 130+ production partners across 33 countries, the company brings you access and allows you to utilize its resources to sell worldwide. 
When an order is placed, it is automatically connected to the nearest production partner and fulfilled.
What it means for you is that your customers get faster and cheaper delivery with reduced carbon emissions.
The entire process is quick and efficient. 
In a world where time is money, Gelato allows you the luxury of conserving time that otherwise would be spent managing and looking after operations. 
Integrating your website and shop with Gelato is easy.
They support Shopify, Amazon, Etsy, WooCommerce, Wix.com, eBay, and many more.
The company has a vast selection of resources written explicitly with customers' queries in mind if there's a problem or a hiccup.
They also have 24/7 customer care with a dependable reputation for being friendly, fast turnaround, and incredibly helpful.
Though its catalog is ever-expanding, products never fail to feel premium and hand-selected. 
Gelato's shop has apparel for men, women, and kids (premium and organic options available), an extensive selection of wall art, tote bags, stationery items,  mugs, calendars, mobile cases, photo books, cards and more. 
Whether you are a beginner or a pro, Gelato makes establishing your POD business absolutely seamless and stress-free.
Pricing
Signing up with Gelato is free. The products are individually priced.
The company has a subscription method with two tiers – Gelato+ and Gelato+ Gold.
Depending on the number of orders you have per month, you can unlock access to exclusive discounts, a large selection of premium visuals and graphics, and advanced personalization tools in the design editor.
It will help you slash shipping costs to a considerable extent.
Pros
Gelato boasts a global network that spans 33 countries and has 130+ production partners. It runs like a well-oiled machine and is reliable and robust. Since the operations are decentralized, the probability of a breakdown is negligible.
Hyper-localized production ensures reduced shipping time, and you can rest easy knowing your business is not done at the planet's cost.
Everything listed in their catalog is consistent in look, feel, and quality. You get what you pay for.
Their entire interface is user-friendly and transparent. No hidden terms and conditions are lurking anywhere.
Gelato has a near-perfect reputation in the POD market, with an average of 4.5/5 rating on Shopify and a 4.8/5 rating on Trustpilot.
There is no minimum order requirement.
Gelato supports the integration of your own website/shop, making it extremely easy to get started. If there are any issues, their customer support is on standby 24/7, ready to assist and guide.
Cons
If we had to nitpick, it would be Gelato's portfolio of products.
Although growing and expanding rapidly, the current selection remains comparatively limited.
However, there are frequent additions and releases, and the product team seems hyperactive in listening to what customers want and ensuring that they deliver on expectations.
Printful
When it comes to print on demand companies, Printful is perhaps the most popular.
It is also one of the easiest print on demand companies to start selling with.
Sellers are able to create a storefront directly on the platform and also integrate their own websites to Printful.
Printful also makes creating designs quick and efficient directly from the platform.
The company provides several design elements and tools that work brilliantly for people who have novice to professional design skills.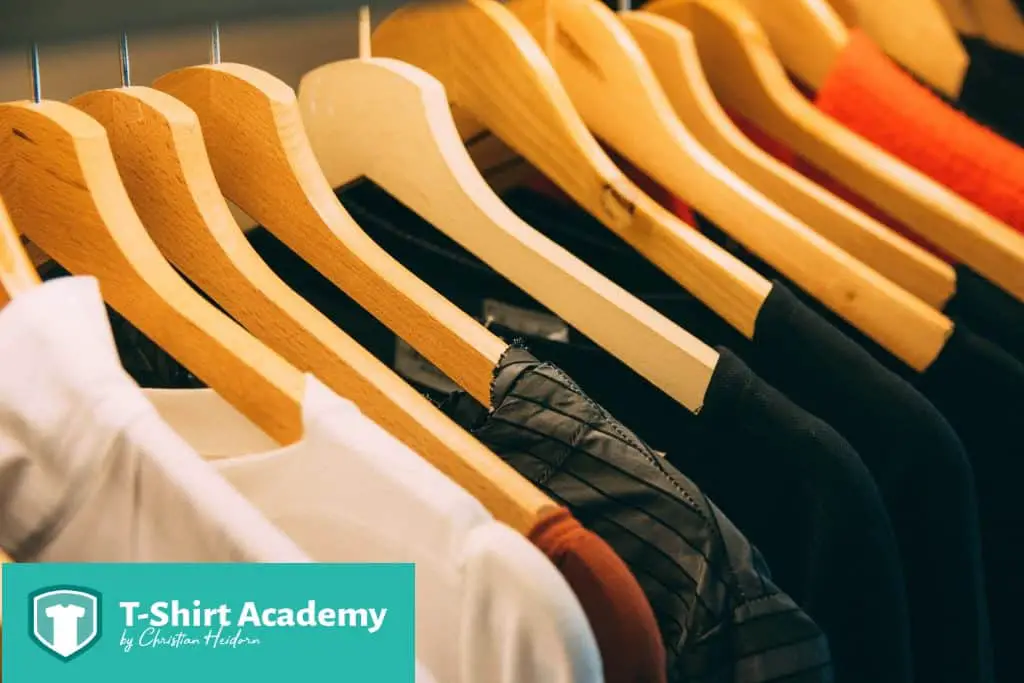 Apart from their top-notch design features, they also have a mockup generator that helps creators place their designs on mockups.
Using these mockups is a great way to market your designs.
Like with other print on demand companies, Printful allows sellers to have their designs printed on a wide range of products.
Stickers, mugs, posters, t-shirts, hoodies, pop sockets, backpacks, sweaters, and blankets are just a few products that sellers can choose from. 
They also have several resources that you can tap into such as useful integrations that provide smooth automation.
From photography courses to design courses, Printful is invested in helping you create high-quality designs.
Pricing
Using Printful is free, and products are often priced per item.
The company only takes a percentage of your sales but you have complete control over how much you price each of your items. 
Pros
Printful is one of the best print on demand companies when it comes to quality.
They use premium material to create their products and they claim that 99.4% of their customers are happy with their orders.
Sellers do not need to meet an order minimum before receiving their pay.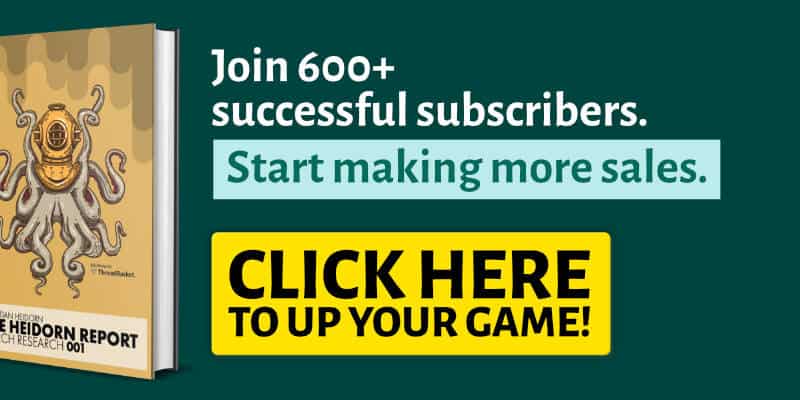 The ability to integrate with your own website is a win for many sellers who sell their products on other platforms.
Sellers also have various printing options to choose from which is a big differentiator from some other print on demand companies. 
Redbubble
Redbubble is one of our favorite print on demand companies – and for good reason.
It is also one of the most preferred by independent artists and designers who are looking to share their work.
Due to the large number of buyers and art enthusiasts who visit the platform, Redbubble is a preferred choice for design enthusiasts(both buyers and sellers).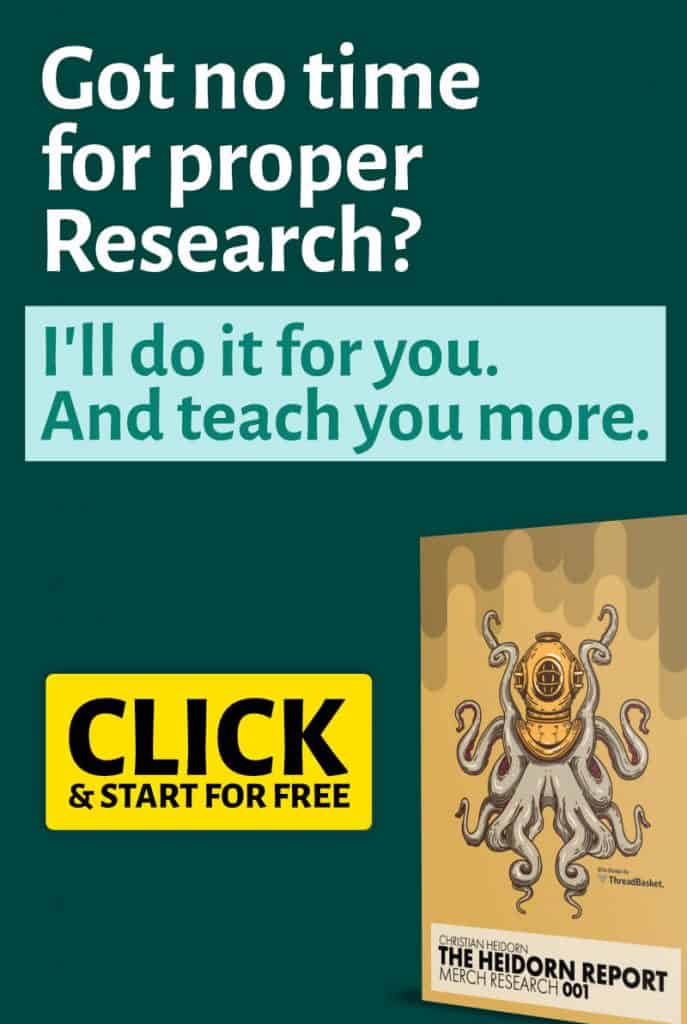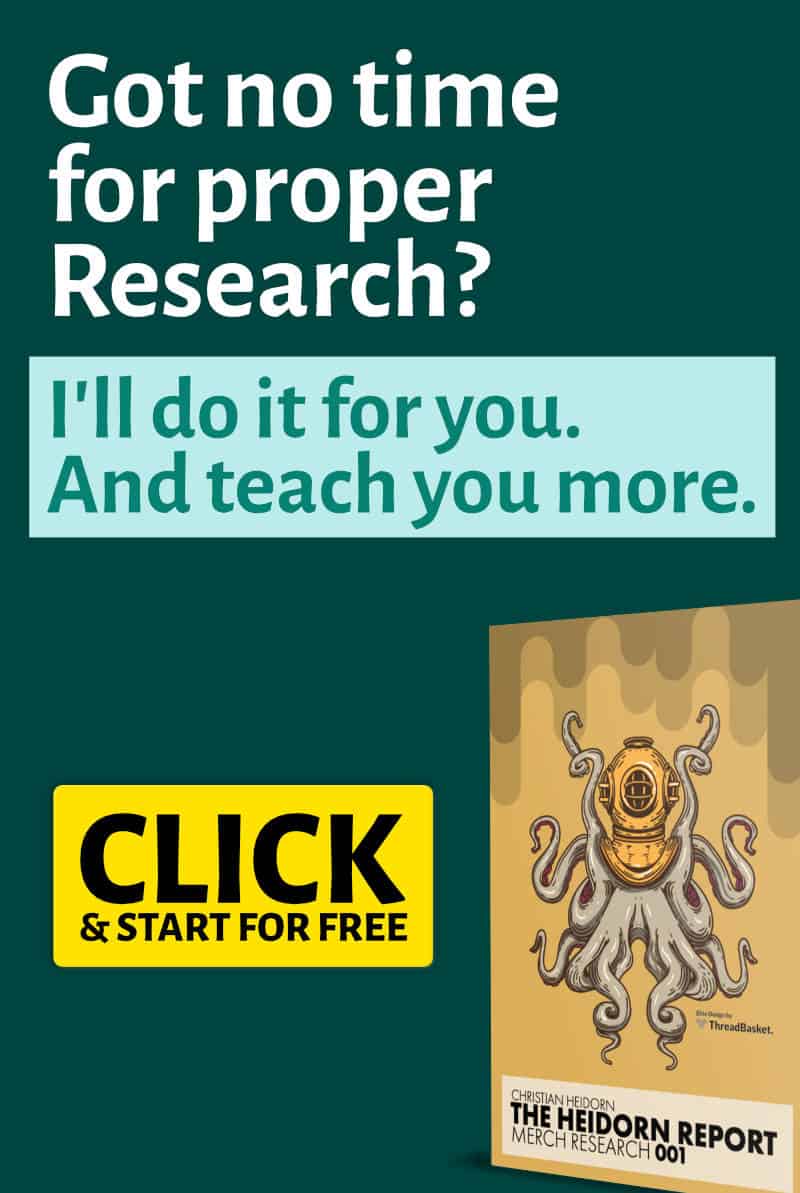 Redbubble is one of the most competitive platforms, and to succeed long-term you need to invest in creating great designs or hiring a great designer.
Redbubble does not integrate with other platforms and that can be a downside for sellers who have their own websites.
However, they do provide you with a storefront where your products are showcased and bought. 
This print on demand company also caters to more niches and that means no matter what you are interested in creating – you are likely to find a buyer for your designs/products.
You have to explore the best niches that can provide the best traffic and profit in the long run.
Redbubble is easy to use which makes it a great option for beginners.
Pricing
Similar to most print on demand companies, sellers can set their own prices for their products.
Each product does have a base price that you can't go under, however, you are in total control of your profit margin.
Sellers are paid once a month if they are able to meet the $20 minimum set by the site. 
Prices on Redbubble are rarely consistent.
You might need to make regular adjustments based on the competition available.
Zazzle
Zazzle is a favorite print on demand company for buyers.
In addition to its great customer support, it has great customization options that buyers love.
Its customization feature is perhaps its most unique feature and greatest selling point.
Zazzle has a wide range of product options.
Sellers can choose from the over 1000 items available. 
For sellers without design skills, there are various designers available on the platform.
You can also use their various templates.
Pricing
Zazzle products have a base price and sellers can only mark up the price between 5 and 99%.
If you join the platform as an associate, you will earn a 15% commission on each sale made on Zazzle.
TeeSpring
Originally a print on demand company that only sold t-shirts, Teespring has grown over the years.
Their product range has become much more inclusive over time, expanding to other merchandise such as: mugs, hoodies, tote bags, socks, home decor, and more. 
Teespring has the highest customer service rating in the print on demand industry. 
This means that both you and your customers will feel cared for throughout the whole journey.
It is also one of the easiest to use, and sellers can quickly understand how the platform works.
What sets TeeSpring apart from other print on demand companies is its Boosted Network.
Through the Boosted Network Program, sellers have the opportunity to promote their designs online.
This is an added advantage for any seller, however, they would still need to promote their designs on other platforms.
Pricing
TeeSpring has a base price for all their products, and they include all their fees within the base price.
Sellers are allowed to price their products as they wish, and they get to pocket the profit.
TeeSpring is free to use.
However, if you choose to join their Boosted Network or any other additional services, a portion of your profit will ‌go to pay for those services. 
How to Choose A Print on Demand Company
There are several print on demand companies to choose from and this list is just the tip of the iceberg of what's out there.
Most of these platforms do the same thing and their perks are more or less the same.
The differences might be minute, however, those differences are their distinguishing features.
If you have extremely unique designs and want access customers who understand your art, then Redbubble might be for you.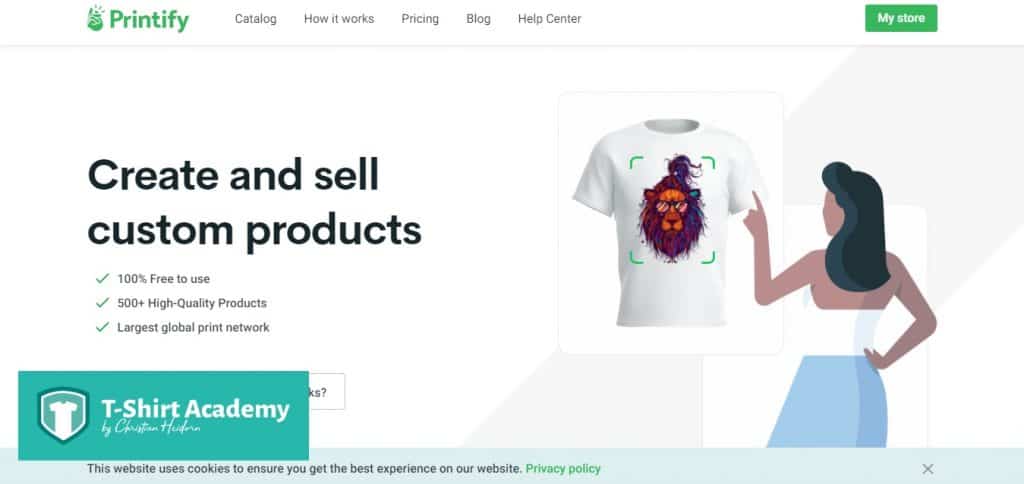 If you're looking for a print on demand company with different services, Printify might be for you.
With their mockup generator and their integrations, it allows you to do so much more.
For sellers who want to sell a few products and want an easy-to-use platform, TeeSpring is definitely the platform of choice.
Your needs will determine which print on demand companies are the best option for you.
In Conclusion
Print on demand is one of the easiest businesses to start and choosing the right company will set you up for success.
With several print on demand companies to choose from, take your time to research each one to find out what works for you.
Pricing is definitely a major factor to consider.
Find out how much profit you'll be able to take home from each of the print on demand companies.
Also, look at the smaller details like their customer service and their terms and conditions.
As much as you want to make a profit, you want to give your customers the best experience possible.
Have you used any of these print on demand companies?
Let us know your experience.