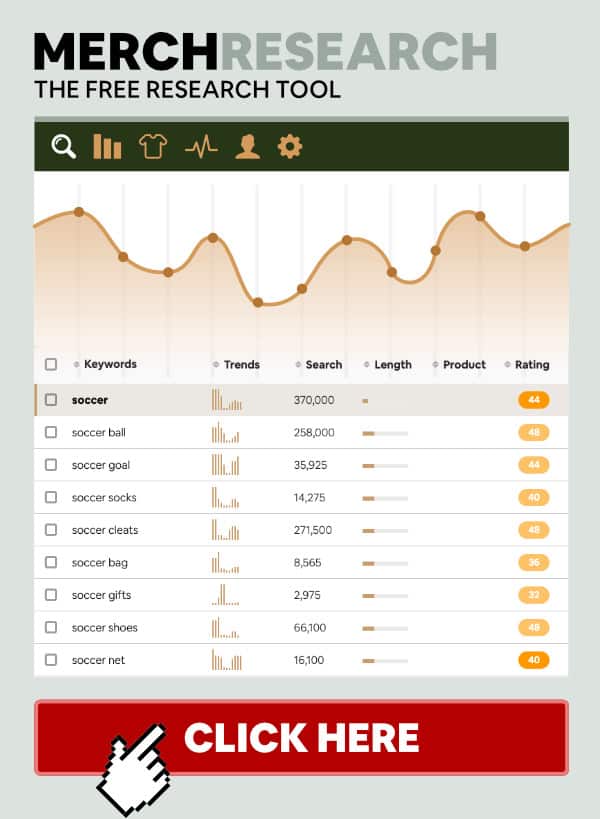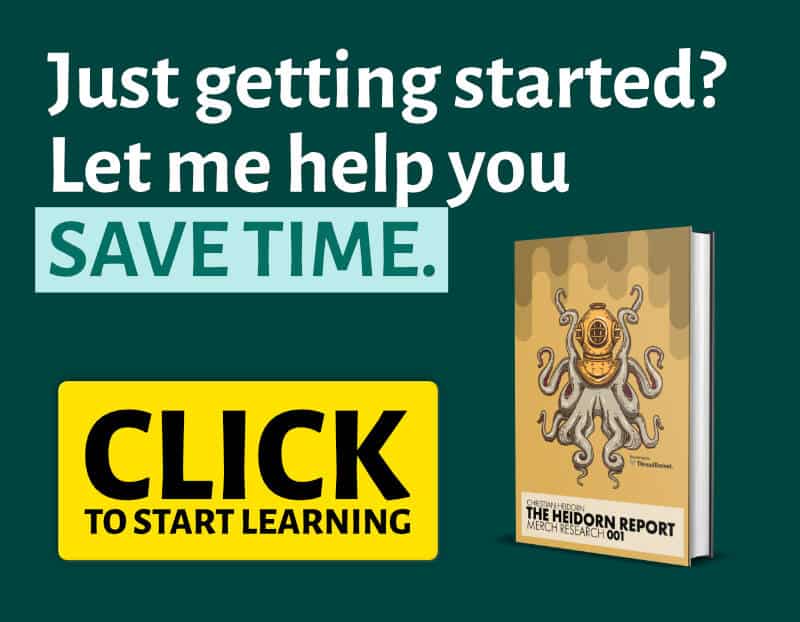 Created in Germany by Jonathan von Bredow, Lazy Merch is yet another print-on-demand platform tool that was created to make work easier for sellers.
The tool takes the tedious upload process off your hands by automating the process. 
This gives sellers time to focus on other elements of their business for example marketing, research, and design. 
What makes LazyMerch different from other uploader tools available to merch sellers is the number of individual configurations you can apply to make your work easier.
They also consider themselves to be the best print on demand upload system in the market.
In this article, we take an in-depth review of LazyMerch and how it works.
How to Set up Lazy Merch
Before you can begin enjoying the automation processes given to you through Lazy Merch, you first need to set it up.
If you have already arranged your designs in a database, then this process should not be too difficult.
LazyMerch uses Microsoft Excel to upload designs into your different print-on-demand platforms.
In the excel sheet, it is important that you list important information such as the Title of the design, the tags you want to be used, the niche of the design, and the languages used.
This creates an organized system that you can use outside of LazyMerch and will also make your upload process seamless.
You can then create your listings for different print on demand platforms including Merch by Amazon, Redbubble, Teespring, Spreadshirt, Society6, Shirtee, TeePublic, and more.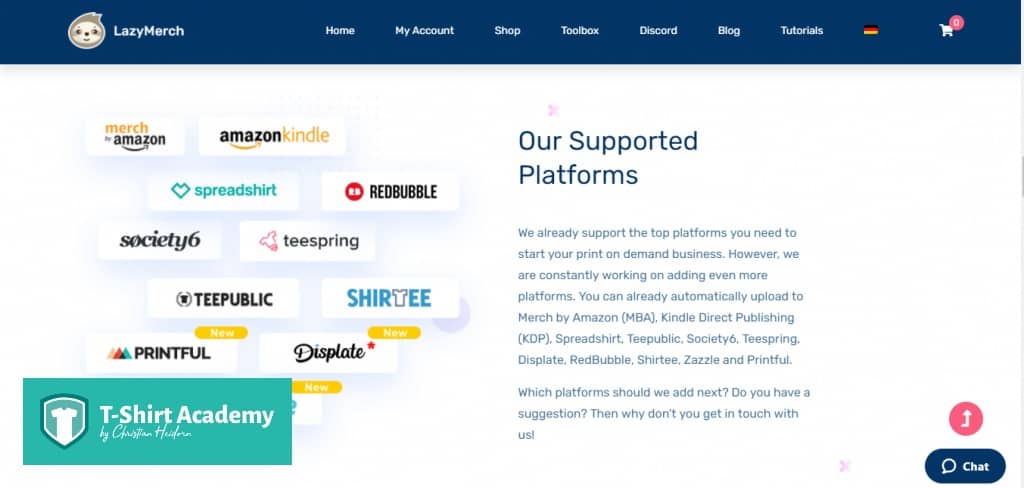 LazyMerch supports 11 print on demand platforms making it easy for sellers with multiple accounts.
Once you have your listing created on Excel, you can put them in the different LazyMerch templates.
LazyMerch has a unique template for each print on demand platform. 
The excel sheet makes it easy to export this information into these templates.
How LazyMerch Works
Once you log into your account, you will be taken to the dashboard.
On your left, you will see a list of all platforms that you will be able to upload your designs to.
If you want to upload your designs into Spreadshirt for example, you will use the Spreadshirt template that is provided by LazyMerch.
To do this, you will go to where you have stored your design on your computer.
Right-click on an individual design and choose the "copy to path" option.
Once that is done, you can paste the design path onto your template and fill in the necessary details, that is, the target market (European or American), the title, description, tags, and other relevant information.
After adding all relevant information to this template, you will once again log into LazyMerch.
Open Excel and choose the right template based on which platform you want to upload to, in this case, Spreadshirt. 
Once you upload this template, choose the Spreadshirt tab at the button to show that the template uploaded references the specific platform then once done, you can start.
You will then be prompted to log into your Spreadshirt account if you haven't already and then the automation process will begin automatically.
When uploading your designs and filling out the details in different spreadsheets, you need to be careful.
It's important that you observe all the rules and guidelines set by specific platforms.
It's not a one-size-fits-all approach.
If you already have your excel sheets filled out or are regularly updating your listings, this process will only take a few mouse clicks to complete. 
LazyMerch has special features that set it apart from other uploaders.
It allows users to reposition their designs (horizontally or vertically).
This gives sellers the option to choose whether their designs should be placed horizontally or should appear centered.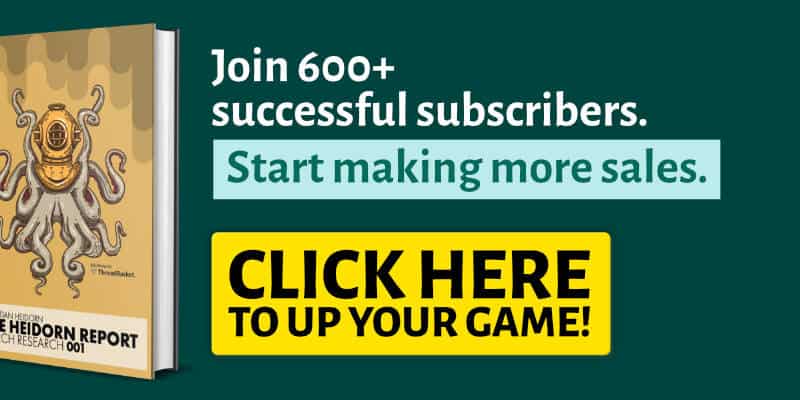 LazyMerch Toolbox
LazyMerch provided several tools free for users.
These tools are available for use to any seller and you do not have to subscribe to LazyMerch to have access to them.
Image to KDP
Upload your images and convert them into PDF. 
MBA/KDP Search
This search option makes it easy for sellers to see what other designers are creating on Amazon.
A quick search of tank tops in the American market will generate the top-selling print on demand tank tops.
This is a great way for sellers to gain ideas and stay ahead of the competition.
The same can be done for KDP sellers.
Event Calendar
The event calendar shows holiday and festive seasons across various markets.
You can narrow it down to the markets that you sell in.
This will be useful when creating new designs.
Benefits of LazyMerch
In its latest update, LazyMerch made it easy to add listings directly in the tool without having to import an excel spreadsheet.
This is has made LazyMerch easy to use and is a welcome relief for people who find it difficult using Microsoft Excel sheets – although that option is still available. 
If your listing contains incorrectly spelled words or there is something you need to change, you can do it directly from the tool.
Customer service and customer support are extremely important when familiarizing yourself with a new tool.
LazyMerch has round-the-clock support for all its users and also has an active Facebook group where you can ask questions and get advice from other users.
It has an automatic translation tool that is able to translate your uploads to your desired language – depending on the market you plan on selling in. 
They pride themselves on their ease of use.
It is also extremely easy to install and has a detailed guide on how you can begin your use. 
It supports the top print on demand platforms in the market today and is constantly working to add more platforms to its network.
As with other merch tools, it offers trademark checks to ensure that your designs are original and do not infringe on any copyright.
The trademark check also displays a warning on your workspace if one of your listings goes against the rules.
They also provide a free event calendar that you can use to stay up to date on any upcoming holidays or festivities that could influence your design process. 
It allows users to import their spreadsheets from other automation tools.
It has a beautiful history page where users can check how many designs they have uploaded to all their different print on demand platforms.
LazyMerch is easily customizable and any adjustments you would make to your designs on the print on demand platforms can be made easily on the tool. 
All your sensitive data remains in your local storage. 
When compared to other automatic uploaders such as Merch Titans, LazyMerch is cheaper.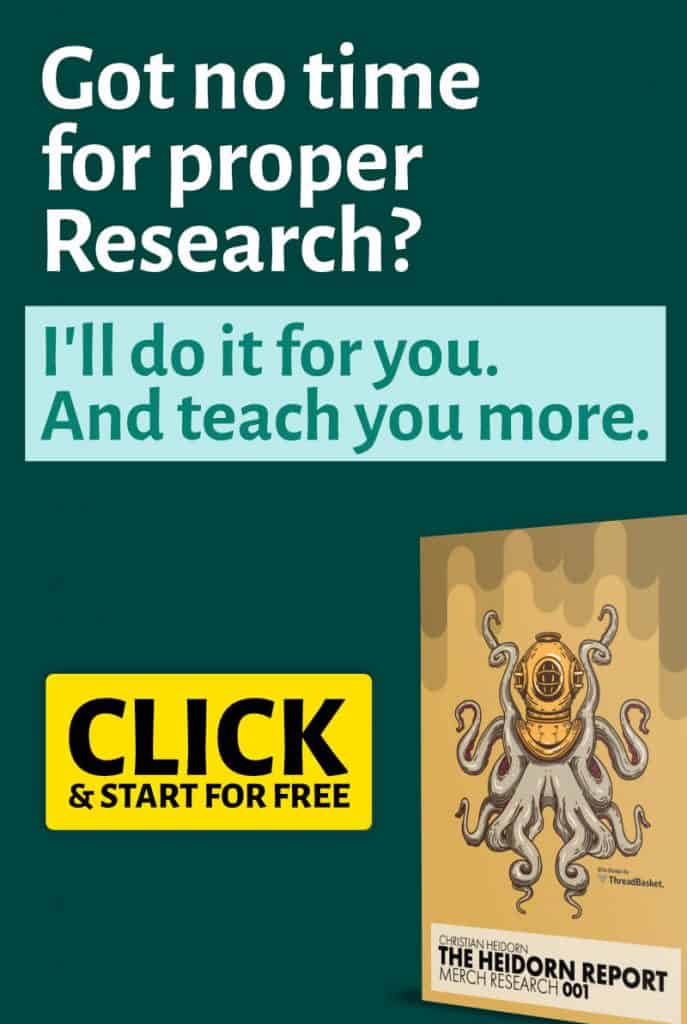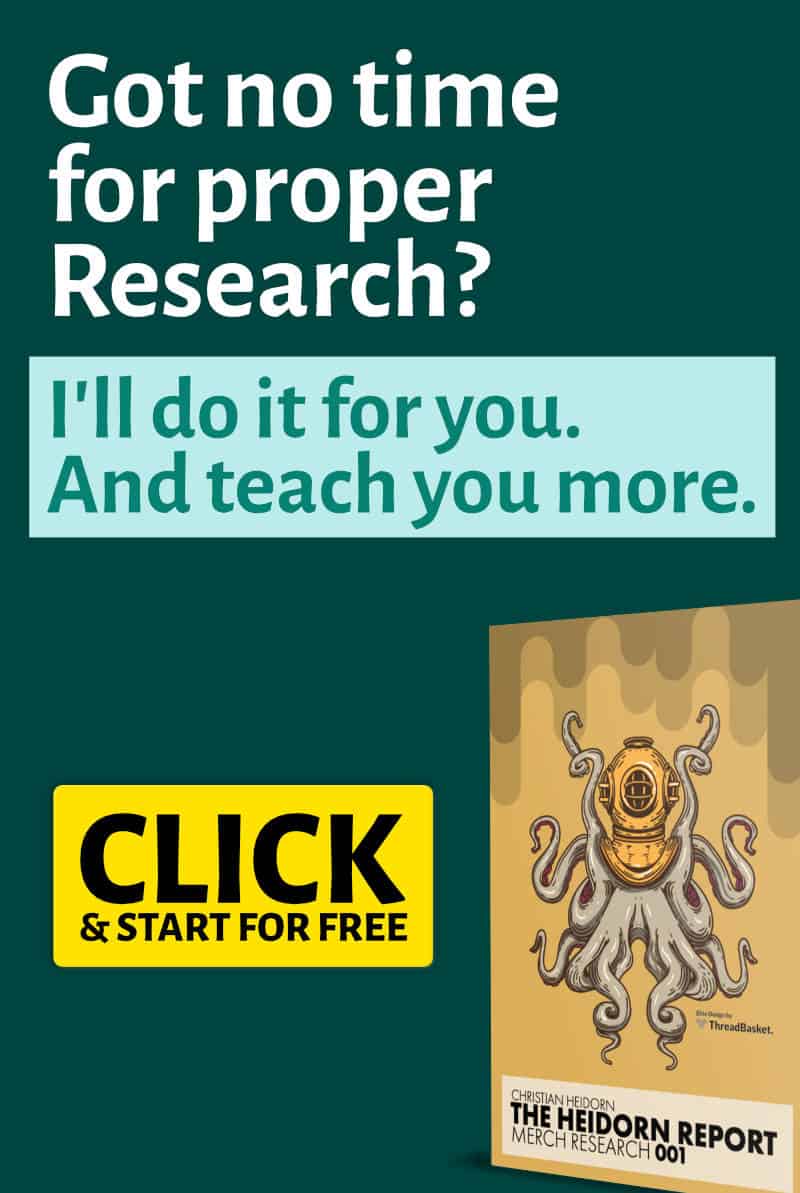 Pricing
LazyMerch has three pricing options; Any Platform, Full Access, and the KDP Package.
 Any Platform 
The Any platform option costs $20.60.
This allows users to upload to any platform of their choice.
It also offers automatic trademark checkers.
You will have unlimited uploads to your selected platform.
Customer support is available both in both English and German.
Regular updates and all functions are available to your platform of choice.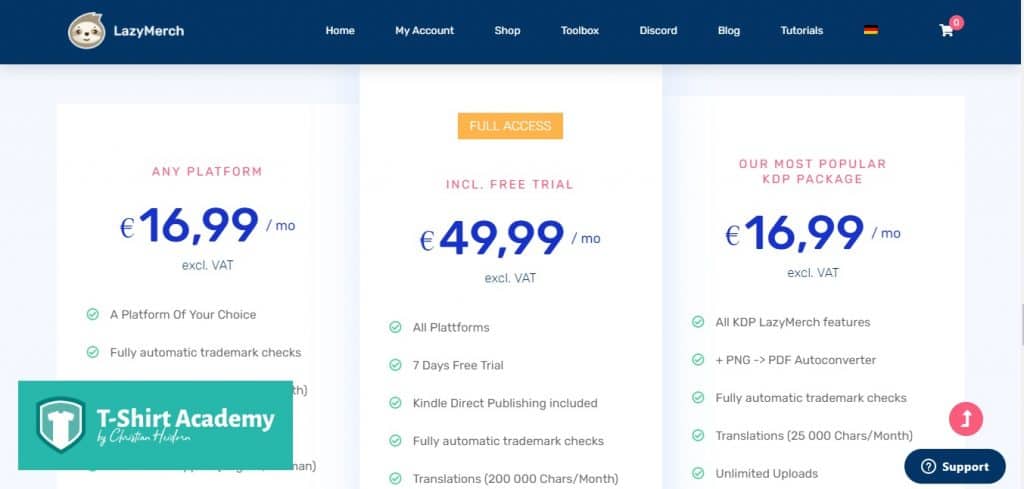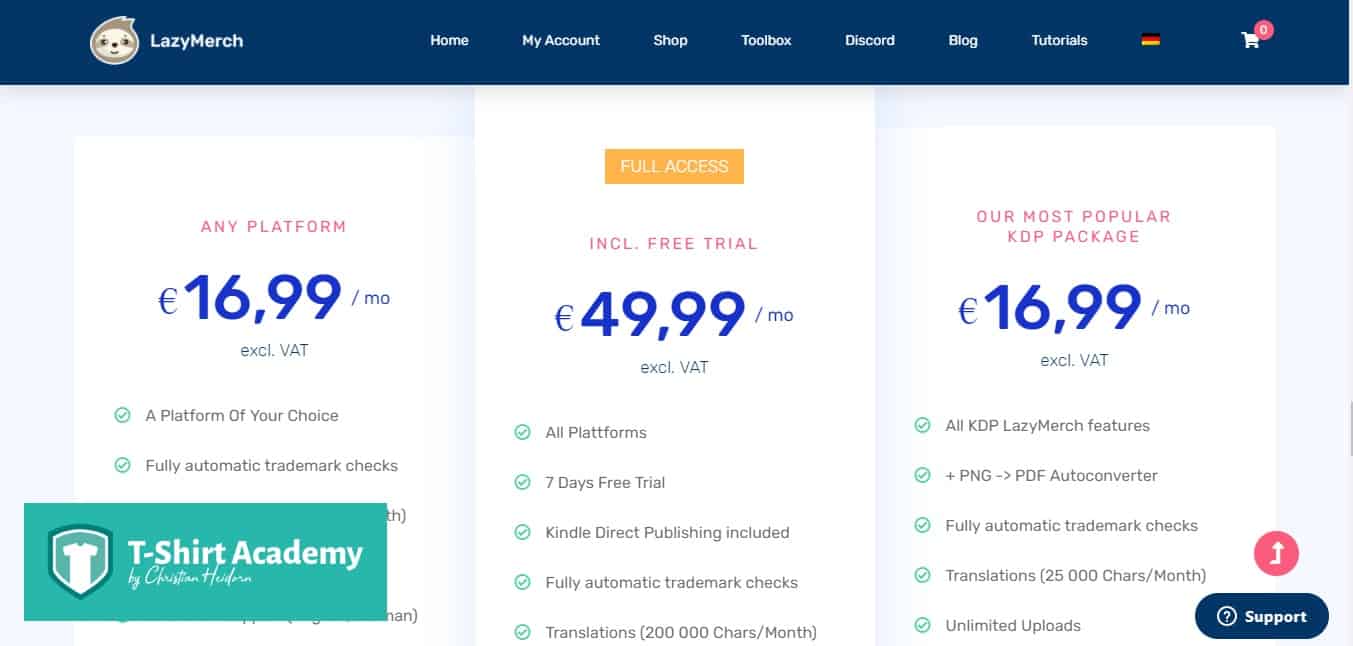 KDP Package
This package gives users access to all kindle direct publishing features.
It costs $20.60 a month
It has an auto-converter that changes PNG images to PDF.
The package has automatic trademark checks on all designs.
It offers unlimited uploads and regular updates.
There is round-the-clock customer support in both English and German.
This package also includes translation services for merch sellers who want to break into new markets.
Full Access
This option costs $60.54 a month and is the most expensive plan on LazyMerch.
This option will give you access to all platforms available to it including Kindle Direct Publishing. 
It has a fully automatic trademark checker.
Customer support is available in both English and Germany.
You will be able to have unlimited uploads with translation available for your designs.
This package also offers users regular updates.
Additionally, the FULL ACCESS package comes with a 7-day free trial!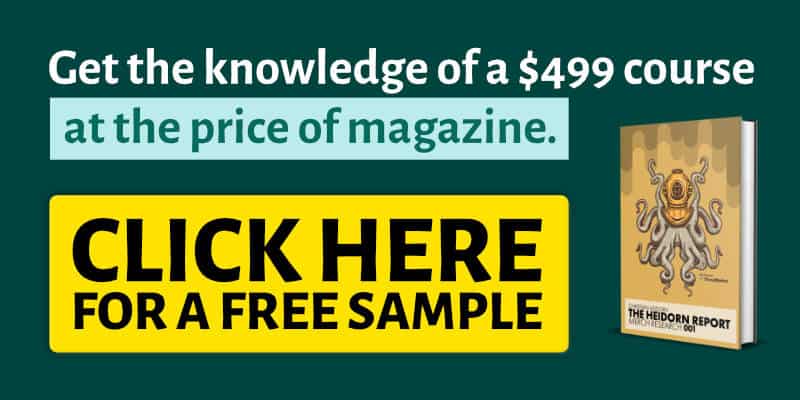 Reasons for Using Automatic Uploaders
It makes work easier
Automatic uploaders make it easier for sellers to have some consistency in their uploads. 
It is said that the more you post the higher your chances of making a sale.
Saves you time and money.
With an upload tool like LazyMerch, you will greatly reduce the amount of time spent uploading designs to all the platforms you have signed up with.
Increases productivity
If you are running your merch business by yourself or with one or two other freelancers, it can be hard scaling your business. 
LazyMerch takes away part of that struggle by making your processes more efficient.
You can reach more clients and even sign up to other platforms without the quality of your business suffering.
Faster operations also mean that your business' performance is improved, and this ultimately means more profit for you.
Less Manpower
When starting out on merch, you probably only have yourself to rely on and this can be difficult as your business continues to grow.
Manually uploading all your designs to all your print on demand platforms can be a hard task that would need you to hire someone else for help.
But with LazyMerch that process is automated and you only need to spend a few minutes setting up the entire process. 
Our Verdict
LazyMerch is a great automation tool for anyone starting out as a print on demand merch seller.
And even for seasoned business owners.
It greatly reduces the time spent on the upload process and this is an amazing asset to have especially if you plan on selling on various platforms.
It holds its own against other well-known automation tools such as Merch Titans.
It performs similar functions; however, it is more value for money since the monthly pricing is lower than on similar tools. 
Apart from working well with merch sellers, if you are a self-published author, you will love this tool. 
Uploading to KDP is a tedious process and with LazyMerch, you only need to prefill information onto your spreadsheet and you are good to go. 
LazyMerch is available to various markets in Europe and America meaning that sellers can gain maximum profit from regions away from their own.
It is an easy tool to use that can be found on both Windows and MAC making it accessible to a wide range of people. 
It comes with a free trial and you can use this trial to see if it works for you when compared to your other automation tools. 
There are several tutorials and guides that have been created to make work easier for sellers.
They also have a customer support team that is present 24/7 which cannot be said for many of the other tools available to merch sellers. 
There is a present community of LazyMerch users on Facebook as well, and you can leverage their knowledge and experience when you need more clarity
For the price point being offered and the functionalities that come with it, we would recommend this tool to any merch seller. 
In Conclusion
Being successful on print on demand platforms is not guaranteed.
It requires a lot of research, marketing, and great designs.
Automation tools and Amazon merch research tools have been created to make this process easier for sellers.
You should compare all the tools available to sellers and weigh their pros against their cons.
Making the right decision will prove beneficial and you will be able to gain more profit if you maximize the use of these tools.
Go through all our previous reviews on these tools, look at other independent review sites, and look at what other users have to say on specific tools.
Only then will you be able to make an informed choice on which tool is worth investing in.
We hope that this series has been helpful to you and has provided more insight, especially if you are new to the merch business. 
If you have used LazyMerch or any of the other tools that we have reviewed, leave a comment and let us know what you liked or didn't like about each one of them.
Also, leave your suggestions on which topics we should cover next.
We would love to hear more from you! 
LazyMerch Upload Tool
LazyMerch Upload Tool
LazyMerch is one of the more popular upload tools for Merch and print-on-demand in general. Though it's origins are based in Germany, it also comes in an English version and ultimately it doesn't really matter who's built the thing. What matters are the results.
LazyMerch is one of the more popular upload tools for Merch and print-on-demand in general. Though it's origins are based in Germany, it also comes in an English version and ultimately it doesn't really matter who's built the thing. What matters are the results.
Total Score
i

Based on overall performance in various upload-relevant criteria.