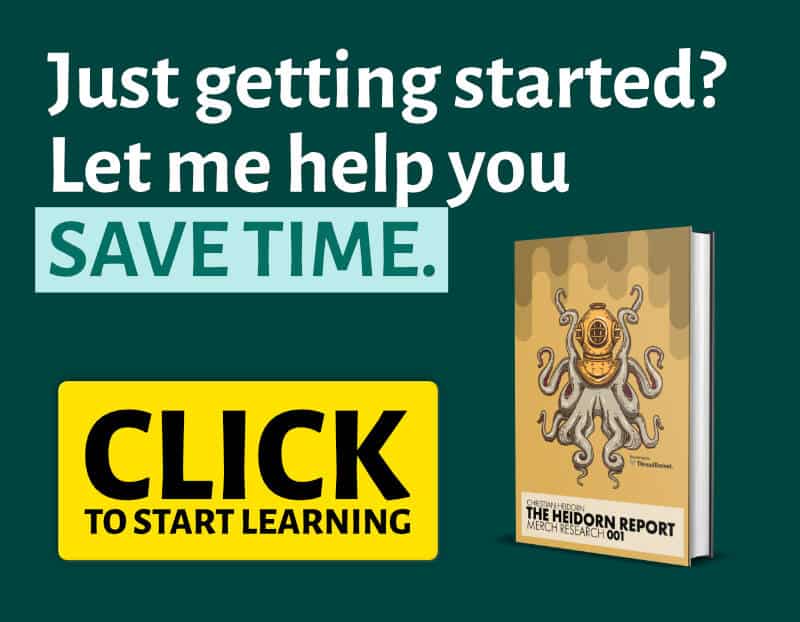 What's print on demand without design? And unique and good quality designs to be specific.
For print on demand sellers, tshirt designs are one of the most important elements of their entire business.
Being the first thing buyers see, tshirt designs are a big factor that influences purchase decisions.
With that being said, how do new sellers find and create quality designs?
If you are lucky enough to have great design skills, then this might not be a big issue for you.
If you are like a majority of sellers on print on demand platforms, you might need to outsource design services.
You could hire a freelance designer, or an in-house designer to create your ideas.
However, this can be a pricier option for some.
Hiring a freelance designer can also be touch and go.
You can never be sure if the design they create is of the standard that you need it to be. 
Other great alternative sources for tshirt designs are stock design companies.
In this blog, we share some of our favorites to help you make an sound decision for your print on demand business. 
ThreadBasket
ThreadBasket is a stock design platform that is one of the greatest tshirt designs resources for print on demand sellers.
ThreadBasket was created with print on demand and Merch by Amazon sellers in mind.
The goal was to provide sellers with the highest-quality designs easily and quickly so they can launch fast.
The founders have a wide and successful background in print on demand and Merch by Amazon.
That means they know what designs get the most attention and result in the most sales.
With this tool, it can give you exactly what you need as it is direct to the point.
Unlike many other stock design platforms, ThreadBasket only provides users with high-quality art.
That gives you an opportunity to compete with the highest-grossing sellers on whichever print on demand platforms you sell on. 
With a broad database, you can find tshirt designs for different niches and categories.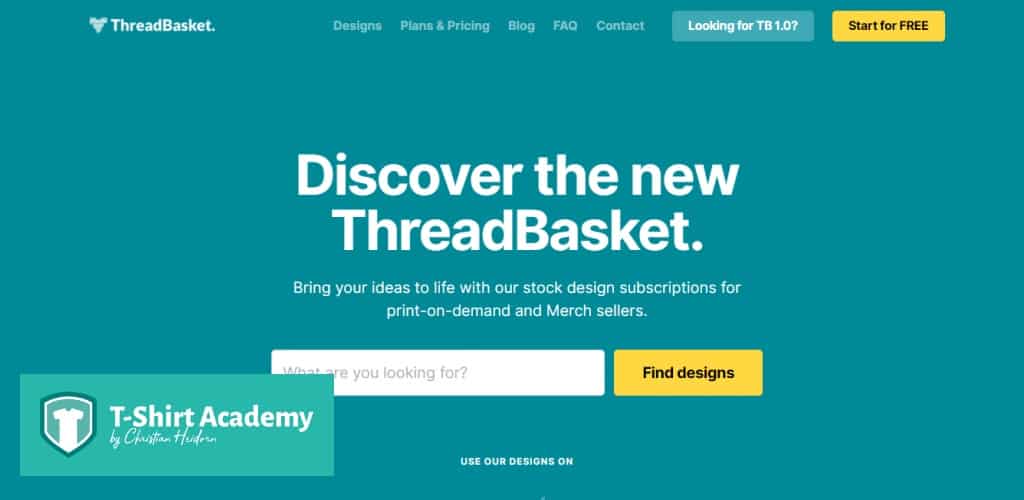 Simply make a search of your primary keyword and several related designs will pop up.
They also have a categories section that makes it easy to search for tshirt designs within a particular niche/topic.
Once you find designs that are appealing to you, you can favorite them and you can either download them or favorite them if you are yet to decide.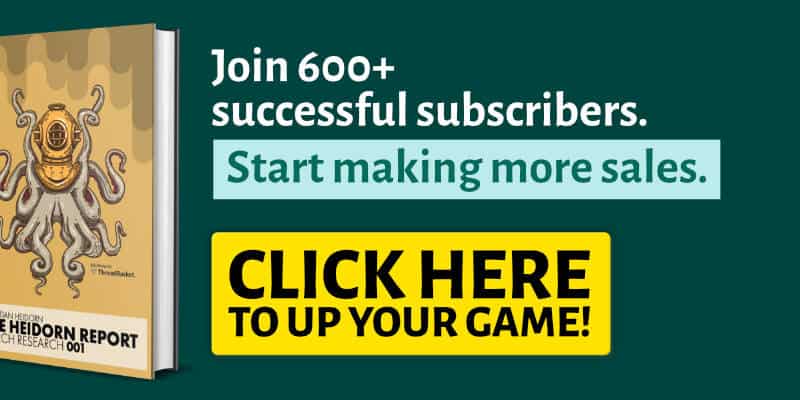 If you work with a team, you will be able to give your team members access to the account to make the creation process easier.
A big factor that distinguishes ThreadBasket from other stock design platforms is that with every design, you get an Individual License.
That means that you own the design and have the right to use it commercially.
For people selling on strict platforms like Merch by Amazon, this is great!
To access their designs, you can start on their free plan, or join their Starter Plan that currently goes for 18 Euros a month.
ThreadBasket is a monthly subscription platform.
Designious
If you are looking for unique tshirt designs, then Designious is another great platform to source from.
Similar to ThreadBasket, Designious has designs and services that are specifically geared for print on demand sellers.
This company has a design app, and pre-made designs for sellers to choose from.
If you have some design skills, you might choose to use their online design app that makes creating designs easy.
Their greatest resource is their catalog of ready-to-use designs for t-shirts and other print on demand products. 
With over 3,500 designs that have been specifically created for print on demand t-shirts, you will be sure to find something that appeals to you and something within your niche.
Designious users can either use these designs as-is or edit them to their liking straight from their website.
It has over 15,000 design elements that sellers can use to create variations of the existing designs to create completely new ones.
Users will get a Royalty-Free License for each design they download.
Having been created for print on demand, these designs can be used on a wide variety of print on demand platforms and Merch by Amazon.
Their designs can also be used for all other printing types including screen printing, DTG, sublimation, heat press, iron transfer, and vinyl.
You can experiment with the current designs and form a unique creation that is tailored to your niche.
Designious is a subscription based platform.
Their lowest price starts at $9 a month, while their Pro plan costs $12 a month (paid every three months).
They do offer a 14-day money-back guarantee if you are not happy with your designs.
Vexels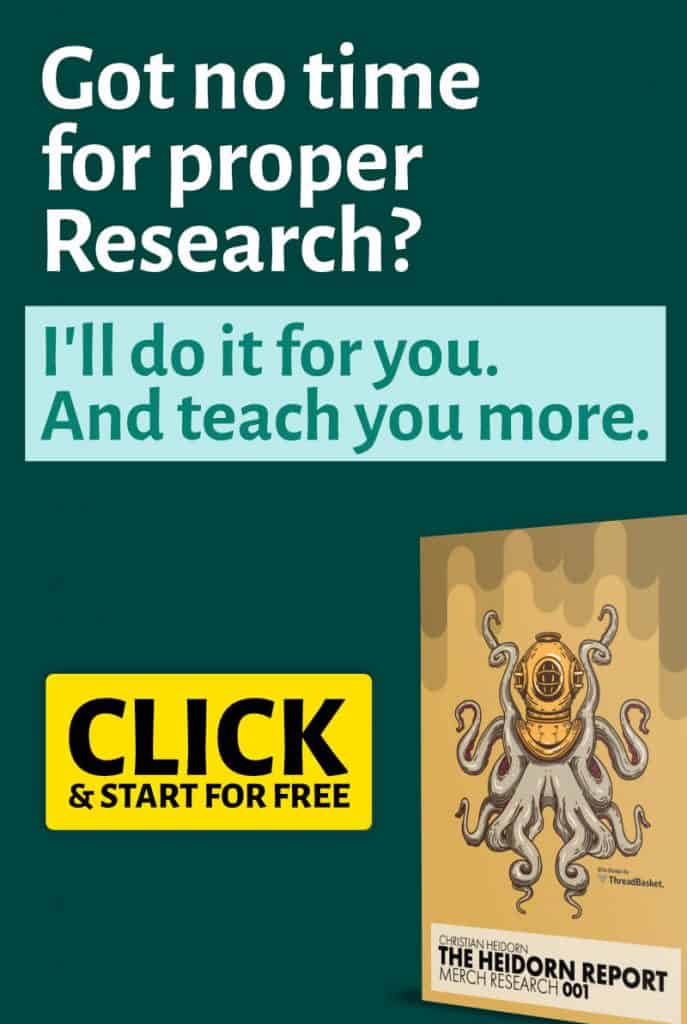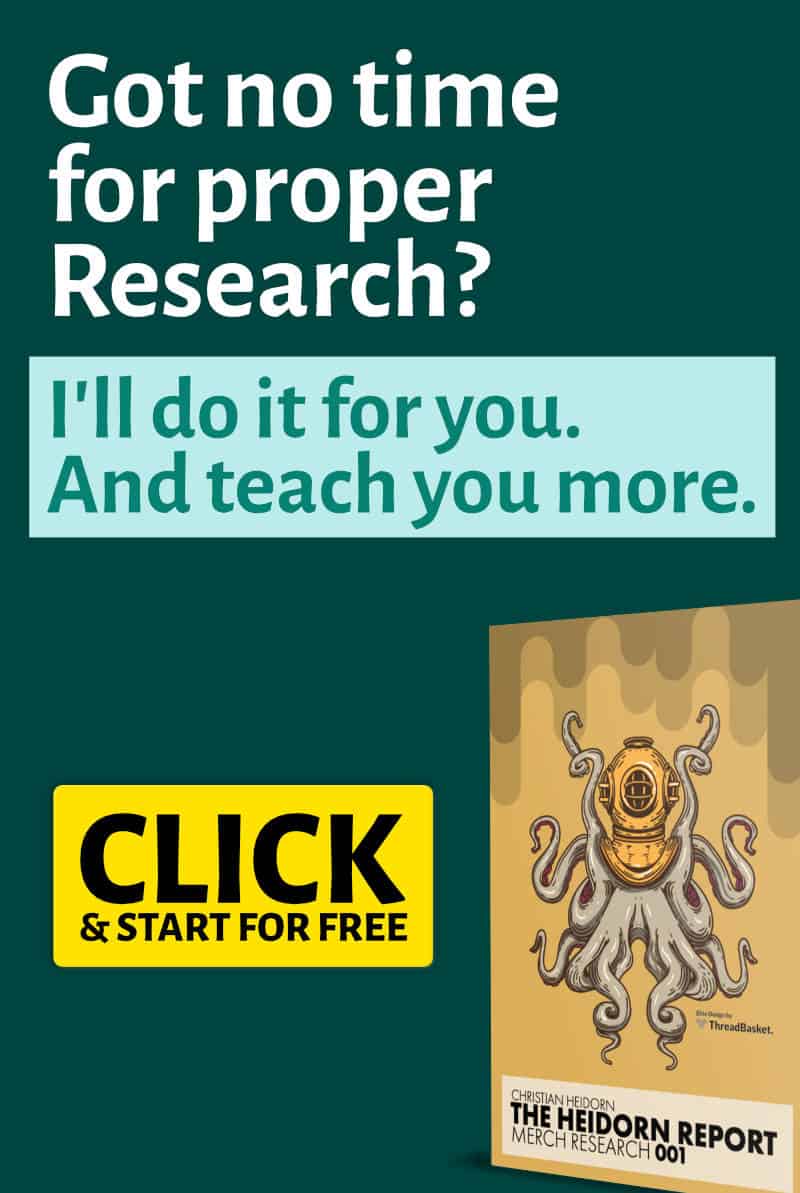 Vexels is yet another great source of Merch-ready designs.
Vexels users have two options when using this platform.
Either source for designs from their existing database of tshirt designs, or they can use their online t-shirt maker.
All Vexels designs are created by their in-house design team, and the quality of all their tshirt designs is great.
Designs created are automatically ready to use on Merch by Amazon or any other POD platform.
With every design download, you will get a Merch license for use on Merch by Amazon.
All their designs, vectors, and images are also royalty-free meaning that if you choose to tweak your designs with their online t-shirt maker, you don't run the risk of getting a copyright strike.
This is reassuring as protecting your account health on various print on demand platforms like Merch by Amazon is crucial.
These platforms are strict in enforcing copyright or trademark policies.
With thousands of tshirt designs in their database, Vexels has broken down their designs by category making it easy to search. 
Like the other two, Vexels is a subscription-based platform.
To get access to their database of designs, they have three different pricing plans available.
The Merch plan goes for $21.99 a month and gives users access to 100 downloads a month.
The Merch Plus plan goes for $36.99 a month and gives users access to 200 downloads every month.
The Merch Ultimate plan costs $74.50 a month and users get access to 2000 downloads a month.
With every plan, you can get a limited number of design requests depending on your pricing plan.
All subscription plans give users access to their online t-shirt maker, mockup generator, and logo maker.
Designhill
Designhill is a design platform that is not specifically catered for print on demand platforms,
However, it has a broad range of t-shirt designs.
This platform has a variety of design options available for sellers.
Sellers can either use their own images and designs to create custom tshirt designs using their T-Shirt Maker Tool.
If you have a flexible budget, you can hire one of their skilled designers to bring your designs to life.
Designhill also gives users the option to run design contests on the platform.
During contests, several qualified designers will create designs and you will choose the most appealing to you and your potential customers. 
If you are simply seeking design inspiration, the Designhill website has a section where you can view some of the top-rated tshirt designs created by their amateur users and design professionals.
Users who decide to purchase a design from Designhill will get their files in the following formats: ai, .psd, .pdf, .png, .jpg.
They will also get complete copyright of their tshirt designs.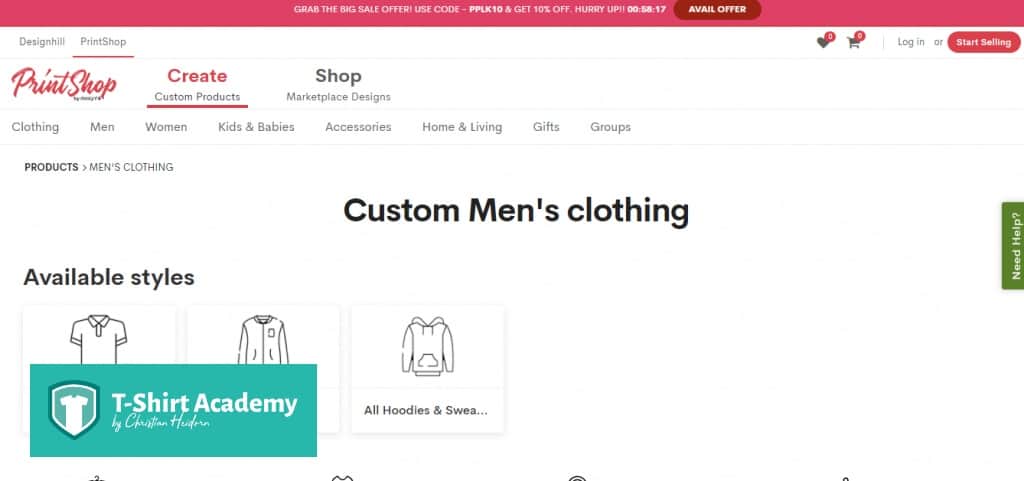 To use their designers, you will need to provide a complete design brief detailing all your requirements.
If you wish to use your own images, also include them in the design brief, 
When compared to other platforms, Designhill is more expensive.
The cost of hiring a designer will start at $149, although they do offer a 100% money-back guarantee if you are not content with the design created.
With over 70,000 designers available on the platform, you will definitely find someone who can bring your unique vision to life. 
Creating tshirt designs using their t-shirt maker tool is completely free.
However, once you have created your designs, you will have to buy a t-shirt or order it in bulk.
If you plan on using other print on demand websites, this is incredibly limiting. 
In Conclusion
Whether you are an amateur or seasoned seller, you understand just how important good quality tshirt designs are to your business.
There are several platforms that can help you find and create tshirt designs, however not all of them perform the same function.
Before making a decision on which platform to use, look at the different designs they have to showcase.
Look at the reviews to see if other buyers are happy with their designs.
You should also look at the features and functionalities of each platform.
A website like Threadbasket was created with t-shirt sellers in mind – particularly print on demand sellers.
That means that all tshirt designs that are available for download meet the high standard required to compete on these platforms.
Other platforms like Designhill will give you access to amazing designers who can churn out your unique designs for a fee.
Some designs are more expensive than others, so your budget will also guide your decision. 
The presence of these tools can guide you to the necessary steps that you need to take for your business.
Make sure you conduct in-depth research on each platform to see which one works best for your needs.
Be sure to also look at what your competitors are creating, and find tshirt designs that can stand out from the rest.