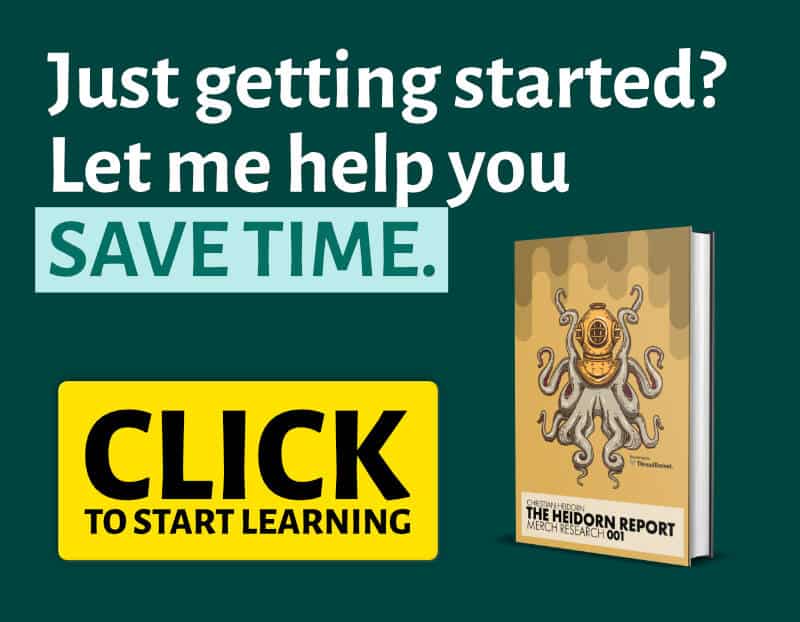 Whether you're starting out on Merch by Amazon or you have been in the industry for some time, you understand the importance that good research plays in your success.
Merch research and especially niche research is a great way of charting a clear way to success.
Finding the right niche could be what you need to get consistent sales and possibly higher profits.
The right niche research tools for print on demand are important in helping you identify niches that appeal to you and will still make you a regular income which is important when operating any eCommerce business.
In this blog, we give you an overview of the top niche research tools for print on demand that will help you accomplish this goal.
Examples of Niche Research Tools for Print on Demand
The following are just a few suggestions of niche research tools for print on demand.
The Heidorn Report
The Heidorn Report is a strategy report that is fundamental to your success on Merch by Amazon and frankly any other print on demand platform.
It will help you identify the right niche research tool for print on demand and also help you identify and decipher the right information from these tools.
Apart from helping you find tools, this report uses concrete and factual data to help you identify winning niches.
It goes in-depth into analyzing the different niches and sub-niches so you can get a clear view of how popular each niche is.
The Heidorn Report also analyzes trends on Merch by Amazon and other print on demand platforms to give you a broad view of what your customers are buying and what they want to see.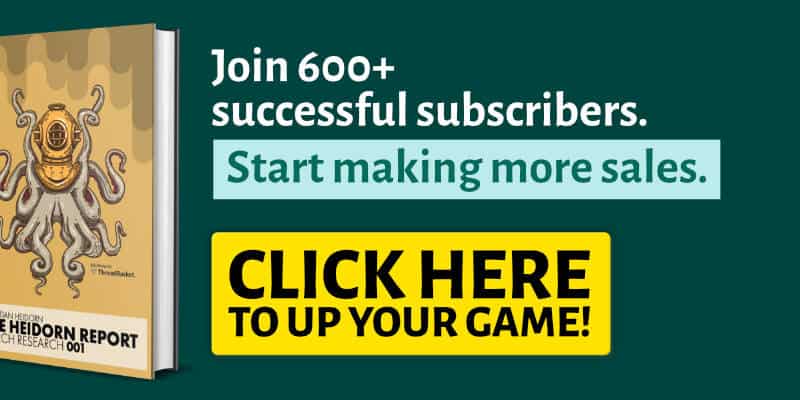 This report uses Niche-o-Meter, a niche research tool for print on demand that makes it easier for users to assess different niches and see which ones are popular at a specific time.
Use concrete data to make decisions into which niches to go into.
This report is curated by a seasoned and successful Merch by Amazon and print on demand seller who understands what works.
Taking from his experience and background, he created and regularly updates this report to make sure that the information available is useful, relevant, and current.
Going for $15.99, you will get new strategies approximately every 14 days to help you make informed decisions that are as current as possible.
Apart from strategies, you'll also get some of the highest quality designs available in the market.
You also get a free merch listing guide sent to your email immediately after you sign up.
This resource guide not only gives you the fish but teaches you how to fish.
You can apply the strategies to whichever print on demand platform you are currently selling on.
The Heidorn Report has a merch research free option where you get a list of niches for your consideration. 
Flying Research
Flying research is a niche research tool for print on demand from the creators of Flying Upload.
This tool helps users conduct research and identify the right niches for their print on demand businesses.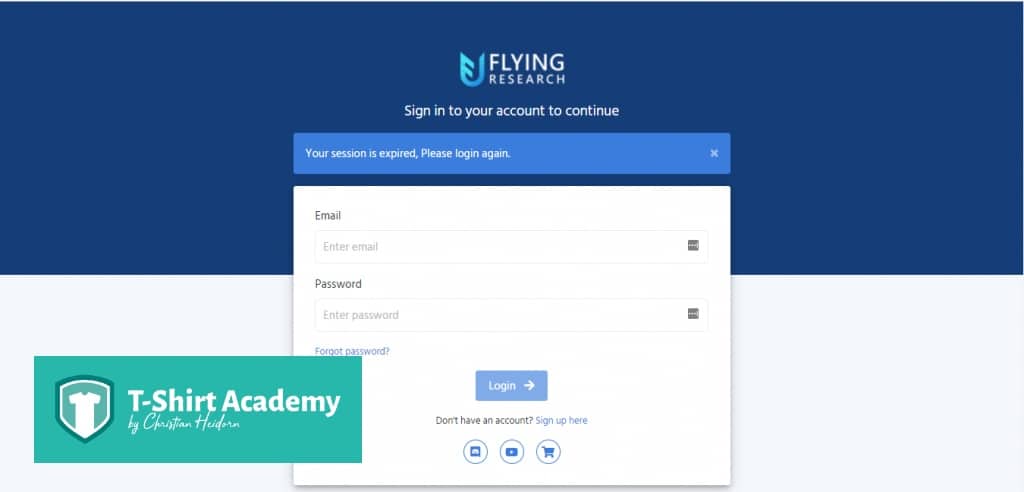 They cater to users on print on demand platforms like Redbubble and Spreadshirt and also Merch by Amazon and KDP sellers.
Using their niche analysis feature, you'll be able to find out how different niches have performed within a given period.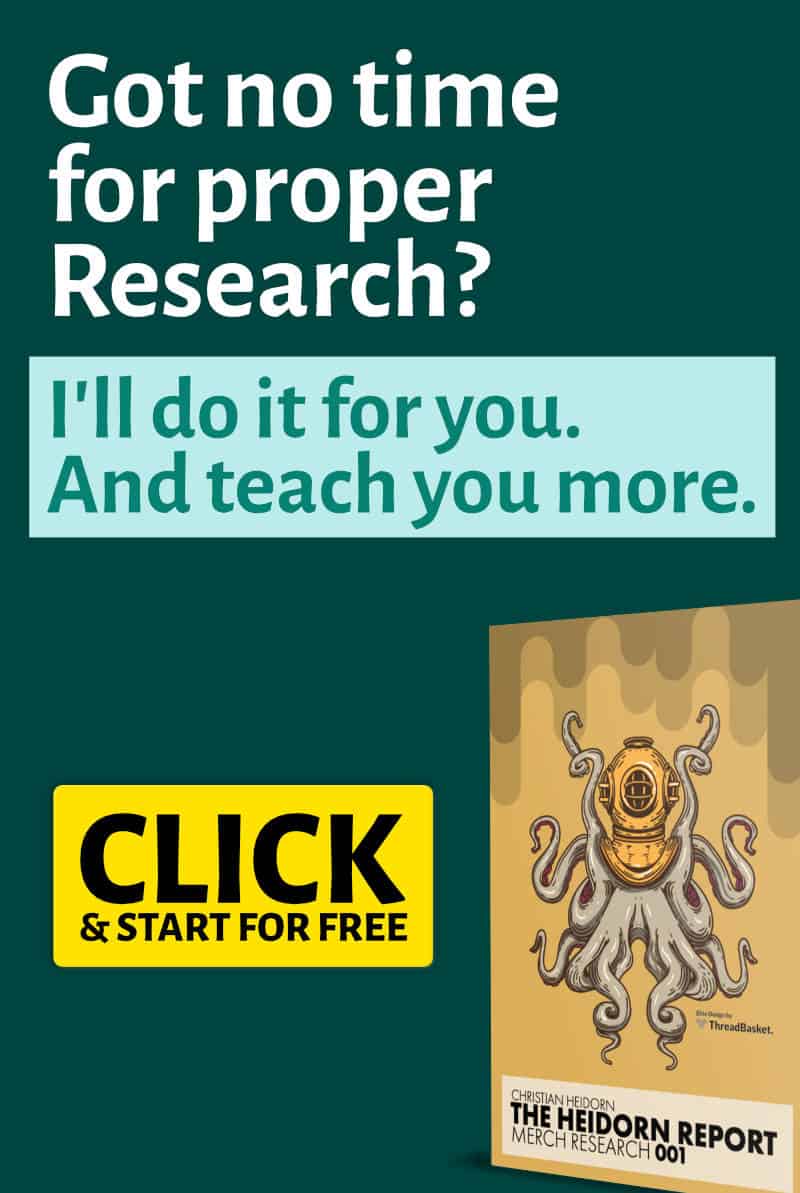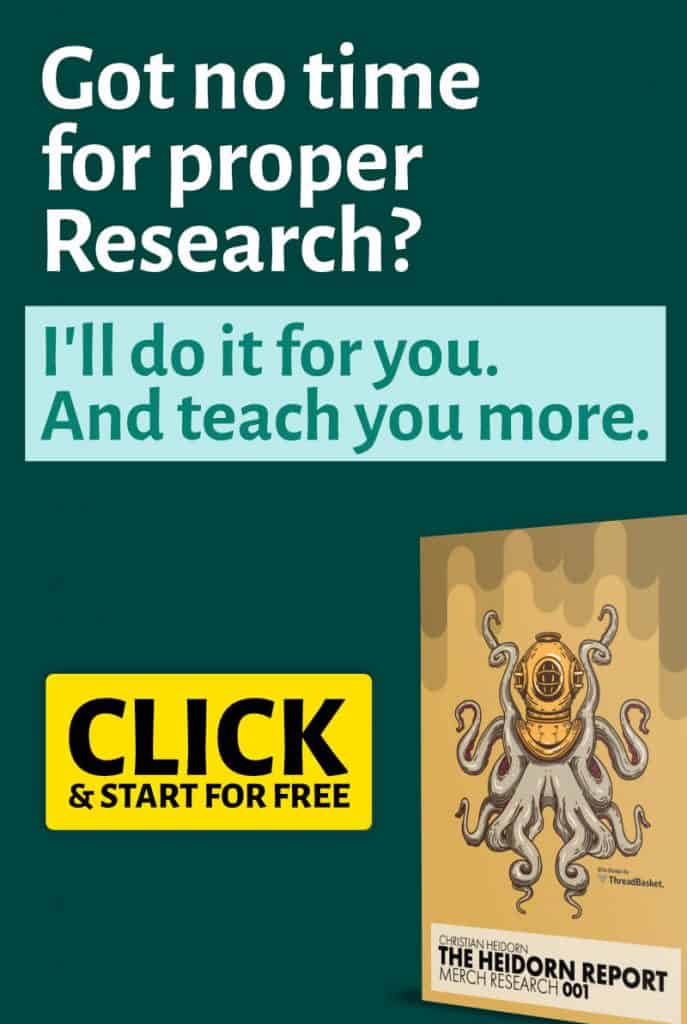 You'll also be able to see which designs are popular within the different niches so you can get even more inspiration.
Their category and subcategory feature will break niches down further so you can find niches that are still popular but not heavily saturated.
Flying Research also shows you trends across different periods to help you gain even more clarity on what niches are just breaking out and which niches are evergreen.
This niche research tool for print on demand is subscription-based.
Their research tool goes for $19.95 a month and for those looking to access its research and trademark tool, it will cost you $28.95.
Merch Informer
Merch informer is known as an amazing research tool for Merch by Amazon sellers, however, it is also one of the best niche research tools for print on demand platforms.
Much like The Heidorn Report, Merch Informer is a tool that was created by two Merch by Amazon sellers who achieved success on the platform and other print on demand services and wanted to share their knowledge.
This is a comprehensive tool that performs a lot of functions for print on demand sellers.
Their product search feature helps you identify the top-selling products by keywords.
It also shows you the projected number of monthly sales for each of these products giving you more insight into how a product is performing.
Additionally, you'll be able to check what competitors within a specific niche are doing and it also tells you whether a specific niche is worth investing in or if it's too saturated.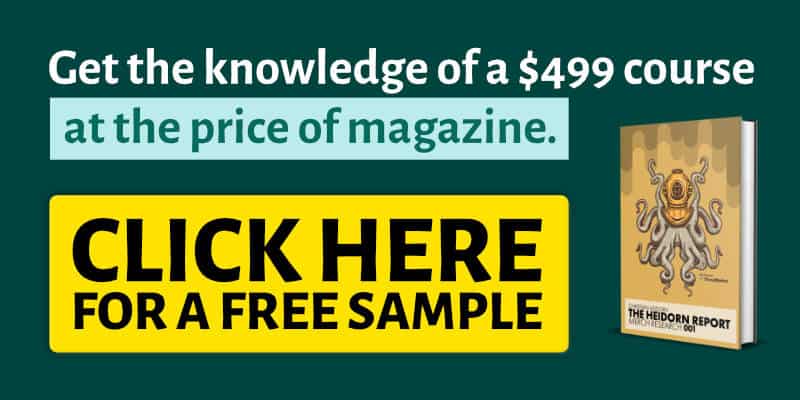 This information is essentially what you need before deciding on a niche for your print on demand business.
Merch Informer is a paid niche research tool for print on demand platforms.
The newbie subscription goes for $9.99 a month while the professional subscription goes for $59.99 a month.
In Conclusion
Finding the right reports and niche research tools for print on demand platforms is really important to your success within the industry.
Print on demand and merch is extremely competitive and ever-changing.
What works today might not necessarily work for you tomorrow.
It's therefore important that you constantly stay ahead of the competition that means constantly conducting research to find the right niches.
Once you find the right niche you also need to see what your competitors within that niche are doing so you can see if your designs are as competitive.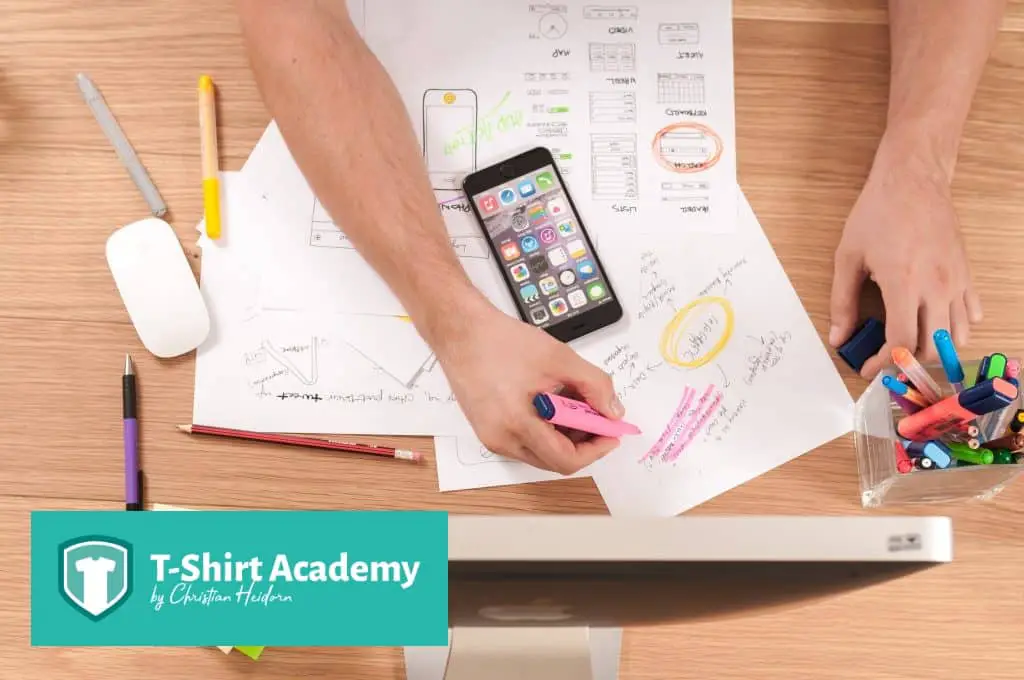 You'll also be able to see how other creators within your niche are creating their listings and what keywords they are using.
There's a lot that goes into merch research and having a resource like The Heidorn Report to guide you is one of the best ways to achieve continued success.
The tools and reports mentioned within this blog will help you a lot in your research and will greatly make your work easier.
If you have used any of these tools, leave a comment below and let us know if it worked for you.