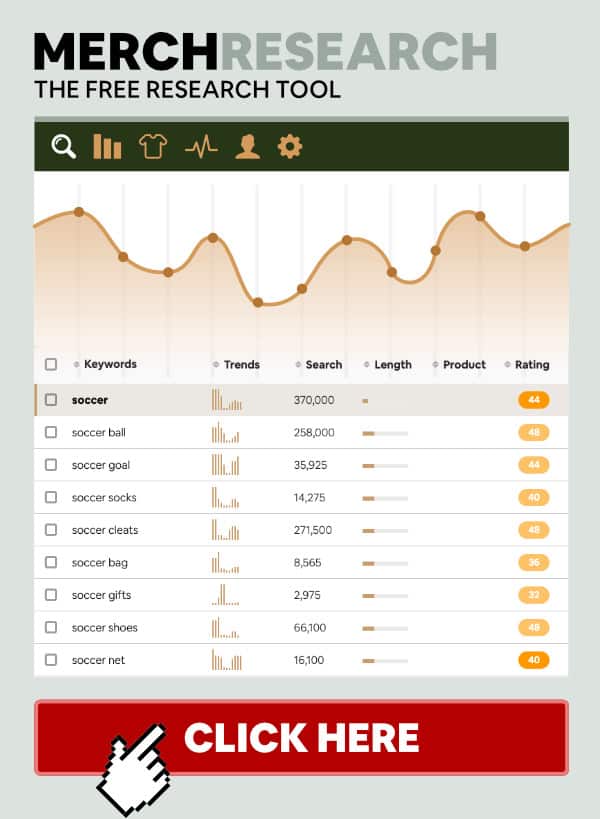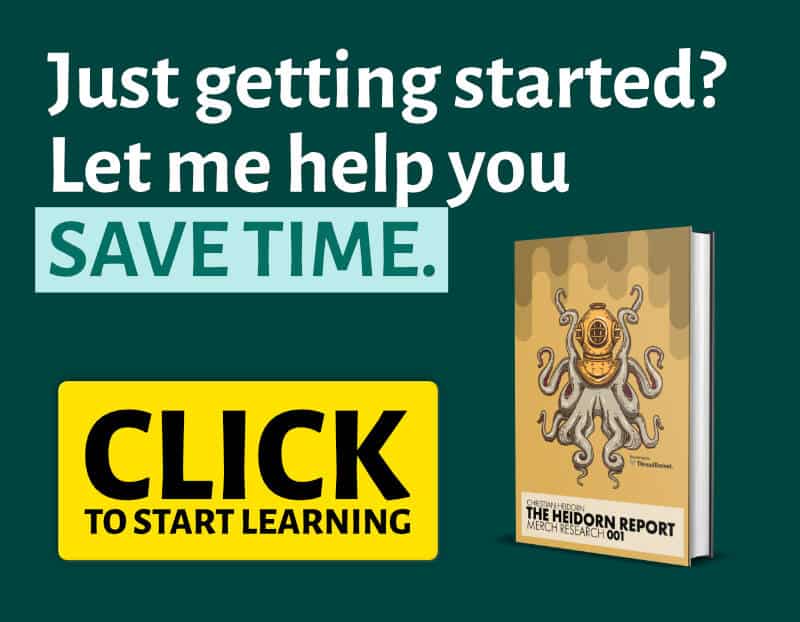 You've been accepted into Merch by Amazon, and you're excited.
But the platform is overwhelming and you don't know how to get started.
The best way to make your processes more efficient is by using Merch by Amazon resources.
Tools not only make your work on Merch by Amazon easier, but they also give you an added advantage.
Research tools for example will take the guesswork out of trying to find suitable niches and keywords for your Merch by Amazon business.
In this article, we break down these resources and tools into three: Design Tools and Resources, Research Tools and Resources, and Automation Tools and Resources.
Design Tools and Resources
If you're new to Merch by Amazon and are not a designer yourself then you're already looking into hiring a designer.
But apart from hiring a freelance or in-house designer, you can also use design tools and software to make your work easier.
These are useful Merch by Amazon resources to help you create designs.
Adobe 
Adobe Photoshop and Illustrator are great tools for designers or would-be designers.
Adobe Photoshop is one of the most popular Merch by Amazon resources.
These tools enable users to create high-quality graphics and designs that they can use on their Merch by Amazon products.
Adobe Photoshop and illustrator are professional sites and it can be difficult to learn how to use these applications, especially if you need designs quickly.
However, adobe software is on the pricier side with subscriptions going up to $40 a month.
Affinity Designer
Affinity Designer is an alternative to Adobe Illustrator.
They have similar features and if you are already familiar with Adobe, Affinity Designer will be easy to use.
It is cheaper than Adobe since it has a one-off fee of $40.
 GIMP and Inkscape
These are free Adobe Photoshop and Adobe illustrator alternatives.
They also have resources online that make it easy for users to learn the software.
Threadbasket
If you do not have the design skills and don't want to hire a designer then Threadbasket is a great solution for you.
The service offers a wide range of designs that you can use on your Merch account.
Threadbasket is a one of the Merch by Amazon resources that can cater to a lot of your needs.
They offer high-quality designs that you won't find anywhere else. 
Threadbasket was created by Merch by Amazon sellers who understand which designs work well on the platform.
You'll also be able to find designs for a wide range of niches and this will make your work much easier.
Research Tools and Resources
Research will make or break your experience on Merch by Amazon.
Conducting research and finding out what works can take a considerable amount of time.
If you're a new merch seller then you might not know how to go about the research process and this is where research tools and Merch by Amazon resources come in.
They help you find the right niches, the right keywords, view the highest-selling designs, and more.
This is important information that all sellers need to achieve success on Merch by Amazon.
Merch Informer
Merch informer is a tool that performs various functions but the most important being niche and keyword research.
The tool filters through Merch by Amazon's database to find the right niche for you.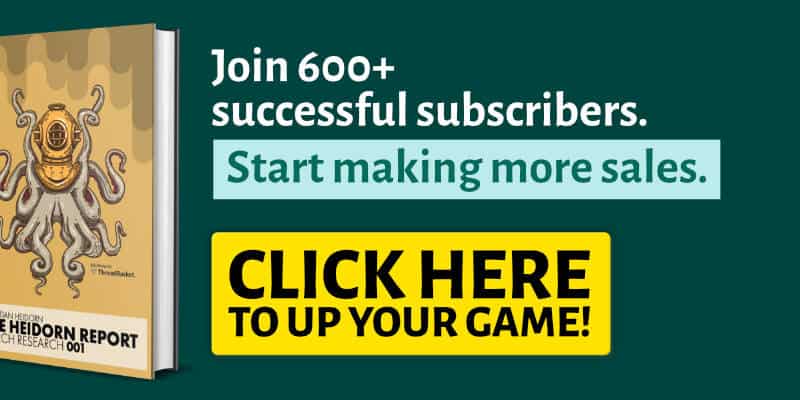 You'll be able to see which niches are saturated so you can avoid them.
They also filter the database to help you see which keywords are high in search volume so you can use them in your own listings.
Merch Ninja
Merch Ninja, like Merch Informer, offers uses a variety of services within their tool.
The most applicable for this section being keyword research.
Unlike other research tools, Merch Ninja makes it easy for users to see designs with the highest number of sales and the highest BSR.
This brings a lot of things into perspective and new users can see which niches and designs perform well on Merch by Amazon.
Merch Ninja also makes it possible for sellers to see what their competitors are doing and gain inspiration from their designs.
Merch Titans
Yet another part of Merch by Amazon resources, Merch Titans has a lot of interesting features targeted towards Merch by Amazon sellers.
Apart from research tools that are available on other platforms, Merch Titans comes with an SEO analyzer.
SEO and keyword research are extremely important to your success as a Merch by Amazon seller.
Their SEO analyzer finds which keywords have been used on Google and on Amazon.
This gives you a clearer picture of what people are looking for on Amazon and generally on the web.
SpyAMZ
Apart from keyword research, SpyAMZ helps sellers find what's currently trending on Merch by Amazon.
It gives users a curated list of 100 of the fastest-selling t-shirt designs.
It also ranks these designs daily and users can see what designs are performing well.
This also helps newbies determine which niches are worth investing their time and money in.

Apart from the research tools mentioned above. 
There are plugins like DS Amazon Quick View and Unicorn Smasher that will help you know the BSR of any product on Merch by Amazon at any time.
By simply searching a keyword or phrase, you'll be able to see which designs are doing well.
Other tools like Jungle Scout or KW Finder will help you find keywords that are popular on Google and this can help you determine which niches to get into.
Automation Tools and Resources
Several elements go into selling on Merch by Amazon.
Apart from design and research, the upload process is the most important.
Automation tools are a crucial part of Merch by Amazon resources and can make your experience so much easier.
The upload process can be tiresome and time-consuming – especially if you have a lot of designs to upload or you are on another print on demand platform apart from Merch by Amazon.
These tools will come in handy for any Merch by Amazon seller.
Productor for Merch by Amazon
Productor for Merch by Amazon is a plugin extension that comes with an automation feature.
The plugin lets users bulk edit their designs.
If you have decided to change the pricing of all your designs, you can use this tool and input the new price and the changes will be made to all the designs you want to be changed.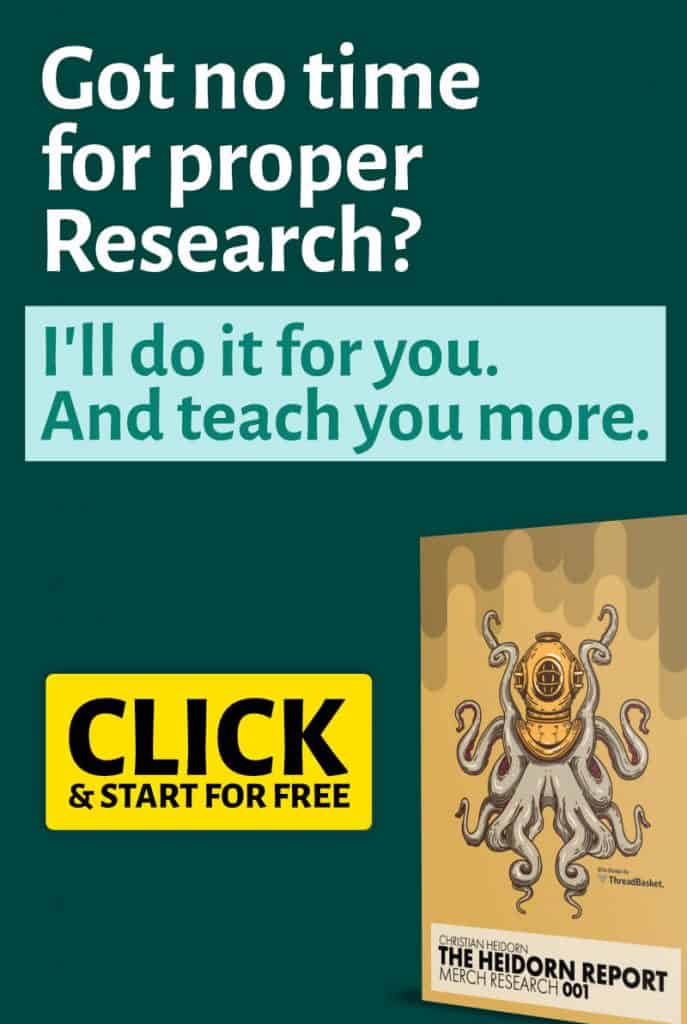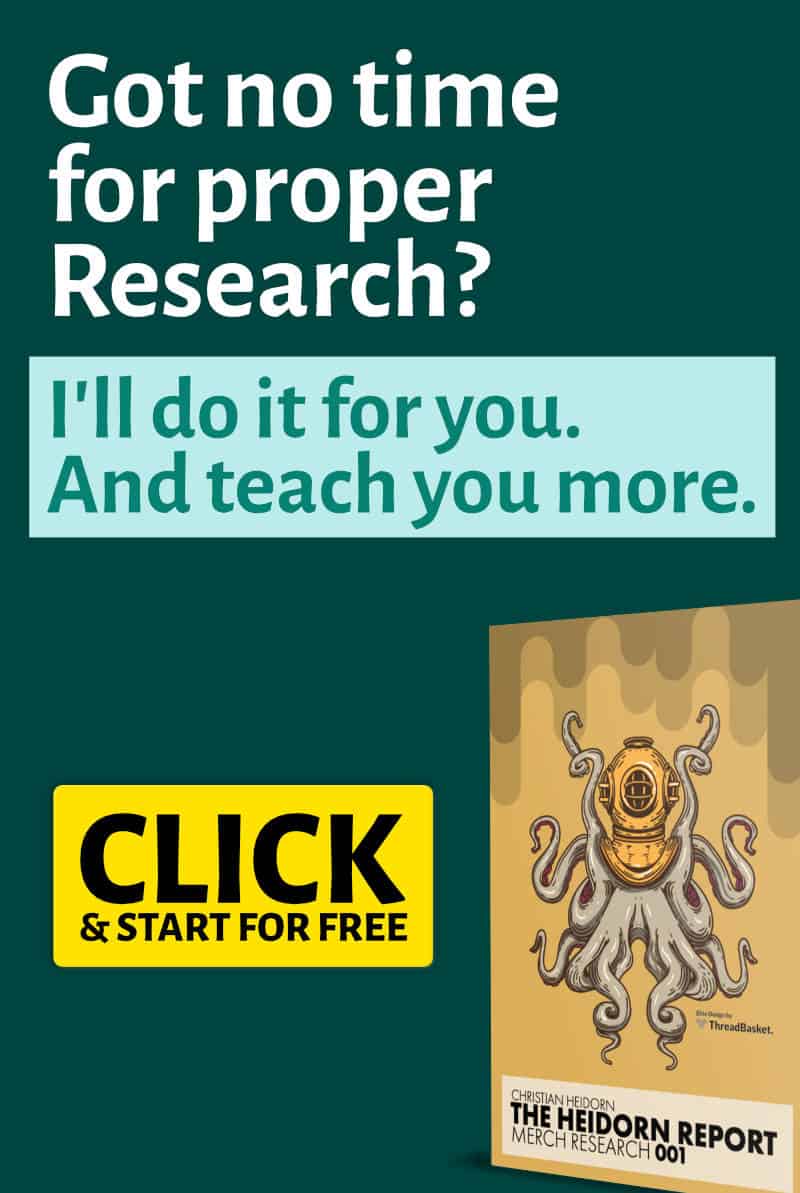 Apart from price, you can also change the brand and descriptions on all your listings.
It also makes it possible to make edits to your Merch by Amazon drafts.
Lazy Merch
Lazy Merch takes the upload process off your hands.
Lazy Merch uses a Microsoft Excel spreadsheet to help users upload their designs onto different print on demand platforms including Merch by Amazon.
Once you get your Lazy Merch account, you'll have access to the spreadsheet.
In this spreadsheet, it is important that you carefully fill in all the important information that you want available with each listing.
So, you'll fill in the Title, tags you want to be used, niche of the design, and the languages used with each design.
Merch Titans Automation
Just like Lazy Merch, one of the most reliable Merch by Amazon resources is Merch Titans which also comes with a spreadsheet that you will use to fill out the necessary details for each of your listings.
They come with details that include the Title, Image Path, Description, Tags, and Price.
On their website, you can also choose which colors to be used for each of your designs.
Merch Titans also gives you the option to save your uploads as drafts if you want to sell them later.
It also gives Merch by Amazon the ability to resize their images and translate their descriptions to all available languages.
Merch Ninja Automation
Merch Ninja automation is part of the most useful Merch by Amazon resources that does more than automating your uploads.
It makes it easy for merch sellers to convert their image sizes depending on the products they are selling.
You can convert your MBA t-shirt design into MBA pop-socket, MBA hoodie, or more.
This tool is available in both German and English, and this makes translation easy.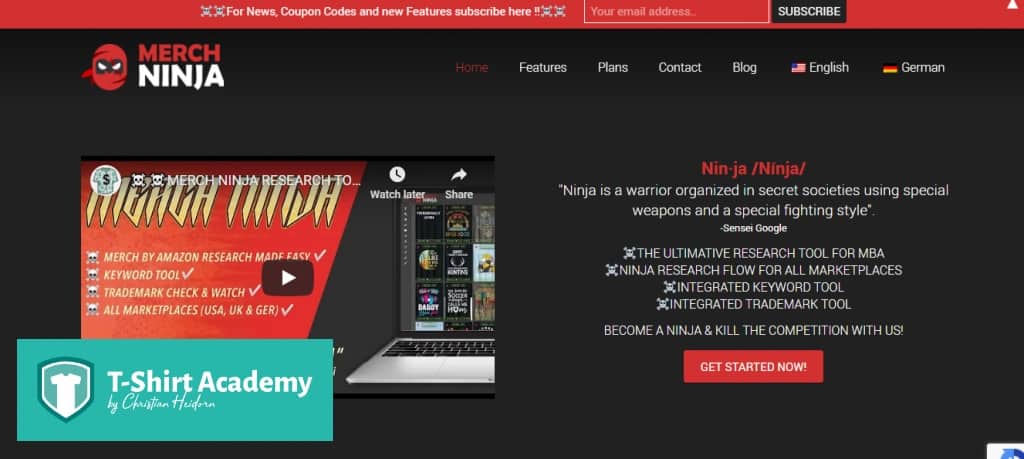 You can easily edit your listings straight from their interface.
This makes it easy to correct any errors.
Unlike other automation tools like Merch Titans, Merch Ninja allows users to upload as many designs as possible.
Merch Titans limits uploads to 100 t-shirts per platform.
Merch Wizard
Merch Wizard is an amazing automation tool that will help you keep organized.
It also users to sync their uploads on all the marketplaces they sell including; the UK, US, and Germany.
You can also choose how frequently you want your listings to be updated to Merch by Amazon and the sync speed as well.
It also allows users to copy their listing from one design onto another product making the upload process even quicker.
Merch Wizard makes organization all the easier by storing all your keywords by niche.
That means once you choose which niche a listing falls under, it will automatically fill in the relevant keywords.
It also comes with a popup extension that lets you monitor all your listings easily.
If you need to edit any of your products, it directly sends you to your Merch by Amazon page.
Other Tools and Resources
Apart from all the important tools and Merch by Amazon resources mentioned above, there are other tools that will be beneficial to sellers.
Copyright and trademark are extremely important on Merch by Amazon.
To check if the designs you have bought or the designs your designer has made have not been trademarked or copyrighted, there are several tools you can use.
These include; Merch Wizard, Merch Ninja, Merch Titans, SpyAMZ, and more.
They will flag any descriptions, or phrases that have recently been trademarked.
This keeps you safe and prevents your account from receiving a strike.
Merch Informer for example comes with a plugin that notifies you when one of your designs infringes on copyright.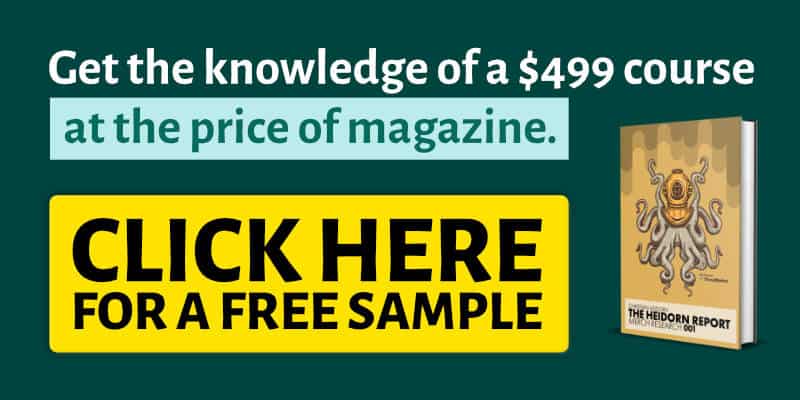 Uspto.Gov
Before creating your designs, it is important to run phrases through this website.
It will show you if any of the phrases you want to use have already been claimed by someone else.
This saves you the time and energy you would have spent creating a design with this phrase only to find out that you can't use it commercially.
If you find that your designs are being used by other sellers, you can report the infringement on the Amazon Copyright Infringement reports page.
Forums
Forums are also very important to sellers, whether seasoned or new sellers.
Merch by Amazon has an official forums page where you can ask questions and get advice from other sellers.
Many of the tools mentioned above also have forums for their members where they can discuss all matters Merch by Amazon.
Reddit is also a great source of information for any newbies.
The subreddits AmazonMerch and MerchbyAmazon are some of the most recommended for all things Merch by Amazon.
In Conclusion
There are several tools and Merch by Amazon resources that newbies need to navigate through.
These tools are important, however, there could be more out there.
The ones detailed above have been tried and tested and we would recommend them to any other Merch by Amazon seller.
Blogs such as these are also a great source of information on the important elements that pertain to everything Merch by Amazon related.
We encourage all our readers to do their own due diligence to find the best services that suit their needs.
If you don't want to invest in a keyword tool, for example, you can learn how to use Amazon's autocomplete tool which will show you relevant keywords based on the niche.
Using this method, however, still has its own limitations since you won't really know the keyword volume for each keyword used.
You can also spend time on Merch by Amazon and manually look at t-shirts and other products within your niche and see what other creators are doing.
This is a time-consuming process but will give you similar results to the tools mentioned above.
Lack of tools and resources should not stop you from achieving success on Merch by Amazon.
They were created to make your work easier which is a blessing for many sellers but without them, you can still make a profit.
Just make sure you understand the ins and outs of Merch by Amazon.
Learn from other sellers and keep up to date with current trends and new tips and tricks.