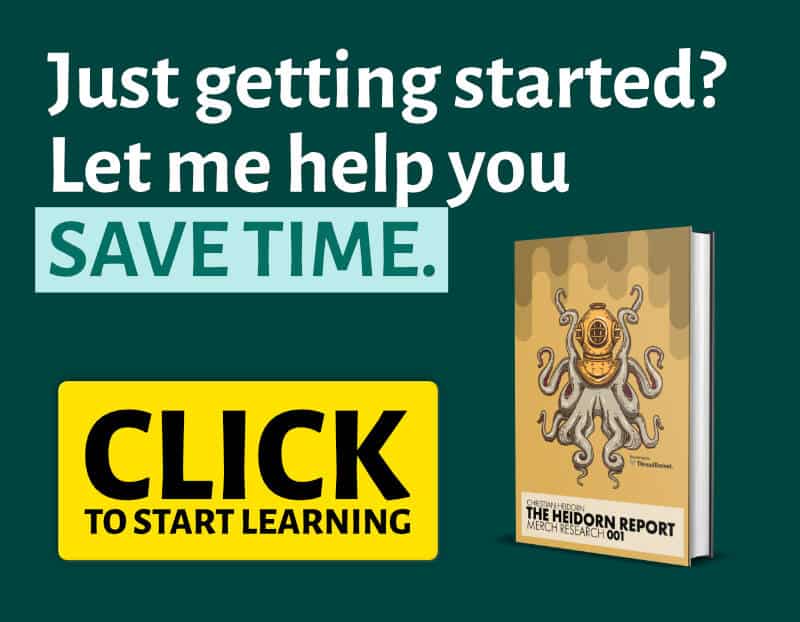 We've talked a lot about research and organization tools that are important for any print on demand seller.
Research, marketing, and organization are key to your success in the industry, however, one of the most important aspects of success is good design.
And not only good design but designs that your target market wants to see.
ThreadBasket was created by Christian and Felix who are print on demand sellers with notable success.
With their years of experience, they know which designs will sell.
ThreadBasket is also an amazing tool for Merch by Amazon sellers since they
So, What Exactly Is ThreadBasket?
ThreadBasket is a design marketplace where merch sellers can purchase high-quality and affordable t-shirt designs.
This is amazing especially for sellers who are just starting out and do not have a designer on-hand.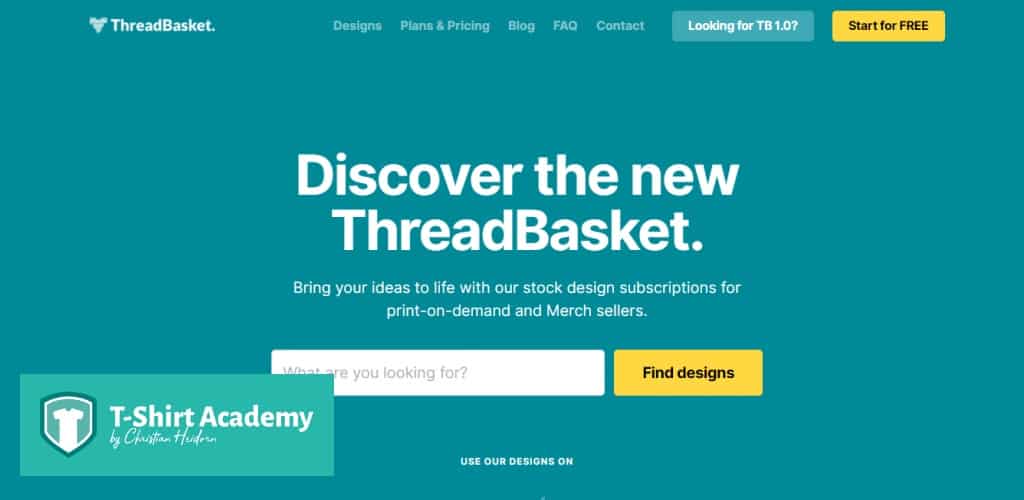 Even seasoned sellers who do not do their own designs or would like to try out different designs would benefit from ThreadBasket.
The designs available on this platform are well-designed and well-researched.
These designs also work well whether you sell on Merch by Amazon or on any other print on demand platform.
Overview
ThreadBasket is a stock design marketplace.
Designs are released onto the marketplace on three days; Wednesday, Thursday, and Sunday.
300 designs are released each week and 60% of these designs sell within the first hour.
ThreadBasket prides itself on offering merch sellers unique designs.
You don't have to worry about copyright once you buy a design.
The rights to the design are transferred to you once you make a purchase.
A few of its key selling points:
Niche Research
Having been created by seasoned print on demand sellers, ThreadBasket invests a lot of time in finding winning niches for its clients.
Therefore, they create designs for these niches meaning that buyers are never left behind.
With a team of several designers, they are able to come with ideas that are creative, interesting, and will sell.
Once these designs have been created, they are then made available on the marketplace.
ThreadBasket finds a middle ground between choosing niches with enough clientele and not too overcrowded.
Finding niches that have just the right about of demand and not a crazy amount of competition is key in creating success on merch.
Doing this on your own will require a lot of trial and error, however, using this marketplace makes it easier for you to identify the right niche that you should go into.
All the designs on ThreadBasket have been researched beforehand.
Trademark Checker
Like with many other tools created for print on demand sellers, ThreadBasket comes with a trademark checker.
Trademark rights are always changing and it is important for sellers to stay ahead of these changes to avoid violating rules and guidelines of different print on demand platforms.
ThreadBasket checks the trademark status of their designs before making them available to sellers.
They compare with several print on demand platforms to see if similar designs have already been created and are in use.
Features
Categories
ThreadBasket has a wide range of categories for sellers to choose from.
You are sure to find a design that is perfect for the niche you are selling in.
With everything from home décor, gaming, typography, animals, sports, and more, there is a wide selection for you to choose from.
Download
Once you make a purchase, your design will be found on the download tab.
Here, you will have a clear view of your design and you will also be able to get the license to your design.
They provide an authenticity certificate that proves that you are the owner of the design you have purchased.
This license is downloadable and you will be able to provide it as proof of ownership if required.
If you decide to cancel your subscription, you do not lose your license.
Favorites
In the favorites tab, you can bookmark designs that appeal to you.
You can come back to them later and make a decision on which designs you want to purchase.
Tags and Keywords
This feature makes it easy for buyers to search for specific designs that are related to keywords and tags that they already use.
Once you make a search, it will also bring up related keywords to help you in your search.
This can be useful when generating other keywords to use for your merch products.
Colorize
Colorize is a unique feature that is offered by ThreadBasket.
This makes it possible for sellers to colorize their designs to their taste before they download them.
Using the colorize feature means that you can use one design in various different t-shirts with various colors.
It should be noted that this feature only works on designs that have less than 3 colors.
Earn Rewards
Who doesn't like a reward?
By inviting other sellers to use ThreadBasket, you can earn reward credit that can be used in a future purchase.
The platform allows you to generate your own unique code that your other buyers will use when making their purchases.
How It Works
Like with several merch and print on demand tools, you need to be a member to access their features and their designs.
Once you become a member, you have access to their marketplace which has several designs on offer.
If you like a design, you have the option to add to your cart and purchase it immediately or later.
Remember, designs go fast, so take quick action.
Designs come in three categories; standard, premium, and bundled designs.
Once you buy the design, you'll be given the rights to the design, the base design, and its vector file.
Additionally, you'll be given the option to purchase meta tags for each design.
Once a purchase has been made, a design is available for download.
When downloading your design, you can choose a design that is compatible with the print on demand platforms you sell on, including Merch by Amazon.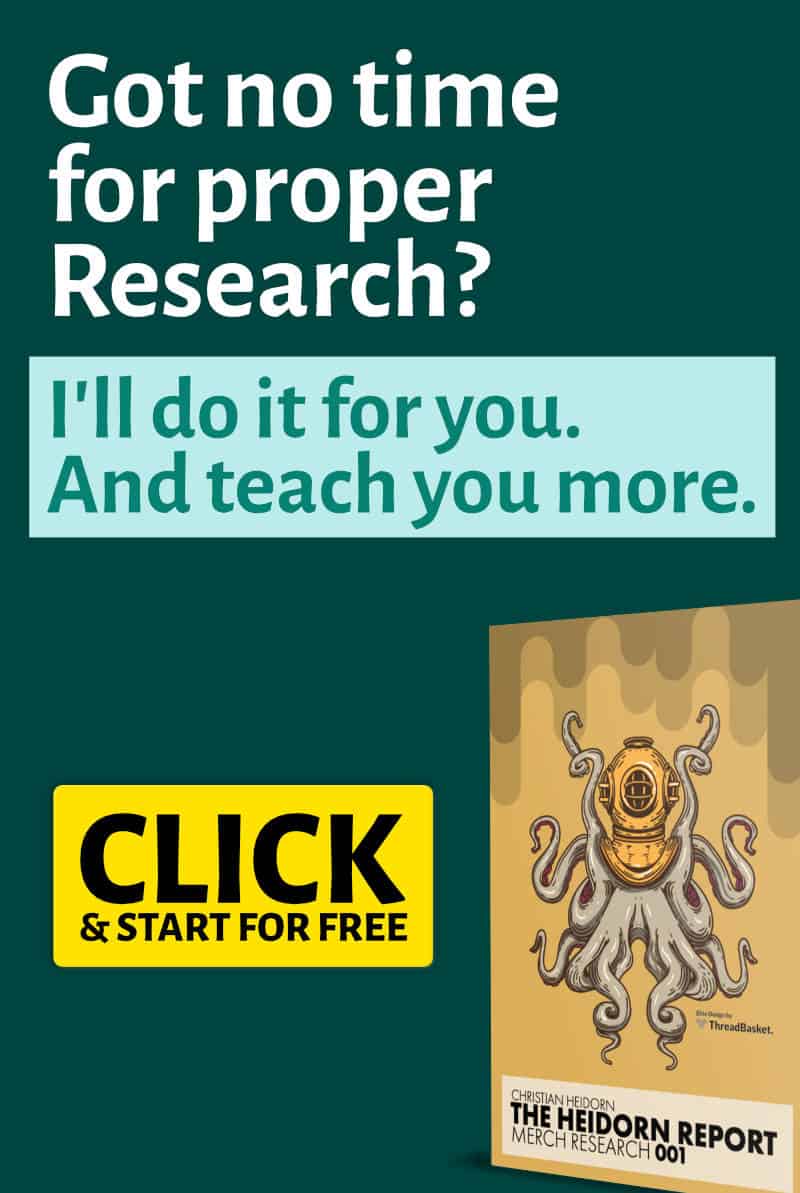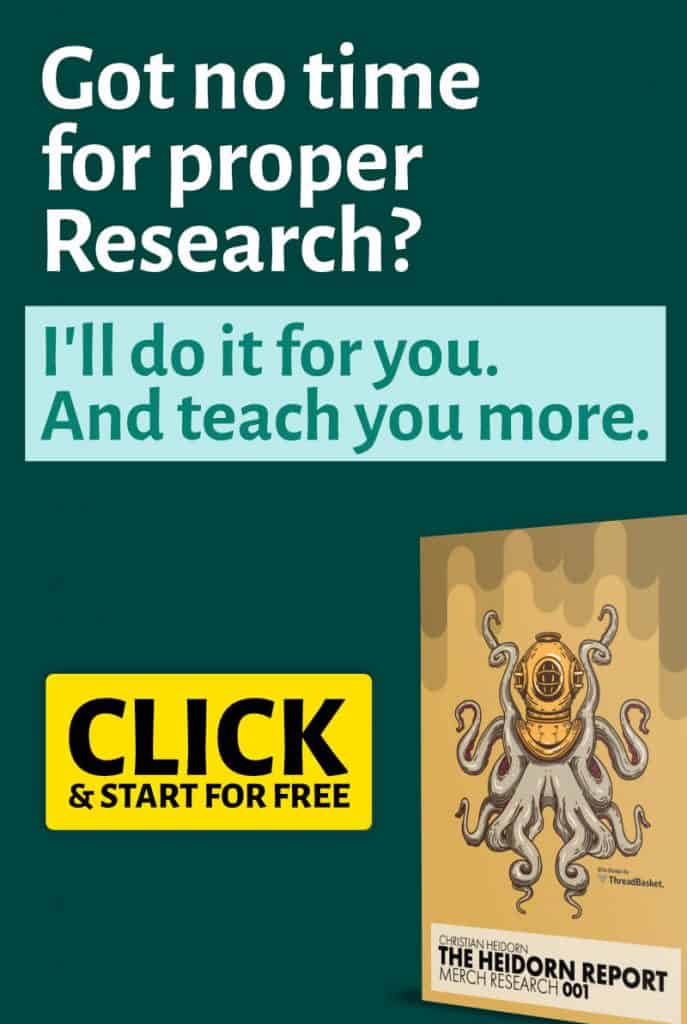 Pricing
As mentioned, ThreadBasket is a membership platform.
It comes with three pricing plans: starter, pro, and business.
The starter plan costs $22.23 or 18 euros per month.
You have access to 500 designs/prints and 20 monthly download credits.
Buyers will have standard support.
You will have access to your licenses, both commercial and merch licenses.
The licenses will be valid for use on print on demand platforms.
You will also get top-up credits at any time.
Members of this plan will be able to make design requests.
The pro plan costs $45.65 or 37 euros monthly.
In this plan, you will have team access.
You will have top-up credits at any time.
Standard support.
You will have access to licenses; commercial and merch licenses.
The licenses will also be valid for print on demand platforms.
Get top-up credits at any time.
An individual license is also available, and you can also make design requests.
The business plan costs $112.01 or 91 euros monthly.
This plan comes with priority support that is not available on other plans.
You will gain access to commercial and merch licenses.
Licenses will be valid for print on demand platforms.
Members of this pricing plan will be able to make design requests and can get top-up credits at any time.
All payment plans come with a three-day free trial.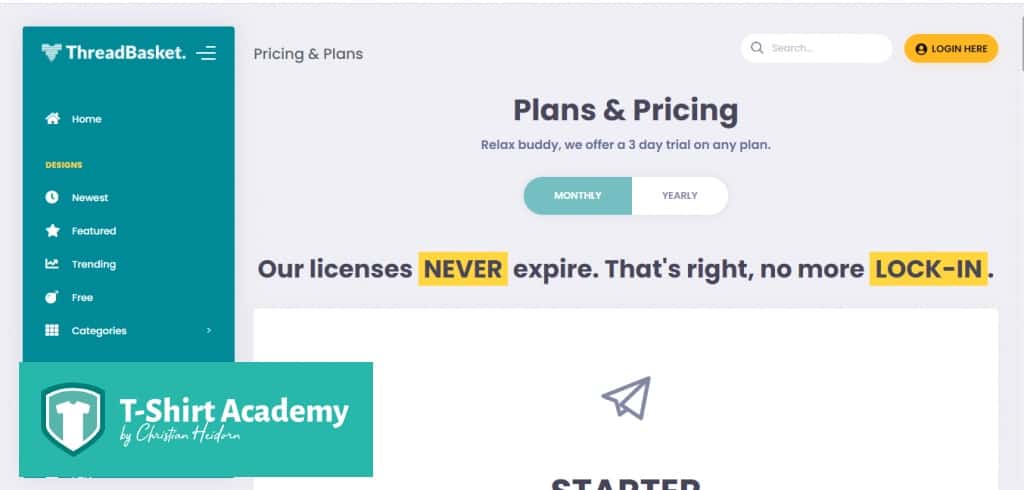 This gives you the opportunity to test out the service and see if it works well for you.
1 monthly credit or 1 reward credit will give you 1 design download.
This means that you get the license to one design of your choice.
You earn reward points by interacting on the platform.
This can be by contributing to making the platform better.
Reaching a certain status or by receiving a badge.
The more you interact the more credit points you earn.
It should also be noted that paying for your subscription yearly is cheaper than the monthly payments.
Loyalty points are also given to members who renew their yearly subscription for another year.
In the second year, you get a special discount and in the third year, you get up to 60% off on your subscription.
And who doesn't like a big discount?
These discounts are only available to members who subscribe yearly.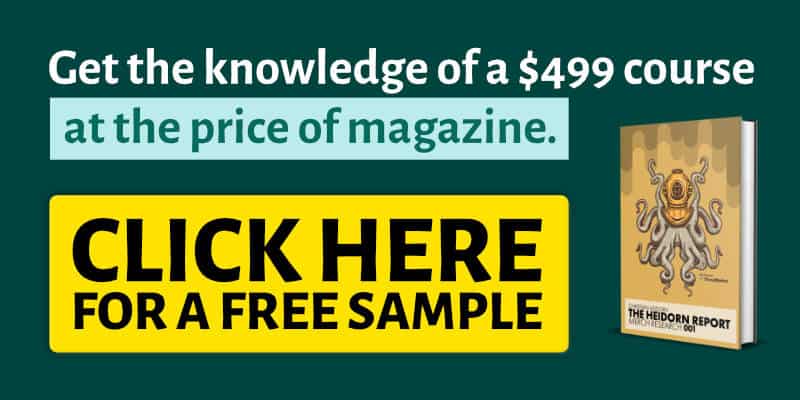 Benefits of Using ThreadBasket
ThreadBasket gives you access to high-quality designs.
If you are not able to hire a designer, this is a wonderful place where you can source unique and well-researched designs.
ThreadBasket was created by sellers who understand print on demand platforms and the strategies required to win.
This means that even their designs are created to ensure that you have success.
ThreadBasket understands what designs will get your clients interested and turn them into buyers.
Their designs also work well on Merch by Amazon.
They update their marketplace three times a week.
This means that you have access to fresh designs weekly.
You will have a wide range to choose from and once you buy a design, you are guaranteed to be the only person with access to the design.
The platform has regular support for its members.
Additionally, there is a Facebook group where members can discuss everything related to ThreadBasket and print on demand in general.
For members on the pro or the business plan, you will be able to have team access.
This means that if you have a designer or a virtual assistant who handles your design process, you are able to give them limited access to ease the process.
They will be able to download the designs you have bought and then upload them to the necessary platforms.
Limited access means that they will only be able to download designs but nothing else within your account.
The licenses on ThreadBasket do not expire.
Even in the event that you cancel your subscription.
Their designs are compatible with almost all print on demand marketplaces including Merch by Amazon.
As an added advantage, all their plans allow for Merch.
The ThreadBasket marketplace offers an ad-free experience and this is rare when compared to other design platforms.
In Conclusion
Success in print on demand is difficult to attain.
One of the factors that influence success is good design.
As much as research and organization are important, without good design, these efforts would be worthless.
Well-created and well-researched designs are important.
You need to create designs that will work for your niche and that will get your customers interested.
If you do not have this knowledge, you will waste a lot of time and resources creating designs that will not sell.
ThreadBasket takes a lot of the hassle away from you.
If you don't have an in-house designer, this is a platform that you should definitely invest in.
You will get a lot of support as a member.
They are also developing ways that customers can make design requests.
If you are looking to break into a new niche and don't know where to start, ThreadBasket is a great resource.
You don't have to spend hours trying to learn what works since they already do a lot of that for you.
Although we would still encourage you to do a bit of research on the niche you want to venture into.
ThreadBasket has a feature that shows users which designs are trending.
This will give you insight into which direction you need to go in to get the most success.
Tools that make your work easier on merch and other print on demand platforms are a godsend.
Design marketplaces that offer high-quality and unique designs are rare.
By using this platform, you will be able to focus your energy on other aspects of your business including marketing and research.
If you are not sure about having a monthly or yearly subscription with the platform, you can take up their three-day free trial offer.
It should be noted that ThreadBasket is a stock design marketplace and this means that the license to one design can be bought by more than one person.
if you have used this platform before or are looking to learn more, leave a comment below!