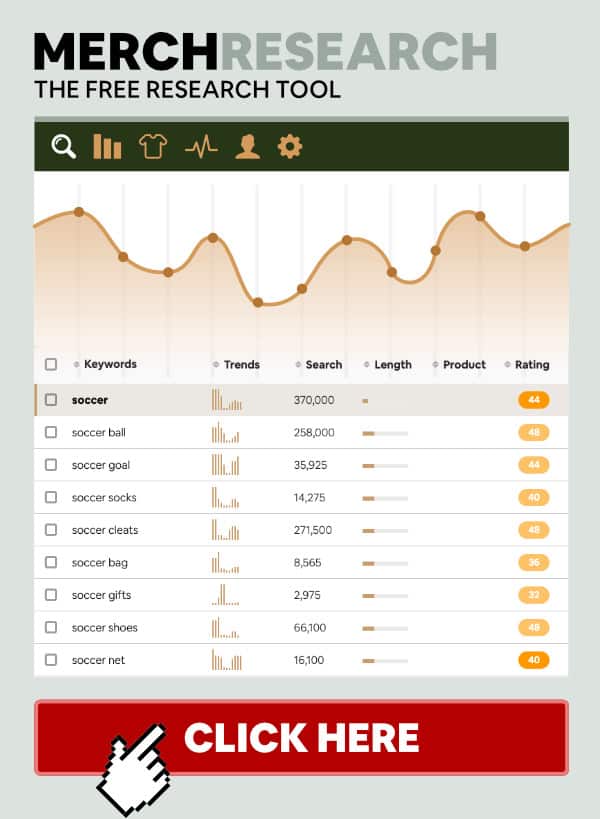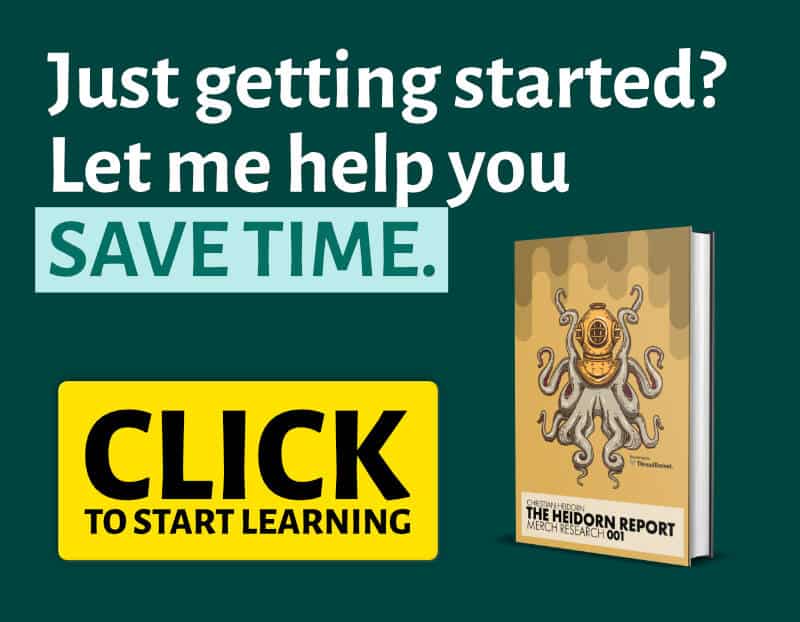 Research and strategy tools are a must-have for your long-term success in the print on demand space.
Not only do they make your work easier, but they also provide you with data-backed insights that will help you make more sales and ultimately more profit.
An example of one such tool is Flying Research. 
Flying Research is a research tool targeted towards print on demand and Merch by Amazon sellers.
Flying Research and Flying Upload are all owned by the same people and both offer valuable services to clients.
Why Is Research Important?
Merch Research or print on demand research helps you make informed choices for your business.
Print on demand is incredibly competitive, it is, therefore, important that you find the right(profitable) niches, the right keywords, and interesting designs.
When choosing designs and niches, you might make decisions based on your personal interests, however, if you want to create a long-term and successful business you need to find something that interests you and is popular with buyers on different platforms. 
That is where Amazon keyword research tools come in. 
Conducting research on your own without tools can be a time-consuming process, especially because data is constantly changing with every design being uploaded and sold.
You need to stay on top of the changes and the trends.
You need to find the right keywords at the right term, you also need to find the right niches at the right time.
Tools also give you information on trends and this helps you make appropriate decisions, especially if you are looking for evergreen niches. 
Professional print on demand and merch sellers all have a tool that they frequently use when choosing niches, keywords, and/or design. 
What Is Flying Research?
Flying Research is a research tool that was created to help Merch by Amazon and print on demand sellers make informed decisions when creating their designs and listings.
Flying Research is an offshoot of Flying Upload and that means if you want to know more about their research features, you'll need to access Flying Upload's home page. 
They describe their research tool that takes your research to the next level.
Unlike other tools, Flying Research is not specifically targeted towards one print on demand platform.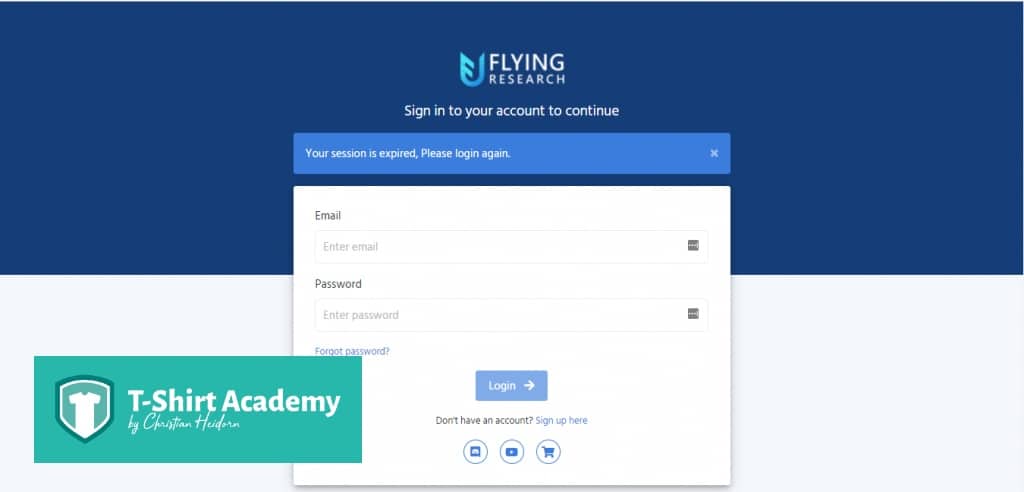 Whether you sell on Merch by Amazon, RedBubble, Spreadshirt, and any other platform, you can always find data that applies to your specific platform.
Apart from the popular print on demand platform, Flying Research also offers research services to Kindle Direct Publishing sellers, and this function makes it unique from many other tools. 
The tool has a variety of features including niche research and analysis, keyword research, bestseller list, BSR and price history, and so much more.
It also comes with a trademark tool that helps sellers avoid making mistakes that could cost them their designs and/or their accounts.
Features of Flying Research
Niche Analysis
Their niche analysis tool helps you find the most popular niches at the moment.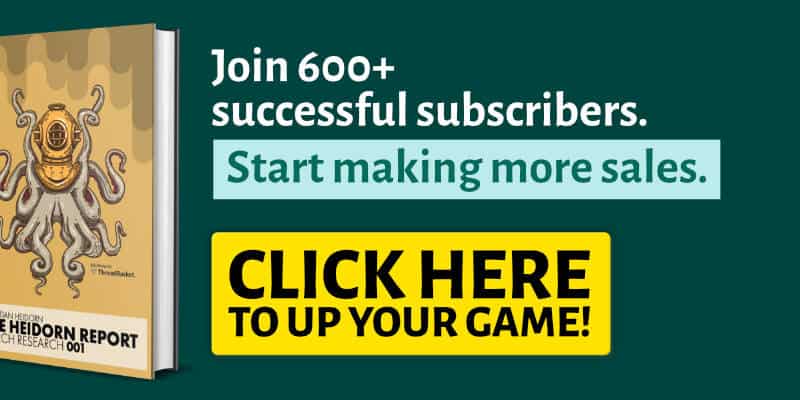 Simply input a keyword or the niche you are targeting and a list will show the average sales of different designs and how different niches have performed within a given period.
You'll also get additional information on the keywords used within the niche.
Their graphs make it easy to compare how different niches are performing, the sales numbers by design, and also the BSR of different products.
Best Sellers
The best sellers feature is important if you want to gain inspiration from the top-performing designs on any print on demand platform.
Users can search for best sellers by keywords, marketplace, Merch by Amazon ranking, and product.
A list of the best sellers is then curated depending on what you have searched for.
This function is also important for inspiration when creating designs and also useful when comparing what keywords and descriptions have been used with each listing.
Seller Trends
This function breaks down trends across 30 days.
Much like the niche analysis feature, this function is useful when making design and niche decisions.
You'll also find the top BSR winners and close contenders.
It also gives you insight into new designs that are entering Merch by Amazon.
Flying Research users can also see if there have been any improvements in sales within different niches and products with different keywords.
Categories and New Niches
Looking for a profitable niche can be a time-consuming process.
You want to find a niche that will get many sales but for more than a few weeks.
Flying Research's category function breaks down designs by categories to help you see which categories are currently performing well.
 It gives you a look into the top-performing brands, however, these are usually big brands like Disney with trademarked designs.
This feature is useful for finding new niches and also viewing design details. 
Subcategory Rank
Finding the right niche sometimes means finding one niche and narrowing it down within that specific category.
For example, if you find that dogs are a profitable niche but competitive, narrowing it down to service dogs or nurses who love dogs will mean that you are still within the niche but targeting a more specific group of people.
It is often easier to compete in subcategories.
Flying Research's subcategory rank shows you other niche categories and selections are drawn from more than the BSR.
You will also be able to see different niche opportunities in different marketplaces and also find international bestsellers.
Users can also look at what their competitors are doing.
Get Inspired
Print on demand and Merch by Amazon sellers are always on the lookout for new and interesting designs that will drive sales.
The Get Inspired function works with Merch by Amazon, RedBubble, and Spreadshirt.
Users can access new and trending designs, new and trending niches, and also a look into BSR trends.
You'll be able to save designs to your favorites folder for later analysis when creating your own designs.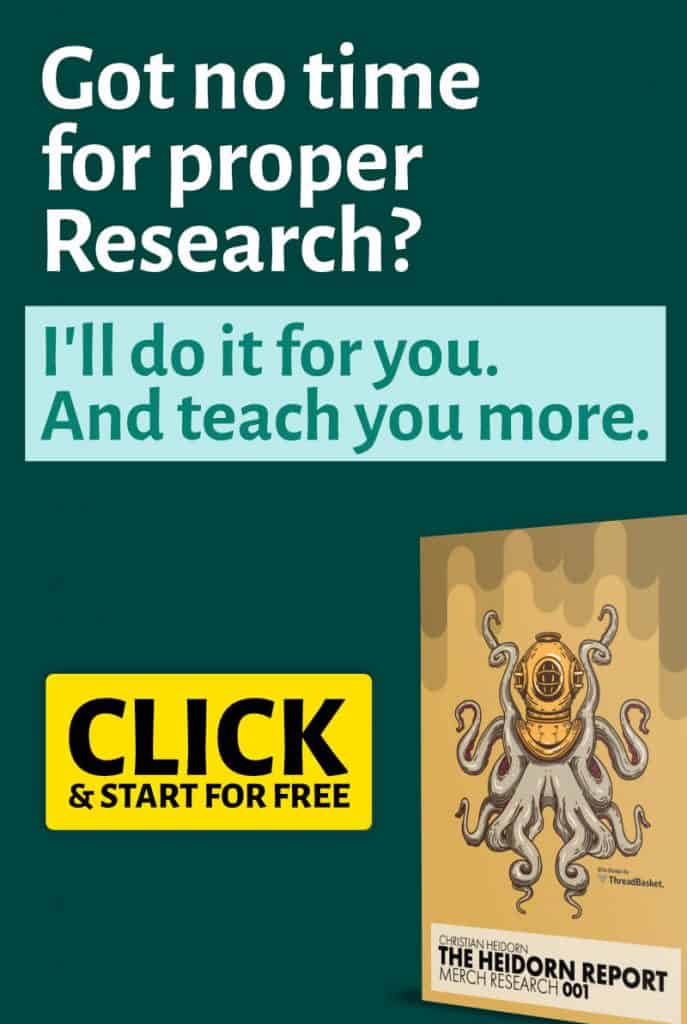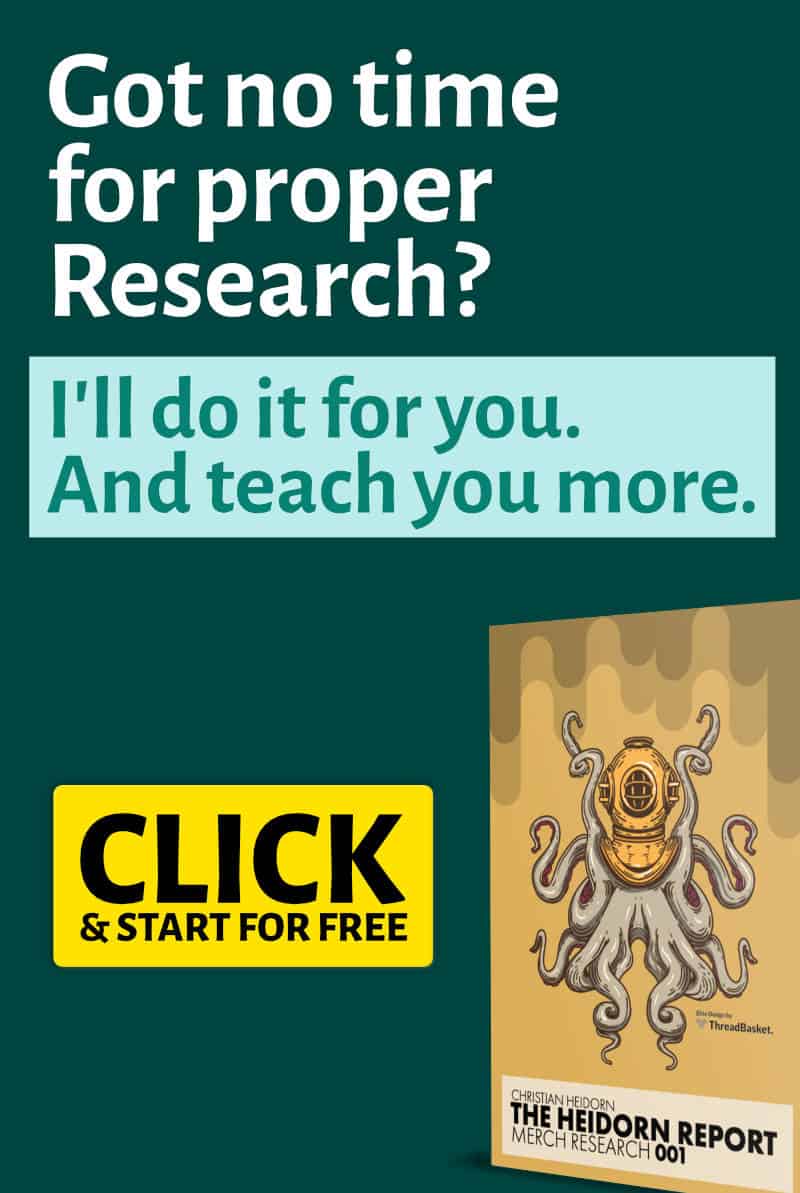 It is important to note that as a Merch by Amazon or print on demand seller, directly copying designs will affect your sales since you will be competing with existing and high selling designs.
It will also most likely get your designs removed from the platform.
Getting inspiration is only important for coming up with your own unique ideas.
The Get Inspired function comes with a filter function that makes your searching process easier and quicker.
Events
The Events feature is an important feature that is found in most research tools.
It's important for helping sellers create relevant designs before the event day to make sure they can maximize sales.
Holiday-themed designs are known to do well.
It comes with an interactive calendar that shows events from different countries(marketplaces) that Merch by Amazon is available in.
Trademark
Trademark and copyright are extremely important on Merch by Amazon and other print on demand platforms.
Merch by Amazon particularly takes trademark rules and regulations seriously and you risk having your account deleted if you violate their stringent terms.
A trademark tool is important for making sure that your designs are not infringing on any trademark at the moment or in the future.
People can file trademarks later on after you have created your design and this can still negatively affect your account. 
Flying Research's trademark feature checks your designs for trademark infringement.
Users are able to filter by different marketplaces i.e. US, UK, Germany, France, Italy, and Spain.
Their watchlist function sends emails if a trademark is filed later on after you have uploaded your design/s so you can make the necessary changes. 
Keyword Finder
The right keyword helps your designs get discovered by your targeted audience.
Any good research tool has a keyword finder and Flying Research is one of them.
It lets you search for keywords that are relevant to your niche.
You'll also be able to quickly add keywords to your listings with just one click.
This feature shows you different variations of keywords i.e. long-tail keywords, synonyms, and more.
There's no need for a separate keyword tool once you have Flying Research.
Kindle Direct Publishing
Finding the right keywords and category is just as important for Kindle sellers.
Flying Research helps users find the right categories for their Kindle publications using its integrated category search.
Users can also check for trademarks before publishing.
Prices
Flying Research has three pricing options: Research Bundle, Research and Trademark Bundle, and Trademark Bundle
Research
The research bundle costs $19.90 a month.
It fully covers all the research functions including:
Tutorials
Best sellers list
Sellers Trends
Subcategory Ranks
Categories and Brands
Get Inspired (MBA and other POD platforms)
Niche Analysis
Events calendar that comes with notifications
Favorites folder for sorting
Research and Trademark Bundle
Flying Research's research and trademark bundle is the most comprehensive and goes for $28.95 a month.
It comes with the following features: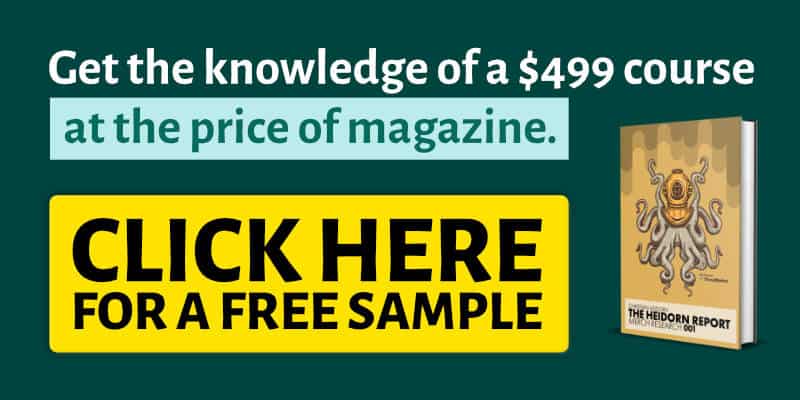 Tutorials
Best sellers list
Sellers Trends
Subcategory Ranks
Categories and Brands
Get Inspired (MBA and other POD platforms)
Niche Analysis
Events calendar that comes with notifications
Favorites folder for sorting
Trademark search
Trademark registration
Trademark watchlist
Trademark notifications
Trademark complaints
Trademark Bundle
The trademark bundle costs $9.95 a month and allows users to search, check, and watch their trademarks.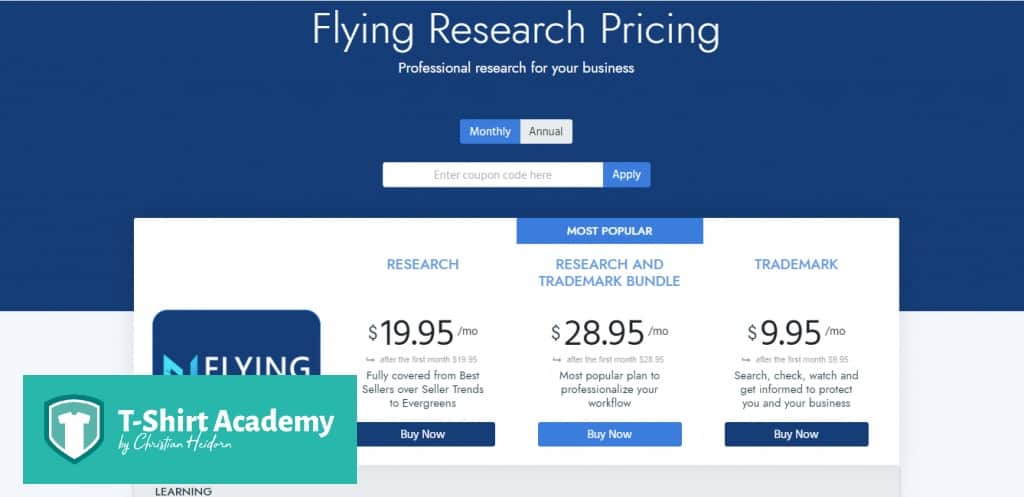 Users also get notifications if there are any changes to their trademarks in the future. 
Features include:
Trademark search
Trademark registration
Trademark watchlist
Trademark notifications
Trademark complaints
Flying Research offers a 14-day money-back guarantee if within the 14 days you feel like the tool does not meet your expectations.
They do not have a free plan.
Final Review
If you want to access their comprehensive plan, Flying Research can be expensive, however, there are more expensive tools in the market, for example, Merch Ninja.
Good research tools that are reasonably priced are hard to come by and luckily, Flying Research is one of them.
In comparison to other tools, they do a good job when it comes to niche analysis giving users a graph that makes it easy for quick analysis.
Their filter function could be more refined to include important elements including Average BSR, deleted designs, and more.
One of their greatest selling points is that they offer real-time research results, and this makes for better decision-making.
Flying Research is quite easy to use with an engaging interface. 
They also offer tutorials to help you with whichever function you want to access and I find this to be extremely useful. 
If you sell on more than one platform, having Flying Research will save you a lot of time and effort since its features are targeted to most print on demand platforms including Merch by Amazon. 
Not many tools are targeted towards KDP sellers, however, Flying Research is.
If you sell both print on demand products and are a Kindle Direct Publisher, this is an all-in-one tool that will be beneficial to you. 
Unfortunately, Flying Research does not offer a free trial so be ready to commit once you are ready to sign-up.
It also does not offer in-depth information on their features, however, there are several tutorial videos that will help you once you start using the tool.
They also have a discord community where users can discuss all matters Flying Research and print on demand in general.
In Conclusion
Print on demand on Merch by Amazon requires in-depth and regular research.
With information constantly changing, you need to always be one step ahead of the competition and find out what works and what doesn't work and research helps you do that. 
Flying Research is a tool that will help you do just that in a shorter time.
If you are starting out with print on demand, then this is the perfect tool for you.
For sellers who want more clarity or more information about research, pricing, and different strategies then a strategy guide like The Heidorn Report might be what you need.
A combination of good tools and good strategies is what makes a successful seller. 
If you need more clarity on finding the right tools and strategies for your business, we have reviews on other tools that might be helpful to you.