Running a print-on-demand (POD) business is a great way to turn your creativity into a successful online business.
The beauty of this business model is that it requires little in the way of upfront investment and has some serious profit potential. 
Whether you're gearing up to launch a POD business or you need a tool that makes it easy to generate and share the professional-looking t-shirt designs, there are plenty of web-based apps that can help.
These list of T-shirt design maker is important for knowing what fits for your brand.
To help you out, we looked at five major online T-shirt design maker tools that can help you get your print-on-demand business up and running.
Read on for a closer look at the pros, cons, features, and pricing:
PlaceIt is an all-in-one design tool that offers thousands of design templates you can edit and download in a matter of seconds.
Compared to the other options on this list, PlaceIt caters specifically to print-on-demand businesses and creators selling original designs.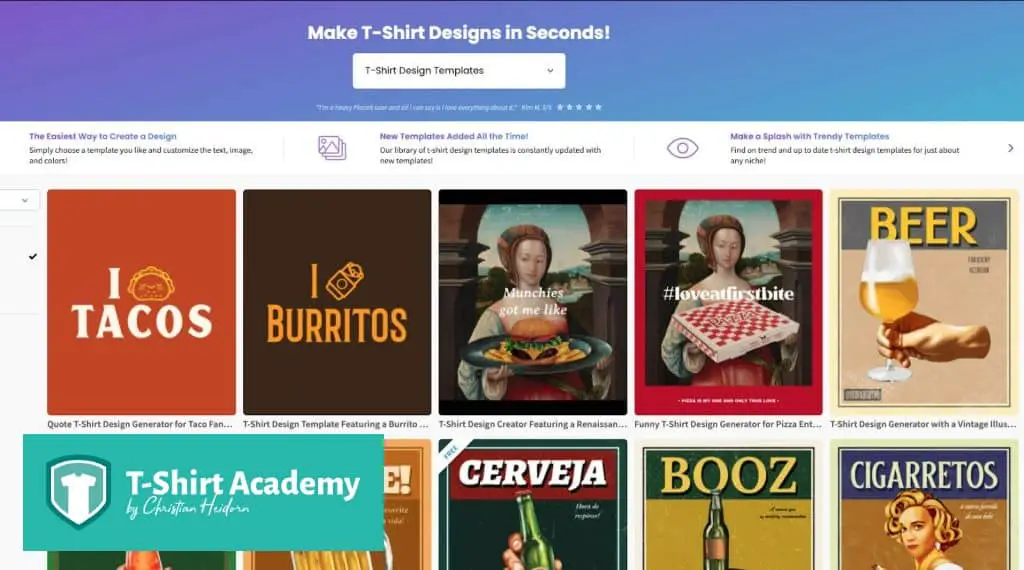 What's more, PlaceIt offers T-shirt design maker templates made with niche creators in mind.
For example, they have templates for Anime, humor, and gaming.
There's also a filter for political shirt templates, food-themed shirts, even kids' shirts. 
So if you have some t-shirt design ideas already you can easily filter the templates on Placeit to browse designs in your chosen niche.
Everything you create and download from Placeit can be used for commercial purposes too. 
Another great feature for POD sellers that Placeit offers is their product and apparel mockups. 
Their t-shirt mockup generator allows you to easily see what your designs will look like on an actual product or person before making any final decisions, and when you do, mockups can be used in your promotional materials, product pages, ads, and much more. 
PlaceIt not only allows you to design t-shirts and mockups with its intuitive editor, you can also use it to create videos, logos, social media posts, and more.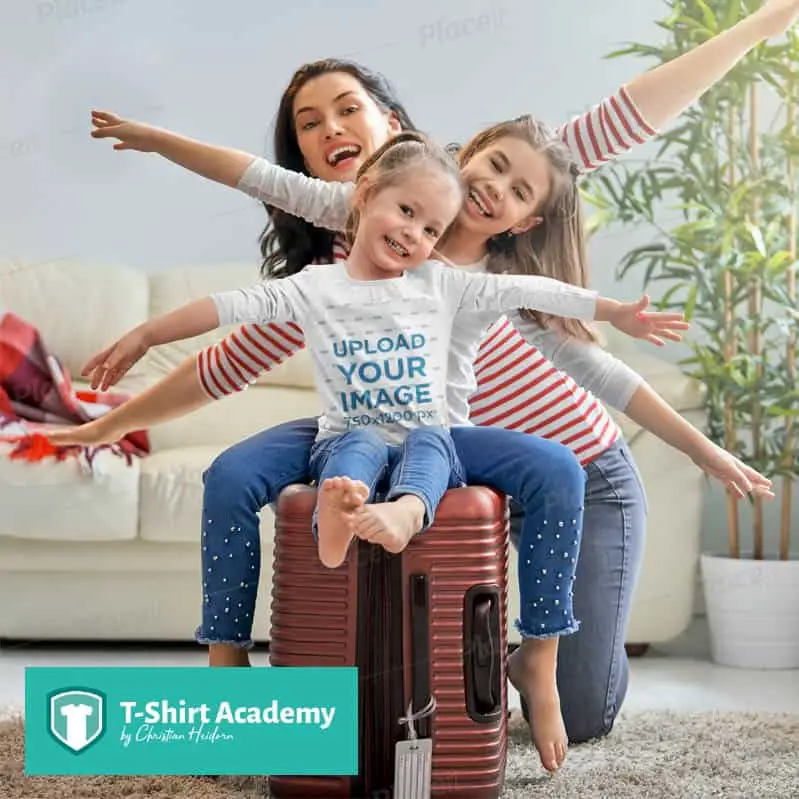 If you're on a tight budget you can find free templates on Placeit, however if you're serious about print-on-demand it's well worth investing in a paid subscription to get unlimited access to all their tools and templates.
Pricing: Free limited version. Subscriptions are $14.95 per user per month or $89.69 per year and offer unlimited access to all mockup, logo, design, and video templates. 
You can also buy premium T-shirt designs "a la carte" for $2.95 per design if you don't want to commit to the full subscription.
Canva
Canva is an online platform that allows you to generate graphics from thousands of professionally-designed customizable templates for everything from presentations and business cards to logos and infographics. 
They have a decent selection of t-shirt design templates too, some of which can be downloaded for free.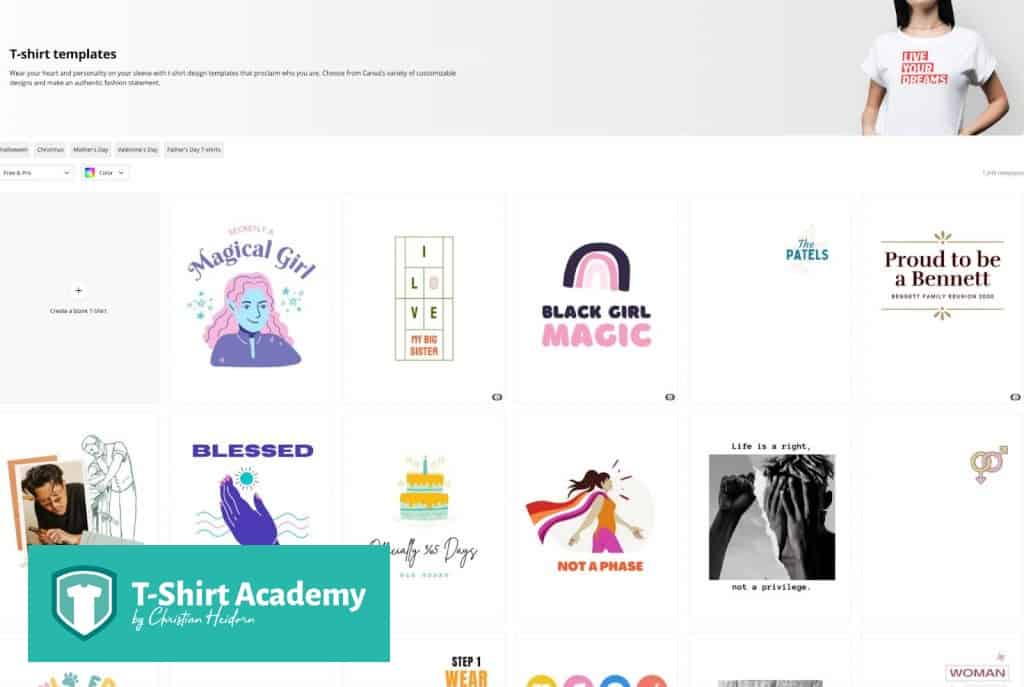 Canva also makes it easy to create t-shirt designs from scratch, particularly text-based designs. 
With a free Canva plan you can use some templates, fonts, and images for your t-shirt designs.
However, if you plan on using the tool  to create most of your designs, you'll likely need to sign up for a Canva Pro account.
A paid account gives you access to a much larger library of templates and design elements, and only paid subscribers can download their designs with a transparent background–essential if you're selling t-shirt designs via print-on-demand platforms. 
If you've narrowed down your t-shirt niche you can also find designs for specific categories on Canva such as sports or pop-culture, however the filtering options for t-shirt designs are quite as good as Placeit's at the moment.  
It's also worth mentioning that not all design elements are available for commercial use.
Most of the fonts, graphics, and animations are in the clear–meaning you're free to use them on the shirts you sell in your store but be sure to read the fine print before publishing new designs to your shop.
Overall, Canva is a very user-friendly and easy to use tool with a decent selection of t-shirt design templates but the main benefit to using Canva is the ease in which you can create text-based t-shirt designs.
This makes it one of the best online t-shirt design creators. 
Pricing: Free limited version, paid plans start at $12.99 per user per month. a 30-day free trial is also available. 
Adobe Spark
Adobe Spark is another online tool that allows non-designers to create professional-looking graphics with ease.
It comes with thousands of customizable templates for videos, social media posts, logos, flyers, and more. 
Like Canva, with Adobe Spark you can utilize existing templates to create your t-shirt designs, and you can also easily create designs from a blank canvas.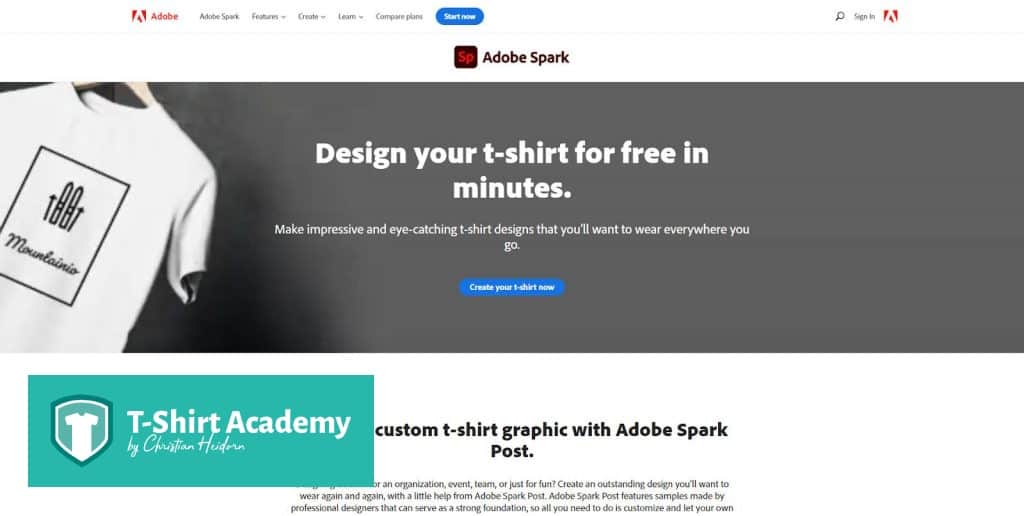 You can set a custom design size (e.g. 4500x5400px) to ensure your design will work with most of the POD marketplaces.
Unlike Adobe's suite of tools including Photshop and Illustrator, the company has made sure that Spark is far less complex with a much smaller learning curve.
Most people will have no problems using the tool and quickly learning how to utilize all the features.  
With Adobe's huge font library you get access to unique and quality fonts so you can easily create fantastic looking text-based t-shirt designs.
Perfect to help you test out plenty of designs, which is essential to creating a successful print on demand business. 
Spark offers some text presets, some free and some premium but these are combinations of fonts and text designs that you can utilize to create your own text-based t-shirt designs.
It's super easy to create the designs via their desktop and mobile app. 
They also have a decent selection of t-shirt design templates, however the vast majority of them are only for premium subscribers so if you're looking for access to a good range of free templates Spark isn't the tool for you. 
Overall, Adobe Spark is one of the most user-friendly options on this list.
While they don't have a huge range of graphic based designs to utilize you can easily create great look text-based t-shirt designs. 
Pricing: Free starter plan available. Individual plans are $9.99 per month and users get their first 30 days free.
Team plans are available for $19.99 per month and allow multiple users to share an account. 
Crello
Crello is another online design tool that allows users of any skill level to create great looking designs.
If you've already chosen your t-shirt niche then you might find some relevant t-shirt designs for your niche on Crello, however their template selection is fairly limited at the moment.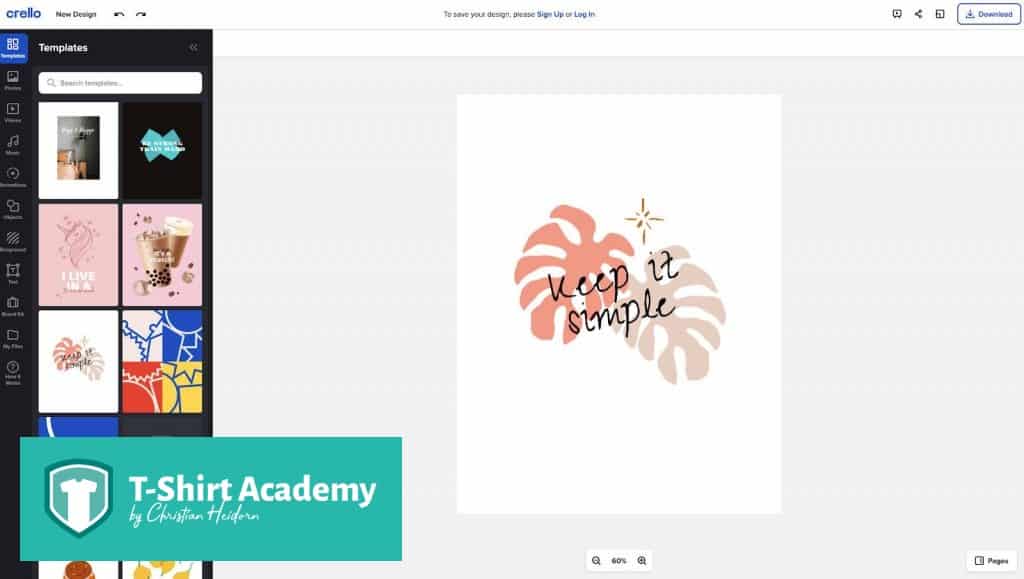 Like some of the other tools in this list you can create designs from a blank canvas, however, the dimensions limit is up to 3000 px so you might not be able to create designs at the right resolution for some print on demand platforms. 
That being said, it's still possible to create quality text-based designs with Crello and they have a good range of graphics that you can utilize for your t-shirt designs too. 
One issue with the Crello is that if you want to download your designs with a transparent background, which is essential for most Print on Demand platforms, you'll need to get a Crello Pro account. 
If you're looking to promote your designs on Pinterest and other social media platforms Crello has plenty of templates that you can use to make social media marketing material too which makes the investment in the pro account more worthwhile.  
Ultimately, Crello is a cost-effective T-shirt design maker tool for designing social media graphics and some t-shirt designs.
But it's not the best choice for businesses that primarily sell shirts – Canva and Placeit would be the best options.
Pricing: Free starter plan available. Pro plans are $7.99 per user per month.
Vexels
Vexels is a graphic design library that has a huge library of templates and tools for Print on Demand sellers. 
If you're looking to get a lot of designs to promote on the various Print on Demand sites, Vexels is a good tool to have in your arsenal.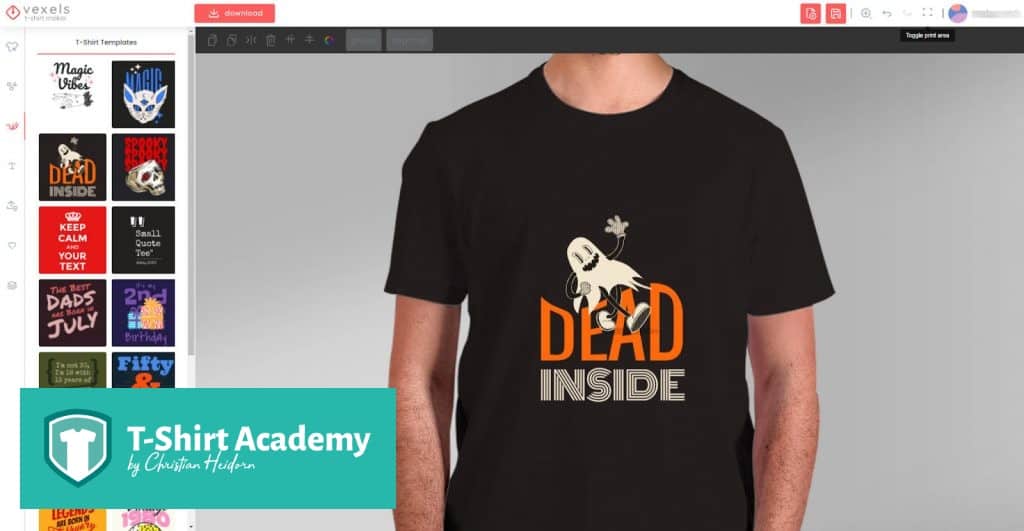 The company recently added a user-friendly t-shirt design maker to their suite of tools, which looks to be a good product for creating both text-based and graphic t-shirt designs. 
The graphic based design templates are good quality but just a bit limited at the moment.
However you get access to Vexels library of over 70,000 design elements, many of which are really good quality. 
The main issue with using Vexels is that it's not possible to change the text font family.
They offer some text design presets, as well as a small selection of graphic based t-shirt design templates but their offering doesn't quite match up to Placeit's or Canva's at the moment.
It's also possible to create designs from a blank canvas with relative ease.
But the limited text options and the fact that you can only use one graphic element per design make the tool less appealing if you're looking to create lots of designs online. 
Any designs you download from Vexel's t-shirt design maker come with a commercial license document, a high-resolution PNG of your design (4500x5400px) that's ready to be uploaded to your chosen POD platform, and it also comes with a free t-shirt mockup that you can use to for promotional material. 
You can use the tool for free but if you want to download any of the designs you make with their t-shirt design maker then you'll need to get a Vexels subscription. 
This not only gives you full access to the t-shirt design creator but you can also download designs from a huge library of print ready designs including accessing the PSD files for many of the designs too. 
Overall it's a good tool but if you're looking to create designs online you're better off using another tool from this list. 
Pricing: They offer 3 plans that include the t-shirt design maker: Merch Plan ($29 per month) which includes 100 downloads per month, Merch Plus ($49 per month) which includes 200 downloads per month, and Merch Ultimate ($99 per month) which gives you 2000 downloads per month. 
Alternative Options
If you're looking to create good quality t-shirt designs the tools in this list can certainly help you with that. 
There are some alternatives though.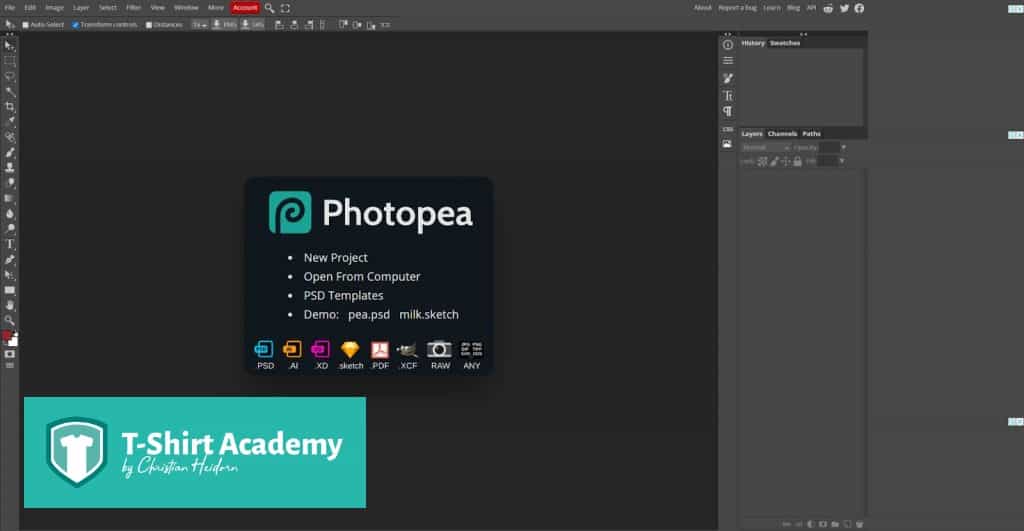 Here are some of the best alternative options online for getting or designing quality designs for your Print on Demand business:
Photopea – Photopea is an online graphics T-shirt design maker editor that offers much of the same functionality as Adobe Photoshop. Perfect for editing raster and vector graphics. 
Fiverr – If you're looking to hire t-shirt designers, there are several platforms you can use, one of the best is Fiverr. 
ThreadBasket – ThreadBasket is an affordable T-shirt design maker subscription service that offers quality t-shirt illustrations with no-nonsense licenses that don't expire. 
Final Thoughts
There you have it, some of the best online tools for creating custom T-shirt designs for your print-on-demand store. 
Most of the options listed above offer some type of free plan, so give each of them a try to find one that fits. 
On a final note, templates can only get you so far. For creators selling merchandise as a supplemental income source, using a tool like PlaceIt, Printify, or Canva is a cost-effective solution. 
However, if original T-shirts are a core part of your business model, you'll want to look at investing in your own design skills or hiring a designer to help you create some truly unique designs.