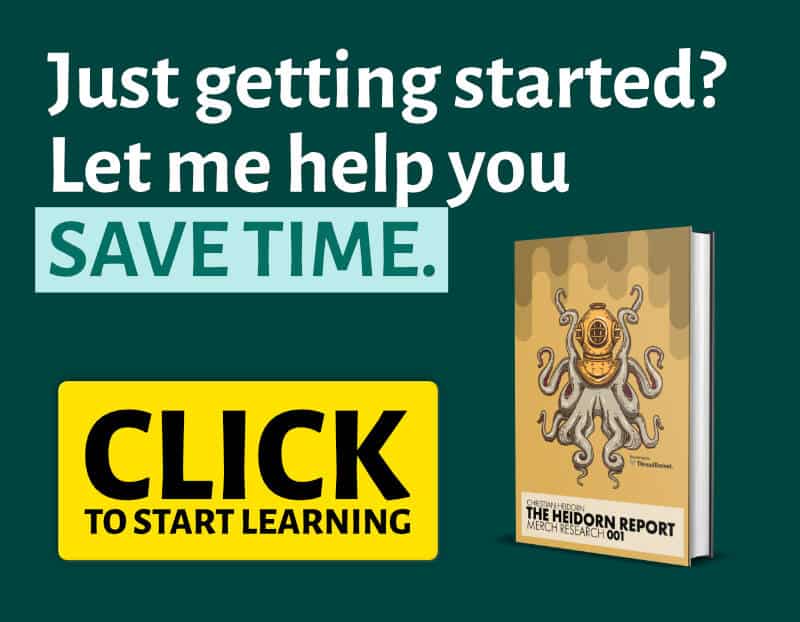 1. Struggling to Find Effective T-Shirt Promotion Ideas?
All t-shirt promotion ideas are just tools that can assist you in reaching your goals.
The overall effectiveness of these t-shirt marketing strategies is largely dependent on how you utilize these tools in relation to your target market.
Once you understand how those tools work, you can start to take your t-shirt business to the next level.
Here are a few things that can make it really simple for you to understand how to promote your tshirt business.
2. Conduct Proper Research on Your Target Audience
First and foremost, it is imperative to note that your t-shirt business marketing plan is never about you.
It is always about your customers.
Carrying out extensive market research is something that should not just focus on one t-t-shirt marketing strategy but all marketing strategies.
This is the most important step as it lays the foundation of your t-shirt promotion ideas.
Failure to do this will only lead to disastrous results.
Research can give your business a clear picture of what kinds of products and services may attract more customers.
Market research can also tell you whether you are meeting your customers' expectations in your products as well as in your tee shit marketing.
How to carry out market research:
Focus on research that will help your t-shirt business and that will help you make informed decisions.

Decide how quickly you need the findings and how accurate it should be.

Decide whether you need simple numerical results or an in depth understanding.

Set up your research with brief and clear deadlines, objectives or any other essential information.

Decide whether you have the expertise and experience to conduct extensive research project or if you need to hire a professional researcher or a research agency to do the job for you.

Take full advantage of easily accessible information from the internet, customer feedback and other sources.

If necessary, invest in experiments, observation and surveys to back up your decisions.

Always be ready and willing to conduct another research in case the information you already have is inadequate or outdated.

Use your findings to plan strategies and make decisions.

Constantly update your knowledge of market conditions and customers.

Never rely on old research or base important decisions on insufficient research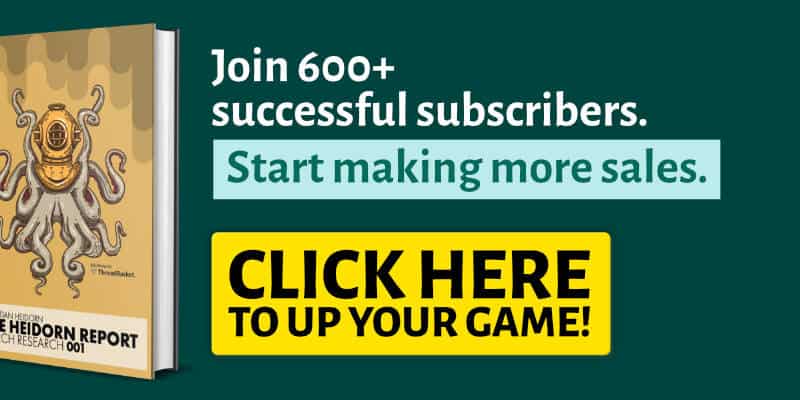 3. Create a Blog or Website as Your Business Hub
If you have been running a small t-shirt business, chances are you have been wondering whether blogging is worth the time, money and effort.
The answer is a resounding "Yes".
Blogging regularly is a fairly easy, cost-effective way to increase your marketing efforts, attract more clients and drive traffic to your site.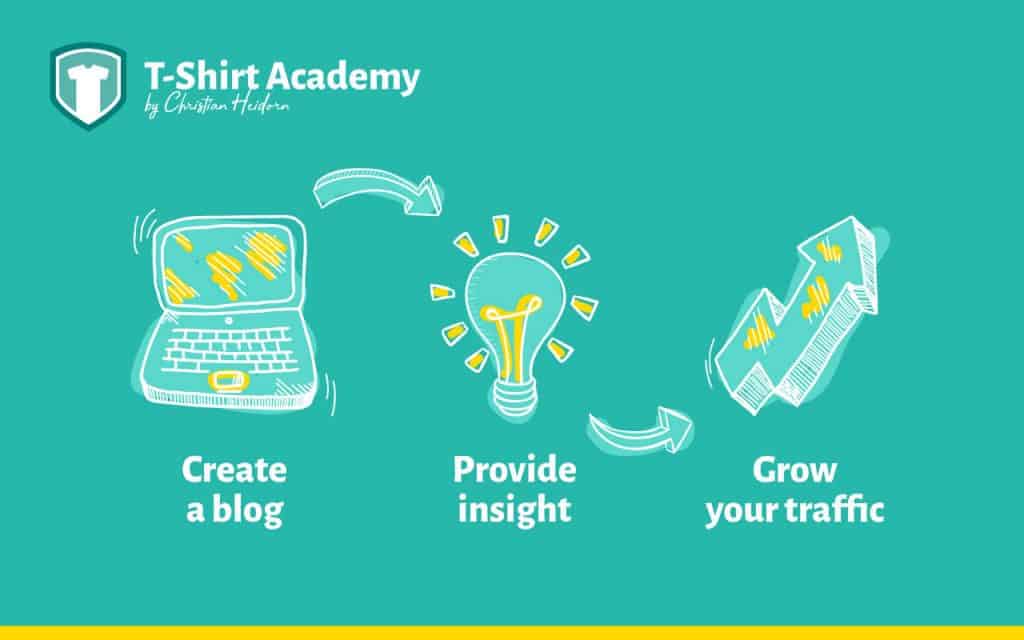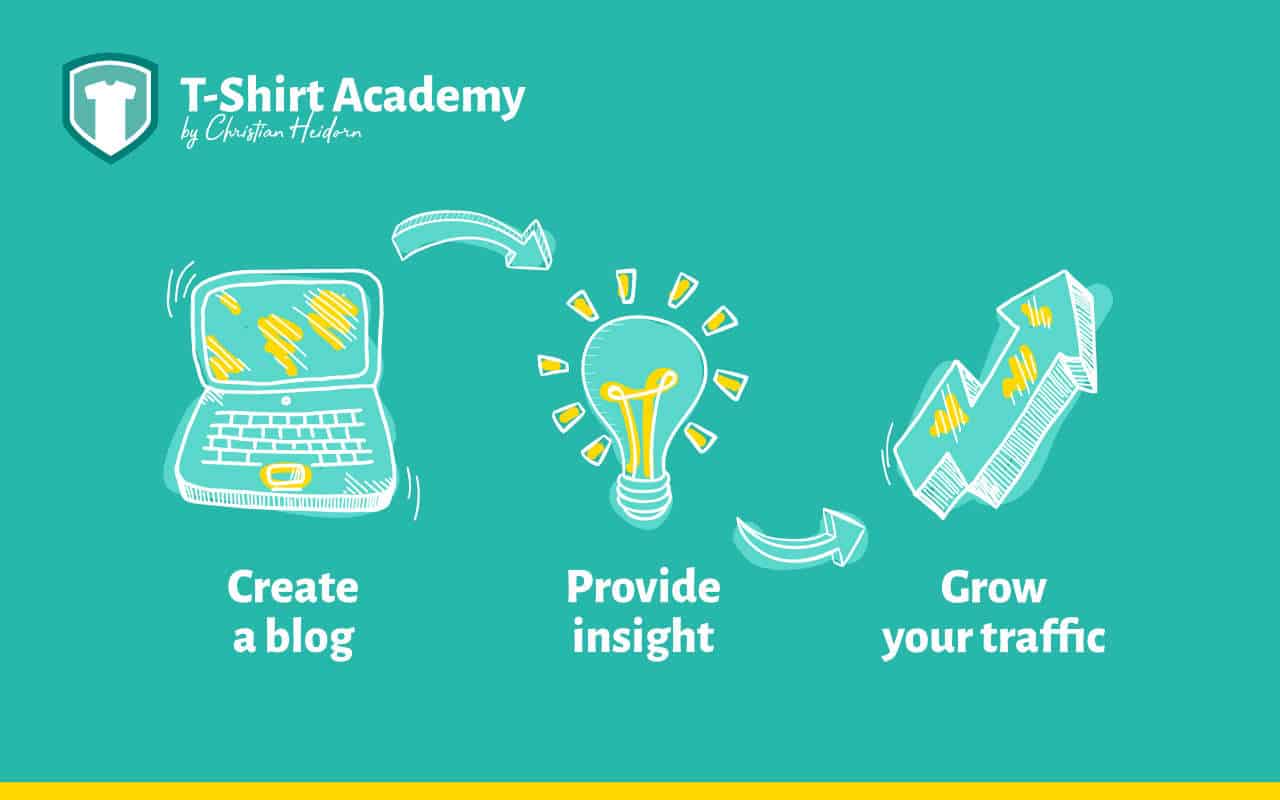 Here are some of the top advantages of having a blog as part of the tshirt marketing plan for your business.
Enhanced Search Engine Optimization:

There is no denying that search engines love fresh, quality content.

There is no better way to provide fresh content on a regular basis than with a blog.

By blogging every day you give search engines fresh content to index and you also get the opportunity to insert keywords to boost your visibility on search engine result pages.


Blogs help you develop relationships with existing and potential customers:

Some few years ago blogs did not exist.

Today there are over 200 million blogs on the internet.

Having a blog is undeniably the single most important thing you can do to advance online and that also applies to marketing t shirt business.

Blogging lets you connect and interact with site visitors.

For example, you may decide to ask your readers' questions at the end of each post, or by allowing feedback and comments.

By responding to readers' comments you can build trust and rapport with your audience, and get valuable information on what your customers need.

This way, you will be able to address your customers' concern and keep them up to date on trends affecting the t-shirt industry.


Blog posts provide valuable content for social media:

Sharing your business information on social media is a great way to drive traffic to your website.

Once you have written and published your post, promoting it through social media such as Facebook and Twitter adds extra value.

You make your potential and existing customers engaged.

If they find the information valuable, they would also share it with others in their chain of connection.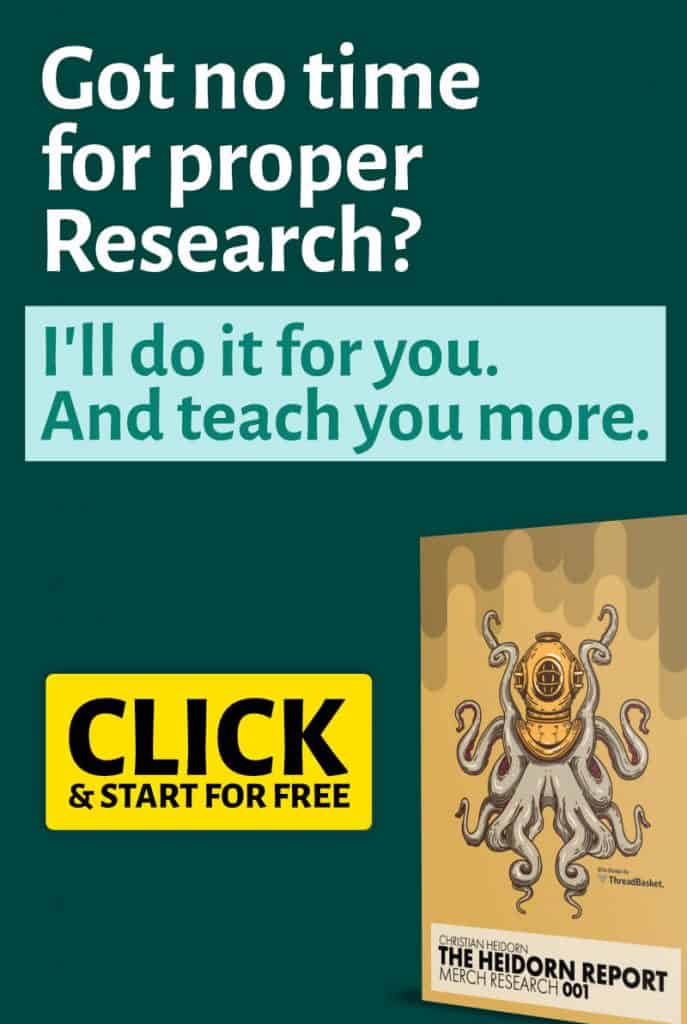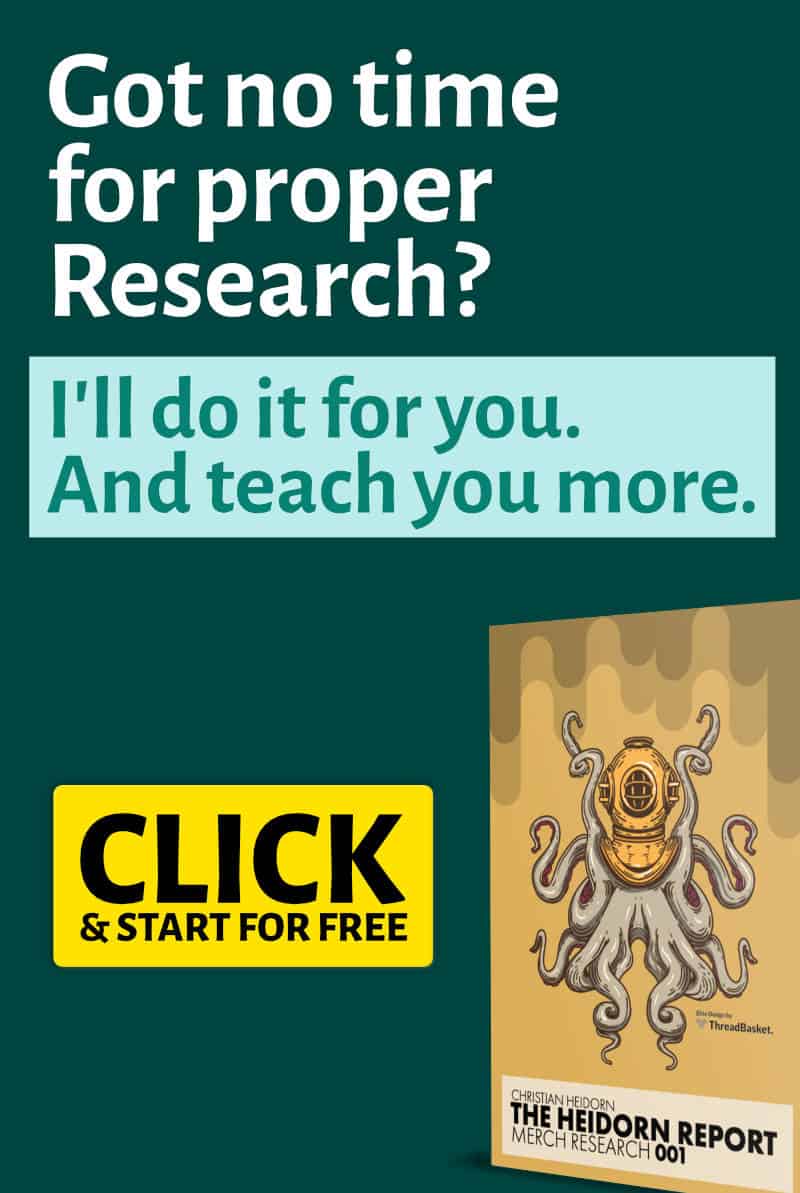 4. Market Your Shirts Through Social Media
Social media is one of the most effective marketing channels and therefore also one of the best t-shirt promotion ideas that offer awesome results.
Today most small businesses make the most of social media marketing to help increase their sales, increase their brand's reach and expand their professional network.
With social media, your message can spread like a bush fire.
A lot of people come to me and say: "Oh, but I don't know how to market my t-shirt business."
I usually tell them that if you share really authentic and engaging content with your fans or followers, it could possibly reach millions of people in less than no time.
It is a double edged sword, but with the right tools you can use it to your business advantage.
When you choose to use social media, there are a number of things that you must consider.
As with any business, finding the right social media audience has never been an easy task.
While social media is critical in this day and age of digitalization, let us not forget that we need to connect with the right audience.
Interacting with the wrong audience will not yield any good returns, no matter what t-shirt promotion ideas you apply.
Always monitor your brand.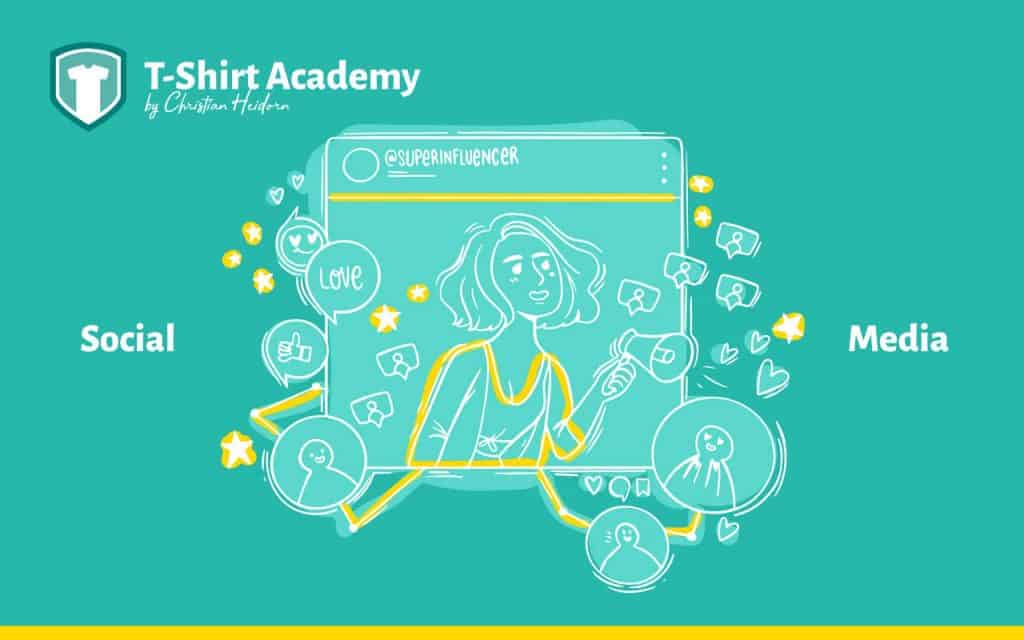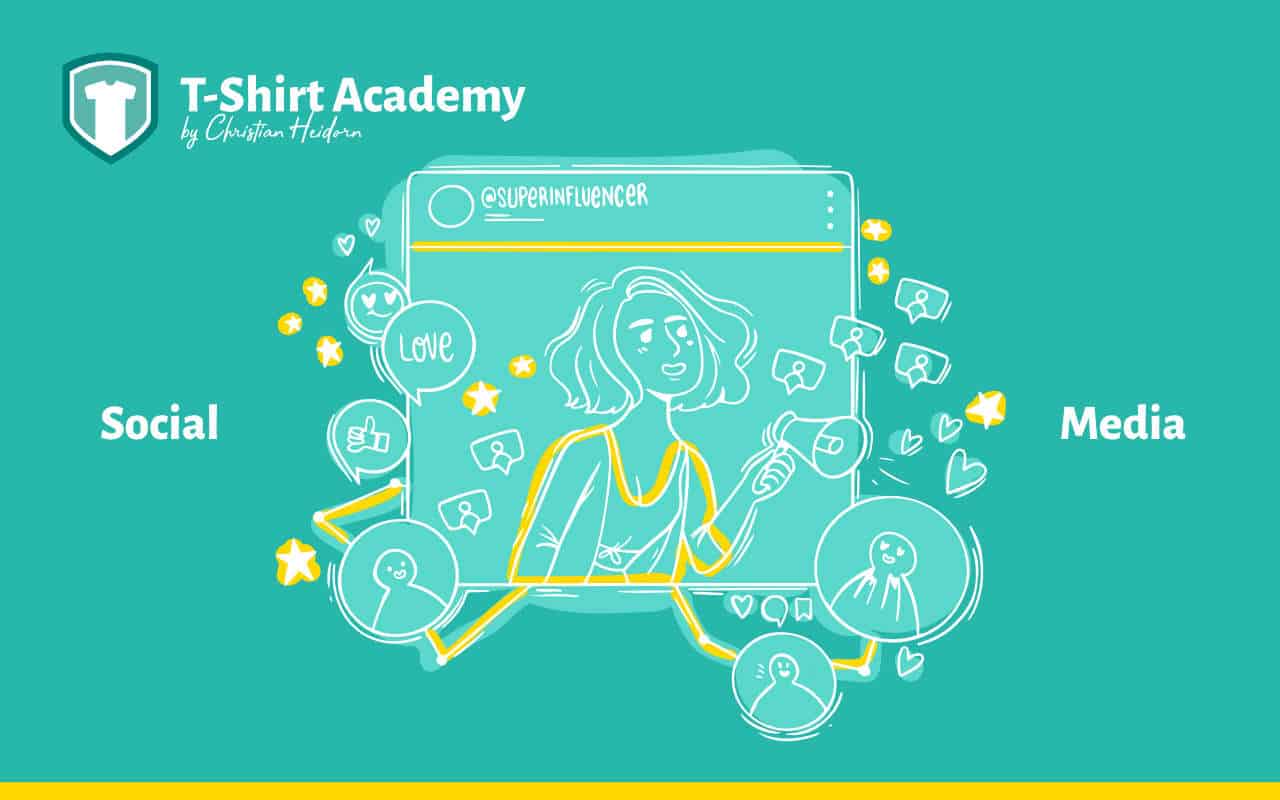 Social media is a platform where customers speak and the company listens.
Learn to listen to their comments, suggestions and grievances.
It helps you monitor feedback about your products as well as your competitors.
Twitter for instance is arguably one of the most powerful online platforms for finding new customers.
People do not just Tweet about useless things or events, but they usually tweet searching for services, products or advice on how to market a t shirt business.
Social media can help you turn your followers into potential customers.
Given the immense benefits of social media marketing, thousands of small businesses are investing in social media marketing to offer millions of customers a more flexible, personalized and seamless shopping experience.
While other marketing platforms require businesses to spend a fortune on product advertising, advertising through social media is cost-effective and simple.
Consider these t-shirt promotion ideas to boost your t-shirt sales.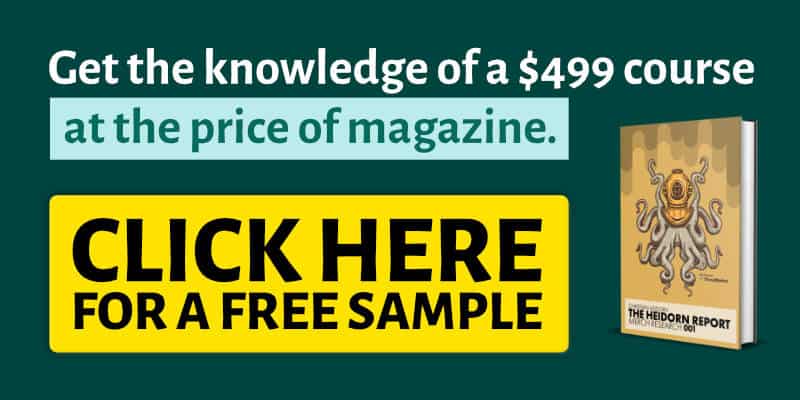 5. Leverage Your Local Community
You do not have to think big when it comes to marketing your t-shirts.
You cannot sell your products to international clients overnight.
You need to think locally first when coming up with t-shirt promotion ideas.
What's going on in your locality?
Design t-shirts for a small local team and donate to them.
Print bookmarks and distribute them to several local libraries.
Get to know your potential customers and figure out how and where they spend their time.
After which, you will want to search for opportunities to reach your customers with your marketing message.
There are several ways to reach your local customers.
Getting social is one of the best ways.
You will need to target your customers through social media such as Facebook.
Today, most customers go online when they are looking for something.
Make sure you have several social media accounts but include as much information as you can about your t-shirt company.
This way, your customers will be able to decide whether to give your business a shot.
Aside from this, it is recommended to make the most of online customer reviews as effective t-shirt promotion ideas.
While there will always be one or two negative reviews, the power of positive reviews from other clients outweigh such negative reviews.
Monitor such reviews regularly so that you can respond to your customers.
6. Mobile Marketing
People are constantly on their phones nowadays.
So you may want to reach them wherever they are.
If you're wondering how to market t shirt business, then one crucial thing is to make your website viewable and searchable on any device.
If you left an impression the first time around, people will search your business and will be encouraged to start a relationship with your brand.
7. Email Marketing
Email marketing is still one of the most effective ways for businesses to reach their target audience.
You can use it to reach local customers.
Make your content shareable and worth reading.
All these techniques can help you find the right local customers to sell your shirts to.
8. Offer Discounts
Everyone loves a discount.
Offering deals and discounts are a great way to advertise your business and reward consumers.
The guys over at TheGood actually have a really great guide on eCommerce sales promotions that also goes into detail on promotional discounts.
Make sure to promote your discounts and other offers through blog posts, articles and on your social media profiles.
Offering prospective customers price cuts is a great way to quickly draw people to your t-shirt store.
Every time you convince a customer that he can save money on your product, he or she is likely going to take advantage of that offer.
Discounts help your business to improve its reputation and increase sales as well.
Another benefit of discounts is that it enables you to clear old stock and free up room for new items.
And from your arsenal of t-shirt promotion ideas, that's possibly one of the more valuable ones if you have a lot of stock.
Items that have not been purchased for a long time may sit in your shop for months or even years.
The best way to have customers purchase them is through offering discounts.
They will sell in no time, creating room for new merchandise.
If you enjoyed this post then might also want to check out my article on t-shirt marketing strategies to get even more ideas on how to jump start your business.