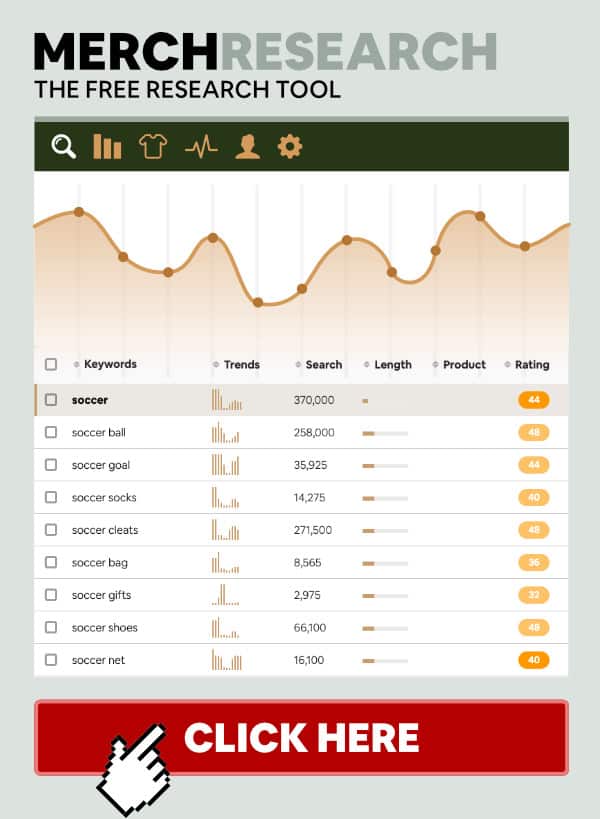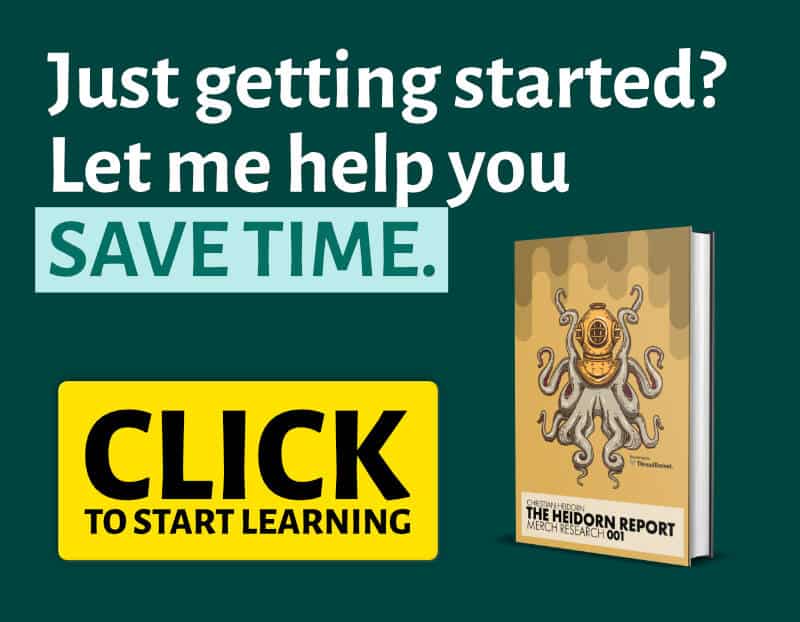 RedBubble and other print on demand platforms are extremely competitive – especially today.
Getting ahead of the competition on RedBubble means you need to know what RedBubble trends are, and you need to know these trends as early as possible.
That's where RedBubble trends tools come in.
They help you find relevant niches and design ideas that people are currently looking for.
Making a profit is one of the main reasons that people venture into print on demand.
By knowing what people are looking for, you'll be able to cater your designs to their needs and potentially increase your income. 
In this blog, we look at a few of the best RedBubble trends tools that are currently in the market.
RedBubble Trends Tool
RedBubble Trends Tool finds the most trending topics from three different sources: Google, Print on Demand platforms, and other search engines.
Once it collects this information, it ranks the data according to the following criteria:
Authority of the data source
The popularity of the trend
Existing designs in this trends
What they call their "secret sauce"
The tool then ranks the different RedBubble trends in order of popularity, from highest to lowest.
With each trend, you'll be able to see how many search results pop up when you search for it.
There is also a link attached that takes you to the top designs for this trend/keyword.
This makes it easy to see which designs are doing well under this category and also shows you what your competitors are creating.
If you take an in-depth look into each design, you might see what keywords the top designs are using to rank and how they have created their descriptions.
The key is to seek inspiration and not directly copy what they are doing.
You can also use Google as a source of research, search the trend and see what it's popular.
Also, look at other popular print on demand platforms like Merch by Amazon so you can see different takes to the same trend.
After going through all the different trends and designs within that space, you can choose a trend that appeals to you and start creating your designs.
RedBubble Trends Tool is a tool created by podautomation.net and they also have an automation tool that you can use to make your selling much easier and quicker.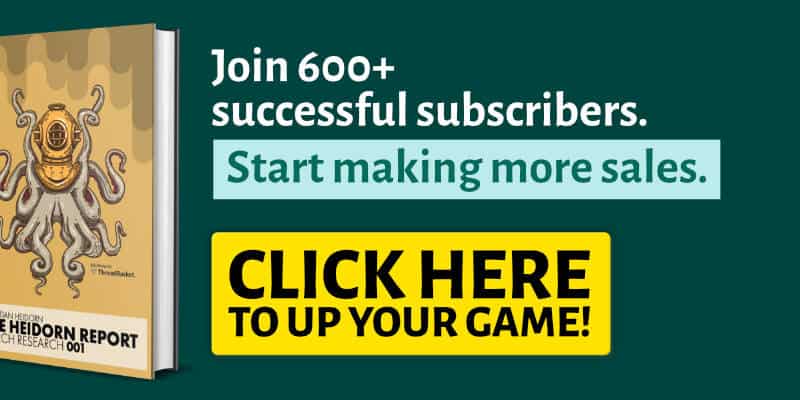 InsightFactory
InsightFactory is one of the more popular RedBubble trends tools available currently in the market. 
This tool shows you trends on different POD platforms including RedBubble.
Apart from showing you the current popular RedBubble trends, it shows you the potential different niches have to make a good number of sales.
Like with other RedBubble trends tools, InsightFactory shows you the top trends of the day.
You'll also be able to conduct specific searches on different niches/trends to see how they are performing against competitors and their sales potential.
This RedBubble trend tool scores all trends by their niche score.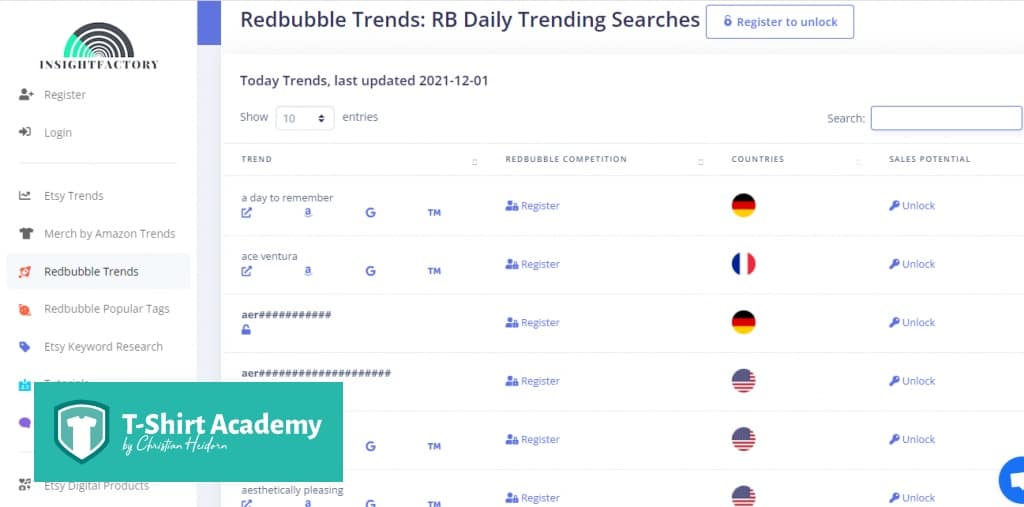 If a trend has a niche score higher than 30, it shows that it is a profitable niche.
For example, if a trend has a niche score of 70, 70 listings within that niche sold an item in the past week.
Having this information is crucial because it allows you to gauge if a trend is worth investing your time and resources in.
RedBubble trend tools get information from the searches people make.
Remember that people might be searching a particular trend but not buying designs within that niche.
It's important have a bird's-eye view of the full picture before making any long-lasting decisions.
InsightFactory Redbubble trends tool has a trademark button that helps you know if a trend has been trademarked.
They also list trends that are low competition but higher in sales.
Getting into a competitive niche/trend is a risky move especially if you are still new.
You might be drowned out by the existing competition. 
Unlike other RedBubble trends tools, you'll need to sign up to use many of their features.
However, sign-up is completely free.
Bubblesear.ch
Bubble Search is a free RedBubble trends tool that shows you daily trending Redbubble trends.
The trends are sourced from niche keywords that are currently in demand on RedBubble.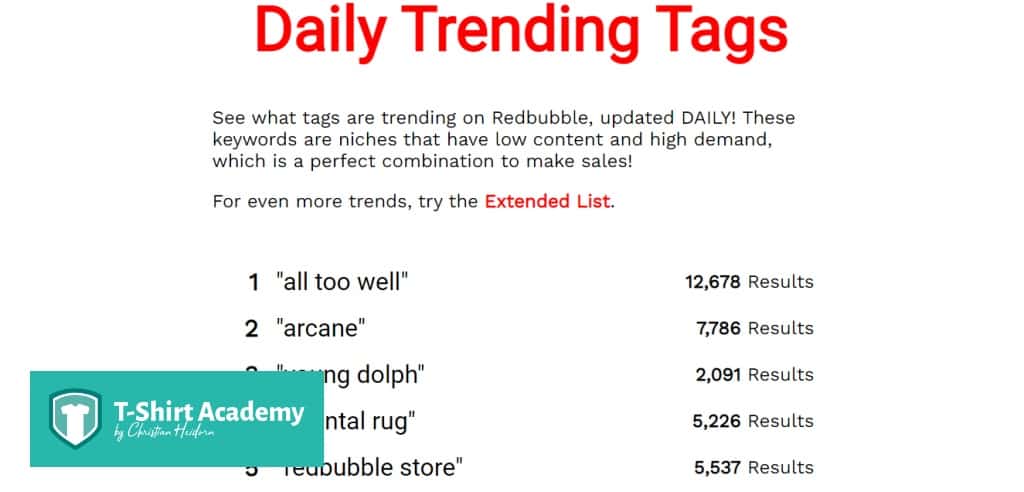 Bubble Search states that the trends they list are usually within niches that have high demand but low competition. 
The list is updated daily to make sure that the information you have is as relevant as possible.
The list shows you up to 20 top RedBubble trends with the number of results for each trend.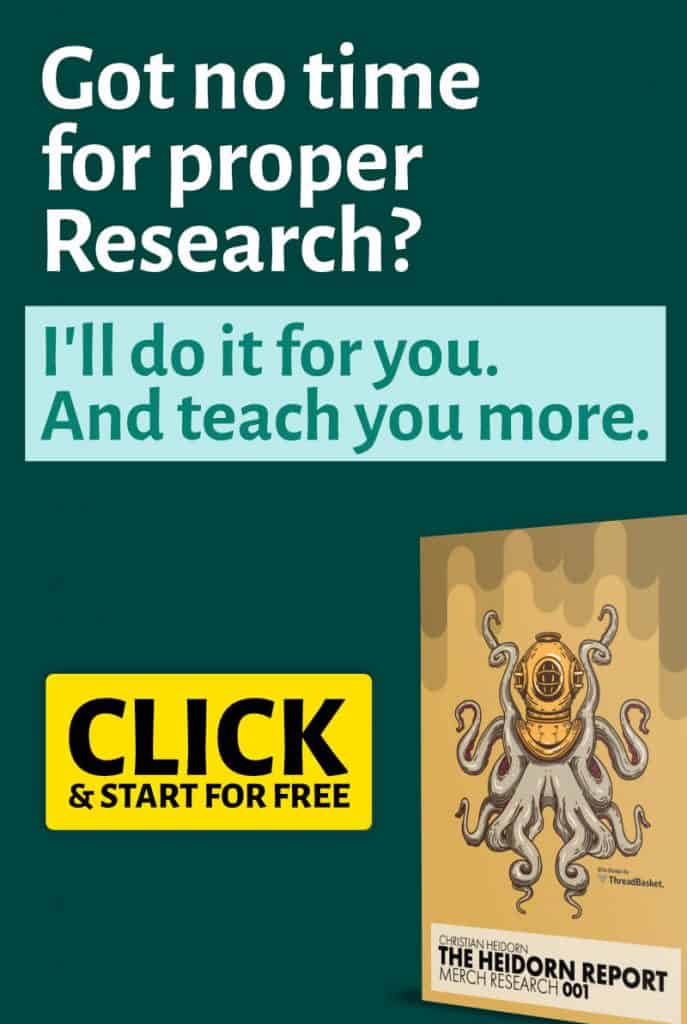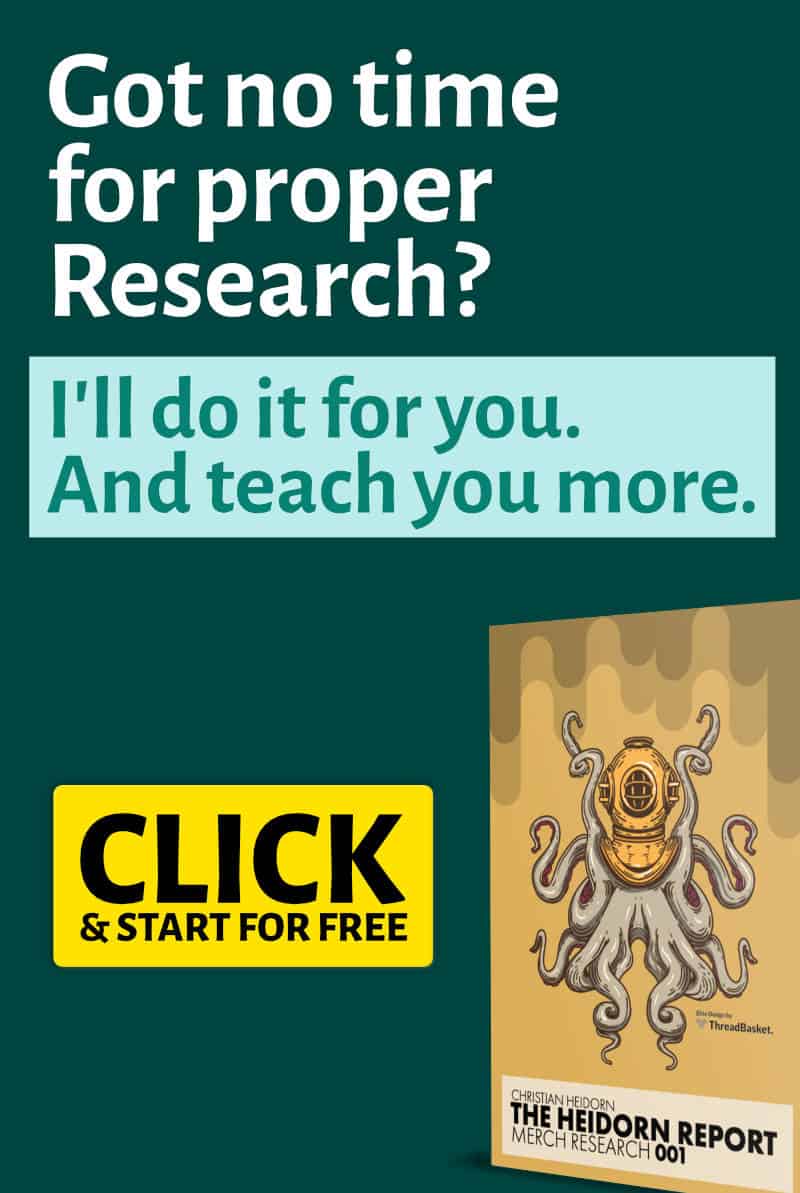 You can also access their extended list that curates these trends in alphabetical order, together with the number of results for each.
Bubble search also has a tag generator if you want to find relevant tags for your designs so you can rank higher in searches.
This RedBubble trends tool is easy and free to use. 
Bubble Trends
This is yet another RedBubble trends tool that shows you top trends on the platform based on keywords.
It creates a list of the top trending keywords every day along with the number of results for each trend.
Bubble Trends also lets users search for what trends were popular on different dates.
This will help you find evergreen niches if you spend enough time doing the research.
Evergreen niches are niches that are popular all year round and don't rely on trends to generate stable income.
Just like Bubble Search, this RedBubble trends tool is easy to use and you can quickly determine what is trending on one page. 
Importance of RedBubble Trends
Trends on RedBubble and any other print on demand are important if you want to take advantage of what people are currently interested in.
If done right, with good quality designs and good research, you can make a good profit using this strategy.
It's important that you don't wait too long before getting on board with a new trend.
The longer you wait, the more designs are created, and unless you can create something really unique and interesting your designs might not have the effect that you want them to.
Sellers who are still new to print on demand platforms might also want to avoid jumping on trends since it gets harder to get noticed the newer you are to a platform.
The best strategy for newer sellers is to find evergreen niches that they are interested in, and that way there is less competition and it gets easier to appear at the top of searches.
Many of the RedBubble trends tools mentioned above can be useful sources of keywords.
If you know what people are searching for and the results apply to your designs, you can add it as a keyword tag and get your designs noticed.
Never use keywords that are not relevant to your designs.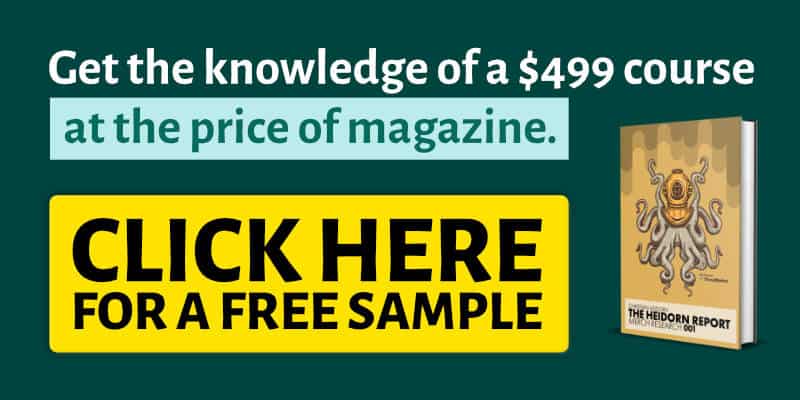 This brings in traffic that does not convert to paying customers and is typically just a waste of your time and effort. 
Verdict
Based on our research, these are the top RedBubble trends tools currently.
Our personal favorite has to be InsightFactory due to the additional information provided by this tool.
It gives a lot more data than the other tools mentioned.
When used right, you'll be able to find what's trending on RedBubble and gauge how profitable of a niche it is.
If you are also looking for niches to break into, this tool will show you its sales potential and its niche score.
It also goes further to show you a particular trend's trademark and copyright status so you can avoid having your designs pulled down.
You'll see how many products are available for a particular trend to evaluate the competition, and also see the number of searches that have been made.
It's an all-in-one resource that you can use to find both trending and evergreen niches.
If you want to find trends that are related to your niche and the designs you create, simply make a search and find what is currently trending.
You can use these trends as tags in the description section for your designs. 
InsightFactory also offers trend tools for other print on demand platforms and if you are struggling to use this tool, there are tutorials to help you.
Other RedBubble trends tools perform the job – they show you what is currently trending on the RedBubble.
Many will also show you how many results are available for each trend, but that's as far as they go.
This is still crucial information for someone looking to jump on a trend.
In Conclusion
RedBubble trends are important in helping you get creative with your designs.
However, long-term success doesn't always need you to jump on trends as soon as they are popular.
With the right strategies in place, you can achieve success with RedBubble trends and evergreen niches.
Finding the right niche might even be more important than finding the top trends.
Like with any other business, knowing what to do and the right time to do it is crucial.
If you want to learn more about strategies for print on demand, check out our strategy report: The Heidorn Report.