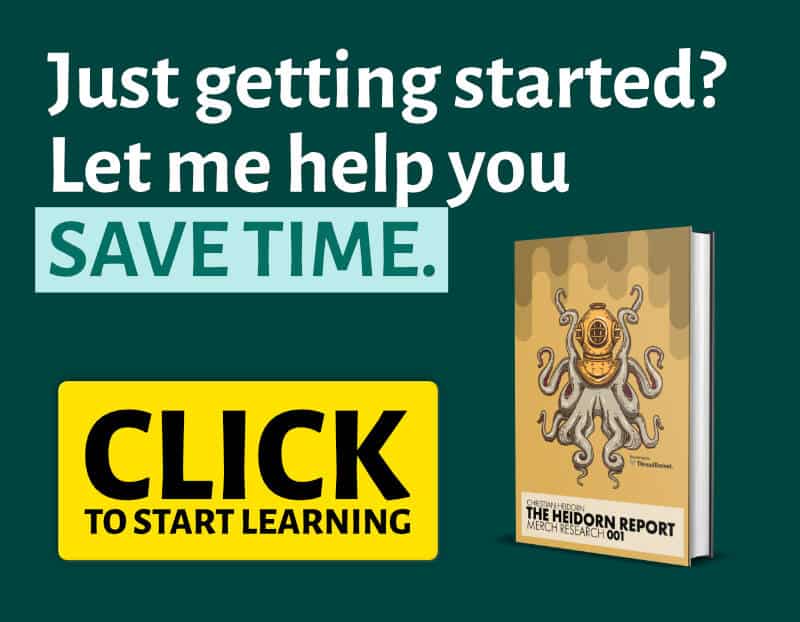 Getting sales on Merch or any other Print on demand platform can be quite stressful.
There's a lot that goes into creating a winning strategy.
From understanding the right research methods and the right tools to implementing them skillfully to obtain the desired results – there's quite a lot to learn.
There are resources available to help sellers in their journey but they are rarely comprehensive.
What most sellers need is to have someone with a proven track record to help them in their journey.
And that is what The Heidorn Report is.
Created by Christian Heidorn, the Heidorn Report is a research or strategy guide that will support you throughout your journey.
This guide is useful no matter what stage you are in your selling journey.
There is always a new strategy that you can implement to get better sales.
Christian Heidorn is a seasoned Merch and Print on demand seller, having started out his selling journey in 2008.
At the beginning of his journey, he learned through trial and error, and with time he found the right strategies that saw him gain profit with a minimal workload.
He created this guide with his own experience and knowledge in mind.
He has achieved success using these strategies and research methods and he has been able to make $100,000 in sales a year while running his business as a side hustle.
He is the co-founder of ThreadBasket, a print on demand design marketplace, author of Apparel on Autopilot, and also the founder of T-shirt Academy.
In short, he understands what works, and what doesn't work.
So, What Is the Heidorn Report?
As mentioned above, The Heidorn Report is a research or strategy guide that is jam-packed with research and strategy tips that you can use daily in your business.
This report is a customer-centered guide that will show you how to appeal to your target customers.
This guide comes in a series of PDFs and in it is more than the generic information that you find in many tutorials and guides that are freely available.
It goes in-depth into helping you understand your customers, identify winning niches and implement strategies that will get your customers buying from you.
The Heidorn Report is focused on the US Merch and Print on demand market because this market is the most lucrative for sellers.
There are plans for the report to expand into the European market.
What Do You Get in Your Subscription?
In your subscription, you will get 2 or 3 research or strategy guides each month.
Each subscriber gets a Merch Listing Guide for free.
Additionally, each subscriber will get a set of 15 high-end designs that they can use in their Merch and/or Print on demand stores.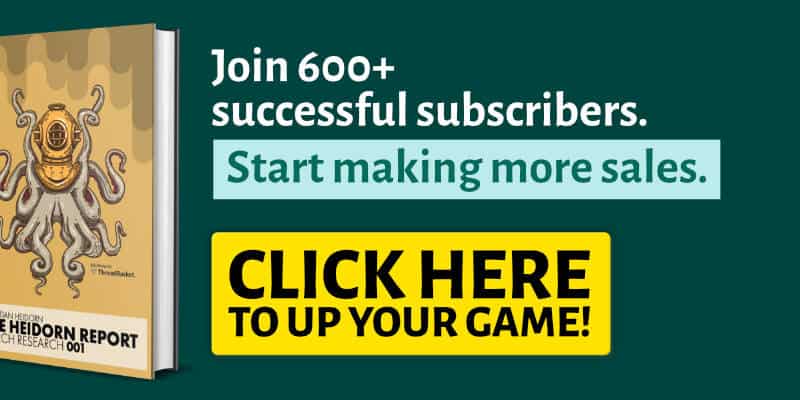 Why Should You Get This Report?
This report is different from other guides.
It doesn't push tools on subscribers.
Inside you will find information that is well-researched and backed by concrete data.
You will get a comprehensive analysis of various niches and their sub-niches.
There will be a trend analysis and assessment of what buyers are leaning towards.
These analyses and assessments are conducted using professional market data and statistics sources.
The niche assessment is done using a tool known as a Niche-o-Meter that was specifically created to make it easier to assess what niches are favorable at any moment.
You'll get support in generating new ideas and you will discover lesser-known niches.
An Event Radar that will help you monitor key events in the US, Canada, Great Britain, Germany, Austria, and Switzerland.
A keyword tool that will help you evaluate the search volume for selected terms and phrases.
An analysis of the frequently used hashtags is available to help you with your social media marketing efforts.
It will also show you popular online meeting points for buyers within the niche/s you are selling under.
You will get access to popular quotes and designs in each niche.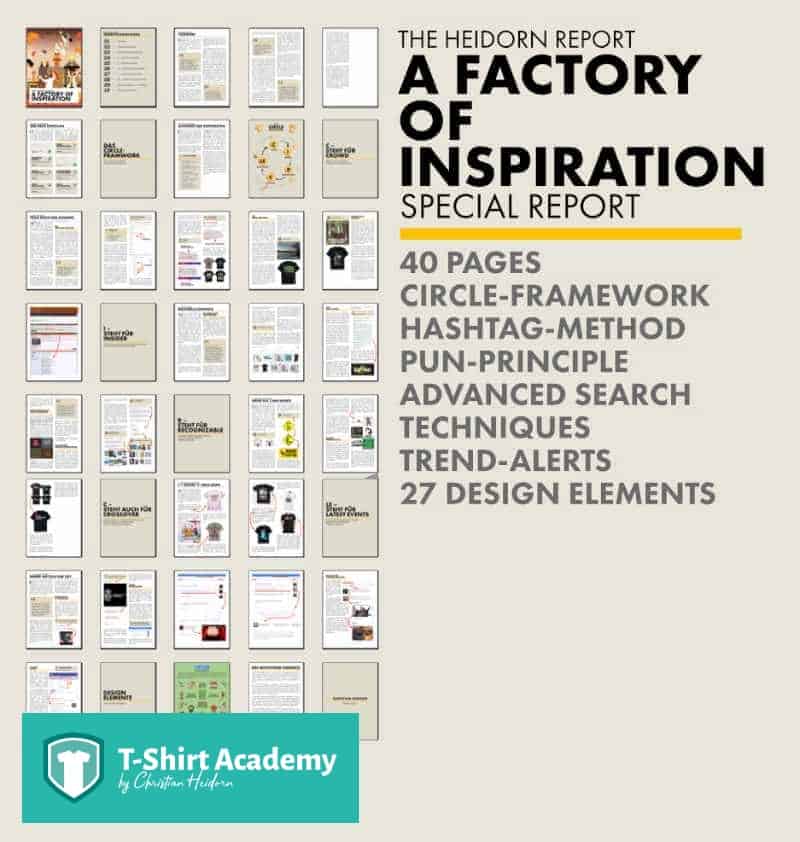 The collection of quotes provided are diverse and can be used in any niche of your choosing and are chosen based on Amazon search volume data.
This report will come with relevant information on how to create designs with your customer in mind and designs that have a greater chance of selling.
You will learn how to use pricing to stay ahead of the competition.
Almost every month you will receive a special strategy report with unique techniques and tactics on how you can increase your Merch sales.
As a seller and business person, you understand the importance of changing your strategy to stay ahead in the market.
You can only do this with enough information about what is working and not working.
The research in the Heidorn Report is of the highest quality.
How Is The Heidorn Report Different?
There is a lot of research and data analysis that goes into creating these reports and you simply cannot get that elsewhere.
The market data in these reports are collected and analyzed by trusted sources (and expensive) like Statista.
The report goes in-depth into certain work processes and strategies that will get you results.
It goes deeper into understanding niches and uses concrete data to validate why you should go into a particular niche.
The listings provided within the Heidorn Report convert better and have a longer staying power.
Yes, there are tools that can help you in your research process.
They will definitely be an asset, but it is also important to understand what you are doing and why you are doing it.
This will mean that if you do choose to use tools like Merch Informer, you have a higher chance of success.
Using a research tool does not guarantee sales.
If you do find a niche that has low competition and a favorable search volume, it does not automatically mean that you will make sales.
You need to understand how to communicate with your target market in a language that appeals to them.
The processes, strategies, and tactics available within the report cannot be achieved by simply using one tool.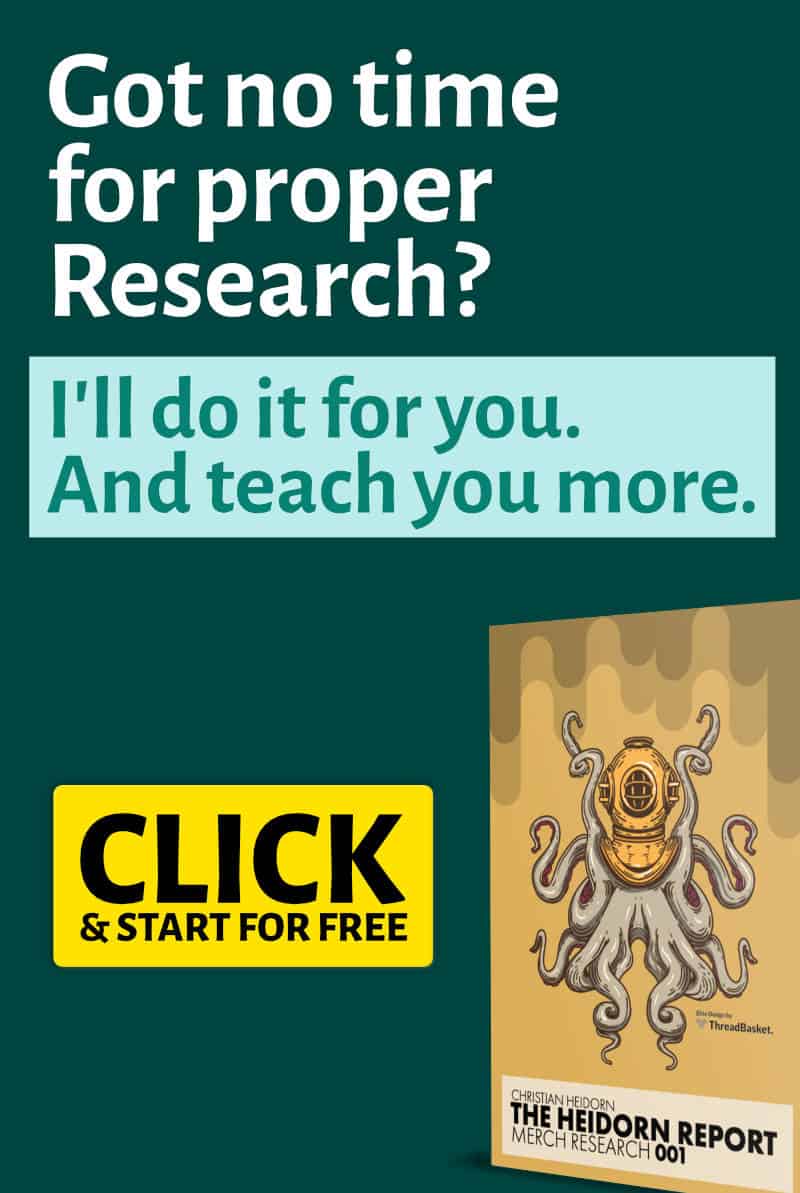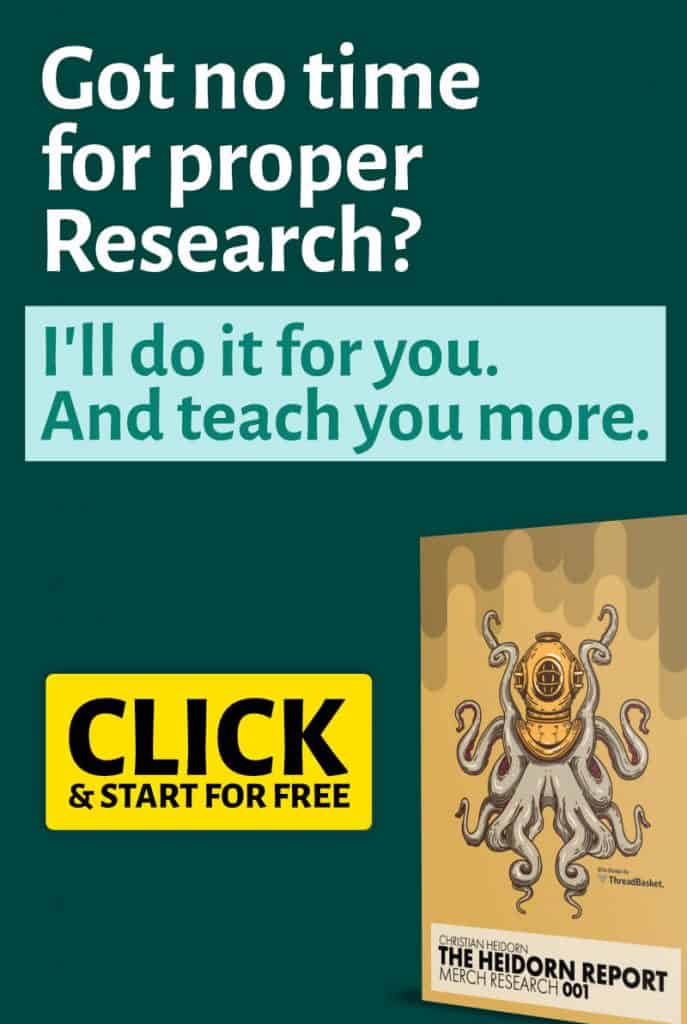 What Print on Demand Marketplaces Is This Guide for?
This guide is optimized for Merch by Amazon but the information can be extrapolated and used on any other print on demand marketplaces.
Any sellers on marketplaces that rely on free traffic will benefit from the information within this guide.
Merch By Amazon is their target only because it has the greatest sales potential of all the other print on demand sites.
This data can be used on Spreadshirt, TeeSpring. RedBubble, and all other print on demand sites.
Who Should Get The Heidorn Report?
Literally, every seller on any merch and print on demand platform needs to get this report.
Whether you are seasoned in the business or are just entering the market.
As a seller, you need to stay learning and stay ahead of the trends.
Although many sellers can do a lot of the research on their own, many don't know where to get relevant information or know how to use this information in their tactics and strategies.
If you intend on making your print on demand/merch business a success, you need to get this report.
Learning everything within the report might take some time, however, it will be worth it.
You might spend some time learning in the beginning but these few hours early on will save you several hours of work trying to figure out what you need to do.
Overview of What You Will Gain
Learn how to target multiple customer types at once.
You will be able to create designs without needing a designer – and designs that will sell at that.
Understand how niche research works and how to implement it.
You will know which products will sell and which ones won't simply through research.
By understanding which search terms work, you'll be able to write better product listings.
Use pricing effectively to get customers buying from you.
By implementing these strategies and tactics, you will improve your productivity and reach in the long run.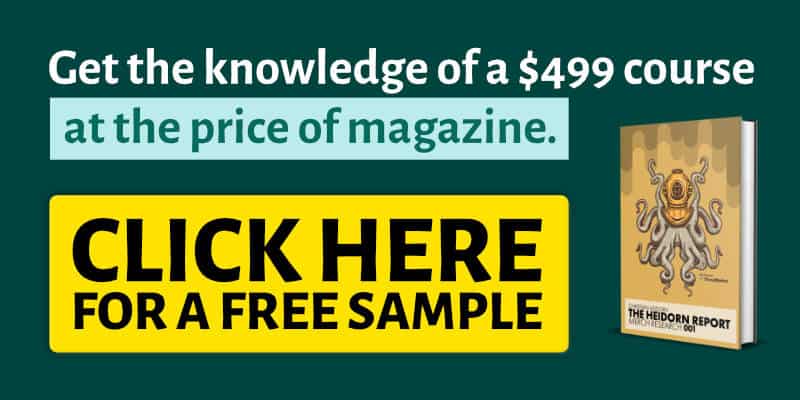 Report Schedule
Day 1: Merch + POD Listing Guide
Month 2: Drilling Deep into Niches
Month 3: A Factory of Inspiration
Month 4: Effective Design
Month 5: Niche Domination
Month 6: Active Price Management
Month 7: Scale Like a Pro
Month 8: Automation – Unpacking Processes
Month 9: Automation – Building Your Army
Month 10: Automation – Crowdsourcing
Month 11: Automation – Machine-driven Design
Month 12: International Research
Month 13: Re-Investing vs. Consuming Your Revenue
Reviews
Subscribers to the Heidorn report have had quite the success.
Some have reported making sales within 16 hours after implementing these strategies.
Many still use these strategies in their business long after.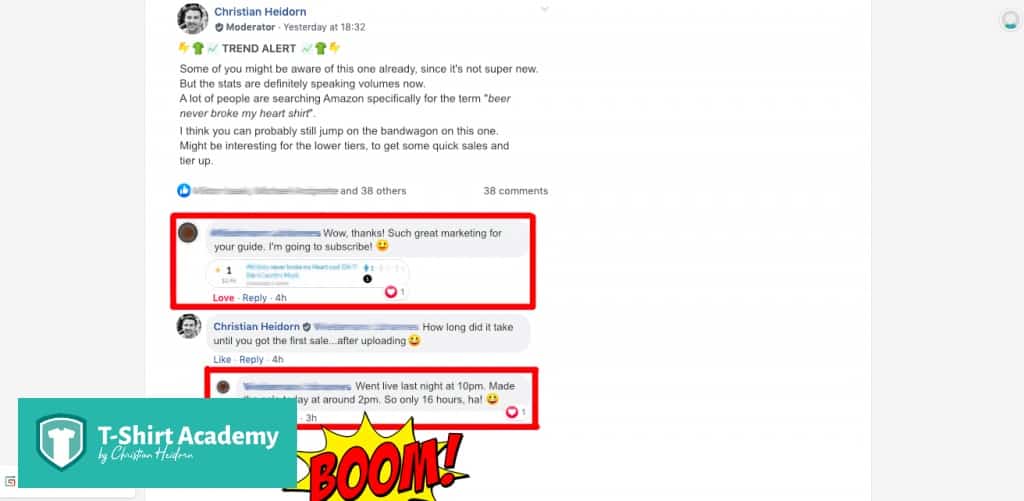 Though trending niches may change and vary with time, a lot of the strategies within the report can be used for years.
Other users enjoy the fact that these reports are not simply words but come with charts and graphics that make understanding of what is being given easier and more enjoyable.
The quotes collection and the Niche -o-Meter are also a hit since they save users time and money.
Pricing
The Heidorn Report goes for $15.99 a month or $172 monthly.
By subscribing you will get the following;
1 Strategy Guide per Month
This strategy guide will teach you new methodologies and strategies to help you improve your skills and get the most out of your Merch and/or Print on demand business.
If you were to buy this as an online course, it would go for approximately $499.
2 Research Guides per Month
In these guides you will get trend analysis, market data, keyword research, popular phrases for various niches, mind maps and so much more.
1 Event Radar per Quatre
Stay ahead of events and holidays across the world using their event radar.
This calendar comes with a 3-month preview of events and the most relevant holidays in North America, Great Britain, Germany, Austria, and Switzerland.
15 Exclusive Design Elements
These are included in every guide and can be used in your Merch projects.
The design pack is valued at $75 outside of the Heidorn Report.
The report comes with a 100% money-back guarantee.
If you use any of these strategies and don't see an increase of at least 20% in sales within 45 days, you will get your money back in full.
All you have to do is show proof that you implemented these strategies.
Important To Note
Once you subscribe you will get the latest published guide.
There are no set dates for when the guides will come but as a rule of thumb, the guides will come about every two weeks.
Subscribers are free to cancel their monthly subscriptions at any time.
Simply go to the library in your Gumroad profile and cancel your subscription.
If you decide to resubscribe you will get the guides from the beginning and not from where you stopped.
If you are having technical issues and have not yet received your guide, check-in your Gumroad library to see if it's there, if not send an email to [email protected]
In Conclusion
The key to success in any business and more so the Merch/Print on demand business is learning your customer and finding out what exactly they want.
This process can be extremely challenging, difficult, time and money consuming.
The Heidorn Report is exactly what you need to ease you into finding your footing.
Business can be difficult, especially with the recent climate globally.
These time-tested strategies will help you understand what exactly is working right now.
Who doesn't want to scale their business with a minimal workload at the same time?
By using the right process, you can reach the same milestones.
You too can profit from these tactics that have brought others success.
Learning from those who have achieved success before is the best way to stay ahead.
Remember that even though you will have access to this guide, you will have to implement these strategies as explained.
You can't cut any corners.
If you have any inquiries about the Heidorn report, reach out at [email protected]