Social media marketing cannot be ignored, especially in this digital day and age.
Digital marketing is perhaps the most important type of marketing today, and every business is tapping into it.
A great part of digital marketing is social media, however, mastering social media can be challenging.
Writing great social media captions is one of the most important elements of creating a great social media post.
In this t-shirt promotions captions list, you can take the guesswork out of writing social media captions.
This list has been carefully curated and integrates all the best practices that are sure to get readers engaged and ready to take action with each post.
The Value of Good Social Media Captions
Apart from good quality images, social media captions are what get your readers' attention.
Having a poorly written caption or no caption at all doesn't deliver the messaging.
Well-written captions are an important opportunity for you to convince readers to make a decision and in this case, make a buying decision.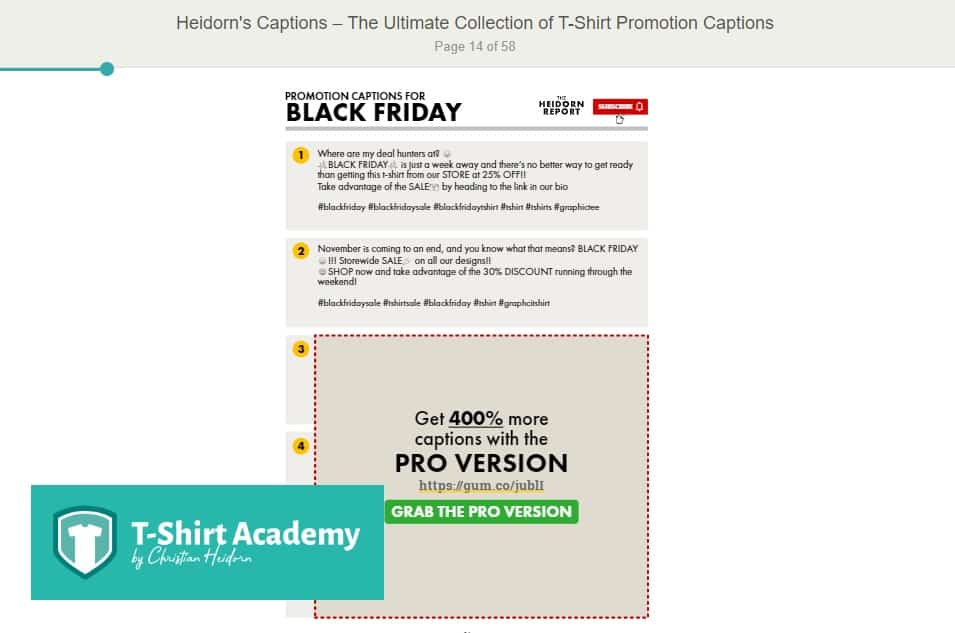 Captions are a way for you to create a connection between your business and the reader.
To achieve success on social media sites like Instagram and Facebook, you'll need to understand the algorithm.
These sites in particular boost posts with higher engagement, i.e., likes, comments, and shares.
The best way to increase engagement on your posts is by having carefully and well-thought-out captions with every post.
Using hashtags in each of your captions also helps your posts get discovered by other people outside of your followers.
We recommend using a combination of popular hashtags and niche hashtags to improve your reach and also get the attention of the right demographic.
Social Media T-shirt Promotions
Print on demand is getting increasingly competitive, and that means that more sellers have to use marketing strategies that go beyond creating high-quality listings.
With a large number of sellers on various print on demand platforms, how do your designs get the right attention?
One tried and tested method is through social media t-shirt promotions.
Hacking social media can be difficult and time-consuming and one way to guarantee success is by creating social media tshirt promotion captions that get people buying.
Whether you're writing the ad copy yourself or hiring someone, it is important that you can master the art of writing good t-shirt promotion captions.
Captions need to be interesting, captivating, or funny.
Understand your audience and learn what types of captions they want to see.
Generally, when creating social media captions, you want to keep the length concise to make sure that you don't lose the reader.
You also want to make sure that you use hashtags and emojis in the right consistency, you never want to come off as spammy.
Learning the art of creating great t-shirt promotion captions involves a lot of trial and error, and if you are paying for ads, no one has the time or money for trial and error.
Introducing Heidorn's Captions
If you haven't had experience with social media marketing or if you simply don't have the time to create your own high-quality captions, then you need Heidorn's Captions.
This is the ultimate list of t-shirt promotion captions.
It goes beyond generic captions that you can find with any web search and it also provides you with captions that are relevant, quirky, and interesting.
Heidorn's captions have been well researched and they include captions for different seasons and various niches that you can use for your own t-shirt promotions.
Niches Covered
Being merch sellers and print on demand sellers, we know which niches are popular.
Through careful research, we found the top niches within the print on demand space and created t-shirt promotion captions specifically for these niches.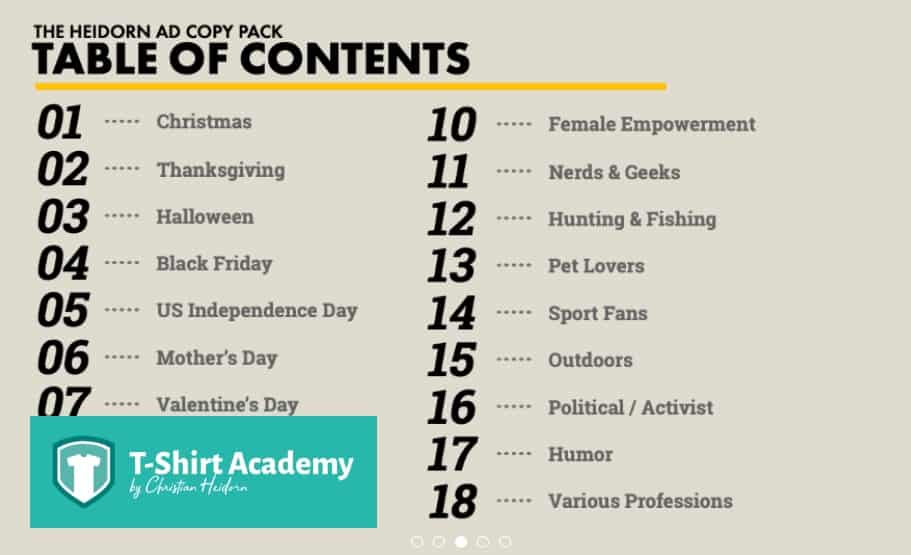 We also know that holidays are high peak seasons for sellers, and we also created t-shirt promotion captions that you can use during this season to increase traffic to your store.
There are over 15 niches and events segmented for easy perusal;
These include;
Hunting
Nerds/Geeks
Women
Humour
Politics
Various Sports and
Various Professions
The basic or free version of Heidorn's Captions only scratches the surface of what is being offered.
You'll receive a sample list with only two captions per topic and this is not enough for your yearly social media strategy although it will give you a good direction on what types of captions you need to create to capture interest.
The pro version is definitely value for money and will save you the effort of hiring a professional social media copywriter since you'll already have high-quality captions to work with.
Who Is This List For?
Basically, any and all print on demand/merch sellers looking to boost their sales through social media marketing.
There's a lot that goes into marketing t-shirts, and if you've been in the industry for any length of time, then you understand this.
As much as social media is a great platform for marketing, there's a lot that goes into creating long-lasting success – and Heidorn's Captions handles at least one aspect of your t-shirt promotion.
There's a lot that you have to do and oversee.
From design to uploads, there's a lot that needs your direct input, and creating t-shirt promotion captions is yet another aspect that we can take off your plate.
Anything to make your work easier and have you focused on other important things that need your full attention.
Enhance your marketing efforts by using original, attention-grabbing t-shirt promotion captions for all your promotions and campaigns.
We also update this list depending on changing trends within copywriting and social media.
Updates are free and do not require a subscription.