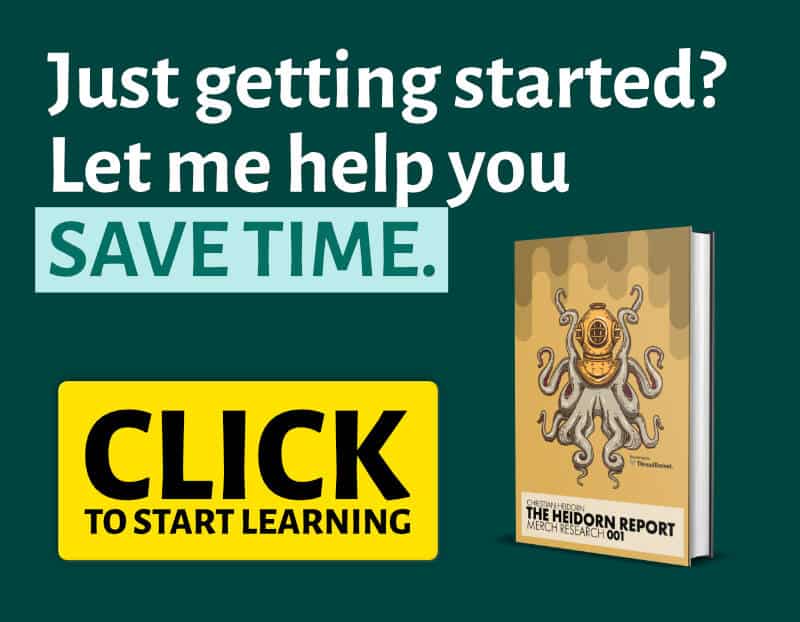 Starting an online t-shirt business is perhaps one of the easiest businesses you can start.
With little to no upfront costs, you can start your business as early as today – if you already have designs ready.
One of the biggest hurdles for new sellers is creating good designs that potential customers will want to buy.
Some people hire professional designers to help them create these designs.
However, the cost of hiring a designer can be steep and if you're just starting out, it might not be an option that you want to look into. 
Luckily, with advancements in technology, there are several online tools and software programs that will help you create these designs from your computer.
In this article, you'll definitely find a t-shirt design tool for your needs.
PlaceIt
PlaceIt is one of the most popular t-shirt design online tools available right now.
It is an all-in-one tool that will help you with all stages of your design process.
Their Trend Chart feature will help you see what design trends are popular each week, giving you examples from the major print on demand platforms.
Having this feature helps you choose both trending niches like anime and evergreen niches like humor and gaming.
After gathering design ideas, you can now create your designs with their easy-to-use t-shirt design tool.
PlaceIt has several ready-to-use templates available for use.
In just a few minutes, you can create a design and have it ready for sale all from their website.
Once you create your designs, you might need to start promoting them as soon as possible.
With their mockup generator, you can have your designs "worn" by a variety of models.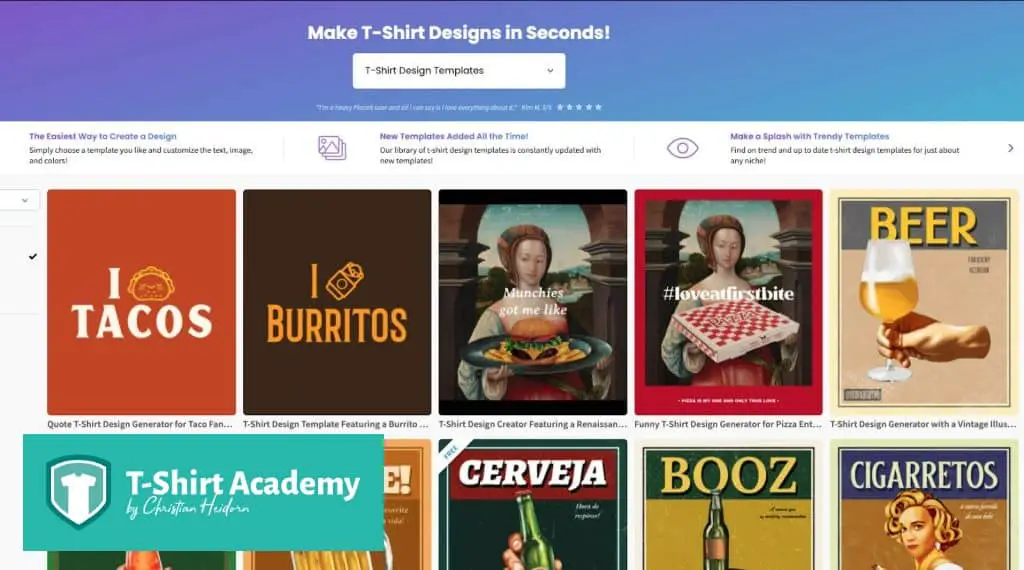 Using a t-shirt design tool like PlaceIt is a great option for sellers who have no experience using software tools like Adobe or Illustrator.
PlaceIt has several fonts and graphics for you to choose from, and that means you can easily customize each template.
They also give users the option of downloading the designs in the formats that are allowed by different print on demand tools like Merch by Amazon.
Pricing 
PlaceIt has two pricing plans.
The monthly plan costs $14.95 while their annual plan costs $89.69.
With one of these plans, users have access to more than 38,000 templates that they can choose from.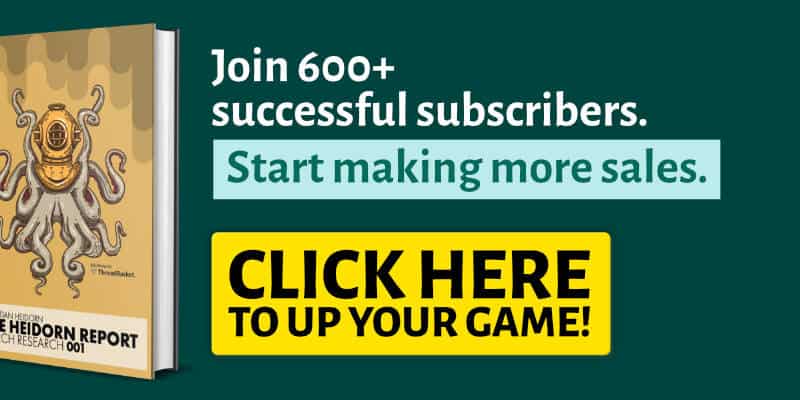 No matter what niche or what style you want your design, you'll be sure to find a template that fits what you're looking for. 
Adobe Illustrator
If you have a background in graphic design, then you've probably heard of, or even used Adobe Illustrator.
It is a popular t-shirt design tool, however; it has quite a learning curve if you have no background in graphic design.
Despite this, Adobe Illustrator is one of the most popular software tools for creating t-shirt designs. 
Using a software program gives you a lot more room for creativity unlike using template tools.
This t-shirt design tool has several fonts, graphics, effects, and images that you can use for your designs.
If you need to create layers and add different shapes to your design, this tool will work wonderfully.
Designs created using Adobe Illustrator are of high quality and are usually compatible with different printing techniques.
Adobe Illustrator is compatible with all devices.
Pricing
Adobe Illustrator has a free trial period.
After the trial period, a subscription goes for $20.99 a month.
Canva
Canva has steadily grown in popularity as a great t-shirt design tool for new and seasoned sellers.
It is more than just a t-shirt design tool.
Users can generate designs for virtually anything they need: logos, social media posts, invite cards, presentations and so much more.
Just like PlaceIt, Canva has ready-to-use templates, both free and paid for.
Canva is convenient and easy to use especially if you want to familiarize yourself in the process of designing.
Sellers can also create designs from scratch if they have design ideas in mind.
With their library of fonts, graphics, images, and templates, you'll definitely find elements that you can use for your designs.
It has a drag-and-drop feature that makes designing a breeze.
Canva has a great search feature that lets you search templates based on your niche.
If you're looking for nature-inspired templates, all you need to do is search "nature" and a gallery of templates and images will pop up.
Canva does have a free version.
However, to access all their features, you'll need to pay for a premium subscription.
If you don't want to pay a monthly subscription, you can create a design and pay for just that design.
This gives you more flexibility.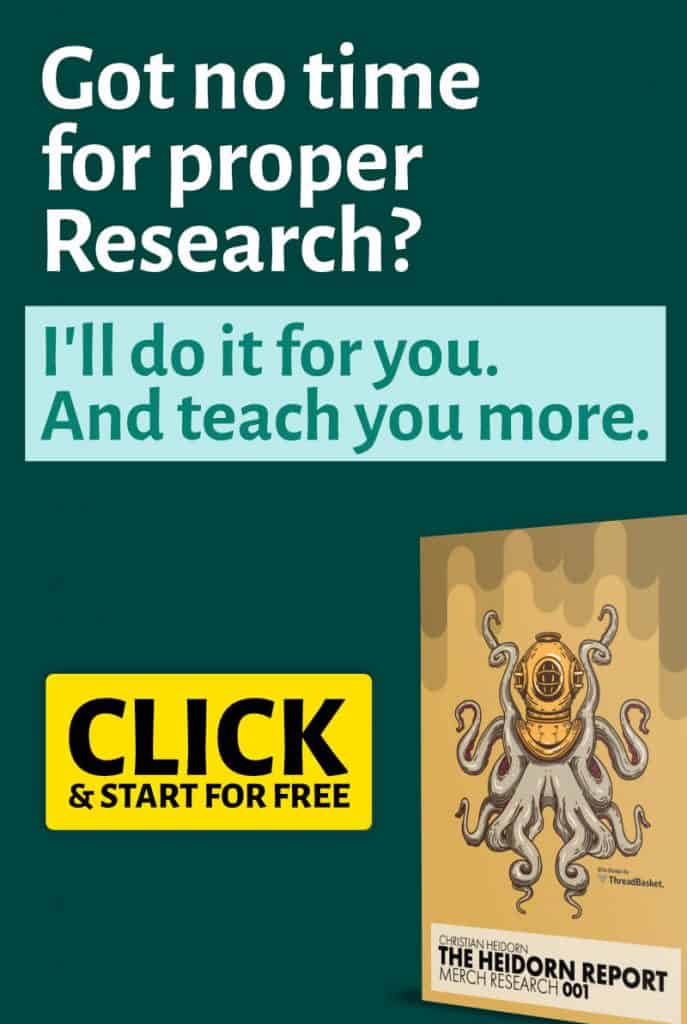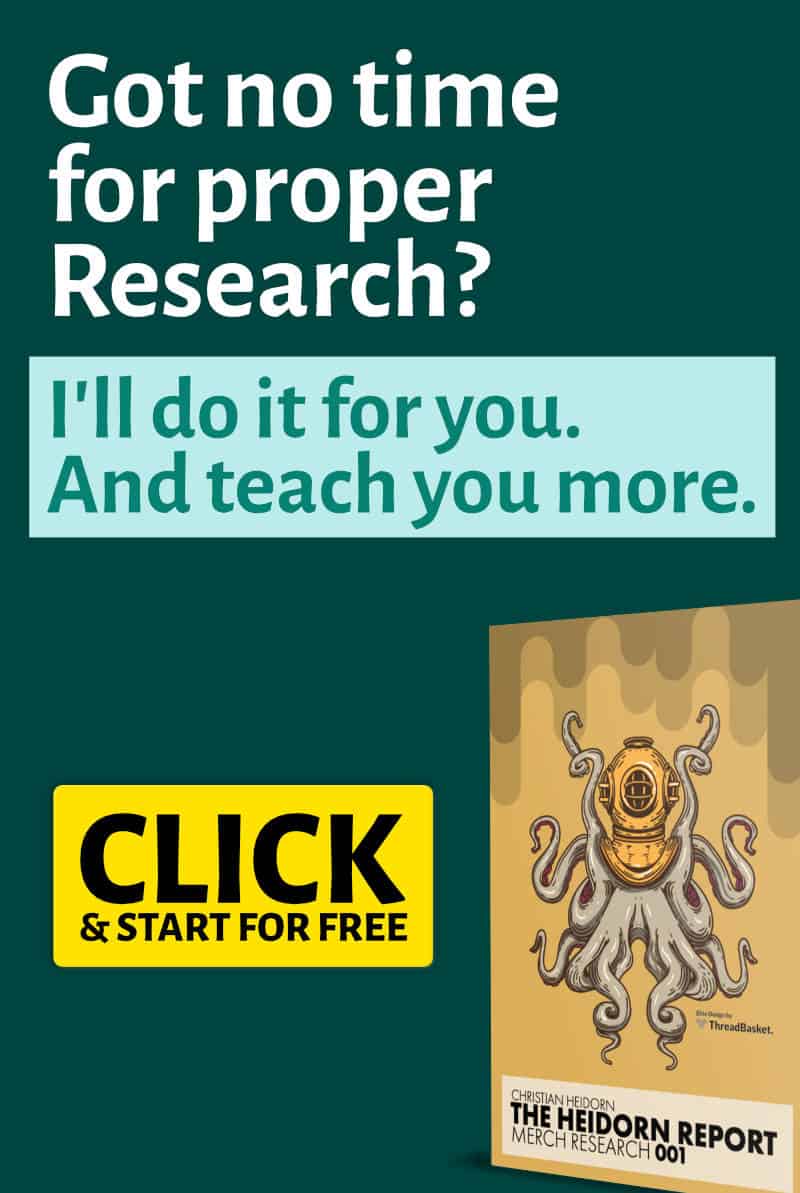 Unfortunately, it might be more expensive in the long run especially if you plan on consistently using the t-shirt design tool. 
Canva is incredibly easy-to-use and you'll be able to create and download your designs in just a few minutes.
Pricing
Free
Canva has 250,000 completely free design templates.
It has several design types including apparel designs.
In the free plan, you can also invite your team members to collaborate and comment on your designs. 
Some free templates and designs might have a watermark feature and you will need a subscription to remove them.
If you also want higher quality and unique templates and design options, the premium plan might be what you need.
Canva Pro
This price plan goes for $12.99 a month or $119.99 a year.
Users will get access to their over 600,000 premium templates and designs.
You'll also be able to use your brand assets on your designs.
The pro plan also has additional design features that the free plan doesn't have.
If you want more professional designs, then the Pro plan might be what you need.
Adobe Photoshop
Adobe Photoshop is also a very popular t-shirt design software program.
Photoshop is a great t-shirt design tool, and it'll be hard to find a function that it can't perform.
Whatever design idea you have in mind, Photoshop will help you create it.
If you want to edit images, paint, or draw a digital image, photoshop has the features you need.
It performs more functions than Adobe Illustrator can, and will certainly give the high-quality effects that you want.
However, just like with Adobe Illustrator, it will take you some time to learn how to use this software program.
When it comes to t-shirt designing, Photoshop will give you quite a wide range of colors, effects, and graphics. 
You'll also be able to combine and crop photos, remove text from images, and create unique patterns.
Adobe Photoshop is available on different devices including Mac, Windows, Tablets, iPads, and more.
You can always design while you're on the move.
Pricing
Photoshop has a free trial with a $20.99 monthly subscription after.
Vexels
Vexel a shirt is a t-shirt design tool that helps you create designs from their large library of templates and graphics.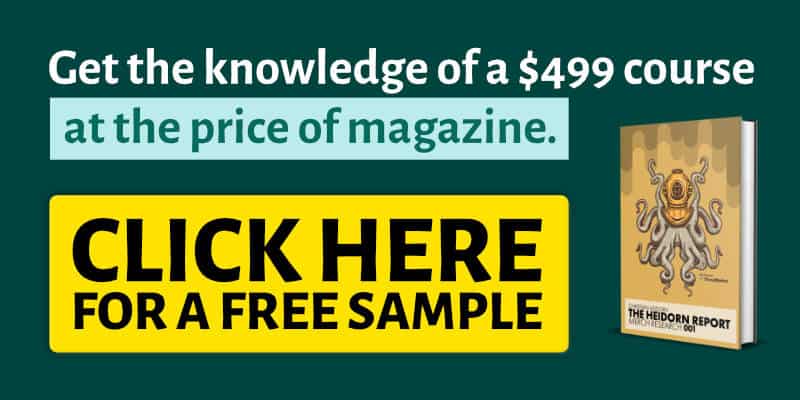 This t-shirt design tool has a dedicated t-shirt design maker that will help you get the job done quickly.
If you don't want to use their templates or graphics, you can also use your own designs and edit them to fit the design you had in mind.
Vexels has over 80,000 graphics to choose from and a text-creating tool that will help you create in seconds.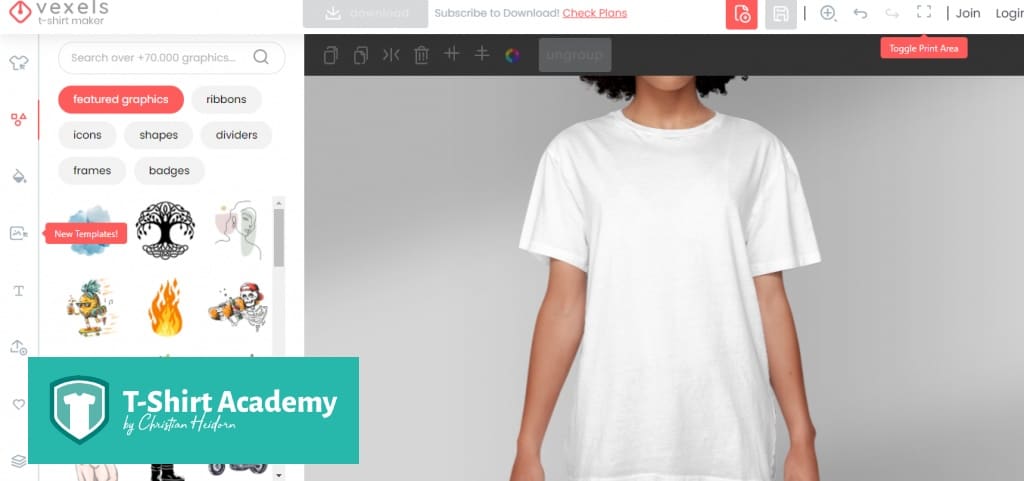 It also lets print on demand sellers download their designs in the format recognized by the different print on demand platforms.
Similar to PlaceIt, it also has a mockup generator that will help you showcase your designs on real models.
With every design, you'll get a commercial and merch use license protecting you against any copyright or trademark claim later.
Pricing
Vexels has three pricing plans for their t-shirt design maker: Merch, Merch Plus, and Merch Ultimate
Merch goes for $29 a month and allows for 100 downloads a month.
Merch Plus goes for $49 a month and allows for 200 downloads a month.
Merch Ultimate goes for $99 a month and allows for 2000 downloads a month.
Final Verdict on the Best T-Shirt Design Tool
Design is quite a large part of your print on demand business.
Without good quality designs, you run the risk of failing at your business.
The market is only getting more competitive as the days go by.
This is why it is crucial to know the trends and identify the niche that best fits your business.
The t-shirt design tools mentioned above are a great way of getting started.
The software tools mentioned might be a lot harder to use, however, they are the most flexible and give you more room to explore your ideas.
A t-shirt design tool like PlaceIt and Canva, is much easier to use and will still give you a high-quality product depending on the tool and price plan that you go for. 
For beginners, it might be worth it to look at these online t-shirt design tools until you are able to master the more complicated software tools.
You could also eventually look into hiring a freelance or in-house designer, especially if you plan on scaling your business.
There's a lot more that goes into creating good t-shirt designs.
We hope that this blog has shed some light to the tools that can help you realize your print on demand journey.